The business endeavors and personal life of President Joe Biden's son Hunter Biden have for years caused headaches for his father's political career -- and with the 2024 campaign season fast approaching, the younger Biden's ongoing legal travails show no sign of letting up.
In the past few months, Hunter Biden has suffered a string of setbacks, led by his indictment by special counsel David Weiss on felony charges that he lied on a federal form when he said he was drug-free at the time that he purchased a Colt Cobra 38SPL revolver in October 2018.
The charges came two months after the demise of a plea deal that would have allowed him to plead guilty to a pair of misdemeanor tax offenses to most likely avoid jail time, and enter into a diversion program to avoid prosecution on the gun charge. But the two-pronged deal fell apart during a court hearing in July, and Weiss signaled his intention to indict Hunter Biden in multiple venues on tax and gun charges.
In Washington, Hunter Biden and his father continue to face a GOP-led congressional investigation into what House Oversight Committee Chairman James Comer says are the Biden family's "shady business deals." House Speaker Kevin McCarthy on Tuesday announced that he was ordering House Republicans to move ahead with an impeachment inquiry into President Biden.
Here's a look at the various investigations into the president's son.
Justice Department probe
Federal authorities with the U.S. attorney's office in Delaware, led by U.S. Attorney David Weiss, a Trump-era appointee, have been investigating Hunter Biden since 2018, before Joe Biden announced his 2020 presidential bid.
The investigation spilled into public view in December of 2020, shortly after Joe Biden won the election, when Hunter Biden confirmed the probe into his "tax affairs." Prosecutors have examined whether he paid adequate taxes on millions of dollars of his income, including money he made from multiple overseas business ventures -- taxes he has since paid back, as ABC News previously reported.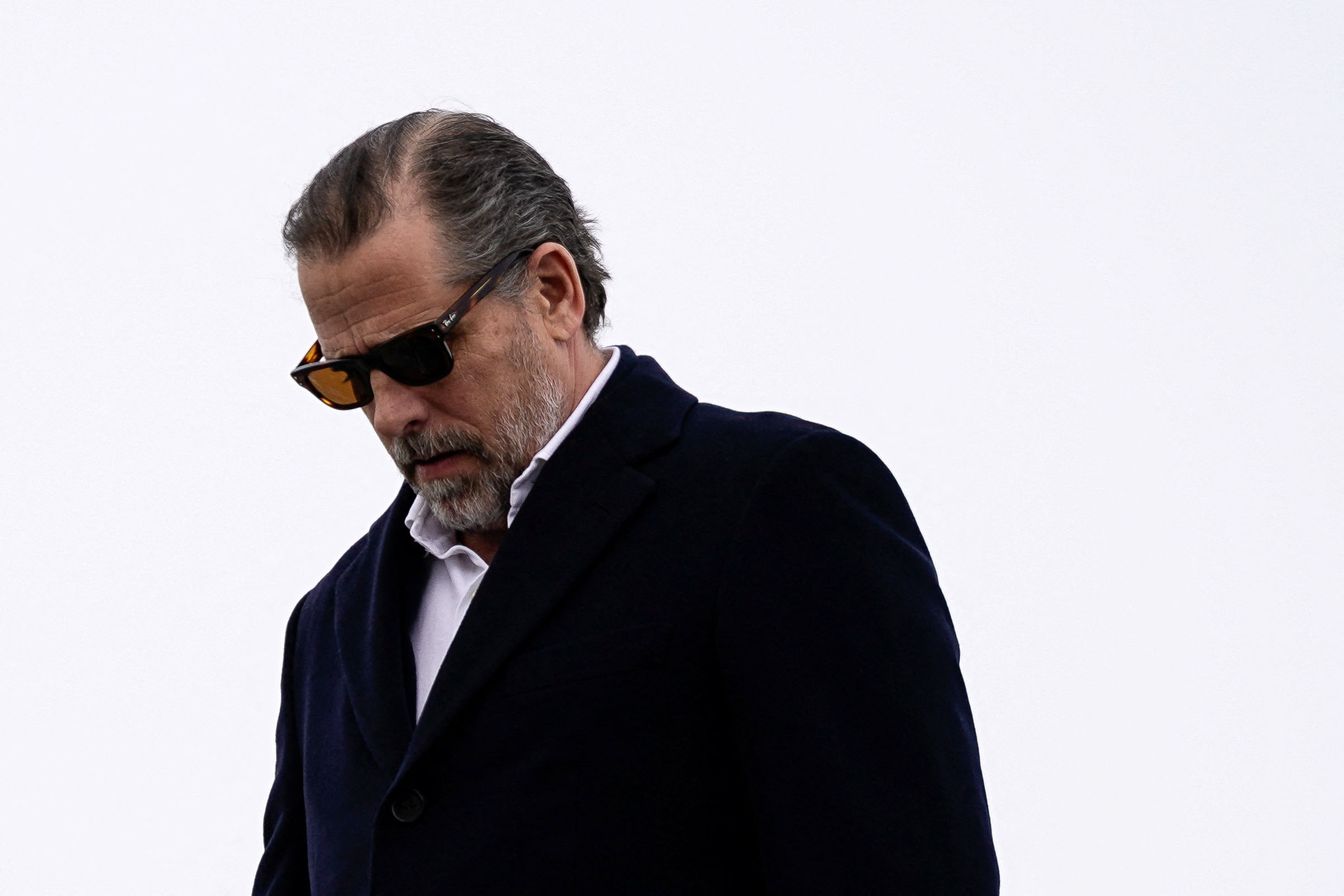 Prosecutors also explored allegations that Hunter Biden lied about his drug use on a gun application form in 2018, despite later acknowledging that he was addicted to drugs around that time.
In June, Hunter Biden agreed to plead guilty to a pair of tax-related misdemeanors and enter into a pretrial diversion agreement that would enable him to avoid prosecution on the felony gun charge, potentially ending the yearslong probe.
He appeared before a federal judge to formally agree to the plea deal, but Judge Maryellen Noreika deferred the deal, taking issue with the structure of the arrangement and lamenting the deal's "form over substance." Noreika requested additional briefings from the parties in the coming weeks before she would determine next steps. In the meantime, Hunter Biden entered a plea of not guilty.
But by early August, those talks had reached an "impasse," according to prosecutors. U.S. Attorney Weiss, who was granted special counsel status on Aug. 11, asked Noreika to approve his withdrawal of charges so he could file them in other districts, where he could then take them to trial.
The deterioration of talks precipitated a series of heated exchanges between the parties as Hunter Biden's legal team accused Weiss of "reneging" on the plea deal while prosecutors laid the blame at the feet of Hunter Biden's legal team, calling the courtroom drama on July 26 "a problem entirely of their own making."
On Sept. 14, Weiss charged the younger Biden with two counts related to false statements in purchasing a firearm and a third count of illegally obtaining a firearm while addicted to drugs. Hunter Biden's legal team maintains that the pretrial diversion agreement from July remains in effect, though Weiss' team says it's null and void.
"As expected, prosecutors filed charges today that they deemed were not warranted just six weeks ago following a five-year investigation into this case," Hunter Biden attorney Abbe Lowell said in a statement. "We believe these charges are barred by the agreement the prosecutors made with Mr. Biden, the recent rulings by several federal courts that this statute is unconstitutional, and the facts that he did not violate that law, and we plan to demonstrate all of that in court."
As developments in Hunter Biden's legal drama continue to ebb and flow, President Biden has maintained that he and his son never discussed his foreign business dealings. There is no indication that the federal investigation has involved the president in any way.
The White House has repeatedly sought to distance the president from the probe.
Congressional oversight
Meanwhile, on Capitol Hill, House Republicans have been conducting a long-expected investigation into Hunter Biden and his father, drawing from whistleblower testimony and bank records to level unproven claims of corruption.
House Oversight Committee Chairman Comer and Rep. Jim Jordan, chairman of the House Judiciary Committee, pledged after November's election to "pursue all avenues" of wrongdoing and called investigations into the president's family a "top priority."
Since then, Republicans have embarked on a sprawling effort to connect the president to his son's controversial overseas business deals.
In April, a pair of IRS whistleblowers came forward to accuse senior Biden administration officials of mishandling the investigation into Hunter Biden -- claims that were denied by both Attorney General Merrick Garland and Weiss, who told lawmakers he had "ultimate authority" over the case.
Garland, who had testified on Capitol Hill that the Hunter Biden probe has been free from any improper political interference, responded to the accusations by saying he stood by that statement.
In May, the Oversight Committee issued a subpoena to the FBI demanding the bureau produce a record related to "an alleged criminal scheme involving then-Vice President Biden and a foreign national relating to the exchange of money for policy decisions." The subpoena sought an unclassified FD-1023 document, which is generally defined as a report from an informant presenting themselves as a "source" with claims of wrongdoing.
In July, Sen. Chuck Grassley, R-Iowa, released the FD-1023 document containing the confidential FBI informant's unverified claim that, years ago, the Biden family "pushed" a Ukrainian oligarch to pay them $10 million. Democrats on the House Oversight committee blasted Grassley and Comer over the release of the form, calling it a "thoroughly debunked" attempt to "breathe new life into years-old conspiracy theories."
Later in July, the Oversight Committee interviewed Devin Archer, a former business associate of Hunter Biden's, who told lawmakers that Hunter Biden offered clients "the illusion of access" by promoting the "Biden brand" -- a tack that included Hunter Biden putting his father on speakerphone in the presence of clients for casual pleasantries -- but that Hunter Biden and his father never spoke about the younger Biden's business affairs, and he saw no evidence of wrongdoing by Joe Biden in connection with Hunter Biden's business dealings.
In the wake of Hunter Biden's ill-fated plea deal with the Justice Department, Republicans pledged to investigate that as well.
President Biden dismissed the Oversight Committee's probe in an interview with PBS NewsHour.
"[The] public's not going to pay attention to that," he said. "If the only thing they can do is make up things about my family, it's not going to go very far."
On Tuesday, House Speaker Kevin McCarthy announced he was ordering House Republicans to move ahead with an impeachment inquiry into President Biden.
The White House attacked the move as "extreme politics at its worst," adding that "the president hasn't done anything wrong."