— -- An impassioned Roy Moore made his return to the campaign trail in Alabama this evening with just over two weeks to go before Election Day, insisting sexual misconduct allegations he faces are "completely false."
"I want to tell you first, this hurts me personally because besides my wife and my mother, and my only daughter, we have five granddaughters, and it hurts to think that people would attack your character like that after 40 years, and it's a little odd," the Senate candidate told a crowd of supporters at a rally in Henagar. "These allegations are completely false, they're malicious, specifically I do not know any of these women, nor have I ever engaged in sexual misconduct with any woman."
At least eight women have in recent weeks accused the 70-year-old Moore of sexual misconduct or inappropriate behavior when he was in his 30s. He has denied the allegations.
On Monday, Moore attacked his Democratic opponent, Doug Jones, for using the names of his accusers in a recent TV ad, and said his time serving as a prosecutor and judge gives him a unique understanding of sexual assault and misconduct charges.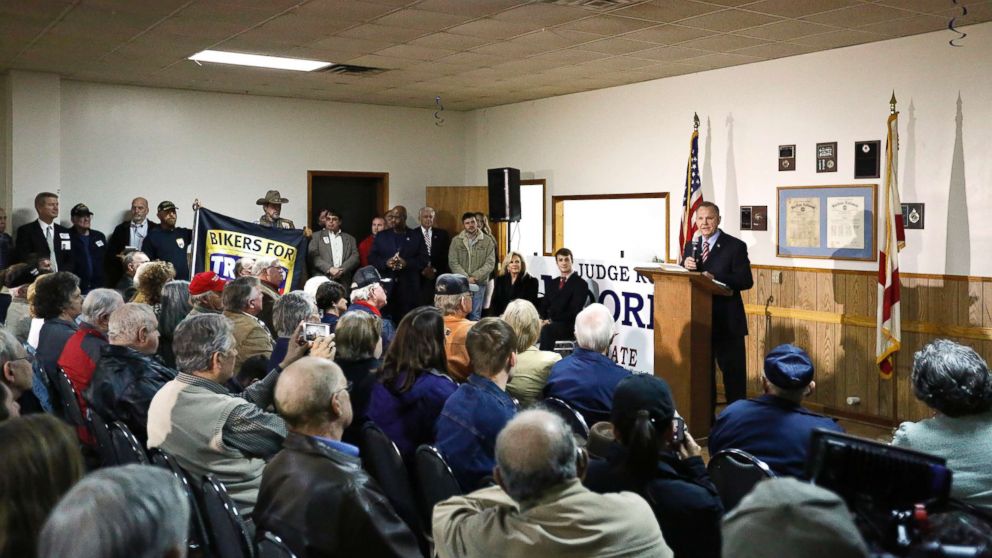 "As a former judge and prosecutor I know the seriousness of charges like this, and they should be serious if it happens, when a young lady is abused, and I've represented many victims in cases such as this, I have not seen one who wants her picture posted on national TV, especially in a political advertisement," Moore said.
Moore also compared the sexual misconduct allegations against him to the trouble President Donald Trump has faced over Russian interference in the 2016 election, saying that the stories are nothing more than a distraction from the issues that matter to Alabamians.
"Why are they doing this? Well, I'm going to tell you why they're doing this, they're trying to hide the true issue which affects the people of this country in this state that they want resolved. It's no different than when The Washington Post brought out the Russian investigation at a time when President Trump is trying to get his agenda passed," Moore said.
Moore decried the "immorality of our time" and emphasized his opposition to transgender rights, same-sex marriage and abortion. He also compared the Roe v. Wade decision to the Supreme Court's decision in the infamous Dred Scott case.
"As far as abortion, I will not fund Planned Parenthood. And I will work to overturn Roe v. Wade. In my opinion, Roe v. Wade is not fixed precedent, it's an unconstitutional decision just like Dred Scott was in 1857," Moore said.
The special election for now-Attorney General Jeff Sessions' empty seat will be held on Dec. 12.