Two members of the House of Representatives engaged in a shouting match on the floor Tuesday afternoon over the ongoing controversy surrounding House Chaplain Father Patrick Conroy, who returned to the chamber this week after claiming he was initially forced to resign by House Speaker Paul Ryan.
Rep. Tom MacArthur, a New Jersey Republican, confronted Rep. Joe Crowley, a New York Democrat, Tuesday afternoon after Crowley tried unsuccessfully to force another House floor vote to initiate an investigation into Conroy's initial resignation.
MacArthur approached Crowley on the floor and told him to "let go" of the issue, MacArthur recounted to reporters after the vote series. The exchange became heated, he said, after the towering Crowley demanded the much shorter MacArthur leave "his side of the floor."
"I said, 'You know Joe this side of the floor belongs to the people of the United States, it's not your side, and I'll come here any time I want to,'" MacArthur said. "That got him wrapped around the axle quite a bit more and he exploded."
"In New Jersey, we don't back down from people. You know he's 6'4'', I'm 5'6''. If he wants to take a punch at me, you know let him have at it," he added. "This is a guy who wants to be Speaker? And he's so thin-skinned that he can't take criticism from another member of Congress? You know I think that speaks for itself."
MacArthur, who said he prays with Father Pat Conroy every Thursday, accused Crowley, the House Democratic Caucus chairman, of trying to exploit the "personnel" issue for political purposes.
Crowley pointed the finger at Republicans and Speaker Ryan - accusing them of playing politics by forcing Conroy's resignation in the first place.
An aide to Crowley who personally witnessed the exchange acknowledged the two had a "heated exchange" and that the back-and-forth "happens more often than people would think."
Speaker Paul Ryan said he met with House Chaplain Patrick Conroy earlier Tuesday and they will "absolutely" put the controversy over his forced resignation behind them.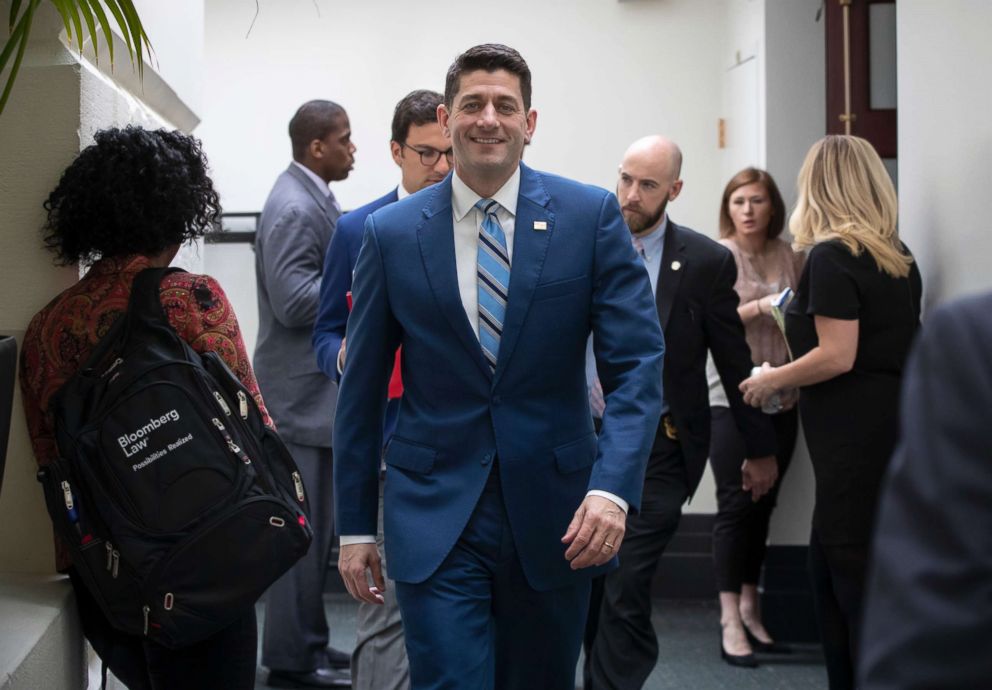 "Father Pat and I had a good cup of coffee this morning," Ryan, R-Wis., told ABC News during a news conference at the Capitol on Tuesday morning. "We talked about how to improve the services going forward."
The discussion marks at least the second time the two Catholics have spoken since Conroy retracted his resignation last Thursday, according to a senior Ryan aide.
Ryan added that the two will "keep talking" as Ryan looks for Conroy to change his approach to offering spiritual guidance.
"I think we can ultimately make improvements so that everyone has access to the pastoral services that they're looking for," he said. "And so we had a good meeting this morning. We're going to keep talking, and I feel good about where things are."
Conroy's office declined to comment.
When the House came into session on Tuesday afternoon, Ryan swore Conroy back into office as House chaplain – creating an awkward moment on the House floor when Ryan announced Conroy's reappointment "to act as and to exercise temporarily the duties of chaplain of the House of Representatives, effective Friday, May 25, 2018."
He then called Conroy to the well of the chamber, where Conroy raised his hand and swore an oath to the Constitution.
"Do you solemnly swear that you will support and defend the constitution of the United States against all enemies foreign and domestic," Ryan asked in part.
"I do," Conroy proudly affirmed.
Ryan then uttered "congratulations" and a small group of floor staff, lawmakers and Ryan, applauded Conroy's reinstatement.
The drama over the chaplain's employment status began on April 15, when Conroy submitted a letter granting Ryan's request that he resign effective May 24.
After Conroy told the New York Times on April 26 that he was asked to resign for reasons that were "unclear" to him, Democrats contended his removal was due to a November 6 prayer to open the day's session where he warned members to "be mindful" of economic disparities among social classes, and cautioned legislators not to pick "winners and losers under new tax laws."
A senior GOP leadership aide maintained that "there was not a specific prayer" that led to Ryan's decision to request Conroy's resignation.
In the wake of Conroy's initial resignation, Ryan himself pointed to his "duty to ensure that the House has the kind of pastoral services that it deserves" – inferring that Conroy wasn't proactive in reaching out to lawmakers in need of spiritual counseling.
Democrats and Conroy contend they were unaware of any complaints.
"No such criticism has ever been leveled against me during my tenure as House Chaplain," Conroy noted in his May 3 letter to Ryan rescinding his resignation. "I wish to serve the remainder of my term as House Chaplain, unless terminated 'for cause.'"
On Monday, Conroy delivered his first floor prayer since news of his forced dismissal became a public controversy on April 26.
"We give you thanks, Oh God, for giving us another day," Conroy began, seemingly sharing a subtle appreciation for his continued service in the House of Representatives.
Conroy's current appointment expires at the end of the 115th Congress next January, when the next session of Congress will vote to appoint congressional officers, though Democrats could reappoint him if they seize the House majority in this fall's midterm elections.