It may be a high school tradition, but in Washington, D.C., this weekend, it's the adults who are heading to the prom.
Saturday night is the annual White House Correspondents' Association Dinner, the premiere black tie event in the nation's capital and the one weekend a year when stodgy Washington gets a jolt of Hollywood glitz.
The event is a good place to find movie stars, athletes, journalists and politicos gathered together for a bit of comedy and a lot of schmoozing.
The event certainly has an "unlikely bedfellows" feeling to it, with athletes eager to meet politicians and journalists asking Hollywood stars to pose for a picture.
This year celebrities like Jon Bon Jovi, Ashton Kutcher and Demi Moore will be mingling with Obama Administration officials like chief of staff Rahm Emanuel, press secretary Robert Gibbs and Office of Management and Budget Director Peter Orszag.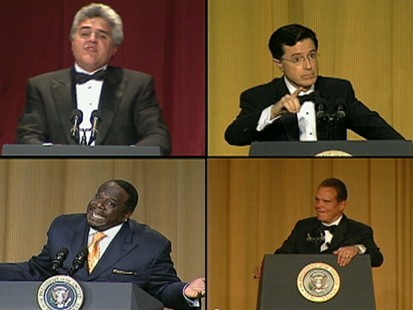 But the biggest guests of the night will be President Barack Obama and First lady Michelle Obama.
Since this is the Obama's first major public social outing since the inaugural balls, the hype is on overdrive.
"I've never heard of the dinner being more popular ever before than it is this year," said Anne Schroeder Mullins, columnist for Politico. "It's a new administration, it's a new family, it's a new fun time, and everyone wants to get to know each other and they also want to be there for the first time."
Obama has shown he has a sense of humor, at events like last year's Al Smith dinner. But Saturday's dinner, before the Washington press corps and a cast of celebrities, gives him the chance to show off his skills as comedian-in-chief.
Most presidents have used the occasion to lighten up a bit and poke fun at themselves, like President Bill Clinton and President George W. Bush did in their dinner appearances.
At his last dinner in 2000, Clinton joked about what life would be like after he moved out of the White House.
"But a year from now, I'll have to watch someone else give this speech. And I will feel an onset of that rare affliction, unique to former presidents. AGDD -- Attention-Getting Deficit Disorder," Clinton said.
Over his two terms, Bush provided ample material for the late-night comedians and the correspondents' dinner gave him a chance, for one night a year, to show that can get in on the joke too.
"You know, I'm not sure what I'm going to do next. After he left office, Vice President Gore won an Oscar and the Nobel Peace Prize. Hey, I don't know, I might win a prize -- Publishing Clearinghouse or something." he said to laughter.
Sometimes the professional comedians go even further with their zingers aimed at the guest of honor.
Comedy Central's Stephen Colbert was widely panned for his controversial 2006 stand-up routine, which was heavy with one-liners about Bush.
"I stand by this man. I stand by this man because he stands for things. Not only for things, he stands on things. Things like aircraft carriers and rubble and recently flooded city squares. And that sends a strong message: that no matter what happens to America, she will always rebound -- with the most powerfully staged photo ops in the world," Colbert said.
Colbert took the Washington press corps to task as well.
"And as excited as I am to be here with the president, I am appalled to be surrounded by the liberal media that is destroying America, with the exception of Fox News. Fox News gives you both sides of every story: the President's side, and the Vice President's side," Colbert said.
At other dinners, the entertainment played it safe.
Rich Little, the Carson-era comedian known for his impressions of Presidents Nixon and Reagan, was booked in 2007 as the tame follow-up to Colbert.
He lived up to that expectation, with a routine that seemed more appropriate for 1987.
"And you thought Colbert was bad," Little said after one comedic clunker.
This year comedian Wanda Sykes is the featured entertainment and may prove to be more edgy than her predecessors. Sykes is not known for playing it safe in her stand-up routines – and the White House Correspondents' Association does not hold veto power over the material.
In a surprise appearance, former First lady Laura Bush did a stand up routine at the 2005 dinner – and stole the show.
"I am married to the president of the United States and here is our typical evening. Nine o'clock, Mr. Excitement here is sound asleep, and I am watching Desperate Housewives. With Lynne Cheney. Ladies and gentleman, I am a desperate housewife," she said to thunderous laughter and applause.
Michelle Obama is not expected to yuk it up but she will present the association's annual journalism scholarships. Sixteen college students will be awarded $132,000.
Despite some tough economic times for the media, with layoffs and newspapers shutting down, the recession does not seem to be putting a damper on the party.
The dinner, the largest black tie event in town, is sold out – all 2,800 seats at $200 a pop. There is a long waiting list in case there are any late cancellations.
The New York Times will boycott the event for the second year in a row, citing concerns that the dinner gives the impression that reporters are cozying up to administration officials.
Some news organizations are scaling back their usual game plan for the dinner, buying fewer tickets but still taking part.
This year, acknowledging the tough economic times, the association is skipping the dessert course and donating the $13,140 saved to So Others Might Eat, a Washington, D.C., charity that provides meals and services to the poor. The association is also contributing an additional $10,000 to SOME.
-- ABC News' Bret Hovell contributed to this report.