The Supreme Court has ruled in favor of public employees' First Amendment rights to decline to pay union dues, marking a potential blow to the funding for influential unions of public employees.
The decision marks a big moment for Justice Neil Gorsuch, who voted with the majority and broke the tie from 2016 when the court was split 4-4 in the same case after the death of Justice Antonin Scalia.
In the case, Janus v. AFSCME, a public employee in Illinois, Mark Janus, argued that it violated his First Amendment right when he was required to pay union fees because he did not agree with all of the union's political positions. The case challenges a previous Supreme Court ruling from 1977 that found unions can require all employees to pay fees because they could all benefit from negotiations even if they aren't members.
Unions for public employees can charge nonmembers an "agency fee" intended to pay for activities that supposedly benefit all employees, like collective bargaining. But Alito said the unions were using nonmembers fees to pay for lobbying, recreational activities, and litigation. In this specific case, the plaintiff Janus was required to pay $44.58 a month to the union for Illinois state employees even though he didn't agree with the union's position on collective bargaining and other issues.
The Court found that union fees violate the free speech rights of nonmembers by compelling them to subsidize private speech on public matters, even if they disagree with the message.
"Under Illinois law, public employees are forced to subsidize a union, even if they choose not to join and strongly object to the positions the union takes in collective bargaining and related activities. We conclude that this arrangement violates the free speech rights of nonmembers by compelling them to subsidize private speech on matters of substantial public concern," Justice Samuel Alito said in the Court's decision.
The Court also said state and public unions can no longer take fees from employees' paychecks without consent, meaning every employee must opt-in to support the union instead of opt-out.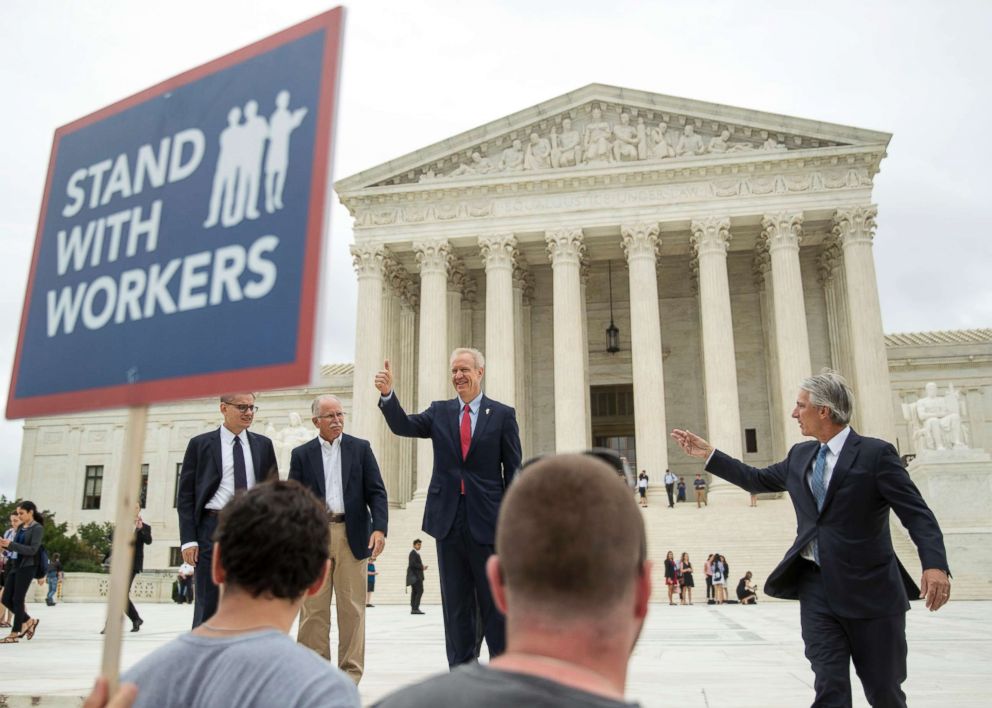 Illinois Gov. Bruce Rauner, who was a party to the case because of the union's negotiations with the state, said the Court's decision was "pro-worker" and "pro-taxpayer."
But the union, the American Federation of State, County, and Municipal Employees said the case was ultimately a political attack by Rauner against unions.
"We are extremely disappointed the Supreme Court has taken the side of the powerful few, but we're more determined than ever to keep our union strong, standing up for public services and the working people who provide them," AFSCME Council 31 Executive Director Roberta Lynch said in a statement.
One expert on labor and education said the decision could diminish collective bargaining, which has attracted more attention because of the teachers' strikes in multiple states over the last year.
"We can now expect to see more chaotic labor relations in the public sector as formal collective bargaining may diminish. The teacher strikes and walkouts in West Virginia, Oklahoma, and Arizona demonstrate that these workers will continue to act collectively, with or without formal rights granted by the government or the Constitution," said Rebecca Kolins Givan, an associate professor at Rutgers School of Management of Labor Relations.
The AFL-CIO, a group of 55 national unions, said the Court's decision "joined the corporate attack on working people" and the group's secretary tweeted that it proves the decision was politically motivated.
Justice Elena Kagan said in her dissent that the majority took sides in ongoing disputes over the role of unions that should have been decided through the democratic process because Illinois and other states have their own laws about union fees.
"Speech is everywhere – a part of every human activity (employment, health care, securities trading, you name it). For that reason, almost all economic and regulatory policy affects or touches speech. So the majority's road runs long. And at every stop are black-robed rulers overriding citizens' choices. The First Amendment was meant for better things," Kagan said.
Kagan said a previous Court ruling related to this case barred unions from using fees from nonmembers to support political candidates or ideological causes because those expenses are not related to collective bargaining.
But President Donald Trump tweeted that the ruling hurts Democrats because non-union employees would not be required to support candidates supported by their union.