Former Tennessee state Rep. Justin Pearson said Sunday he expects to be quickly reappointed after what he called his "unprecedented" expulsion for participating in a raucous, unrecognized gun violence protest on the Legislature floor.
"I do hope to continue to serve District 86 in the reappointment," Pearson, a Memphis Democrat, told ABC "This Week" co-anchor Jonathan Karl. "If there is a special election, I would definitely run in that special election because our voters have been disenfranchised."
Pearson was ousted from the Tennessee House of Representatives on Thursday along with Democratic Rep. Justin Jones of Nashville. It was the first such partisan expulsion in the state's modern history.
During protests on March 30, Jones and Pearson used a bullhorn to lead chants on the House floor, briefly disrupting legislative business. State Rep. Gloria Johnson, a fellow Democrat who also faced expulsion, was not seen using the bullhorn and was spared from removal by one vote.
Jones and Pearson are both Black; Johnson is white. All three have said they believe race was a factor.
"This is one of the greatest tactics of voter disenfranchisement and voter oppression that I've ever witnessed," Pearson argued on "This Week."
"The reality is we have a super-majority Republican legislature that doesn't want to see progress, that prefers to listen to the NRA rather than the constituents," he said.
Pearson said the Covenant school shooting in Nashville, which killed six before police killed the shooter, "has catalyzed the conversation about the need to end gun violence in our communities."
"To realize that yes, it is in schools and that's something that we need to deal with, but it is also in our communities," Pearson said. "That's because there's been a proliferation of guns and also a proliferation of laws in Republican-led majority legislatures like here in Tennessee that continue to have negative consequences for our communities."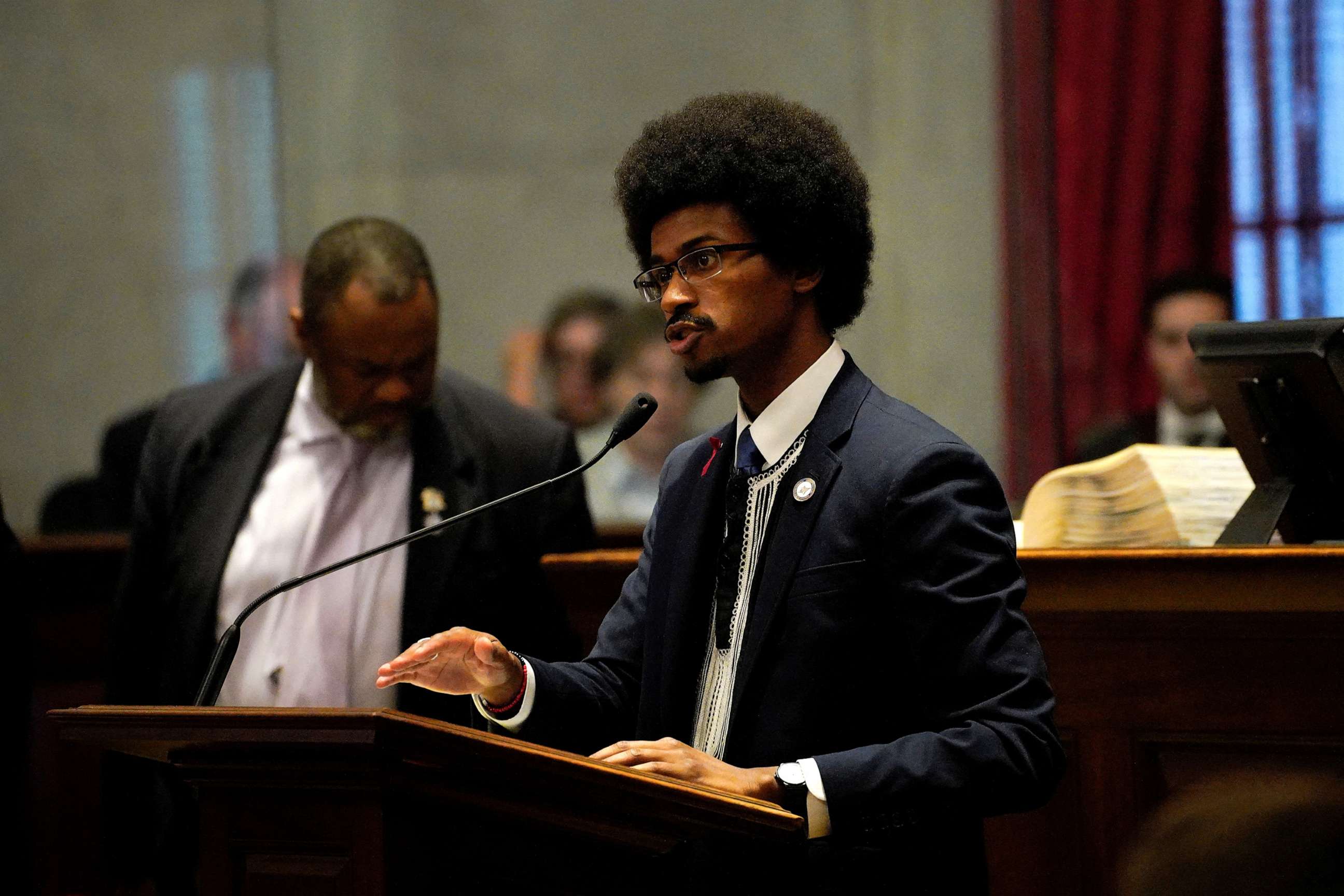 There are two possible ways Pearson and Jones could return to the Legislature: appointment by their respective county commissioners to the vacant seats or running for reelection.
Thursday's vote was "not only unprecedented, it is historical in nature, it is a historical abuse of power by [Speaker] Cameron Sexton and the super-majority Republican Legislature who would rather expel our voices and tried to expel our people's voices from the people's house, rather than address the issue of gun violence and the need for real gun safety reform legislation that could prevent people from dying in the first place."
Tennessee state Rep. Jeremy Faison, the chair of the state House Republican Caucus, previously defended the move in an interview with CNN.
"It's not possible for us to move forward with the way they were behaving in committee and on the House floor," Faison said. "There's got to be some peace."
He also said that the expulsion proceedings included "due process." All three members were able to speak in the chamber to defend themselves before the votes.
During Sunday's interview with Karl, Pearson referenced Tennessee's 2021 permitless carry law and how it affects his district, linking it to rising homicides. "Murders are up 44% relative to this point last year in our city," he said. "There are real consequences to the decisions of people in power."
"We can never forget that it was tragedy that has brought us to this moment," Pearson said. "The speaker had the audacity to call some of those children and some of those parents and grandparents 'insurrectionist,' likening them to Jan. 6, because they're demanding that their voices be heard in a democracy."
It's young people, Pearson said, that are pushing the movement forward.
"It's children and teenagers by the thousands, who continue to protest, who continue to march, who continue to raise their voices to say, 'We need to do something to end gun violence,'" Pearson said. "I pray to God to be able to use my voice as a member of the state Legislature to represent Memphis and Shelby County and Millington, to continue to fight to pass reasonable, sensible legislation that the majority of people in Tennessee want."
ABC News' Kiara Alfonseca contributed to this report.