Former President Donald Trump aired a litany of grievances about Manhattan District Attorney Alvin Bragg and other ongoing investigations against him during his first post-arraignment remarks, on Tuesday night.
The scene at Mar-a-Lago mirrored that of a campaign rally, with the former president shaking hands and pumping his fist as "God Bless the USA" -- a signature Trump rally anthem -- played through the speakers.
Trump took a defiant tone from the Mar-a-Lago podium, describing the charges brought against him as an "insult to our country" and painting them as an effort to "interfere with the upcoming 2024 election."
"I never thought anything like this could happen in America," Trump said as he spoke out about his arrest for the first time.
"The only crime that I've committed is to fiercely defend our nation from those who seek them to destroy it," he continued.
The 2024 presidential hopeful alluded to his status as a candidate for office, arguing the charges amounted to political persecution.
"They can't beat us at the ballot box, so they try to beat us through the law," he said.
He also at times attacked Bragg and Judge Juan Merchan, who is overseeing the case, as well as some members of their families. Spotted in the crowd at Mar-a-Lago were Trump's children, Donald Trump Jr., Eric Trump and Tiffany Trump, Notably, his wife, Melania Trump, as well as daughter Ivanka Trump, son Barron Trump and son-in-law Jared Kushner were not seen in the audience.
Trump had received a warning from Merchan hours earlier to refrain from language that could incite violence or jeopardize the well-being of any individuals, though the judge did not impose a gag order.
The former president targeted not only Bragg, but also most of the other legal matters in which Trump is currently entangled. Portions of his remarks were riddled with falsehoods as he ranted against the Department of Justice's probe into his possible mishandling of classified information and Fulton County District Attorney Fani Willis' probe into efforts to overturn the results of the 2020 election in Georgia.
Also in attendance at the Mar-a-Lago remarks were Reps. Marjorie Taylor Greene and Matt Gaetz, former Arizona gubernatorial candidate Kari Lake, longtime Trump adviser Roger Stone and MyPillow CEO Mike Lindell.
Trump was indicted last week, becoming the first former president to ever officially face charges. He surrendered Tuesday afternoon at a lower Manhattan courthouse, where he was processed as a criminal defendant, including having his fingerprints taken. Appearing in court, Trump pleaded not guilty to 34 felony counts of falsifying business records in the first degree. He's denied all wrongdoing.
The statement of facts that accompanied the indictment alleged Trump orchestrated a "catch and kill" scheme to hide damaging information from the public during the 2016 presidential race, then fraudulently falsified New York business records to conceal that criminal conduct.
Prosecutors said the scheme dated back to 2015 and continued while he was in the Oval Office, and included payments by others to two women who claimed to have heard long-denied affairs with Trump as well a a former doorman at Trump Tower who had claimed to have a story about Trump having a child out of wedlock, though the story wasn't true.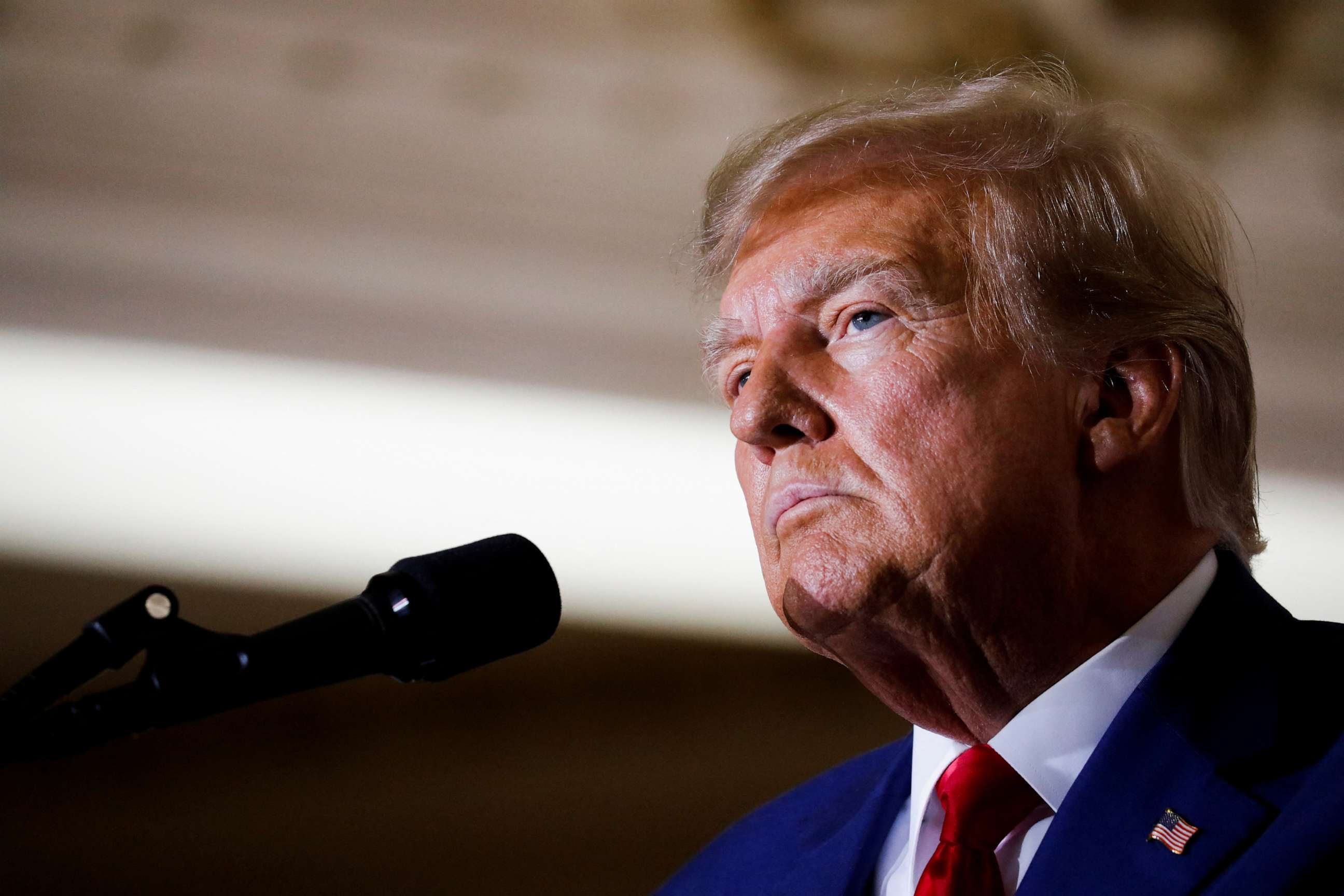 Bragg spoke after Trump's arraignment, emphasizing the law applies to every American "no matter who you are."
"We cannot and will not normalize serious criminal conduct," the district attorney said.
Each count of falsifying business records is punishable by up to four years in prison.