Trump's arrest is a circus he didn't choose, with circumstances he doesn't welcome: ANALYSIS
The former president faced an unfamiliar loss of control amid Tuesday's charges.
The master showman might relish the scene: hours consumed by aerial shots of motorcades and an airplane, circus-like protests and counter-protests across multiple cities, a long wait outside a courtroom for a not-guilty plea and, finally, a prime-time rally back home.
But the lasting images of a historic day might be fleeting glimpses of a most unusual defendant at the courthouse in Manhattan. Former President Donald Trump was stone-faced and silent, eyes narrowed in the view of omnipresent cameras -- on screens everywhere but in no way in control of the moment.
So it is for Trump and the Republican Party he has long since taken dominance over. Trump is, once again, at the center of wild action consuming virtually all of the national political oxygen.
What's less familiar is how little Trump is able to define the terms of this moment. And with this scene in the Trump show likely to last a while, the party he has shaped to his liking is no better situated to manage an unfamiliar landscape with wildly unpredictable consequences.
When he settled behind a lectern back home after a long day, Trump framed the allegations against him as part of his campaign cause, in a blanket denial -- of dozens of felony charges related to hush money paid to the adult film star Stormy Daniels before the 2016 election, which prosecutors labeled a politically minded "scheme" -- that stitched together familiar falsehoods about other investigations into a broader case for his return to the White House.
"I never thought anything like this could happen America," Trump said late Tuesday at his Mar-a-Lago estate in Florida, in what amounted to a widely viewed version of his stump speech. "The only crime that I have committed is to fearlessly defend our nation from those who seek to destroy it."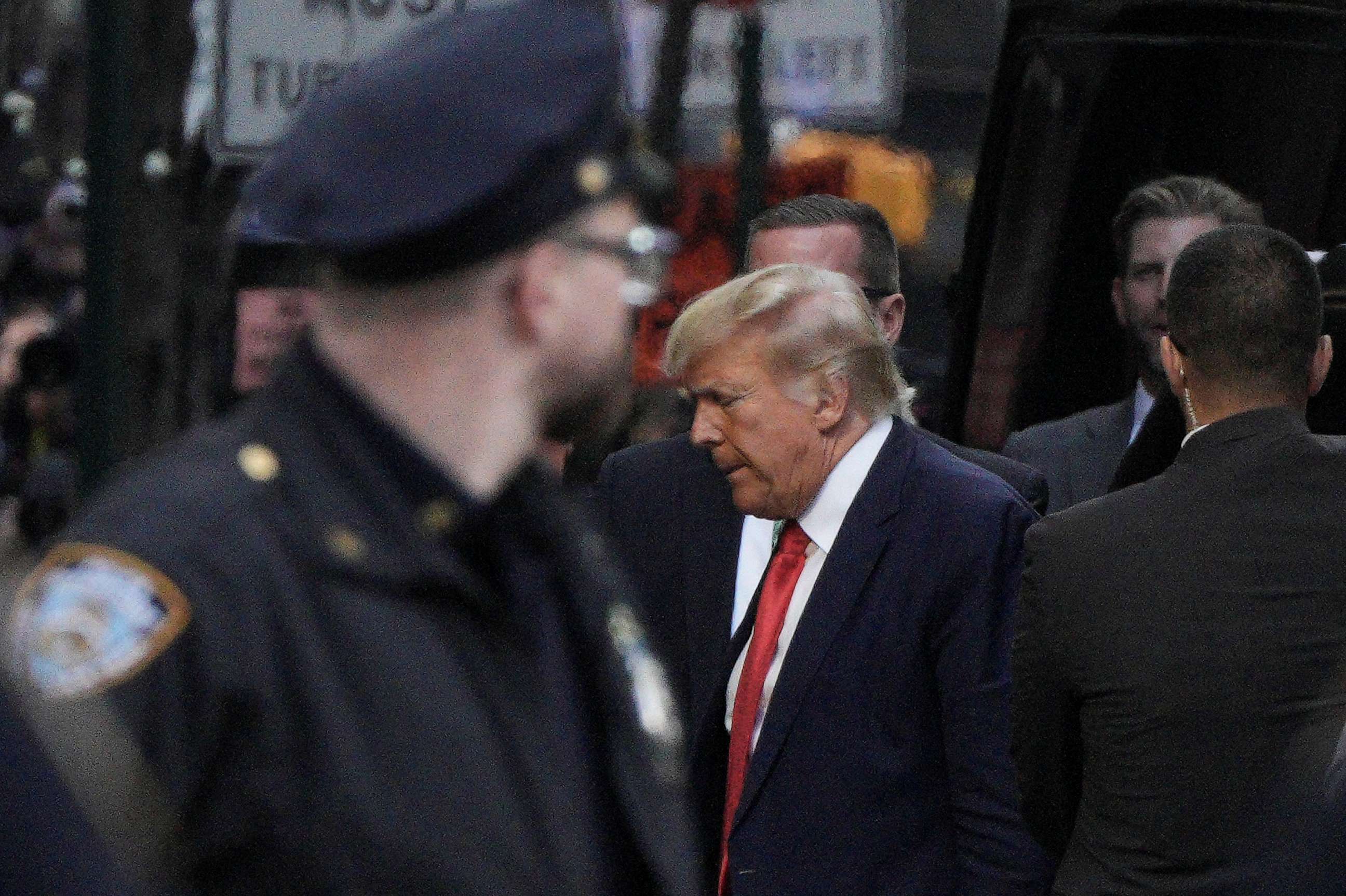 Sitting alongside the expected taunts and bluster are now, for the first time, actual criminal charges, detailing an alleged plot to falsify business records and hide deeply embarrassing information from Daniels that extended through the end of the 2016 campaign and into Trump's first year in the White House.
There are now 34 felony counts in a case that seems likely to extend into the primary season and could even go past next year's general election. Prosecutors asked for the trial to start in January 2024 -- just as the first presidential nominating contests would be set to begin; Trump's team is pushing for next spring, which would come toward the end of those races and the run-up to the Republican National Convention.
News of the indictment has essentially frozen the 2024 presidential race. Most of Trump's major rivals, including Florida Gov. Ron DeSantis, have refrained from directly attacking the polling front-runner and are instead blasting the district attorney for bringing the case at all, though some have also obliquely raised the seedier aspects of the accusations.
DeSantis has said the district attorney is "stretching the law to target a political opponent" (but "paying hush money to a porn star ... I just can't speak to that").
Trump's Vice President Mike Pence, meanwhile, labeled the case "nothing more than a political prosecution," in language echoed in a range of statements from prominent GOP members of Congress.
Yet like DeSantis, few if any Republicans have defended the underlying actions at the heart of the charges. Their unseemly nature -- as well as the possibility that this is just the first of several cases that could be brought against the former president, who is targeted in multiple probes he has labeled persecution -- carve some possible space for Trump rivals.
Former Arkansas Gov. Asa Hutchinson, who announced his intention to run in 2024 on ABC's "This Week" on Sunday, called on Trump to suspend his campaign and predicted a backlash among evangelical voters who are a core Trump constituency.
"The office is more important than any individual person," Hutchinson told ABC News' Jonathan Karl. "I believe that the evangelical community understands that we need to have a leader that can distance themselves from some of the bad instincts that drive Mr. Trump."
Kevin Kellems, a veteran Republican consultant who has worked on six GOP presidential campaigns -- including, briefly, Trump's in 2016 -- argued that this could be a catalyst for Republicans to break what he called an "addiction."
"Conventional wisdom that today's arraignment is good for Trump's political prospects is ludicrous," Kellems told ABC News. "Even if most believe the Stormy hush case is not serious, it is the first of several loud dominoes to fall -- leading to a crescendo of unelectability."
That possibility is seemingly not being contemplated inside Trumpworld. By the time the former president addressed supporters at Mar-a-Lago on Tuesday, his campaign had been raising money for hours by selling T-shirts with a fabricated mug shot of the former president -- one that suggested that he is 6-foot-5, at least two inches more than his actual height.
Trump aides have gleefully cited polls suggesting that he's gotten stronger politically as news of his indictment has spread. That's true in a range of recent horse-race surveys, though that carries the possibility of a stronger primary candidate who might then be weaker than ever in a general election against the Democratic nominee.
Meanwhile, a more nuanced portrait of public reaction is emerging: An ABC News/Ipsos poll released Sunday, before the details of the indictment were known, showed a 45% plurality of voters think the charges were appropriate, even with a slightly larger portion -- 47% -- saying they think they were politically motivated.
As one might expect, 88% of Democrats said the hush-money investigation warranted charges, with independents split 40%-32% on the question. Intriguingly in an era of polarization, 16% of Republicans said Trump was right to be charged, with another 21% saying they were not sure -- a sizable chunk of the GOP electorate that's not automatically pro-Trump.
Some political observers saw in Trump's body language on Tuesday a realization that he is facing a harsher reality than he would admit publicly.
"He may be the martyr for the MAGA movement, but this is not a procedure that helps him secure the presidency of the United States," former Sen. Heidi Heitkamp, D-N.D., an ABC contributor, said Tuesday.
The fact of and circumstances around Trump's indictment could mark a disruption as memorable and significant as the escalator ride that started the Trump era of American politics nearly eight very long years ago and just a few miles away at Trump Tower in Manhattan.
His seeming ubiquity fueled his rise back in 2015, just as the 2016 political season started to heat up. But while that was a would-be president controlling the narrative, Tuesday brought a former president summoned back to his hometown to be placed under arrest and to be criminally charged.
Trump thrives off of spectacles where he is the focus. What remains to be seen is how he and his party react to one he didn't choose, carrying consequences he most certainly does not welcome.