House managers used final day of opening arguments to focus on alleged 'obstruction of Congress'
New poll shows 66% of Americans surveyed say Senate should call witnesses
Schumer comments on ABC News report on recording appearing to capture Trump on Yovanovitch saying, 'Take her out'
House managers, who continue to argue the Senate should subpoena additional witnesses and documents from an uncooperative White House, on Friday detailed President Donald Trump's resistance in making their case for the second article of impeachment -- "obstruction of Congress" -- in their final day of arguments.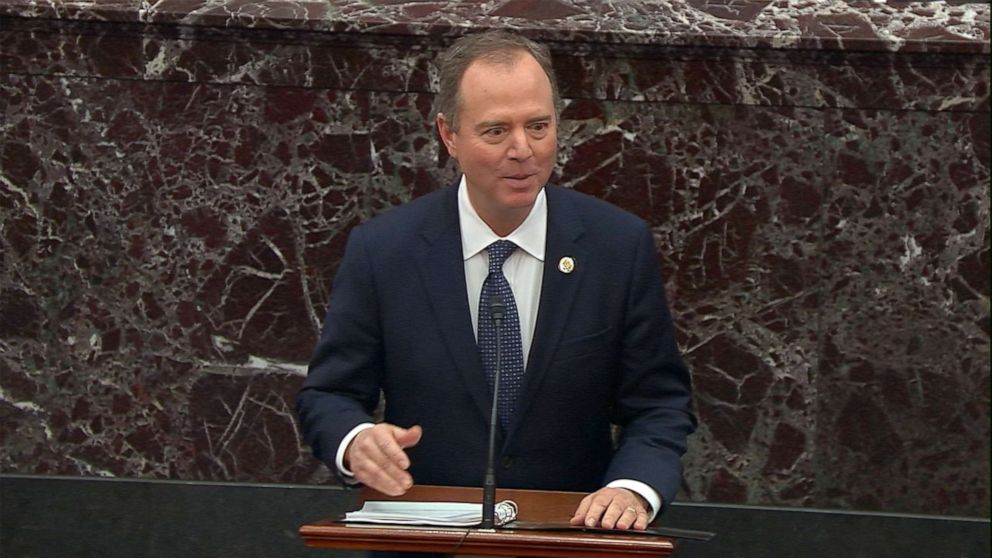 Senate Majority Leader Mitch McConnell announced that Saturday's proceedings with Trump's lawyers making their opening arguments would begin at 10 a.m. for a possible abbreviated session after sources said Trump's defense team was concerned opening arguments may get buried over the weekend.
Trump weighed in Friday morning on the Saturday session, calling it "Death Valley in T.V."
"After having been treated unbelievably unfairly in the House, and then having to endure hour after hour of lies, fraud & deception by Shifty Schiff, Cryin' Chuck Schumer & their crew, looks like my lawyers will be forced to start on Saturday, which is called Death Valley in T.V.," Trump tweeted.
On Thursday, while making the case for "abuse of power," Democrats also detailed a defense of former Vice President Joe Biden and the role his son, Hunter Biden, played on the board of Burisma, a Ukrainian energy company, seeming to prepare for counterattacks likely to come when Trump's legal team takes the stage. They argued there's no evidence of any wrongdoing and pursuing the Bidens is irrelevant.
Trump's personal attorney, Jay Sekulow, said upon hearing the Democrats' defense of Biden that their team would determine the appropriate way to respond now that Democrats "opened the door" to the Bidens.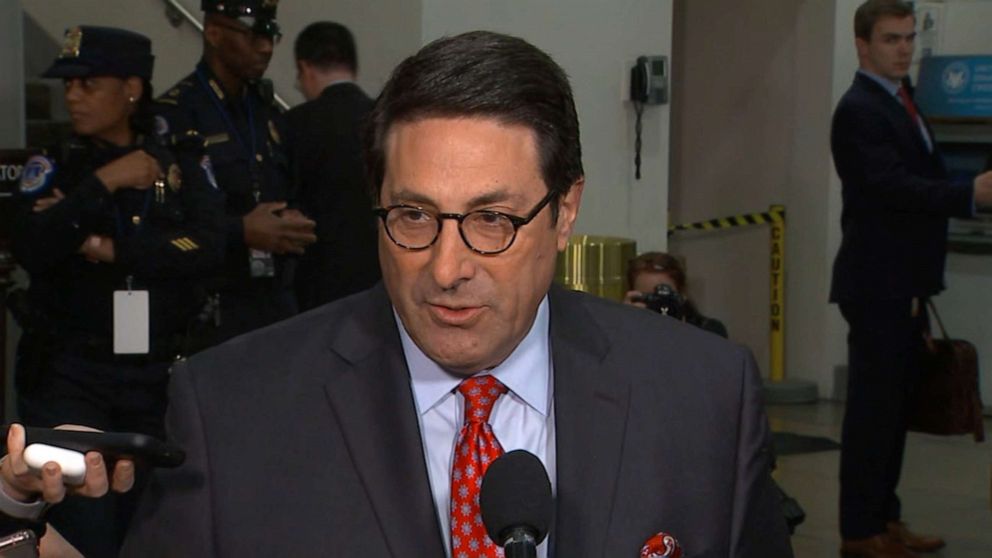 "What I don't understand is for the last five hours, it's been a lot about Joe Biden and Burisma," Sekulow said after Thursday's dinner break. "They kind of opened the door for that response. So we'll determine as a defense team the appropriate way to do it."
Behind closed doors, the Senate Republican leadership is also laying the groundwork in its caucus for a vote against subpoenaing witnesses by warning that a guaranteed White House court fight over executive privilege would stall the trial and paralyze the Senate for months.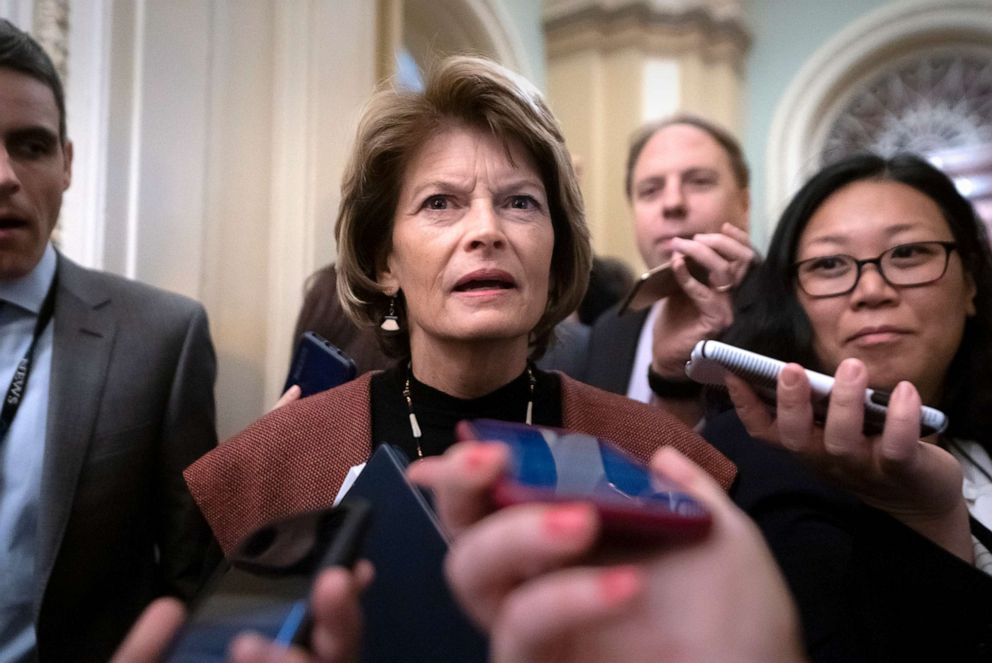 GOP Sen. Lisa Murkowkski of Alaska, one of the four GOP senators Democrats would need to support their call for witnesses, pointedly criticized the Democrats' strategy.
"The House made a decision that they didn't want to slow things down by having to go through the courts," Murkowski told CNN. "And yet now they're basically saying, 'You guys gotta go through the courts. We didn't, but we need you to.'"
Here's how Friday unfolded:
8:54 p.m. House impeachment managers conclude their opening arguments
Lead House impeachment manager Adam Schiff closed out the House's opening arguments Friday, telling the Senate that the facts -- presented over the course of a week -- add up to an impeachable offense.
"We have met our burden," he said.
The overall theme of today? Making the case that Trump's behavior is like that of a dictator, and that it's up to Congress to stop him.
Schiff used a lot of time to address possible defenses from Trump's legal team -- since, he said, the impeachment managers will not get a chance to respond to those arguments. He specifically called out Ken Starr and Alan Dershowitz, both of whom he said held positions during President Clinton's impeachment that conflict with their positions now.
Some moments were tense, like when GOP senators scoffed at Schiff's reference to a news report detailing an alleged threat from a Trump associate to certain moderate senators if they voted against the president.
But there were lighter moments, too, like when Schiff said, during a section in his remarks about executive privilege, that the senators could overrule Chief Justice John Roberts since Roberts is bound by Senate rules for the impeachment trial.
"You have to admit it's every legislator's dream," Schiff said to laughter.
He thanked the Senate for its attention during the House's opening arguments and asked the Senators, when the time comes, to render their judgments based on their conscience.
"All we can ask is that you hear us out and make the best judgment that you can consistent with your conscience and our Constitution," Schiff said.
-- ABC News' Trish Turner
5:28 p.m. GOP senators appear to be studying 'Burisma Timeline' documents
A number of Republican senators appear to be studying up on Burisma and the Bidens' involvement in Ukraine during this afternoon's Democratic presentation, ABC News' Devin Dwyer and Benjamin Siegel report from inside the Senate chamber.
Spotted on the desks of more than half a dozen GOP senators in the chamber are research documents entitled "Burisma Timeline" in bold black letters with bright yellow highlights of important dates. It was not possible to make out the contents from the press gallery.
Sens. Ernst, Graham, Johnson, Boozman, Lee, Sullivan, Fischer, Braun and Portman -- all reliable Trump allies -- were observed reviewing the document. It did not appear on any Democratic senators' desks.
The document suggests Burisma and the Bidens will figure prominently in the president's defense and be major talking points by his senate defenders.
The same lawmakers each also had a copy of the nonpartisan Congressional Research Service's Jan. 21 report entitled "Obtaining Witnesses In an Impeachment Trial: Compulsion, Executive Privilege, and the Courts."
The report lays out scenarios and legal reasoning for how a Senate battle over witness subpoenas could play out, specifically with respect to Trump's former National Security Adviser John Bolton.
"If the Senate chooses to hear from Bolton, it is possible that the president's counsel could attempt to exclude his testimony through a motion," the report said, "or raise an objection to a specific line of questioning during the evidentiary portion of the trial. It does not appear that a President has previously raised executive privilege or adviser immunity in a Senate impeachment trial, and as a result, either assertion could trigger some unique scenarios."
Very interesting read — but bottom line, a virtually certain White House challenge to a subpoena of administration officials would be largely uncharted legal territory.
Rep. Zoe Lofgren then took the floor, pointing out that even Richard Nixon was more cooperative than Trump during the House's impeachment inquiry.
"There's no telling how many government officials would have come forward if the president hadn't issued this order," she said, ticking off a list of White House officials who obeyed President Trump's order not to cooperate, including acting White House Chief of Staff Mick Mulvaney and officials at the Office of Management and Budget who were privy to details about the hold on Ukraine aid.
5:03 p.m. House manager Demings details 'obstruction' charge
House manager Val Demings laid out several examples of the president allegedly "misusing" his power to direct the executive branch not to testify or provide documents subpoenaed by the House.
She called Trump's obstruction "a declaration of total defiance of the House's authority to investigate credible allegations of the president's misconduct and a wholesale rejection of congress's ability to hold the president accountable."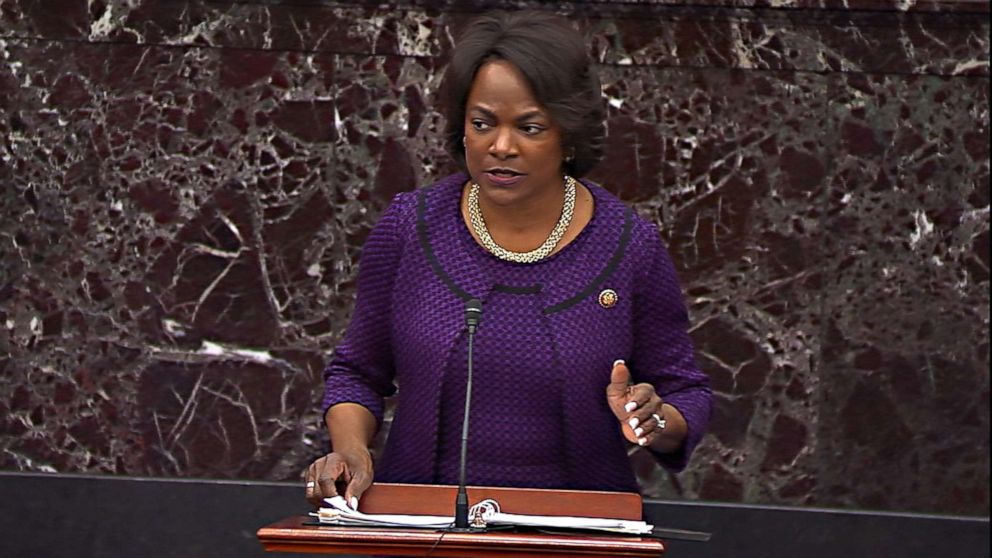 Demings said Trump's order "substantially interfered" with the House's power to conduct its impeachment inquiry, although the Florida Democrat boasted that "the House gathered overwhelming evidence of [Trump's] misconduct from courageous public servants who were willing to follow the law," allowing the House "to develop an extensive catalog of specific documents and pertinent communication that go to the heart of the president's wrongdoing."
"Over time these documents and this evidence will undoubtedly come to light and I ask this body to not wait to read about it in the press or in a book," Demings said. "You should be hearing this evidence now."
"If we allow President Trump to escape accountability, we will inflict lasting damage on the separation of powers among our branches of government -- our fundamental system of checks and balances," Demings continues. "It would inflict irreversible damage by allowing this commander in chief, and establishing precedent for future presidents to act correctly or abusively."
She also said Trump's behavior directly contradictions the framers' intention when they put checks on presidential power.
"Absolute power corrupts absolutely. This is the very opposite of what the framers intended. The framers of the Constitution purposefully entrusted the power of impeachment to the legislative branch so that it may protect the American people from a corrupt president," Demings said. "The times, senators, have found us. If Congress allows President Trump's obstruction to stand, it effectively nullifies the impeachment power. Senators, we are the keepers, the protectors, the defenders of what the framers intended, and we must hold any unprincipled and undisciplined executive accountable."
"We must stop this president," Demings declared.
-- ABC News' John Parkinson:
4:08 p.m. Republicans pull back on censure idea
After Republican Sen. Mike Braun of Indiana raised the prospect of censure this morning and it ricocheted around the Hill, he was suddenly singing a different tune.
"There's no appetite in the caucus for that right now. This process has been trying enough," he said moments ago.
Sens. John Barrasso of Wyoming and Jodi Ernst of Iowa similarly shot down the censure idea.
"One way or, we're being asked to vote on impeaching and removing the president from office. I'm vice chairman of the conference. Things come through the conference. I had heard nothing about that. It has not come up with any of our lunches and our discussions has not been discussed at all." Barasso said
-- ABC News' Devin Dwyer
3:28 p.m. Schiff on Trump's conduct: 'Do you think it's going to stop now?'
Schiff features a clip of the Helsinki press conference where President Trump, standing next to Russian President Vladimir Putin, calls into question the findings of U.S. intelligence agencies that Russian agents hacked the Democratic National Committee.
"He's promoting this kooky crazy conspiracy theory right next to the guy that cooked it up," Schiff says. "It's a breathtaking success of Russian intelligence. I don't know if there's ever been a greater success of Russian intelligence."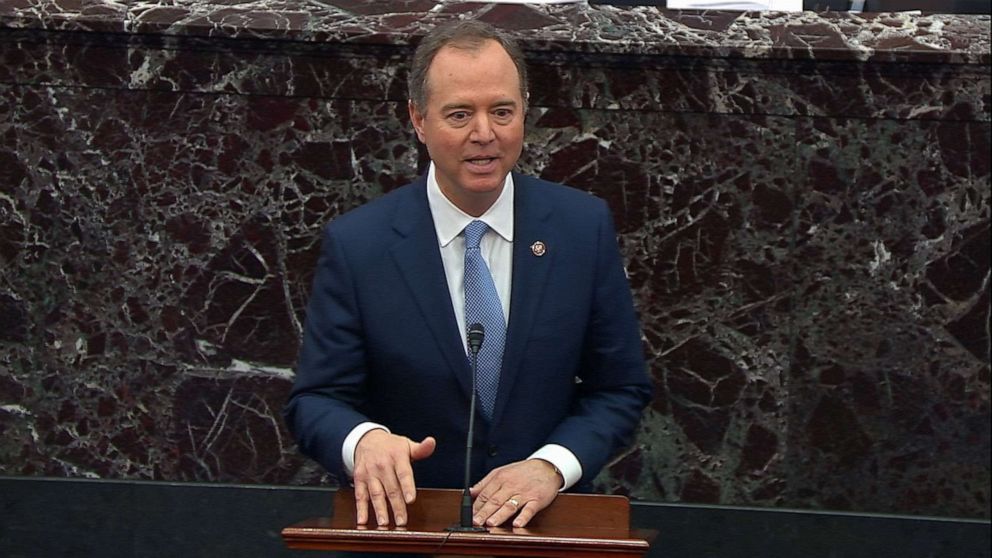 Referencing the proxy conflicts of the Cold War, Schiff then charged that the Soviet Union was never as "successful" at manipulating the U.S. as Russia has been today.
"There [Putin] is standing next to the president of the United States and hearing his own Kremlin talking points coming from the president of the United States," Schiff says. "If that's not a propaganda coup, I don't know what is."
He asked the senators listening: "Do you think it's going to stop now? Do you think if we do nothing it's going to stop now? All of the evidence is to the contrary. You know it's not going to stop."
And Schiff emphasizes that Democrats believe Trump will continue the same behavior detailed in their investigation unless he is removed from office.
"Merely exposing the president's scheme has not stopped him from continuing this destructive pattern of behavior that's brought us to this somber moment. He is who he is. That will not change, nor will the danger associated with him. Every piece of evidence supports that terrible conclusion, that the president of the united States will abuse his power again, that he will continue to solicit foreign interference to help corruptly secure his re-election," Schiff says.
"President Trump has abused the power of his office and must be removed from that office," he says before yielding the floor.
2:40 p.m. Schiff: Withholding Ukraine aid had 'real consequences'
Again using video clips to illustrate his arguments, Schiff highlights the impact of the ongoing war between Russia and Ukraine.
"Withholding the aid has real consequences to real soldiers with real families," Schiff says.
To make his point, he uses a video clip of senior Pentagon official Laura Cooper, who testified during the House impeachment inquiry that withdrawing military support would "embolden" Russia in its conflict with Ukraine.
"Indeed the aid doesn't just supply much needed weapons to Ukraine," Schiff adds. "It's a symbol of support."
He then goes on to underscore the importance of standing behind NATO allies, saying Trump's temporary withholding of aid weakened U.S. commitments to the military alliance and hurt U.S. national security.
"We only deter Russia by consistently demonstrating support for our friends, friends like Ukraine," Schiff says.
2 p.m. New poll shows 66% of Americans surveyed say Senate should call witnesses
As the trial continues, a new ABC News/Washington Post poll finds two-thirds of Americans in the survey say the Senate should call new witnesses, even while the public is divided on his removal from office – and Trump's approval rating has rallied to match his career high.
1:40 p.m.
Democrats try to undermine expected Trump defense on Ukraine aid
House manager Rep. Jason Crow of Colorado makes an effort to challenge the upcoming defense expected from Trump's legal team.
He takes aim at the argument that Trump was concerned about Europe's contributions to Ukraine's security, and noted the European Union's significant nonmilitary contributions to Ukraine.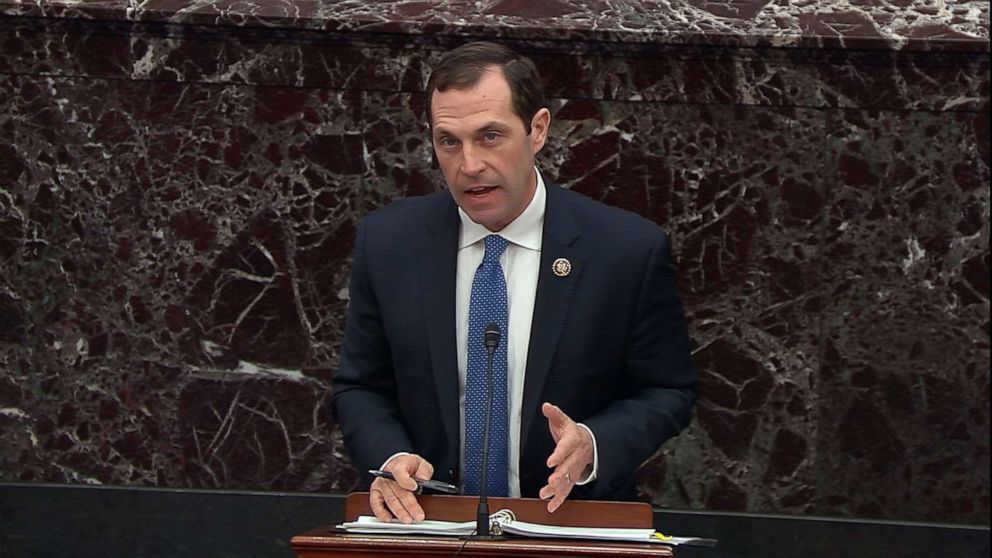 "The president's assertion that other countries did not support Ukraine is meritless," he says.
Crow also says that none of the witnesses who testified before the House said they were told the aid was frozen because of burden-sharing concerns. He also dismissed the claim that Ukraine was unaware of the hold before the Politico report in late August.
"If the president's concern were genuinely about burden sharing, he never made any public statements about it, never ordered a review of burden sharing, and never ordered his officials to push Europe to increase their contributions," Crow says. "Then he released the aid without any changes in Europe's contributions."
"The evidence is clear, the question for you is whether it's okay for the president to withhold taxpayer money, aid for our ally, our friend at war for a personal political benefit. Whether it's okay for the president to sacrifice our national security for his own election," Crow says. "It's not okay to me. It's certainly not okay with the American people, and it should not be okay to any of you."
-- ABC News' Benjamin Siegel
1:35 p.m. Talk of censure among Senate Republicans?
Would an acquittal send the message it's OK for a president to use the power of his or her office to conduct opposition research?
Republicans have a tough time answering that question, ABC's Devin Dwyer reports, and some senators say there is renewed talk about censure because of it.
"I think that's simply because there's a feeling that this (conviction) isn't going to go through, and the question earlier — does this, doesn't acquittal send the wrong message," GOP Sen. Mike Braun of Indiana tells Dwyer.
"All the information we're looking at, it's in a prism, a very binary outcome. You're either acquitted, or you're convicted, and if you're convicted it's the death sentence. There's no kind of range, or spectrum. ...I think it means that when you do bring a case, especially for as this applies to the future, you better have all your ducks in a row, it better be solid, and most importantly, it ought to be a little bipartisan when it arrives over here," Braun says.
1:05 p.m. As trial resumes, McConnell says Saturday session to start at 10 a.m.
The Senate reconvenes to hear the House Democrats' third and last day of arguments. When the session begins Friday, Democrats have seven hours and 53 minutes left of the allotted 24 hours to present their case.
Senate Majority Leader Mitch McConnell says the Senate will take breaks throughout the day Friday and will reconvene Saturday morning at 10 a.m. for President Trump's defense team to begin their opening arguments.
House manager Hakeem Jeffries of New York picks up the Democrats' case.
11:20 a.m. Schumer comments on recording appearing to capture Trump on Yovanovitch saying 'Take her out'
Senate Minority Leader Chuck Schumer had limited comment on a recording reviewed by ABC News that appears to capture President Donald Trump telling associates he wanted the then-U.S. ambassador to Ukraine Marie Yovanovitch fired while speaking at a small gathering that included Lev Parnas and Igor Fruman -- two former business associates of Trump's personal lawyer Rudy Giuliani who have since been indicted in New York.
The recording appears to contradict statements by President Trump and support the narrative that has been offered by Parnas during broadcast interviews in recent days. Trump has said repeatedly he does not know Parnas, a Soviet-born American who has emerged as a wild card in Trump's impeachment trial, especially in the days since Trump was impeached.
"Get rid of her!" is what the voice that appears to be President Trump's is heard saying. "Get her out tomorrow. I don't care. Get her out tomorrow. Take her out. Okay? Do it."
"I haven't seen that so I won't comment on that yet," Schumer says,"but I can say that the granularity of the description of the specific treatment of this prized, wonderful public servant, Ambassador Yovanovitch, I think stuck in people's minds again. I think there's tremendous sympathy for Ambassador Yovanovitch from one end of America to the other, my guess is the hearts of many of our Republican senators. So, I don't know that thing, but I do know that Yovanovitch was terribly treated."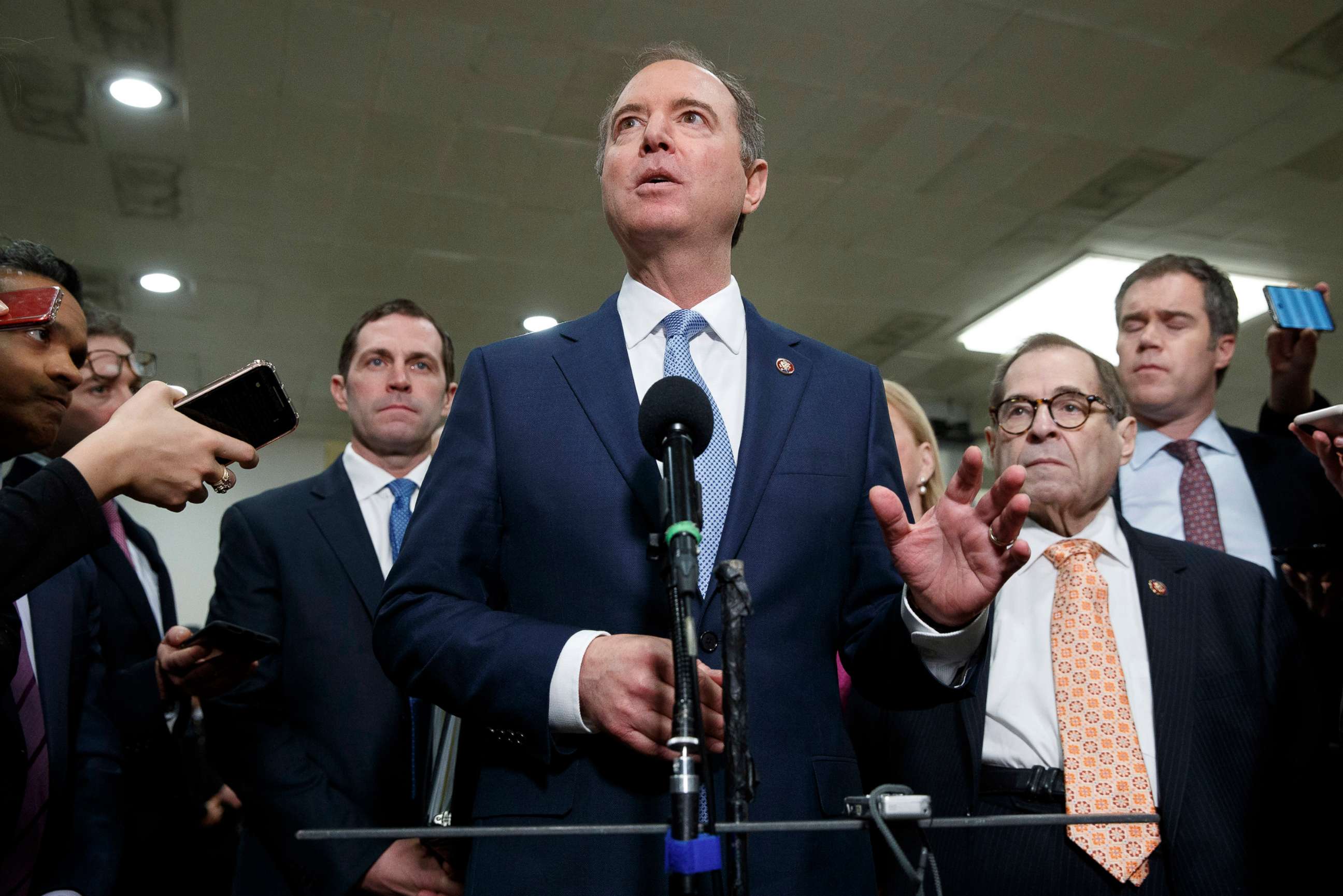 Separately, asked by ABC News Senior Congressional Correspondent Mary Bruce about the report, Rep. Adam Schiff said: "Plainly, if the president, at the urging of Giuliani or Parnas or Fruman, if this is additional evidence of his involvement ... it could certainly corroborate much of what we've heard."
He said he couldn't comment further since he hasn't reviewed the tape or report.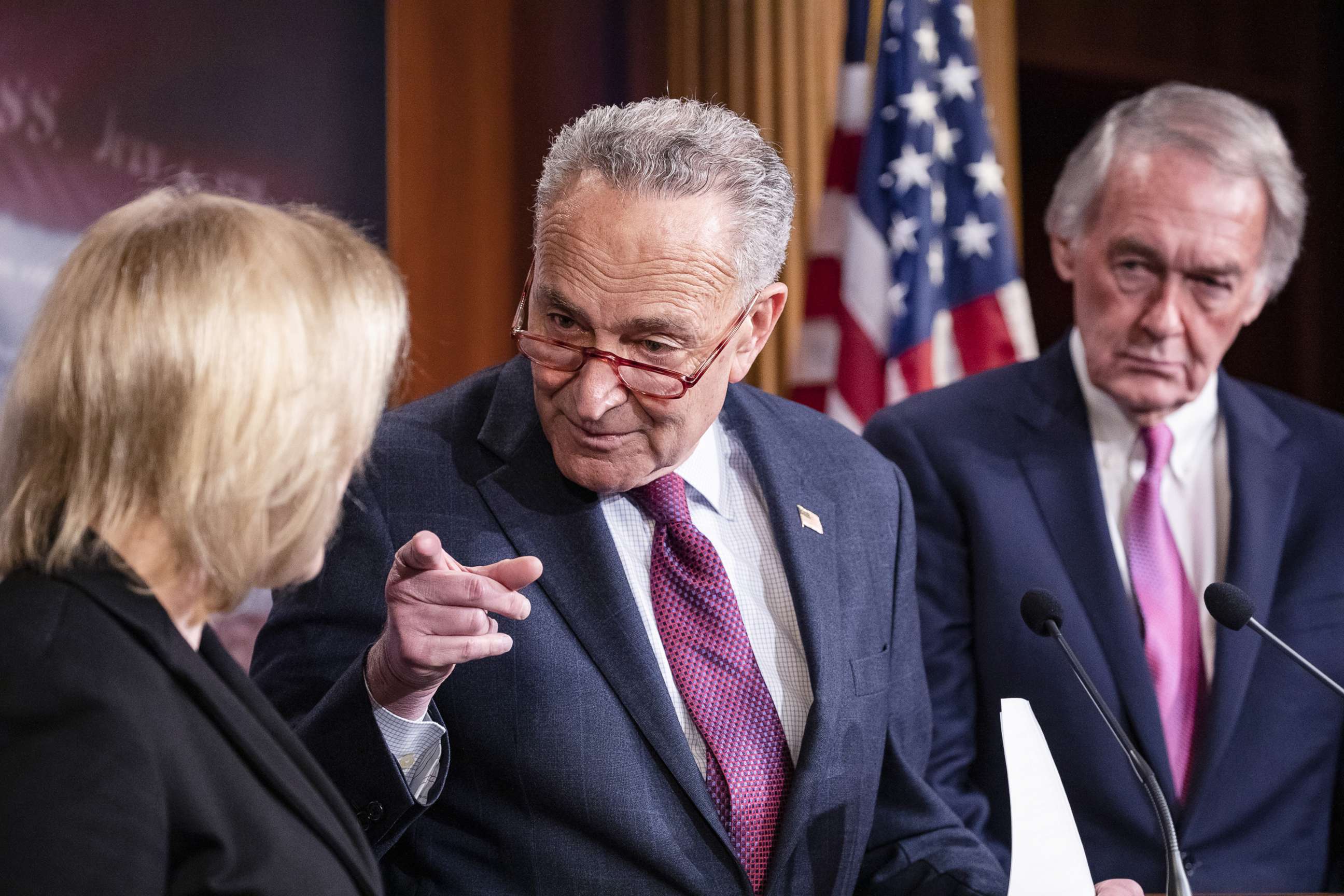 At his news conference, Schumer also kept up his pressure on Republicans to agree to Democratic demands for witnesses and documents.
"Every day we hear a different story from many Senate Republicans about why they oppose a fair trial, about why we can have witnesses and documents. It's usually some shiny object that has nothing to do with the actual facts and law of the case, so now here's the latest one: That is it'll take too long if we do it later," Schumer says. "Let me say this: First, we heard the Republicans all vote to delay things. The Mitch Mcconnell scheme was to say because he knew that a lot of Republicans were seriously thinking of witnesses and of documents, they said, 'let's not do it now. Let's hear the arguments and then do it.' And now they're saying, 'We don't have enough time to do it.'
"It's a very flimsy excuse," Schumer adds.
With regard to the Republican argument that President Trump was sure to invoke executive privilege, triggering a lengthy court fight, Schumer says, "There's a simple answer when our Republican friends claim it would take too long. Go tell the president not to invoke executive privilege. He's the one delaying it. Not us."