Trump now claims Sidney Powell never represented him, and more campaign trail takeaways
He previously said she was among his "wonderful lawyers and representatives."
Former President Donald Trump looked to create some separation between him and a lawyer he had said worked for him -- amid his legal trouble in Georgia, as he continues to deny all wrongdoing.
Meanwhile, some of the other 2024 Republican presidential candidates weighed in on the Israel-Hamas war, urging the White House to do more while pushing back on a proposal to tie together aid for Ukraine and Israel.
Here are takeaways from the campaign trail on Sunday.
From 'wonderful lawyer' to 'NOT MY ATTORNEY'
After Sidney Powell, an attorney who vocally backed Trump's baseless election fraud conspiracies, last week pleaded guilty in the Fulton County, Georgia, election subversion case, Trump took to social media claiming that she was never his lawyer and went on to repeat false claims about the 2020 race.
"Despite the Fake News reports to the contrary, and without even reaching out to ask the Trump Campaign, MS. POWELL WAS NOT MY ATTORNEY, AND NEVER WAS," Trump posted on social media.
That post flies in the face of a November 2020 announcement from Trump in which he named Powell as an addition to his legal team, however. He tweeted on Nov. 14, 2020, that Powell was "added to our other wonderful lawyers and representatives."
Powell has admitted to six misdemeanor charges in the Georgia case over efforts to overturn Trump's loss there. As part of the agreement, Powell must "testify truthfully about any co-defendants" involved in the case, according to the judge. Trump, a co-defendant, has pleaded not guilty to his own charges.
Untangling Ukraine and Israel?
South Carolina Sen. Tim Scott, the only federal officeholder running for the GOP's 2024 presidential nomination, said on ABC's "This Week" that he would not support the White House's push for a legislative package that includes military aid for Ukraine and Israel -- though he supports sending help to each country.
"I believe that leveraging the challenges in the war with Israel to get more assistance for Ukraine at that level of $60 billion is too much, and we need to have a single focus on bringing Congress together behind the support for Israel," Scott said.
He said he opposed the current plan because tying the two countries together could hinder aid going to Israel given broader Republican debates over how much to help Kyiv.
"Israel is at the beginning of a long, protracted war," he said. "I think we are much better off, better served as a nation, focusing our resources and our attention immediately on Israel, and continuing to provide the kind of level of accountability and responsibility the American people want to see as it relates to the resources for Ukraine."
The White House's proposal includes $61 billion for Ukraine; $14 billion for Israel; $7 billion for Taiwan and other Indo-Pacific allies; $9 billion for humanitarian aid in Ukraine, Israel and Gaza; and $14 billion for southern border security with Mexico.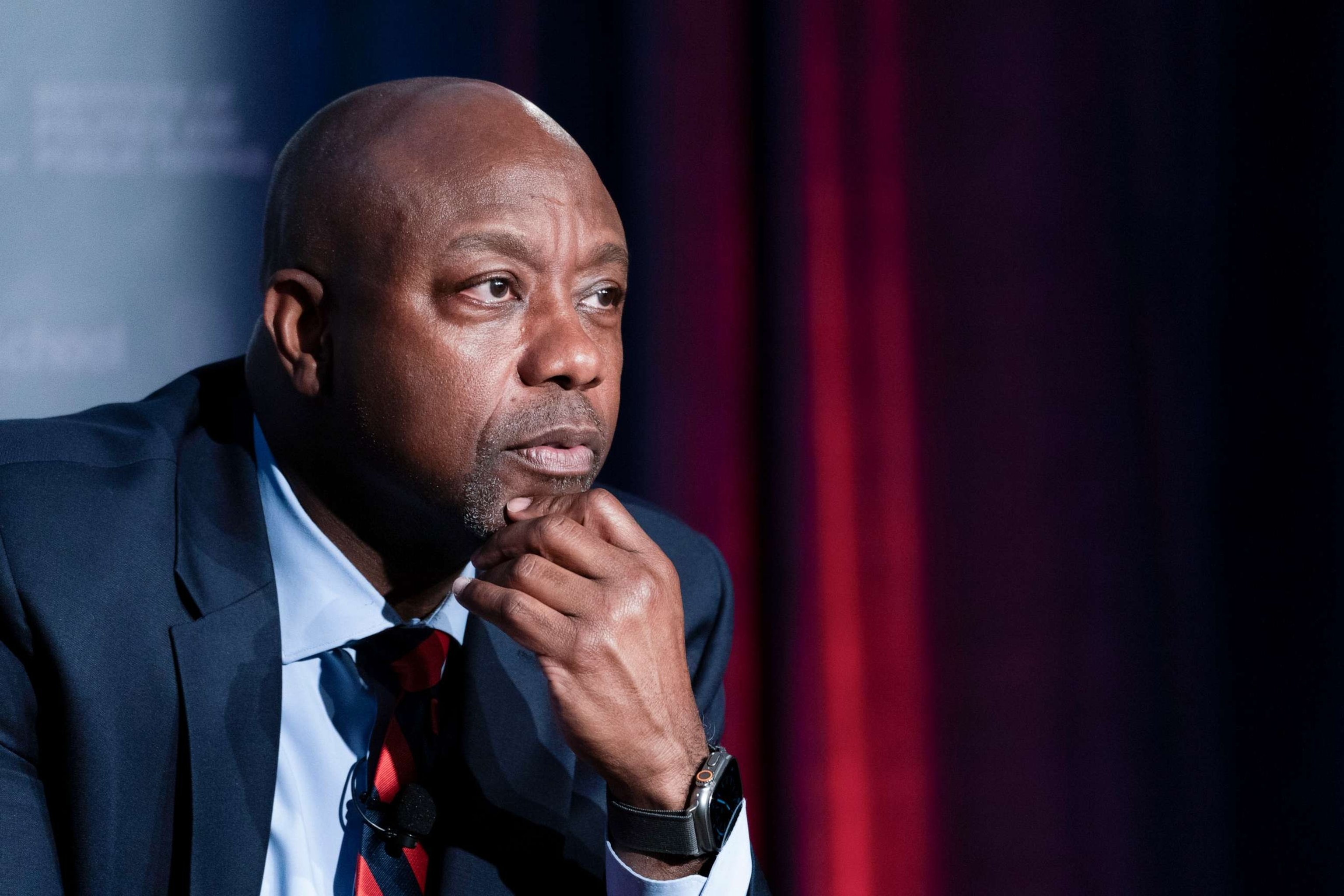 Christie calls for more help for Americans in Gaza
Former New Jersey Gov. Chris Christie, another Republican presidential contender, said the White House should do all it can to help get American citizens out of the Gaza Strip ahead of an expected invasion by Israel into the Palestinian territory controlled by Hamas, which launched a terror attack on Israel earlier this month.
"Look, there are people coming in and out of Israel right now. I see members of Congress and leaving and going to Israel. If we can get them out of there, we should be able to get our own citizens out of Israel and Gaza if they want to leave. It's shouldn't be that hard, and I don't know why the president is having such a hard time doing It," Christie said during a stop in South Carolina.
"There is no higher priority than the safety of U.S. citizens abroad," the State Department told ABC News in a recent statement.
Christie said in South Carolina that he did not think the U.S. should be taking refugees from the territory -- a view shared by other 2024 candidates.
"There's plenty of folks in the region who should be willing to help in that circumstance if it's needed, but I don't think it should be us," he said.
Down, but not out
Former Vice President Mike Pence noted the challenges he faces in the GOP presidential primary polls but wouldn't say if he's ready to drop out of the race.
"Well, we're working very hard to qualify for the [next] debate, and it will be down in Miami. Lots of people are going to Mikepence2024.com and making a contribution to give us the numbers and contributions that we need to qualify, but you know, I will tell you, look, I don't have the most money in this campaign, but I do have the most experience. I mean, it's the reason why I'm running," he said on NBC"s "Meet the Press," referencing next month's debate, for which he hasn't yet qualified.
Pence has been mired in the low single digits in most national and statewide polling, according to 538, and financial disclosures show his war chest pales in comparison to other contenders like Trump.
ABC News' Libby Cathey, Abby Cruz, Lalee Ibssa, Soo Rin Kim and Olivia Rubin contributed to this report.