President Donald Trump on Monday offered markedly more restrained language about possible retaliation for a weekend attack on a Saudi oil facility -- compared to his Sunday tweets that the U.S. was "locked and loaded depending on verification" if and when the U.S. publicly announces Iran's culpability.
A senior administration official told ABC News that there was an unclassified statement that was cleared and ready to be released, showing no doubt Iran carried out the strikes from its own soil. But the president was restrained in his comments.
A senior official told ABC News an unmanned aerial vehicle and a mostly intact cruise missile -- meant to hit the oil facility -- have been found. Despite what could be important evidence, Trump seemed to be in no hurry to definitively pin the blame on Iran-or take any retaliatory action.
Asked at an afternoon Oval Office photo-op with the crown prince of Bahrain if he has seen evidence that Iran was behind the attack, the president answered, "It is looking that way."
While Secretary of State Mike Pompeo has already blamed Iran directly, Trump said, "We're having some very strong studies done" before announcing a determination."
The president's comments also indicated -- as ABC News previously has reported -- that the U.S. has assessed that Iran is behind the attacks, but is more interested in the Saudis coming forward to ask for U.S. help.
"That was an attack on Saudi Arabia, and that wasn't an attack on us," Trump said. "But -- we would certainly help them."
When pressed by ABC News Chief Washington Correspondent Jonathan Karl whether he still thinks that it's the Saudis responsibility to defend themselves, Trump suggested that if the U.S. were to intervene it would be under the condition that the Kingdom be prepared to pay up.
"This is something much different than other presidents would mention, Jon, but the fact is that the Saudis are going to have a lot of involvement in this if we decide to do something," Trump said. "They'll be very much involved. And that includes payment. And they understand that fully."
But he also showed a renewed wariness of getting the U.S. involved in a prolonged conflict in the Middle East, telling reporters that he doesn't believe diplomacy has been exhausted, even after the weekend strikes.
"No, it is never exhausted," Trump said. "In fact, the crown prince [of Bahrain] could tell you especially in your part of the world, it's never exhausted until the final 12 seconds, is that right?"
In terms of timing regarding potential U.S. retaliation, Trump assured reporters -- when asked what his message is for Iran -- that he's patient in terms of determining next steps.
"I think I'll have a stronger message or maybe no message at all when we get the final results of what we're looking at all," Trump said. "But right now it is too soon to say. There is plenty of time. You know, there is no rush."
Trump said Pompeo, who publicly blamed Iran over the weekend, would head to Saudi Arabia "at some point" to discuss the matter.
In a statement, the Saudi foreign ministry was more cautious: "Initial investigations have indicated that the weapons used in the attack were Iranian weapons. Investigations are still ongoing to determine the source of the attack."
Without mentioning Trump, Pompeo or the U.S., the Saudi statement thanked the "Kingdom of Saudi Arabia expresses its appreciation for the positions taken by the international community that have condemned and denounced this act. But instead of blaming Iran, the Saudis called for a U.N. investigation and pointedly said Saudi Arabia could defend itself.
Earlier Monday, Trump and his top national security officials met at the White House to discuss how to respond to the attack on a Saudi oil facility that the U.S. has blamed on Iran, according to three senior administration officials.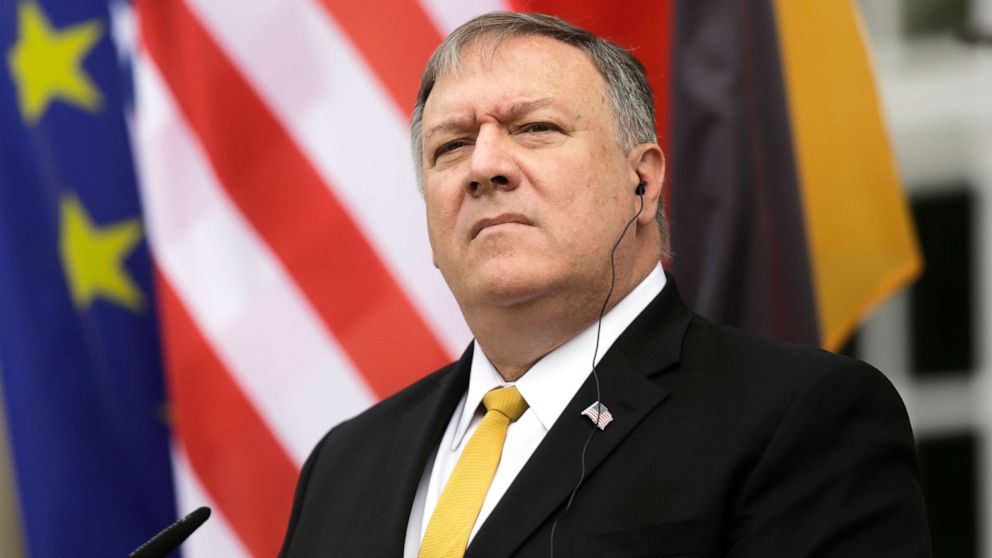 Pompeo was expected to present evidence that ties Iran to the weekend's attacks, according to the Vice President Mike Pence's chief of staff Marc Short. Over the weekend, Pompeo and Brian Hook, the U.S. Special Representative for Iran, were pushing for a military buildup in the region, while the Pentagon was looking for a non-escalatory response that would push Tehran to the negotiating table, one senior administration official said.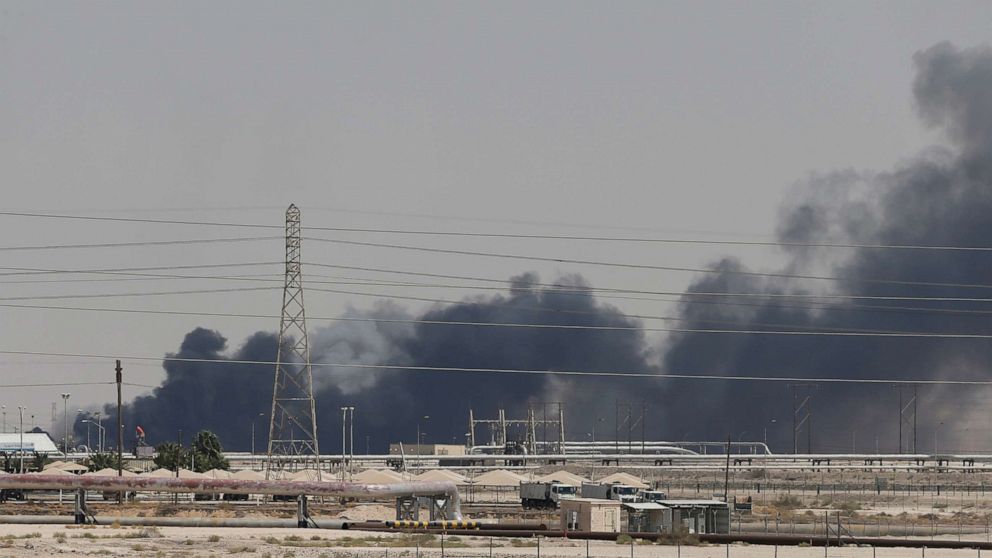 ABC News was first to report that the U.S. believes the mix of cruise missiles and drones aimed at the key Saudi oil facility was launched from Iranian soil, according to two officials. The attack, which Iran denies, knocked out more than 5% of the world's daily crude oil production, disrupting global markets.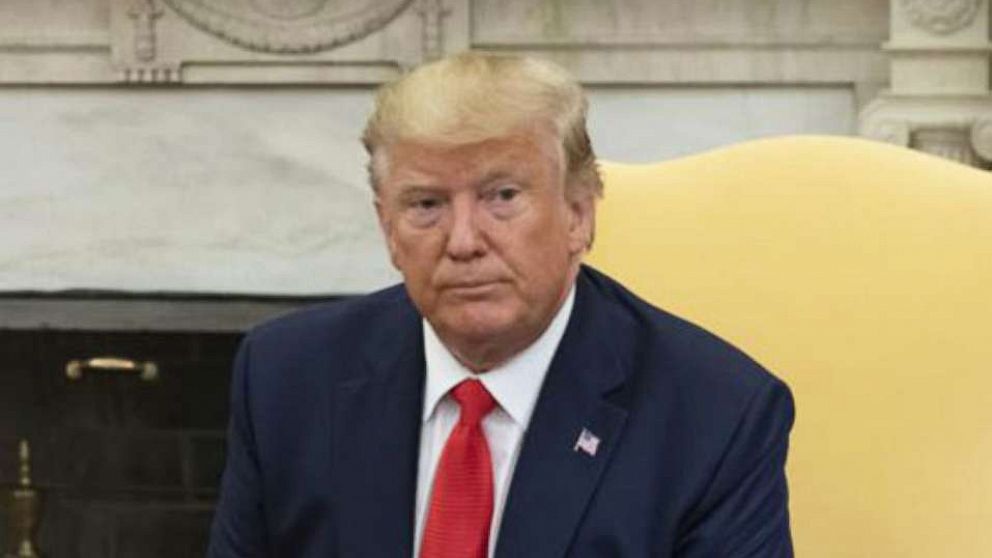 Trump tweeted on Sunday that there was "reason to believe" the U.S. knows who committed the attack, saying the U.S. is "locked and loaded depending on verification."
But a senior official told ABC News that the president knows Iran was behind the attack and wants Saudi Arabia to acknowledge that fact publicly if they want assistance from the U.S.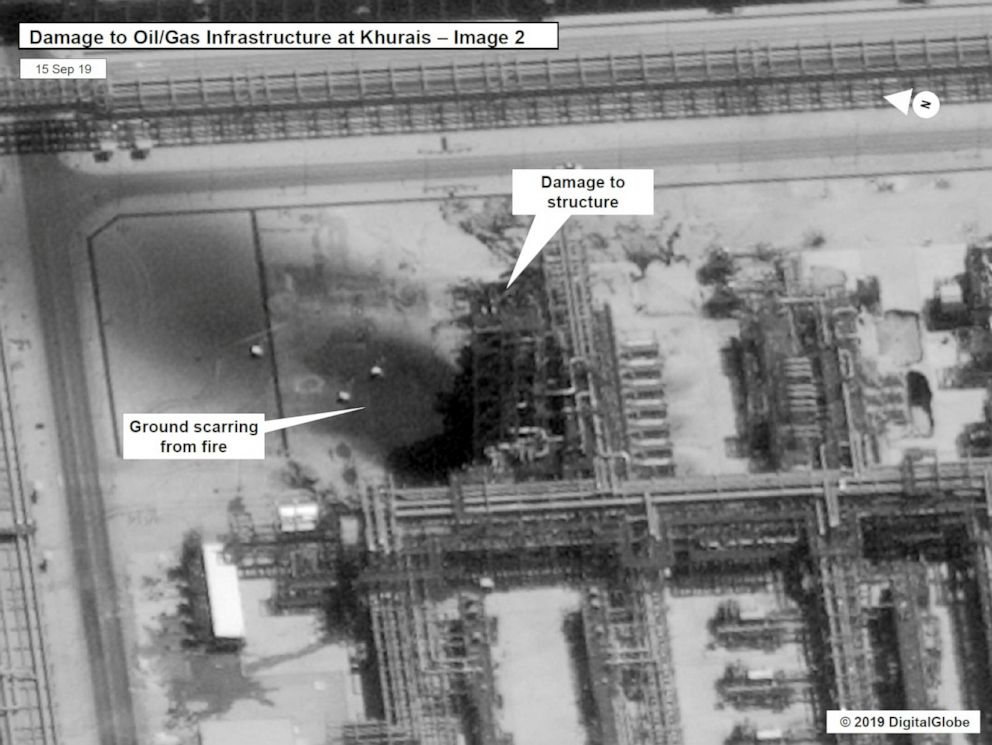 Saudi military spokesperson Col. Turki al-Malki said on Monday that initial investigations show Iranian weapons were used in the attack and that those weapons were not launched from inside Yemen.
The president tweeted again on Monday morning about an incident in May in which Iran shot down an unmanned American drone over the Strait of Hormuz after saying it had crossed into Iranian airspace.
"They stuck strongly to that story knowing that it was a very big lie," Trump tweeted. "Now they say that they had nothing to do with the attack on Saudi Arabia. We'll see?"
Following the May incident, the Pentagon advocated for a more cautious response than was pushed for by other senior national security officials in the administration. Ultimately, the president chose to conduct a strike on Iranian missile batteries inside Iran, only to call off the strike at the last minutes due to concerns over casualties and the proportionality of that response.
ABC News' Sarah Kolinovsky, Luis Martinez, Elizabeth McLaughlin and Sohel Uddin contributed to this report.