President Donald Trump addressed the impeachment issue publicly for the first time Thursday, warning of the consequences of removing him.
"I don't know how you can impeach somebody who has done a great job," Trump told Fox News. "I will tell you what, if I ever got impeached, I think the market would crash. I think everybody would be very poor because, without this thinking, you would see -- you would see numbers that you wouldn't believe, in reverse."
Impeachment is in the air on Capitol Hill, too, but so far, few lawmakers are saying the word out loud.
Former Trump attorney Michael Cohen's guilty plea Tuesday implicating President Donald Trump in a crime raised the prospect of more congressional probes of the president's conduct – especially if Democrats gain control of the House of Representatives after November's midterm elections.
A push to investigate and impeach Trump for alleged "high crimes and misdemeanors" -– a constitutional basis for removal from office -- could also gain steam.
For now, however, most Democrats and many Republicans aren't going there publicly – rejecting the talk of impeachment proceedings while special counsel Robert Mueller's investigation is still underway.
"If something comes out that is clear and convincing and impeachable, I think members will act," Rep. Tom Cole, R-Okla., a member of the House GOP leadership, told CNBC Wednesday. However, Cole added, it's "too soon" for Congress to start an impeachment probe.
(MORE: The risks of talking impeachment on the campaign trail)
"There is no immediate legal threat" to Trump, said ABC legal analyst Dan Abrams. "The question is going to be: Does Robert Mueller put together ultimately, effectively what is a charging document – but he presents it to Congress, not to a grand jury."
As politically appealing as impeachment may be, many Democrats believe talking about it or campaigning on it could backfire – energizing Republican voters and stoking a perception that the party is trying to overturn the outcome of the hotly contested 2016 election.
"I don't think that we should be talking about impeachment," said Sen. Tammy Duckworth, D-Ill.
"We need to know the facts and the law before we decide upon a remedy," Sen. Richard Blumenthal, D-Conn., told ABC. "It has to be a remedy that the American people will be supporting because ultimately the decision will be made not only in the courts but also the court of public opinion."
House Democratic Leader Nancy Pelosi has consistently urged her caucus not to push for impeachment and said any eventual effort to do so must be bipartisan. A senior Democratic congressional aide said this week's Cohen guilty plea and conviction of former Trump campaign chairman Paul Manafort have not changed her position.
"The Special Counsel's team and the prosecutors in New York are conducting thorough and professional investigations, and they must be allowed to continue free from interference," Pelosi wrote in a letter to members Wednesday. "As November rapidly approaches, we must also stay focused on delivering our strong economic message to hard-working families across America."
Pelosi emphasized that point on a conference call with House Democrats on Wednesday, urging members to ignore the scandals surrounding the White House and administration -- including of the Cohen guilty plea and tapes recorded by former staffer Omarosa Manigault Newman -- and hone in on the economy, according to the Democratic aide.
Rep. Cheri Bustos, D-Ill., a member of Democratic leadership who represents a district won by President Trump in 2016, said her constituents aren't discussing impeachment.
"They're not bringing up impeachment, most aren't bringing up Donald Trump. They want things to work right, and they're not," she said in an interview.
"The way I look at this is let Robert Mueller do his job and let's wait for the report to come out," she said. "Should it show that laws were broken, we understand full and well that there's not anybody who is above the law."
Republican leaders House Speaker Paul Ryan and Senate Majority Leader Mitch McConnell have avoided public comment on the Cohen and Manafort cases and generally dismiss talk of impeachment on Capitol Hill.
(MORE: How the impeachment process works)
Privately, however, there is concern among many Republicans that Democrats would likely go after Trump if they retake majorities in the House and Senate later this year. Some conservative strategists believe impeachment fears could help Trump and Republicans turn out voters in the midterms.
"The idea of an impeachment is frankly a sad attempt by Democrats, it's the only message they seem to have going into the midterms," said White House press secretary Sarah Sanders. "It is another great reminder why Americans should support other like-minded candidates like the president."
"November is a referendum on impeachment — an up or down vote," former Trump strategist Steve Bannon told Bloomberg News on Tuesday. "Every Trump supporter needs to get with the program."
(MORE: Republicans push talking points brushing off legal perils of former top Trump associates)
Several House Democrats have bucked the advice of party leaders and already introduced articles of impeachment against Trump. The measures have gone nowhere, but they are waiting in the wings.
"I think the president has to realize that the countdown to impeachment has already started. He, at some point, will have to choose if he will face impeachment or if he will resign. It will be his choice. The Congress will have no choice but to act," Rep. Al Green, D-Texas, said in an interview.
Green, one of the first Democrats to introduce articles of impeachment against Trump -- which cited his comments about the white supremacists' rally in Charlottesville in 2017 - has not ruled out introducing another set of impeachment articles if none of his colleagues do so following the Cohen guilty plea.
"At some point, we have to act," he said.
"The president of the United States is now directly implicated in a criminal conspiracy, numerous members of both his campaign and administration have been convicted, pleaded guilty to felonies, or are ensnared in corruption investigations, and the Judiciary Committee has real work to do," said Rep. Jerry Nadler, D-N.Y., who would play a key role in any impeachment proceedings should Democrats regain control of the House and move forward.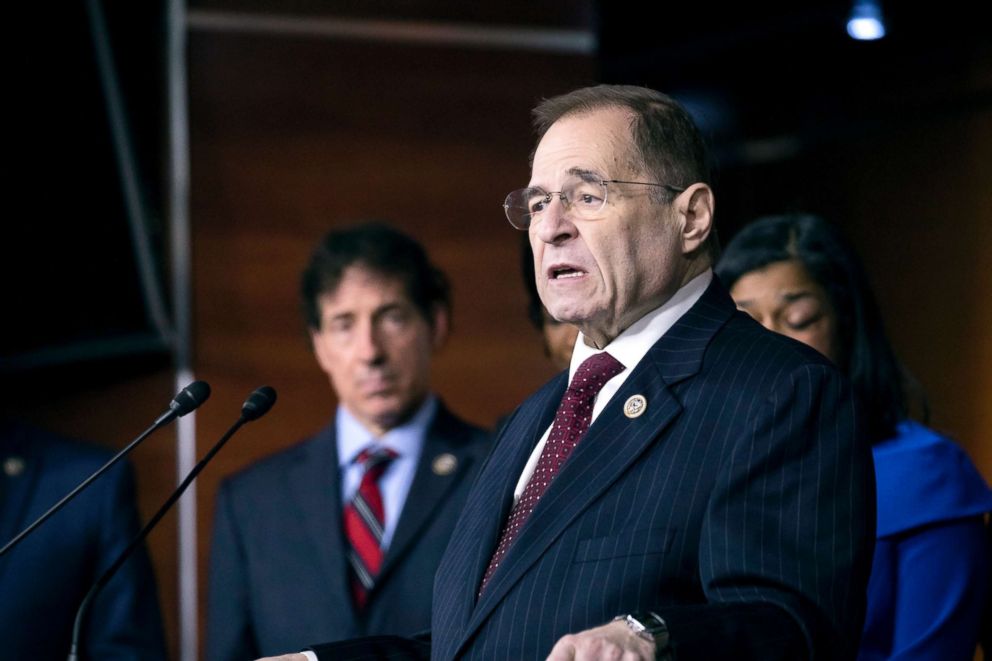 Still, impeachment is far from a foregone conclusion. Even some of Trump's strongest critics concede there is currently limited evidence for a convincing case. The president has not been charged with a crime and the special counsel's investigation, whose findings have been kept secret, is ongoing.
Even if Democrats are trying to put off questions of impeachment until after the midterms, some have privately discussed the possibility of authorizing impeachment proceedings in the House Judiciary Committee in January should Democrats retake the House. The committee would then have to conduct an investigation and vote to send any of the articles to the House floor for a vote.
"I think that the first and foremost we need to have the Mueller investigation continue and we need the legal processes in New York as well as in other courts to proceed," Sen. Mazie Hirono, D-Hawaii, told ABC.
President Trump addressed the issue publicly for the first time Thursday, warning of the consequences of removing him.
"I don't know how you can impeach somebody who has done a great job," Trump told Fox News. "I will tell you what, if I ever got impeached, I think the market would crash. I think everybody would be very poor because, without this thinking, you would see -- you would see numbers that you wouldn't believe, in reverse."