Trump weighs in on recording of him showing off 'secret' government info: 'It's bravado'
"No, I have no regrets," he said.
Former President Donald Trump is continuing to insist there was no wrongdoing in his handling of sensitive government documents after he left the White House -- and supporters continue to stand by him -- in the wake of an audio recording, obtained by ABC News and other outlets, where Trump acknowledges he held onto a "secret" military document post-presidency and knew it wasn't declassified.
Trump told ABC News' Rachel Scott on Tuesday that he has "no regrets" about how he handled classified documents after leaving the White House, calling his words "bravado."
"No, I have no regrets. I didn't have a classified document. There was no classified document on my desk," Trump told Scott.
Trump, who again claimed he hadn't heard the audio recording, repeatedly said he was not showing off classified documents.
"I would say it's bravado," he said about his conversation in the recording. "If you want to know the truth, it was bravado. I was talking and just holding up papers and talking about, but I have no documents. I didn't have any documents."
Federal prosecutors allege otherwise, with the 37-count indictment against him claiming that he showed a record he knew was "highly confidential" to people who weren't authorized to see it.
"Wait a minute, let's see here. I just found, isn't that amazing?" Trump says at one point in the recording. "This totally wins my case, you know. Except it is like, highly confidential. Secret. This is secret information. Look, look at this. This was done by the military and given to me. As president I could have declassified, but now I can't."
Trump told Fox News earlier on Tuesday during a campaign stop in Concord, New Hampshire, that the rustling papers heard in the recording were "newspaper articles, copies of magazines, copies of different plans, copies of stories."
He told ABC News the "copies of different plans" he said were included in the pile of documents were "plans for construction."
He constantly attempted to drive home the point that he had a lot of papers on his desk -- none of which were classified documents, he maintained.
"My desk is loaded up with papers. I have papers from 25 different things. … Look, look what I have. You see I have all different stuff interspersed with newspapers. There's no highly, highly classified documents in there," Trump said, showing ABC News different pieces of paper.
He was even asked specifically what documents he was holding up as captured in the recording. Again, he claimed they were magazine articles.
"Some of those stories would have been on Iran because it's a very close subject and because I think it could be the end of the world. And I'd hold them up and I said, 'You can't let this stuff happen.' But that was not documents and it wasn't classified," he said.
He sharply defended his innocence when asked if he was more likely to consider a plea deal now that the audio has been released.
"You know, I don't even like that question. Because it's so ridiculous," he said.
"There's not even a thought of doing that. Because I did nothing wrong," he said. "And the answer is no. I will tell you, we're going to win the case very easily."
Trump, who pleaded not guilty to his charges earlier this month, made no mention of the audio on Tuesday during a speech at the New Hampshire Federation of Republican Women's 76th Lilac Luncheon, appearing to brush off the development as some supporters in the state did the same.
"It's not a video. I'm not sure if anything was there," Larry Miller of Merrimack told ABC News. "He mentioned this document or something, but was there a document actually there? I don't know where that tape came from. But it proves, or it doesn't prove, very little. It's just rhetoric and talk. Show me something else."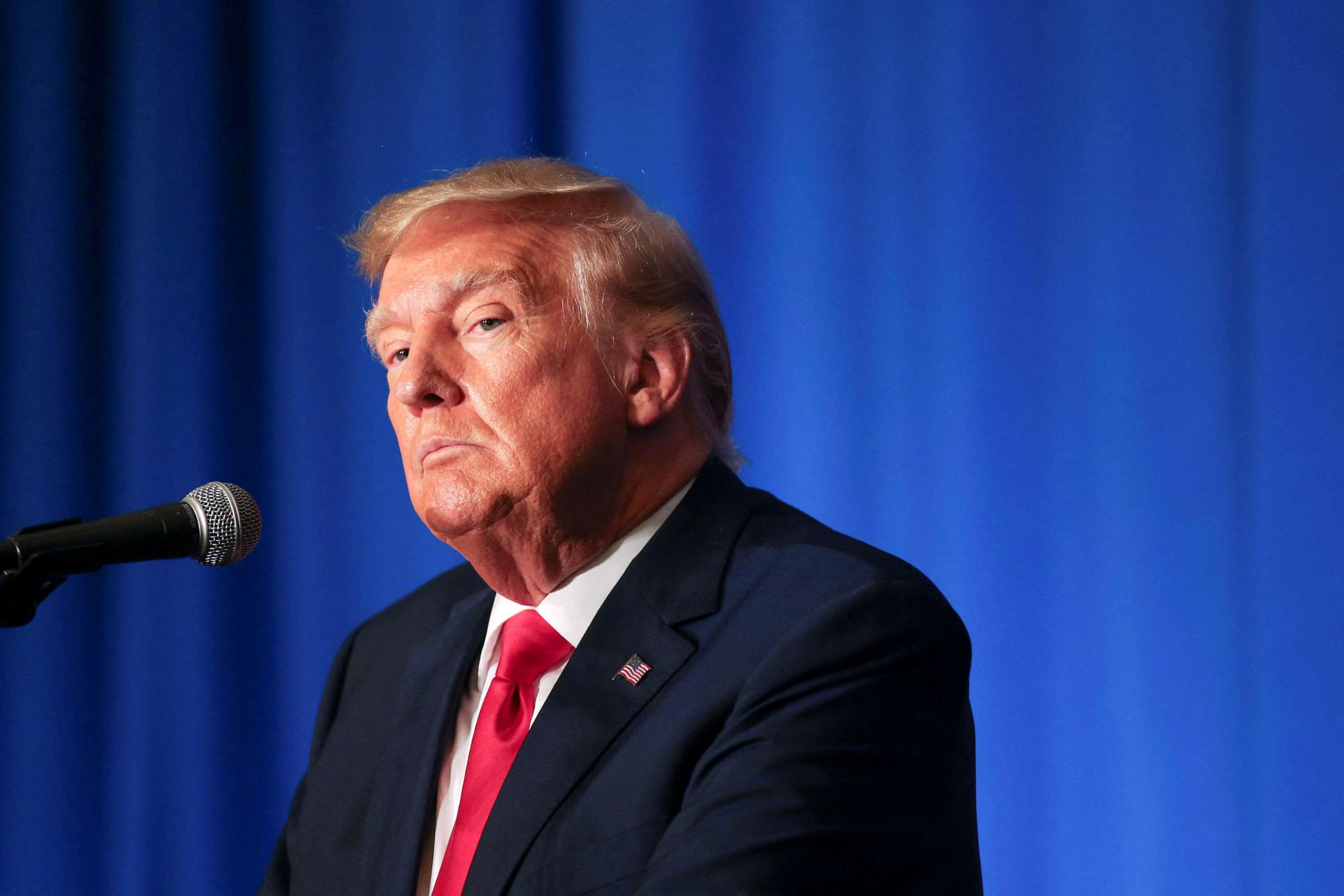 "I haven't heard the tape. But it doesn't affect me at all because presidents are allowed to take confidential files out of the box," argued Doreen Deshler, a state committeewoman for the Massachusetts Republican GOP Party.
Prosecutors say the audio tape, parts of which are quoted in his federal indictment, undercuts his argument that he declassified all of the documents in his possession before leaving the White House since he is heard on the recording acknowledging he could no longer declassify them.
Other 2024 Republican presidential candidates have so far mostly avoided commenting on the newly-obtained audio recording.
Over in Hollis, New Hampshire, Florida Gov. Ron DeSantis held a town hall event but ignored questions from ABC News about the audio. Eva Bushee, 76, an attendee, said she hasn't listened to it but was planning to later on.
"I voted for him [Trump]. I hope I don't have to vote for him again," she told ABC News.
Ahead of hosting another evening town hall in the Granite State, former U.N. ambassador under Trump and former South Carolina Gov. Nikki Haley was asked to react to the audio of Trump after a speech she gave on China at the American Enterprise Institute.
"In terms of the recording, we will let the courts play that out. I have long said anybody who wants to run for president can run for president. I think that's for the people to decide," Haley said.
Meanwhile former Rep. Will Hurd, a Trump critic in the GOP and a newly launched presidential candidate, was among the first in the field to go after Trump on Monday evening in a series of tweets after hearing the tape.
"We deserve a President who doesn't lie and who takes his job as Commander-in-Chief seriously. It's common sense," Hurd wrote. Referring to a part of the audio in which Trump asks for a drink, he wrote, "Having a Coke and a smile while you willingly show classified information to those who shouldn't see it, which could put American lives in jeopardy, is the definition of 'Me First, America Last.'"
Former Arkansas Gov. Asa Hutchinson, a vocal Trump critic in the GOP primary field, said Tuesday night on CNN that "whatever happens in [Trump's] criminal case, it's important to understand that that is a legitimate concern about electing our next president. Somebody who knows how to handle classified information, our nation's secrets, and not use 'bravado' or not use them as entertainment tools."
Although Trump didn't address the tape directly during his New Hampshire speech, he did tout his two indictments -- in federal court and, separately, in New York state court; he's pleaded not guilty to both and claimed he is being politically persecuted.
He called the charges a "great, great, beautiful badge of honor and courage," while teasing, without further details, that another indictment could be imminent. Those comments come as Georgia Secretary of State Brad Raffensperger sat with investigators Tuesday in special counsel Jack Smith's office regarding the Justice Department's probe of Trump's efforts to overturn the 2020 election.
"I got two of them," Trump said in his Tuesday speech.
"There could be others coming like [that] for a perfect phone call," Trump said, seemingly referencing his Jan. 2, 2021, phone call with Raffensperger during which the then-president asked Raffensperger to "find" the exact number of votes he needed to win the state of Georgia.
"Numbers will keep going up," Trump told the crowd Tuesday.
He has sought to project himself as the only candidate strong enough to fight off indictments while running for president -- a sentiment shared by his supporters at his campaign office in Concord.
Deshler, a supporter since 2016, echoed the same talking points Trump made in his speech when asked what she makes of the charges against him.
"What these investigations are doing is they're making it even stronger for Trump, because his poll numbers are going up, not down, up, because people are getting sick and tired of this two-tier justice system that we're going through right now in this country," she said.
Krisia Santiago, who moved to New Hampshire in 2015 from Puerto Rico, said outside Trump's campaign office that she'll always stand with him but can see new voters being deterred by the legal challenges.
"If you believe in him, you're gonna be a supporter no matter what," she said. "It's just the new voters, people that are exploring options, I can see that affecting it because they won't know what is the real truth."
Andrew Dow, a former military officer who was at Trump's campaign office, questioned whether the audio of Trump was "legitimate" and suggested prosecutors had gone "way overboard" in charging him compared to other former office-holders who may have retained government records.
"I think every president, in a certain way, violates that," Dow maintained.
ABC News' Abby Cruz and Will McDuffie contributed to this report.