Events this past week have, once again, put all eyes on President Donald Trump and those around him. And developments in the impeachment inquiry are unfolding at a breakneck pace.
Here's a look at what you might have missed in the story that's taken Washington by storm:
Whistleblower's attorney says there's a second whistleblower
The attorney representing the whistleblower who first lodged a complaint about Trump's phone call with Ukrainian President Volodymyr Zelenskiy told ABC News that he is now representing a second whistleblower who has some first-hand knowledge of events (compared to the first whistleblower who is said to have mostly second-hand knowledge).
The attorney, Mark Zaid, and his co-counsel also pushed back against Trump's insistence that the first whistleblower was politically motivated, noting that the person was a career civil servant who had come into contact with presidential candidates from both parties.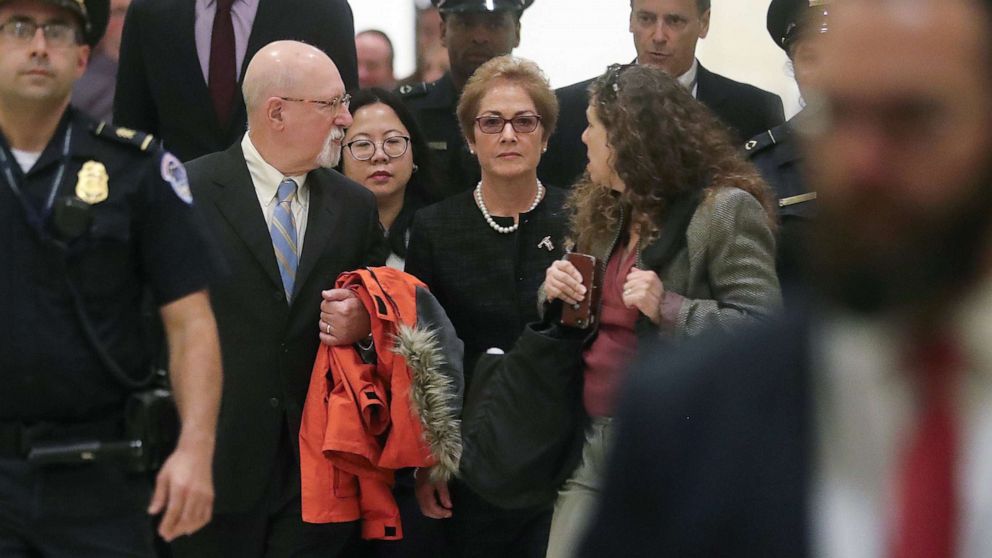 Capitol Hill looks for answers
On Friday, the former U.S. ambassador to Ukraine, Marie Yovanovitch, testified on Capitol Hill in a closed-door deposition with House committees, ABC News reported.
Yovanovitch was removed from her post overseas early after some conservatives, including Trump's personal attorney, Rudy Giuliani, alleged she tried to impede corruption investigations in Ukraine. The State Department has said that those accusations are not substantiated.
The State Department at the time said the allegation that she asked the Ukraine government not to prosecute certain people was an "outright fabrication" and "does not correspond to reality."
According to her opening statement reported by The New York Times and other news outlets, Yovanovitch told House investigators that she was "incredulous" that she was removed based on "unfounded and false claims by people with clearly questionable motives." It is not clear how much Yovanovitch read from the prepared remarks.
Yovanovitch's congressional appearance comes after another ambassador was ordered not to appear by the State Department earlier this week. She testified under subpoena.
The other ambassador, Gordon Sondland – the U.S. ambassador to the European Union – said he will testify after all this coming Thursday and also is expected to appear under subpoena. Sondland is the megadonor and hotelier who exchanged texts with other U.S. diplomats about whether Ukraine was being pressured to launch an investigation into the Bidens.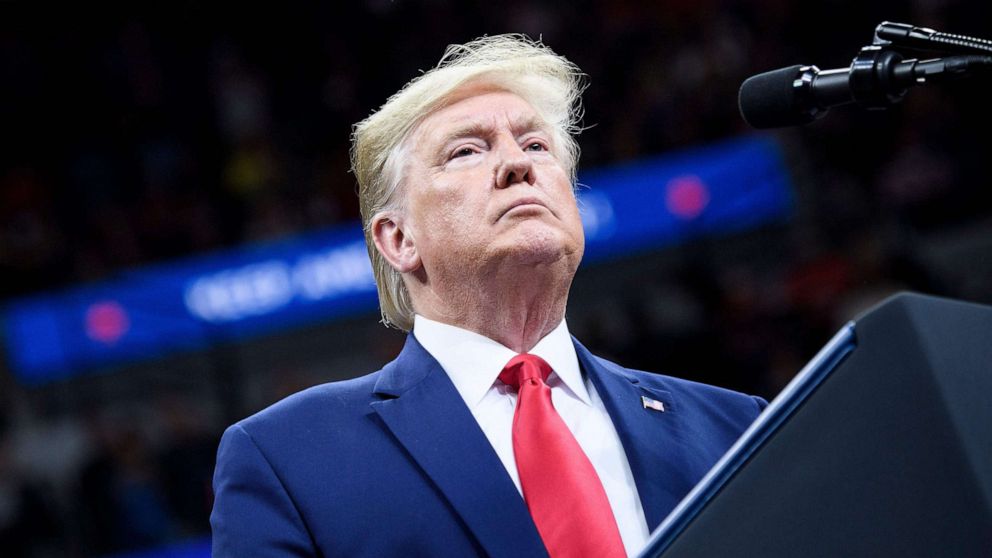 Trump takes anti-impeachment message on the road
Trump traveled to Minnesota on Thursday for a campaign rally in Minneapolis during which he lashed out at former Vice President Joe Biden and House Speaker Nancy Pelosi, among others.
Trump also had a message for Biden's son, Hunter, redirecting attention away from the impeachment fight.
"And your father was never considered smart. He was never considered a good senator. He was only a good vice president because he understood how to kiss Barack Obama's ass," Trump said.
As for the impeachment inquiry, ABC News reported, Trump said it would "produce a backlash at the ballot box, the likes of which they have never, ever seen before in the history of our country."
Two of Giuliani's associates arrested
Two men who allegedly have ties to Rudy Giuliani, the president's personal lawyer, were arrested Wednesday night at Washington Dulles International Airport in Virginia in connection with alleged campaign finance violations.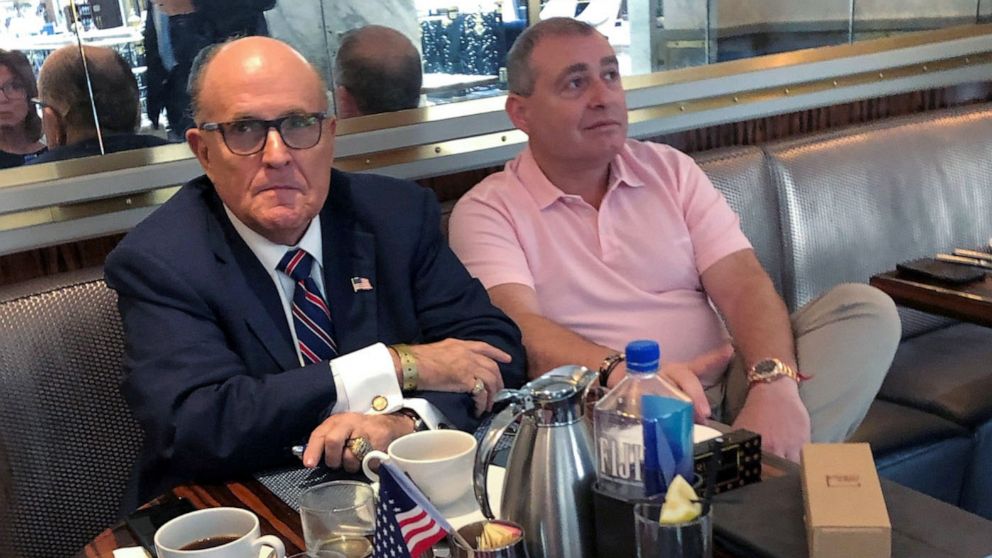 Lev Parnas and Igor Fruman are two Soviet-born businessmen based in Florida. They were charged with four counts, including conspiracy to commit campaign finance fraud, false statements to the Federal Election Commission, and falsification of records.
Sources familiar with the matter told ABC News on Friday that the business relationship between Parnas, Fruman and Giuliani is a subject of the ongoing criminal investigation being conducted by federal authorities in New York.
Rick Perry subpoenaed
A number of individuals have been subpoenaed since House Democrats began pursuing an impeachment investigation, but among the most recent are Energy Secretary Rick Perry, along with the two Giuliani associates charged this week.
At the center of the impeachment inquiry is a Trump phone call to Ukraine's president asking the foreign power to investigate political rival Joe Biden and his son, Hunter. Perry has said he urged Trump to call Ukraine's leader, but to discuss energy security and economic development, not politics.
Three House Democratic chairman say they want more documents related to Perry's role in U.S. energy policy in Ukraine. Perry's not the first cabinet member subpoenaed; Secretary of State Mike Pompeo was subpoenaed last week.
ABC News' James Gordon Meek, Anne Flaherty, Benjamin Siegel, Katherine Faulders, Conor Finnegan, Will Steakin, Rachel Scott, Alexander Mallin, Soo Rin Kim, Josh Margolin, Aaron Katersky, and Stephanie Ebbs contributed to this report.