Hundreds of women from Maine and Alaska descended on Washington Thursday to pressure their Republican senators to vote against Supreme Court nominee Brett Kavanaugh.
The protesters came from the home states of Sen. Susan Collins of Maine and Sen. Lisa Murkowski of Alaska, who will likely cast key votes as the Senate moved closer to its first vote on Kavanaugh's confirmation Friday.
"I think Senator Collins owes it to every single one of us in the state who have been assaulted and are sexual assault survivors to vote against Kavanaugh for the Supreme Court," Maine resident Dini Merz said Thursday. "I don't understand, is there no one else in the whole United States [judiciary] that would be a qualified person for the Supreme Court? We need to have a man who has been credibly accused of sexual assault multiple times over? I think she has to vote no, I don't see any other moral choice before her."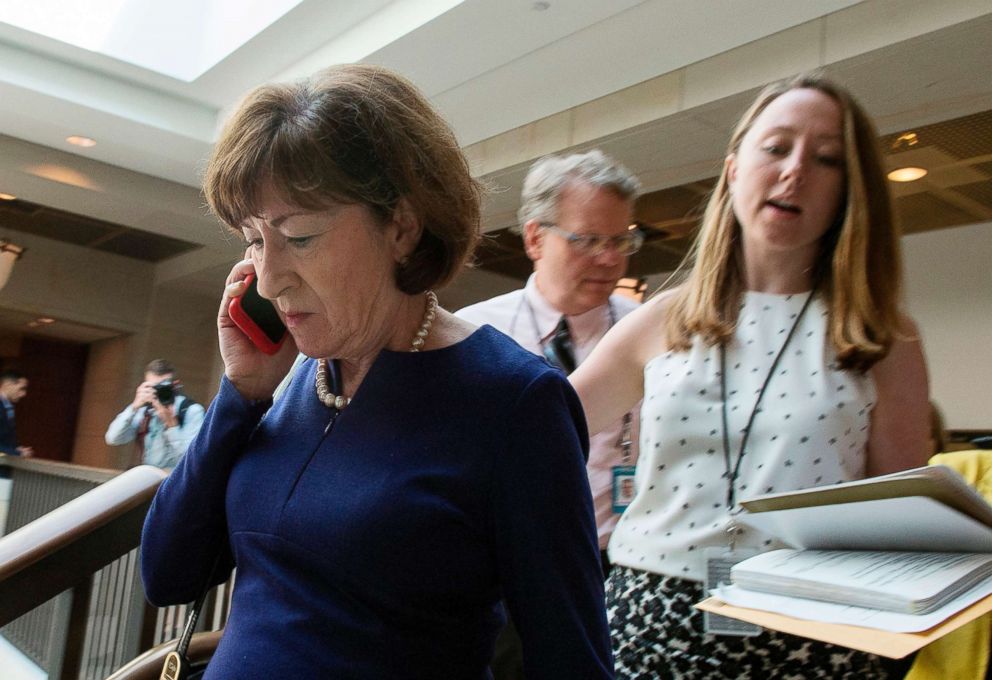 Both senators have been forced to confront protesters outside their offices. Maine People's Alliance, a liberal activist group, has raised nearly $2 million for Collins' eventual Democratic challenger. If Collins votes "no," the group said, the money will be refunded to donors.
"If Collins votes to confirm Kavanaugh we will absolutely defeat her," co-founder Marie Follaytar told ABC News. "We will use the money that has been pledged. It will be charged. It will go to the Democratic candidate ... until Senator Collins no longer sits in the United States Senate. And that's a promise."
The controversy surrounding Kavanaugh's nomination has given many women more reason than ever to mobilize, according to Follaytar.
"I find myself hoping that our advocacy and activism has worked. I see myself facing a war chest position to defeat Collins. I see myself tired and yet determined to continue fighting against my own exhaustion and my own depression and sadness about this moment," Follaytar said. "I wonder what else it will take for more people to continue to rise up and fight back because this won't be the last fight. We'll have to continue to fight back and win in 2018."
Collins and Murkowski compose a group that currently hangs in limbo on how to vote. Among them, Republican Sen. Jeff Flake of Arizona and Democrat Joe Manchin of West Virginia. Thursday afternoon, Democratic Sen. Heidi Heitkamp of North Dakota announced she would vote against Kavanaugh, saying in a statement, "We need to take the politics out of the Supreme Court as much as possible."
That left four votes still up in the air.
Collins has stayed vague about how she will vote. Originally, Collins indicated she was on the fence, wanting to know more about Kavanaugh's possible views on abortion rights. But after meeting with him in August, she told reporters Kavanaugh had said the Roe v. Wade decision legalizing abortion rights was "settled law." Murkowski has echoed that sentiment.
But on Thursday, in a possible sign she was leaning toward voting "yes," Collins said she felt that the FBI's investigation of the claims made by two of his accusers, Christine Blasey Ford and Debbie Ramirez, was "very thorough."
That contrasted sharply with the view of the Senate Judiciary Committee's top Democrat, Sen. Dianne Feinstein of California, who said, "the most notable part of the report is what's not in it."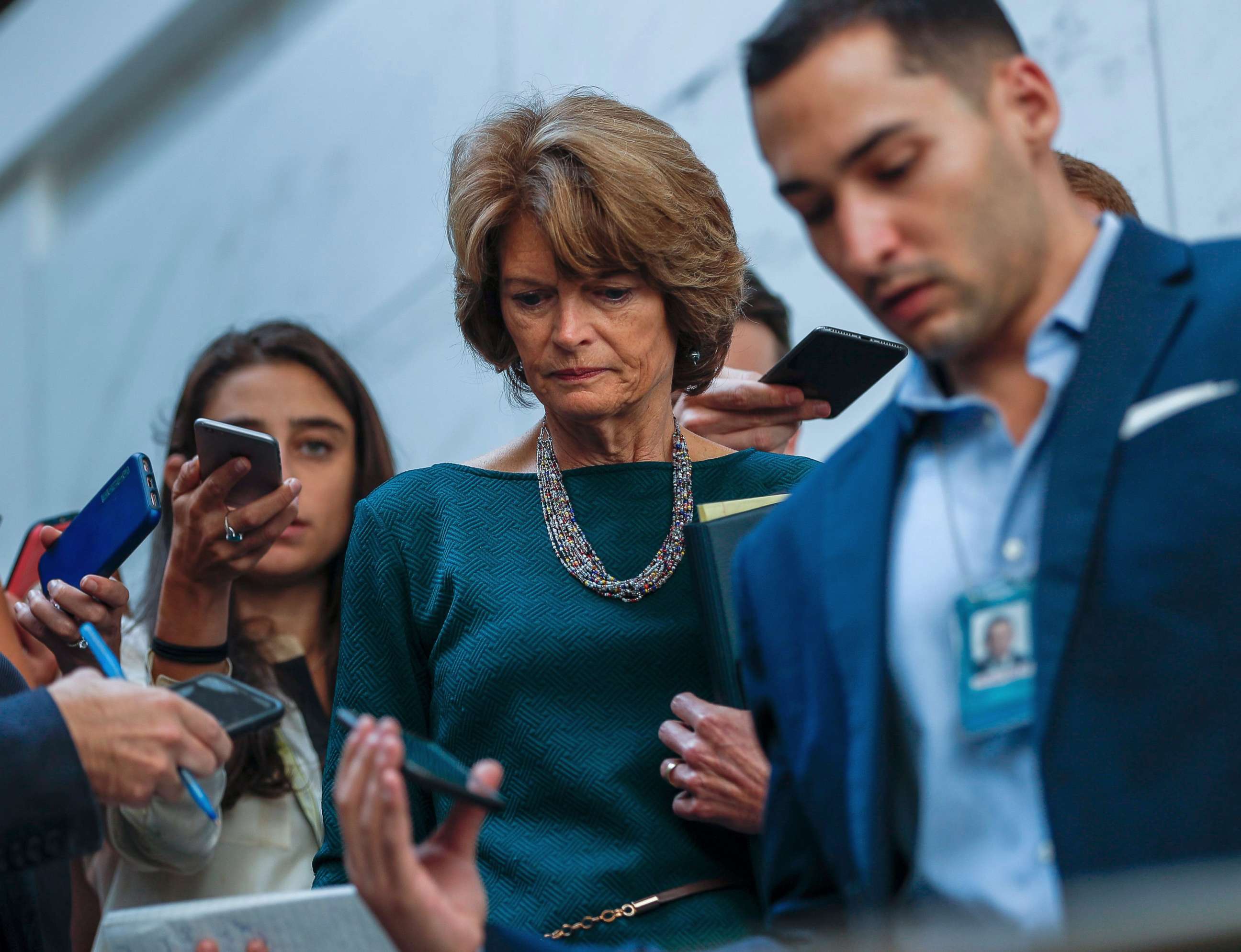 Murkowski is facing women who traveled from Alaska to confront her about the nomination. She's had protesters at her home-state offices and criticized President Trump's mocking of Ford at a campaign rally on Tuesday.
Murkowski is in an especially tricky spot. Kavanaugh had previously questioned if constitutional protections for Native American tribes should be extended to Native Hawaiians, which some groups view as a threat to Alaska Natives as well. Additionally, a case important to the Alaska Native fishing communities, Sturgeon v. Frost, is scheduled to be argued before the Supreme Court in November. Alaska Natives make up 15 percent of the state's population, according to U.S. Census Bureau data.