As senators took turns behind closed doors on Thursday scrutinizing an additional FBI background investigation into allegations against President Donald Trump's Supreme Court nominee, Brett Kavanaugh, a key Republican said it appears to be a "very thorough investigation" while top Democrats called it "incomplete."
Ahead of a test vote Friday on moving toward a final vote Saturday, senators were going into a secure room on Capitol Hill, called the SCIF, where one copy of the FBI report on the additional interviews agents conducted was available for review.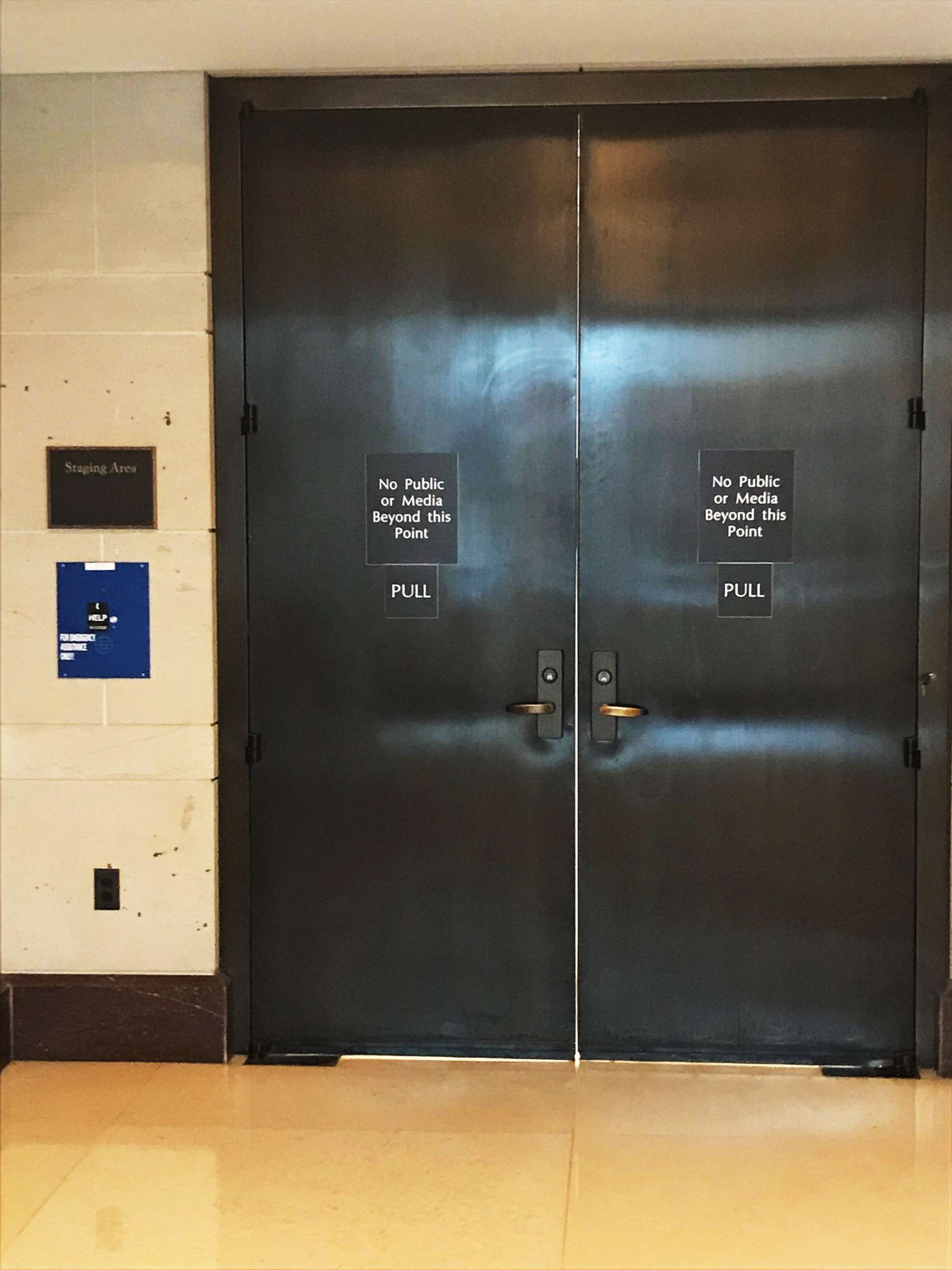 As they emerged, some Republicans said they would be outright yes votes for Kavanaugh, while Democrats suggested the White House had tied the FBI's hands by not allowing more witnesses to be interviewed.
Democratic Sen. Richard Blumenthal claimed the White House had "straightjacketed this investigation."
Two key GOP senators, while saying they are still undecided how to vote, made comments the White House would find encouraging.
Arizona Sen. Jeff Flake and Maine Sen. Susan Collins indicated they were satisfied with the FBI's additional investigation.
Here's how the day is unfolding.
7:30 p.m.: 'I might have been too emotional at times': Kavanaugh op-ed
After going a week without making a public statement since his bombshell testimony last week, Brett Kavanaugh spoke out in an op-ed published Thursday evening in the Wall Street Journal.
On the eve of Friday's first full Senate vote on whether his nomination should go forward amid all the swirling controversy and claims, Kavanaugh, under the headline "I Am an Independent, Impartial Judge," concedes, "I was very emotional last Thursday, more so than I have ever been. I might have been too emotional at times.
"I know that my tone was sharp, and I said a few things I should not have said. I hope everyone can understand that I was there as a son, husband and dad. I testified with five people foremost in my mind: my mom, my dad, my wife, and most of all my daughters," he continued.
"Going forward, you can count on me to be the same kind of judge and person I have been for my entire 28-year legal career: hardworking, even-keeled, open-minded, independent and dedicated to the Constitution and the public good," the op-ed continues.
"As a judge, I have always treated colleagues and litigants with the utmost respect. I have been known for my courtesy on and off the bench. I have not changed. I will continue to be the same kind of judge I have been for the last 12 years," he said.
6:35 p.m.:Collins: no vote announcement Thursday
Sen. Susan Collins returned to the SCIF Thursday afternoon, and then, when she emerged about two hours later, said had read all the FBI "302s" -- or interview summaries -- and some of the FBI tipline transcripts.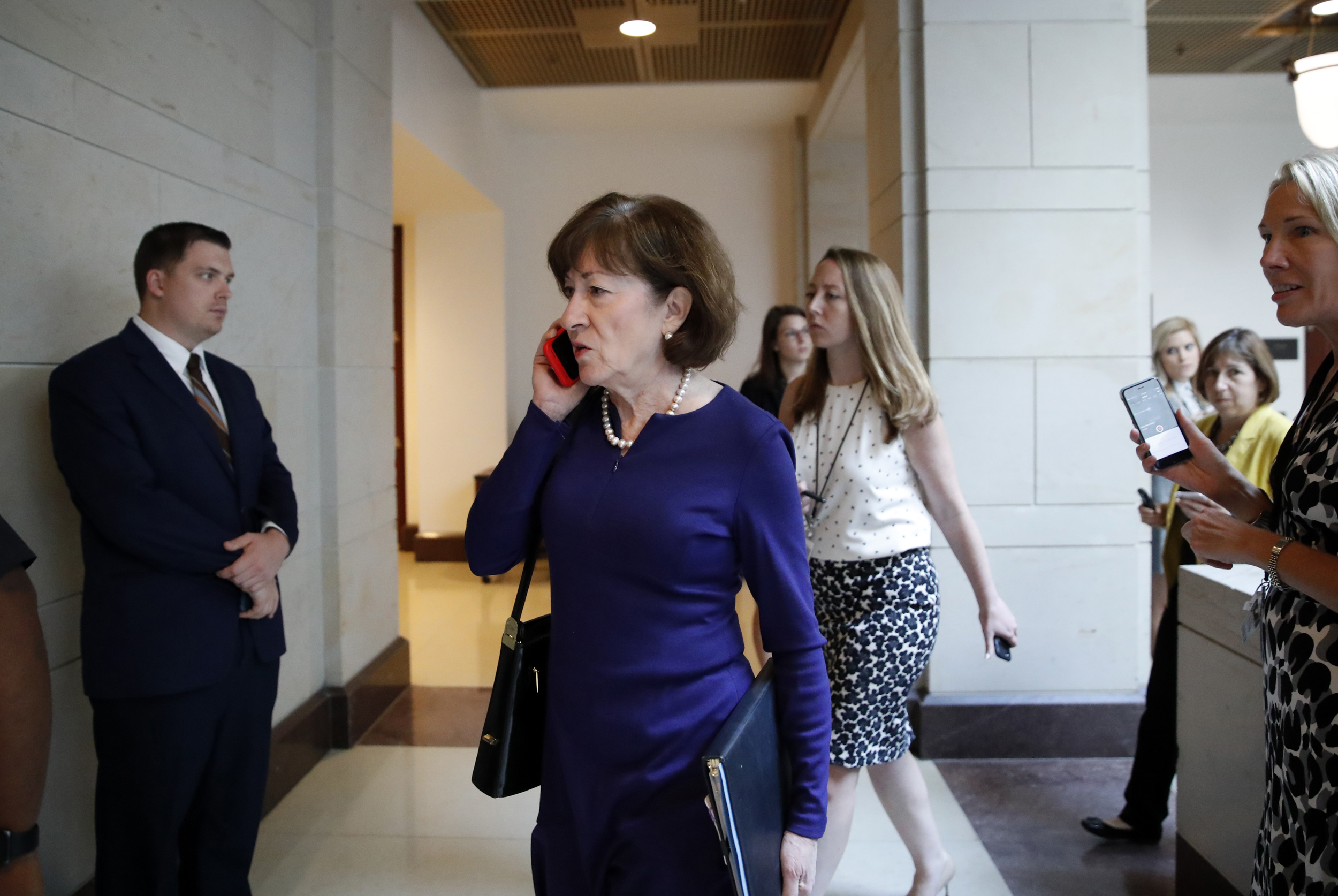 She said she would not make any kind of announcement Thursday night.
Also Thursday afternoon, C-SPAN video surfaced of former Justice John Paul Stevens, 98, criticizing Kavanaugh while speaking to retirees in Boca Raton, Florida.
"He's a fine federal judge and he should have been confirmed when he was nominated. But I think that his performance during the hearings caused me to change my mind," Stevens said.
4:03 p.m.: Trump: Kavanaugh 'doing very well'
While the bitter debate over his Supreme Court nominee roiled Washington, President Trump has arrived in Minnesota, where he is set to participate in a couple of closed campaign fundraisers ahead of another "Make America Great Again" rally Thursday evening.
As he greeted supporters on the tarmac in Minneapolis, the president spoke about Brett Kavanaugh's chances as Senate Republicans on Capitol Hill said an additional FBI investigation had turned up nothing to corroborate claims against him and it's time to vote.
"I think he's doing very well, the judge is doing well," President Trump said.
3:05 p.m.: GOP leaders: 'It's time to vote'
Senate Republican leaders held a news conference Thursday afternoon to make the case that, despite Democratic complaints, the additional FBI investigation turned up nothing to change their view that there's no evidence to corroborate the claims against Kavanaugh and that it's time to vote.
"What we know for sure is the FBI report did not corroborate any of the allegations against judge Kavanaugh," Senate Republican Leader Mitch McConnell told reporters. "And the second thing we know for sure is that there's no way anything we did would satisfy the Democrats."
The Senate's second-ranking Republican, Sen. John Cornyn of Texas said, "The Senate's on trial here."
"It's time to quit these antics," he said, calling the accusations against Kavanaugh "character assassination."
Republican Sen. Mike Lee of Utah countered Democratic charges that Senate Republicans and the White House had schemed to limit the FBI investigation. Lee said Judiciary Committee Republicans did not give the FBI a "list" of people to interview -- that the decision on how to pursue "current credible allegations of sexual misconduct" was up to the FBI.
2:14 p.m. Democratic Sen. Heitkamp is a 'no' on Kavanaugh
Sen. Heidi Heitkamp, who was being closely watched for how she'd decide, told WDAY News that she will vote "no" on Kavanaugh.
Heitkamp is a red state Democrat up for re-election in a tough race against GOP Rep. Kevin Cramer, who Trump endorsed earlier on the trail. Trump won her home state by more than 35 points.
ABC's Mary Bruce reports that leaves four senators still officially undecided, with GOP leaders needing two of those undecided senators to vote "yes" in order to win the battle.
1:46 p.m.: Republican leaders to hold news conference
As the war of words heats up, Senate Republican Leader Mitch McConnell, Judiciary Committee Chairman Charles Grassley and other committee Republicans announced they will hold a news conference at 2:15 p.m. on Kavanaugh's Supreme Court nomination.
McConnell and Grassley, who have already voiced their support for Kavanaugh, are hoping to push his nomination through with a final vote as early as Saturday.
Earlier, McConnell, speaking on the Senate floor, delivered a spirited defense of Kavanaugh. "We will not be hoodwinked by those who tried hard to smear this good man," he said.
A reminder on the math: If all Democrats stand against Kavanaugh, it would take only two Republican "no" votes to sink his nomination, but some key Republicans appeared to be coming closer to "yes."
Republican Sen. Bob Corker, emerging from the secure room, told reporters the FBI report was 46 pages long, that each of the interviews is on a separate piece of paper so senators can share them as they read, and that the FBI also sent a stack of pages of transcribed phone calls from its tip line.
12:39 p.m.: Ford's lawyers pen letter to FBI Director Wray
The legal team for Kavanaugh's chief accuser, Christine Blasey Ford, has sent a letter to FBI Director Christopher Wray questioning why his agents did not interview Ford, as well as other witnesses they said would have challenged Kavanaugh's testimony, including Ford's husband and her polygraph examiner. They also said Ford would have provided her medical and phone records.
"The FBI interviewed Dr. Ford, she would have provided her direct account of Judge Kavanaugh's assault and answered any questions about it, including questions that Ms. Mitchell and the Judiciary Committee members were unwilling or unable to ask during the hearing," the letter reads, in part. "She would have also provided corroborating evidence, including her medical records and access to the phone from which she messaged The Washington Post about Judge Kavanaugh's assault prior to his nomination to the Supreme Court."
The investigation "also declined to interview witnesses whose names we provided to the FBI," the letter states. "None were contacted nor, to our knowledge, were more than a dozen other names we provided to the FBI whose interviews would have challenged the credibility of Judge Kavanaugh's testimony as possessing information highly relevant to Dr. Ford's allegations."
11:50 a.m.: Flake and Collins appear satisfied but are still undecided
Sen. Susan Collins, R-Maine, while saying she remains undecided on confirming Kavanaugh, told reporters of the FBI report, "It appears to be a very thorough investigation, but I am going back later today to personally read the interviews. That's really all I have to say right now."
Sen. Jeff Flake, R-Ariz., another key vote for Republicans to push Trump's pick over the finish line, echoed Collins' statement, telling awaiting reporters outside the secure room holding the FBI report, "I've had the first briefing. I'm going back for another briefing later."
He quoted Collins saying the investigation was "very thorough and no new corroborative information came out" and said, "That's accurate."
Asked if he's leaning towards a 'yes' vote on Kavanaugh, Flake responded, "You can't say anything, but you can say that I was a 'yes' before this. But I wanted this pause. We've had this pause ... And now we're in the process of reviewing it. But thus far, we've seen no new, credible corroboration - no new corroboration at all."
11:22 a.m.: Senators weigh in on report results
The partisan chorus has grown louder in the wake of the FBI's report with Republicans urging a vote and Democrats criticizing the FBI for not interviewing California professor Christine Blasey Ford who has accused Supreme Court Justice nominee Brett Kavanaugh of sexual assaulting her decades ago when they were in high school in suburban Maryland.
As he has before, Senate Republican Leader Mitch McConnell on Thursday urged lawmakers to vote and said he saw little corroborating information.
Senate Democratic Leader Chuck Schumer and ranking Judiciary Committee Democrat Dianne Feinstein emerged from briefings on the FBI investigation calling the probe very limited and incomplete.
"The most notable part of this report is what's not in it," said Feinstein.
"Let me be clear: I can't talk about the detail, but this remains a confidential part about the background report," she said, but "it looks to be a product of an incomplete investigation that was limited, perhaps by the White House, I don't know."
Schumer called the week-long FBI probe the "very limited process" that Democrats had originally feared.
"I disagree, having received a briefing on all the documents, I disagree with Sen Grassley statement that there was no hint of misconduct," he said.
10:31 a.m.: What's happening in the Senate
The FBI report is being held behind closed doors.
Republican senators have gone into the secure room on Capitol Hill, called the SCIF, where the FBI's report is being held for senators and a select number of staffers to review.
More than 20 members, including Republican leader McConnell, Grassley, and Senate Judiciary Committee members Sens. Orrin Hatch, R-Utah; Lindsey Graham, R-S.C..; Mike Crapo, R-Idaho; plus Sen. Susan Collins, R-Maine, who is a key swing vote, are inside.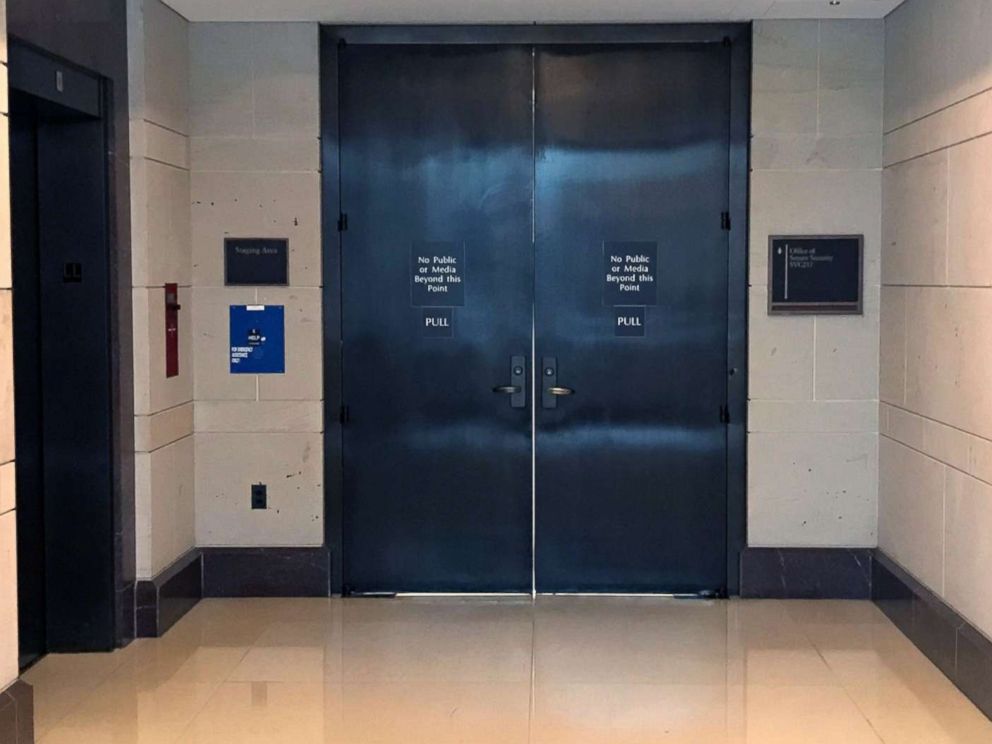 Ranking member Feinstein also went in at 9 a.m. and no one has been seen exiting.
Members are getting briefed on the report at this point, according to Sen. Rob Portman, R-Ohio, and they are expected to return later to read it.
The "backlog" of Democratic members waiting for their turn is "so long, they're telling me I might have to go tomorrow," Sen. Tammy Duckworth, D-Ill., told ABC News.
But she's still waiting to hear back and Democrats are currently looking at "doubling up" their members to get them all in, she added.
It is unclear exactly what time slots members have, though it is certain that members have them.
ABC News' Mary Bruce, Trish Turner, Ali Rogin and Ben Siegel report from Capitol Hill.
10:15 a.m.: Grassley: There's 'nothing' new in the report
Grassley released a statement Thursday morning after the FBI report was delivered to the Senate Committee he chairs, stating, "There's nothing [in the report] that we didn't already know."
"This investigation found no hint of misconduct and the same is true of the six prior FBI background investigations conducted during Judge Kavanaugh's 25 years of public service," he added.
He urged his colleagues to "wipe away the muck" from the ugly confirmation fight, and "look at this nomination with clear eyes."
Looking ahead to Kavanaugh's confirmation vote, Grassley said, "It's time to vote. I'll be voting to confirm Judge Kavanaugh."
10:13 a.m.: Trump says 'due process, fairness, and commons sense' on trial
Wading into the confirmation process Thursday morning, Trump called this moment a "very important time in our country. Due Process, Fairness and Common Sense are now on trial!"
In another tweet Thursday morning, Trump seemed to express a mood of optimism from the White House and acknowledging the potential political ramifications of the Kavanaugh fight on the midterm elections.
He asserted that the "harsh and unfair" treatment of Kavanaugh is having an "incredible upward impact on voters." He also said that Kavanaugh's "great life" cannot be "ruined by mean & despicable Democrats and totally uncorroborated allegations."
"This is now the 7th. time the FBI has investigated Judge Kavanaugh. If we made it 100, it would still not be good enough for the Obstructionist Democrats," he added in a third tweet.
6:07 a.m. FBI report arrived on Capitol Hill
Sen. Chuck Grassley, R-Iowa, chairman of the Senate Judiciary Committee, announced early Thursday that members of the committee had received the FBI's report.
"Supplemental FBI background file for Judge Kavanaugh has been received," he said in a tweet.
He added that he and ranking member Dianne Feinstein, D-Calif., "have agreed to alternating EQUAL access for senators to study content from additional background info gathered by non-partisan FBI agents."
The report, according to a statement from the committee, was delivered to Capitol Hill at 2:30 a.m. Thursday.
An administration official familiar with the White House's review of the FBI report told ABC News it should not sink Kavanaugh's confirmation.
"We want to be careful not to fully characterize what is in the report, but we are going full steam ahead and have full confidence in his nomination," the official said. "It's fair to say if something were concerning in the report we wouldn't be."
The official added, "[The report] won't satisfy the critics."
What was the FBI investigating?
The FBI was directed to look into "credible" allegations of sexual misconduct made by Christine Blasey Ford and Deborah Ramirez against Kavanaugh.
The White House specifically requested FBI interviews with four people: Kavanaugh's high school friends Mark Judge and P.J. Smyth; Leland Keyser, who Ford claimed was at the party where the alleged assault took place; and Ramirez, whose lawyers provided a list of more than 20 additional witnesses to interview.
Ford claims Judge was in the room when she said Kavanaugh assaulted her.
The FBI also interviewed Christopher "Squi" Garrett, another classmate of Kavanaugh's who appeared on the July 1 calendar entry.
Kavanaugh has categorically denied all charges.
The White House received the FBI report Wednesday night, according to a statement by deputy White House press secretary Raj Shah.
"With Leader McConnell's cloture filing, senators have been given ample time to review this seventh background investigation," he said. "This is the last addition to the most comprehensive review of a Supreme Court nominee in history."
The report has not been released to the public. Sen. Mitch McConnell has insisted that it remain private.
What comes next?
McConnell, speaking on the Senate floor late Wednesday, announced that senators will review the report and then he filed a procedural motion to advance Kavanaugh's nomination.
All 100 senators will be able to access the report Thursday morning in rotating time blocks, which began at 8 a.m.
Speaking on the Senate floor, McConnell said there will be "plenty of time" for senators to review the material before a Friday cloture vote.
If it passes, it's likely the Senate will hold a final vote on Kavanaugh's confirmation on Saturday. If Republicans don't have the votes to cut off debate on Friday, it cannot move forward to a final vote.
Standing in Kavanaugh's way are a handful of key swing votes. The group of moderate senators who could ultimately make or break his nomination includes Sens. Jeff Flake, R-Ariz., Susan Collins, R-Maine, Lisa Murkowski, R-Alaska, and Joe Manchin, D-W.Va.
Their votes will likely hinge on the FBI report.
ABC News' Alexander Mallin and Justin Doom contributed to this report.