Zelenskyy to ABC: How Russia-Ukraine war could end, thoughts on US politics and Putin's weakness
Ukraine's president sat down with Martha Raddatz: "Victory is enough for us."
KYIV, Ukraine -- In a wide-ranging new interview with ABC News from his country's capital, Ukrainian President Volodymyr Zelenskyy reiterated that he would "never" agree to cede any territory to Russian invaders, including the illegally annexed Crimean peninsula -- but he acknowledged another possible end to the 500-day war.
In a sit-down with ABC News' Chief Global Affairs Correspondent Martha Raddatz that aired Sunday on "This Week," Zelenskyy did not dispute Washington Post reporting that Ukrainian officials told CIA Director William Burns on a recent trip to Kyiv that the aim of a new counteroffensive is to approach the Crimean boundary and then force Russian President Vladimir Putin into negotiations.
Asked by Raddatz if that was "feasible," Zelenskyy said, "Well, it is absolutely clear, logical rhetoric that at that moment when Ukraine will reach the administrative border with a temporarily occupied Ukrainian peninsula, Crimea, it's very likely that Putin will be forced to seek dialogue with the civilized world, unlike how it was before the full-scale invasion, because he will be weakened."
Zelenskyy, his top adviser, Andriy Yermak, and some of Ukraine's most senior generals spoke with Raddatz to address pressing questions in the invasion, which began in February 2022. They discussed the prospect of negotiations, the Wagner mercenary mutiny and the ongoing counteroffensive, among other topics.
Zelenskyy also weighed in on the value of America's continued support for his country despite what he called "dangerous signals" in U.S. politics about reducing aid for Ukraine at a critical time in the conflict.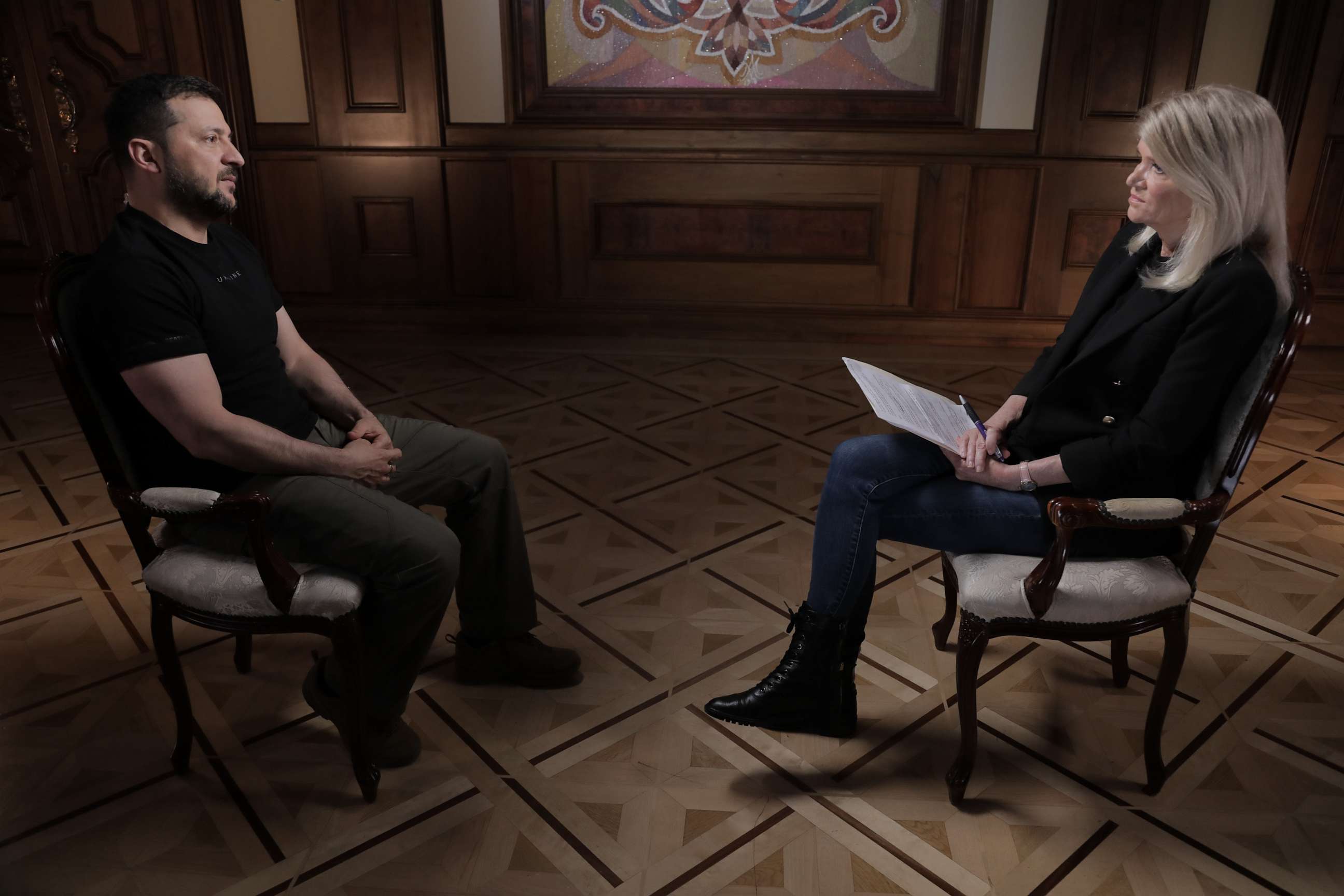 'Preserve ... bipartisan support'
President Joe Biden has told Zelenskyy in public that he will back Ukraine "for as long as it takes" and last week pledged more aid, including sending controversial cluster munitions.
Former Vice President Mike Pence visited Kyiv on June 29 and, in a move which separated himself from some of his fellow contenders for the Republican presidential nomination, expressed his unwavering support for Ukraine as well, while some others in the GOP have questioned the scope of the sustained military and financial commitment to Ukraine.
"Are you at all concerned about the upcoming presidential election and continued aid?" Raddatz asked Zelenskyy.
"It's an internal, domestic policy issue. It's up for Americans to decide, and I would hate to interfere," Zelenskyy said. "But it is important for us to preserve the bipartisan support of Ukraine ... We understand that there are some dangerous signals coming from particular politicians of the U.S. regarding the reduc[tion] of assistance for Ukraine."
Zelenskyy also played down claims made by former President Donald Trump, who has said repeatedly that he would end the war within 24 hours.
"The sole desire to bring the war to an end is beautiful," Zelenskyy said. "But this desire should be based on some real-life experience. Well, it looks as if Donald Trump had already these 24 hours once in his time. We were at war, not a full-scale war, but we were at war and as I assume he had that time at his disposal, but he must have had some other priorities."
"If we are talking about ending the war at the cost of Ukraine, in other words to make us give up our territories, well, I think in this way Biden could have brought it to an end even in five minutes," Zelenskyy said. "But we would not agree."
Ukraine's president had this to say to any Americans who were skeptical of continued aid and want to focus on domestic issues instead:
"I appreciate those who say that you've done enough. Trust me, no matter what, I appreciate help. When it comes to the word 'enough,' well, we Ukrainians are not people known for excessive appetites. Our victory is enough for us."
The counteroffensive
The supply of Western weapons and munitions has been crucial to Ukraine's latest, budding counteroffensive waged in the east. Two top generals told ABC News that while progress has been slow, the operation is "going to plan" as Ukrainian forces probe areas along the front line, which stretches thousands of miles, for potential weak spots.
Colin Kahl, the Pentagon's top policy official, said on Friday that the counteroffensive was going "slower than we'd hoped," in part because "the Russians probably were more successful in digging in more deeply than perhaps was fully appreciated."
Zelenskyy's assessment did not differ from Kahl's, though he maintains Ukraine has put the Russians on the defensive while Ukrainian forces have not yet deployed in full.
He said he feels no "pressure at all" to see success more quickly, with some Western officials reportedly frustrated with the slow pace of the counteroffensive. A previous Ukrainian operation, last year, saw them quickly overtake Russia and reclaim large swaths of territory.
"Today, the initiative is on our side," Zelenskyy told Raddatz. "We are advancing, albeit not as fast [as we would like]. But we are advancing."
The U.K.'s Ministry of Defense, which has provided daily intelligence updates on the state of the war, reported that Ukraine had made "steady gains" in the key city of Bakhmut -- one of the few symbolic victories for Russia in their winter offensive which came at the cost of tens of thousands of killed and wounded.
Gen. Oleksandr Syrskyi, the commander of the Ukrainian ground forces who is overseeing the battle in the east, when asked if he was confident of retaking the city, told Raddatz: "Yes, of course. I'm sure."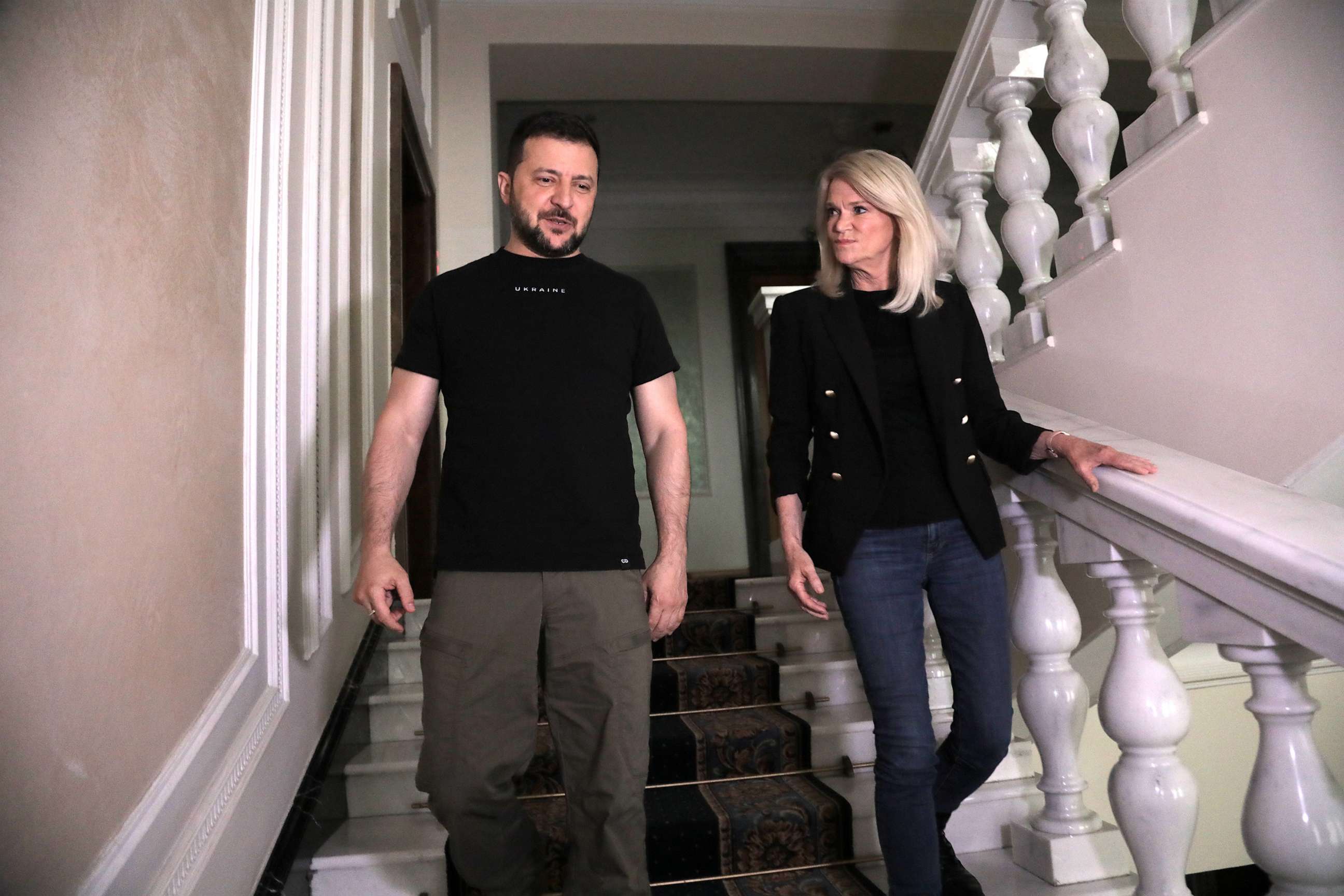 Heavy losses of both personnel and Western military equipment have been reported in the south, but Zelenskyy and his generals shared in their assessment that it was too early in the counteroffensive to talk about battlefield successes.
Last week the Biden administration controversially approved the delivery of cluster munitions to Ukraine -- explosives that some 120 countries have banned for their capacity to do indiscriminate damage to civilians -- but one key weapon remains on Ukraine's wish list: F-16 fighter jets.
Asked about both cluster munitions and F-16s by Raddatz, Andriy Yermak, the head of the presidential office and one of Zelenskyy's top advisers, told ABC News that Ukraine could succeed without the jets but at the cost of more lives.
"You know, we ask only these things which are very important," he said. "We showed the results, how we use this equipment, how we use these weapons. And of course, now we need [them] to win this war."
Biden administration spokesman John Kirby, appearing Sunday on ABC's "This Week," said, "We're going to work to get those jets to Ukraine just as quickly as possible." But "you got to get the pilots trained. ... It's going to take a little time to get these pilots ready to go," he said.
On nuclear fears, Putin and the Wagner rebellion
From the Kremlin's saber-rattling to fears around the safety of the Russian-controlled Zaporizhzhia Nuclear Power Plant, the specter of nuclear weapons has cropped up time and time again as the fighting drags on.
Alexander Lukashenko, the president of Belarus, confirmed last week that a majority of tactical nuclear weapons expected to be transferred from Russia had already been delivered to his country, which neighbors Ukraine, and that all would be deployed there by the end of the year.
Zelenskyy told Raddatz that he did not believe Putin would resort to the use of nuclear weapons -- though he did warn that Ukrainian intelligence believes Russia could have mined the Zaporizhzhia Nuclear Power Plant, the largest in Europe, in preparation of a staged explosion to halt Ukrainian battlefield advances.
The United Nations' International Atomic Energy Agency has said they have not seen evidence to back up Ukraine's claims but they have also demanded more transparent access to the facility.
"Are other explosives on the site? Yes," Zelenskyy said. "Can they see explosives currently? No. Are there enough people who are ... unbiased to make any conclusions with regard to how much of the site is contaminated with mines? No."
The interview comes amid some speculation that Belarus could become a staging post for another attack from Ukraine's northern border. In the aftermath of an aborted rebellion by the Wagner mercenary group, that was allied with Putin, Wagner troops were told to sign contracts with the Russian military, return to their families or accept Lukashenko's offer to go to Belarus, where satellite imagery has revealed that potential bases have been constructed.
But Zelenskyy said he is confident Wagner troops will not attack from the north and argued that Yevgeny Prigozhin, the Wagner leader, was motivated by trying to improve his standing inside Russia.
"That's what I think, based on intelligence ... he has become a political figure," Zelenskyy continued. "And this, to me, must have been his primary objective. Why he stopped? Well, I don't know for sure."
Wagner forces advanced to just 120 miles from Moscow, facing little resistance before abandoning their mutiny over the span of mere hours in late June.
Zelenskyy said Prigozhin's revolt had revealed a weakness in Putin's leadership. (Prigozhin has claimed the march to Moscow was about protecting his fighters from "injustice" rather than trying to mount a coup.)
"They decided to stop themselves," Zelenskyy said. "Putin doesn't have military force inside Russia, and his civilian population is not protected."
"There is a signal that there might be another mutiny in Russia, a revolution," he added. "More than that, there are many people who might support such a mutiny."
Gen. Syrskyi, meanwhile, told ABC News that Wagner's effective dissolution in Ukraine would not have a decisive impact on the battlefield. "I think the history of Wagner is closed," he said.
Security guarantees and Ukraine's place in Europe
Zelenskyy described the upcoming NATO summit in Vilnius, Lithuania, as "very important," as he and other Western allies have stepped up calls demanding NATO membership for Ukraine.
However, he did not confirm whether he would attend, and his chief adviser told ABC News that Zelenskyy is "still thinking about it." Opposition to Ukraine's NATO membership, Yermak said, was based on what he described as misguided views about Russia as a rational actor and the risk of escalating the conflict.
"Some countries unfortunately, don't really understand the current Russia. It's not the country of Pushkin, Tchaikovsky, Russian ballet, one of the strongest armies in the world. It's the country [of] terrorists," he said. "If I listen to some conversation about escalations, for us Ukrainians, it's sounds a little bit strange. What more escalations [do] we need? I think it's time to make historical decisions."
Biden, however, said that Ukraine was "not ready" for NATO membership in clip of an interview with CNN released on Saturday.
"I don't think there is unanimity in NATO about whether or not to bring Ukraine into the NATO family now, at this moment, in the middle of a war," Biden said.
Kirby, the White House spokesperson, said Sunday on "This Week" that "NATO is eventually going to be in Ukraine's future" -- after the war and after a series of political and economic reforms.
As well as future NATO and European Union membership, both Yermak and Zelenskyy said that above all, Ukraine was looking for concrete security guarantees to secure the country's territorial integrity and a meaningful peace, something not achieved by diplomacy alone in the past.
"We've seen that earlier," Zelenskyy said. "We had some kind of a frozen conflict [since 2014, in eastern Ukraine], and it eventually led to the full-scale invasion and the desire completely to destroy Ukraine and everything that is Ukrainian."
"The war is to be over with justice and peace and with us regaining our territorial integrity," he told Raddatz. "Why? Because the end of the hot stage of the war and freezing the conflict would not mean the end of the war."
Zelenskyy also spoke optimistically about his country's future -- whenever the bloodshed ends.
"Ukraine has already got a place in the world for itself. I consider that as a fact," he said. "We're now a country that is respected, a country that is really fighting for human values, for human rights, for freedom, for democracy."
ABC News' Nathan Luna and Meghan Mistry contributed to this report.