— -- Jessica Mendoza, whose history-making broadcast debut as Major League Baseball's first female analyst in a post-season game prompted a sexist backlash, is taking the situation in stride.
"Any time there is a change, there's normally a lot of resistance. I think the [thing I was most] excited about was the aftermath and how much support there really was," she said today on "Good Morning America."
"Yes, I am a female, but I want it to get to the point where, let's think about what I am saying, what I am doing, and not so much the sex that I am. I want to get to a point when we hear a female voice on NBA, NFL, or just anything in men's sports, and it is like, 'Sweet. She's doing a good job.'"
Support poured in from both men and women for the analyst after Atlanta sports radio host Mike Bell called out Mendoza, an analyst and 34-year-old Olympic softball gold medalist, on Twitter, using a derogatory insult from the movie "Anchorman."
"Really? A women's softball slugger as guest analyst on MLB Wildcard Game? Once again ESPN too frigging cute for their own good," he wrote.
"You guys are telling me there isn't a more qualified Baseball player ESPN can use than a softball player? Gimme a break!" he wrote in another tweet.
Mendoza said she saw Bells' incendiary tweet and decided not to read it.
"Just before I was going to click on it, I thought, 'You know, Why?' Why even give it the attention? I didn't even want to open it, so I have actually yet to read it," she explained.
Due to the comments, Bell was suspended from his daily radio show on 92.9 The Game for two weeks. He offered a recorded apology Wednesday.
"What I said was hurtful and I wanna take this opportunity to say to Jessica that what I said was dumb, and there's just no place for it, and I apologize for putting that garbage on Twitter," he said.
Mendoza became the first female analyst to call a nationally televised Major League Baseball post-season game this past Tuesday -- the American League Wild Card matchup between the Houston Astros and New York Yankees. Mendoza began appearing on Major League Baseball broadcasts after fellow sportscaster and former MLB pitcher Curt Schilling was suspended for an anti-Muslim tweet.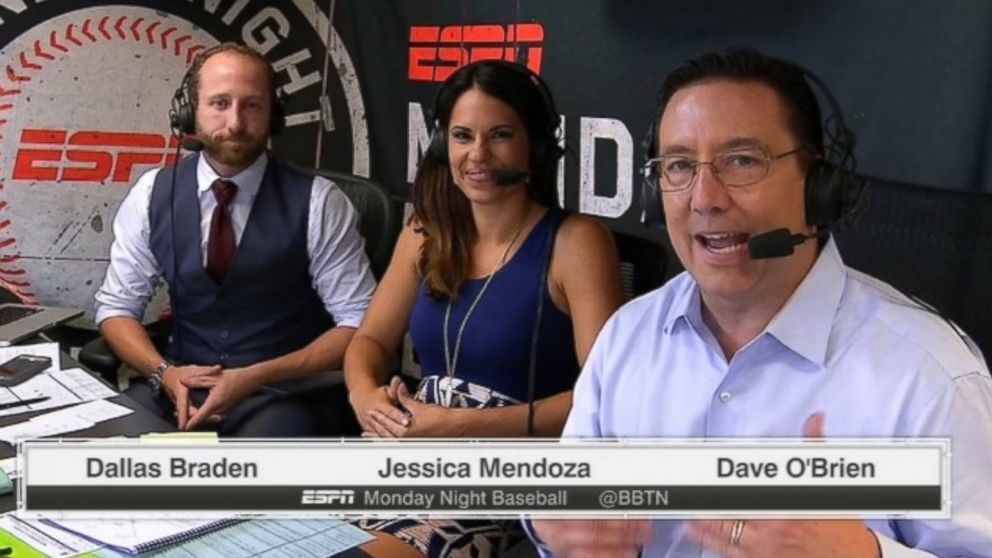 Mendoza said she accepts Bell's apology and wants to move forward.
"I accept his apology," she said. "To me, it really was about the fact that he came after me because I was a woman." "I feel very confident…. I'm looking forward to the future," she continued.
Mendoza works for ESPN, which shares the same parent company, the Walt Disney Company, as ABC News.