Tom Brady's love affair with his tight ends: a stats story
— -- Tom Brady has packed and magnified all of his best attributes into his first two appearances of the 2016 season. He has led the New England Patriots to a pair of victories, improving his record as an NFL starter to 174-51. He has thrown for 782 yards, the most of any quarterback over that two-week span, and has six touchdown passes and no interceptions.
And, perhaps most notably, Brady has zeroed in on his tight ends like never before.
The Patriots have been a tight-end focused offense since 2010, the year they traded wide receiver Randy Moss while drafting Rob Gronkowski and the since-jailed Aaron Hernandez. But what Brady has done in two games with Gronkowski and newcomer Martellus Bennett has been incredible. Let's take a closer look.
Brady has targeted his tight ends at nearly twice the NFL average this season, far and away the highest percentage in the league.
Percentage of throws targeting TEs, 2016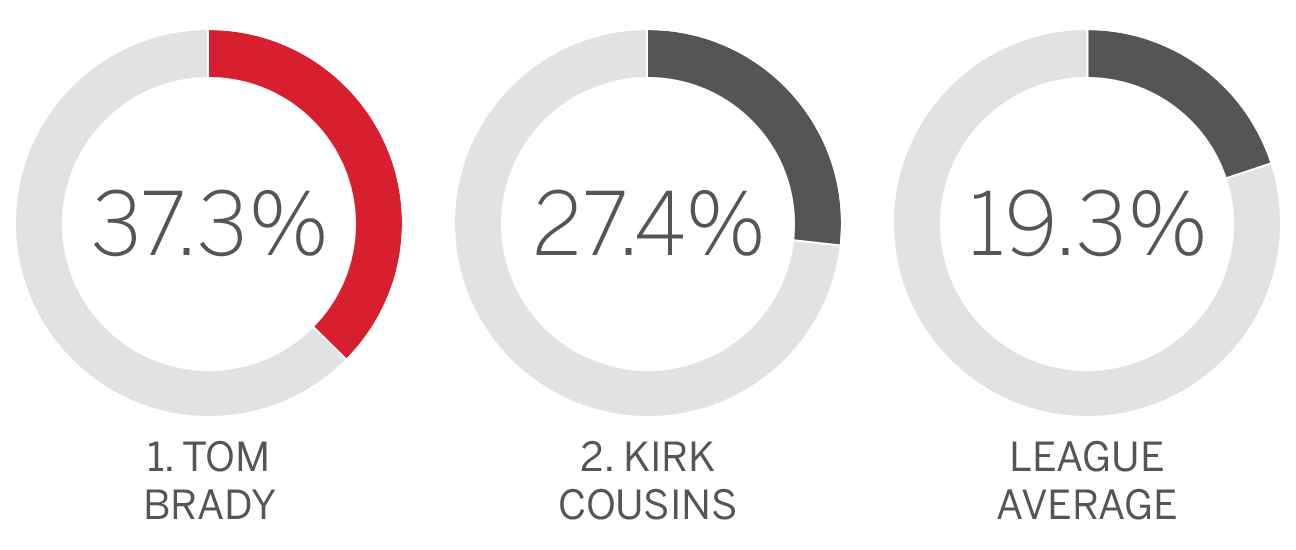 The Patriots, as anyone who watches them regularly knows, like to capitalize on Brady's timing and short-range accuracy with wide receivers who can make plays in the open field. To get downfield, more often than not, they prefer to use the mismatch of a bigger tight end on slower linebackers or smaller defensive backs.
In fact, seven of Brady's 11 passes this season that have traveled 15 yards or more in the air have targeted tight ends. And in two games, his average pass to a tight end is traveling farther in the air (8.68 yards, eighth in the NFL) than his average pass to a wide receiver (8.55, 31st).
Percentage of throws to WRs 5 yards or fewer downfield, 2016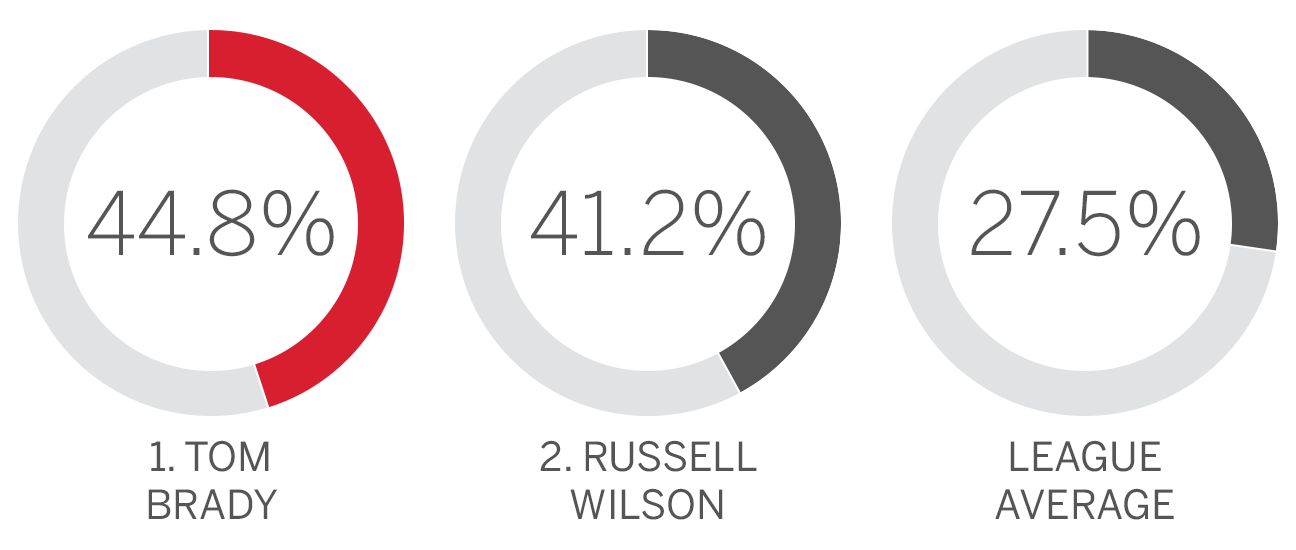 These results are an intense version of what Brady and the Patriots have been doing for years. Brady has targeted tight ends on a higher percentage of throws than all but two quarterbacks over that period (see chart below). He has averaged 8.92 yards per attempt on those throws, the highest in the NFL, and is fifth in air yards per attempt on passes to tight ends.
Percentage of throws targeting TEs, 2010-16

Since the beginning of the 2010 season, Brady has thrown 100 touchdowns to tight ends, 15 more than the next-best quarterback ( Drew Brees). In two games so far this season, Brady has found Bennett for three scores and Gronkowski for one.
The pattern of shorter passes to wide receivers also traces back to 2010. Brady has thrown passes to wide receivers less than 5 yards past the line of scrimmage at a higher rate (31.4 percent) than all but four other quarterbacks. And his average pass to a receiver has traveled 9.61 yards per throw, putting him in some eye-catching company at the bottom of the NFL -- where he ranks No. 44 of 45 qualified players.
Lowest air yards per throw to WRs, 2010-16

What's perhaps most interesting is that the Patriots veered from this approach during Brady's four-game suspension this season. Part of the issue was Gronkowski's injured hamstring, which cost him two games, but Bennett was available for all four games. Still, backup quarterbacks Jimmy Garoppolo and Jacoby Brissett targeted tight ends on only 22 passes in those games, the seventh-fewest in the league over that period.
To complete the reversal from Brady's typical pattern, the average throw Garoppolo and Brissett made to a wide receiver went far enough downfield to put them in the top 10 of the league for that span.
Air yards per throw to WRs, Weeks 1-4, 2016

We all know the Patriots can change their offense on a weekly basis based on opponents. But over time, Brady has made it clear what he prefers to do when he has a choice: Tight ends, tight ends and then tight ends again.
ESPN Stats & Information senior statistics analyst Jacob Nitzberg contributed to this story.