U.S. Open officials have apologized for a controversial incident that occurred Tuesday in which a female tennis player was penalized for briefly taking off her shirt on the court during a break amid the sweltering heat and humidity.
Temperatures soared near 100 degrees Fahrenheit in New York City as French player Alize Cornet took on Sweden's Johanna Larsson during the second day of the 2018 U.S. Open. An extreme heat policy was in effect during their match at the Billie Jean King National Tennis Center, allowing the players a 10-minute break between sets to cool off and hydrate.
When Cornet returned to the court, she seemed to realize that her shirt was on backwards. She quickly pulled up her pink striped top and turned away from the court cameras as she took it off, showing her black and red sports bra underneath. Within seconds, Cornet put her shirt back on the correct way.
The chair umpire overseeing the match immediately hit her with a code violation after the incident. The International Tennis Federation's 2018 Official Grand Slam Rule Book stipulates that players can request permission to leave the court for a "change of attire break" to change their clothing at the "nearest assigned bathroom."
"Any player abuse of this rule will be subject to penalty in accordance with the Unsportsmanlike Conduct section of the Code of Conduct," the rule book states.
Male players are often seen taking off their shirts and changing into fresh ones while sitting in their seats on the court during set breaks.
"Of course, I was surprised when I just changed T-shirt really quick and he gave me the code violation, I didn't expect it, and I told him it was pretty weird," Cornet said at a press conference Wednesday.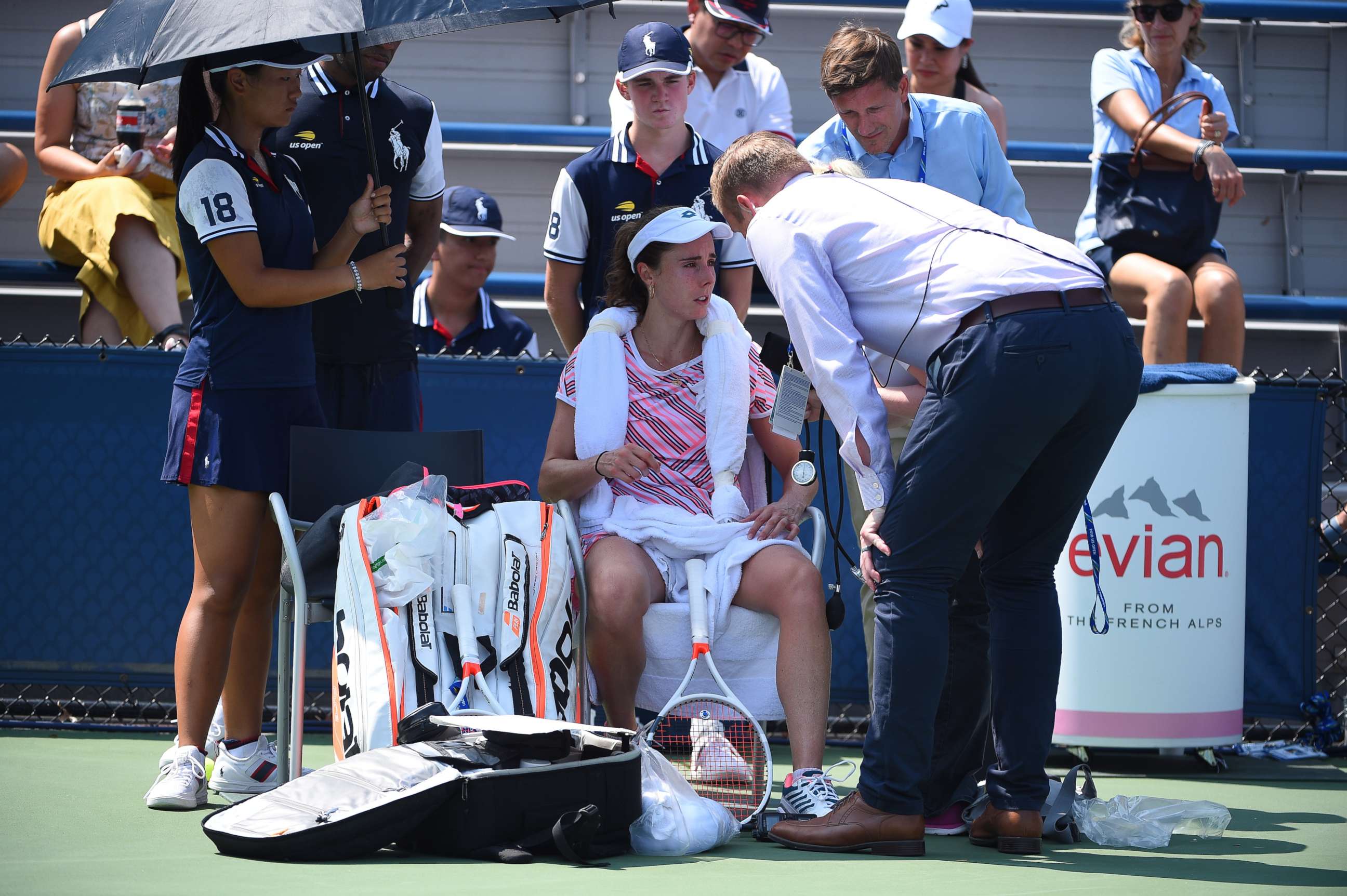 Many prominent figures in the tennis world subsequently expressed their outrage on Twitter.
Scottish tennis coach Judy Murray, who is the mother of professional tennis player Andy Murray, posted a GIF of the incident alongside a tweet that seemed to question why a woman is barred from changing her shirt on the court when a man can. Her tweet has since been shared thousands of times.
"Alize Cornet came back to court after 10 minute heat break. Had her fresh shirt on back to front. Changed at back of court. Got a code violation. Unsportsmanlike conduct....." Murray tweeted before adding, "But the men can change shirts on court."
Alize Cornet came back to court after 10 minute heat break. Had her fresh shirt on back to front. Changed at back of court. Got a code violation. Unsportsmanlike conduct..... ??
But the men can change shirts on court. https://t.co/sCN4KDXYTb

— judy murray (@JudyMurray)

August 28, 2018
Retired Australian tennis player Casey Dellacqua responded to Murray's tweet, writing, "Ridiculous."
American tennis player and Olympic gold medalist Bethanie Mattek-Sands also chimed in: "That's weak!"
Murray responded, "Sure is......"
Other Twitter users didn't mince words and called the incident "sexist."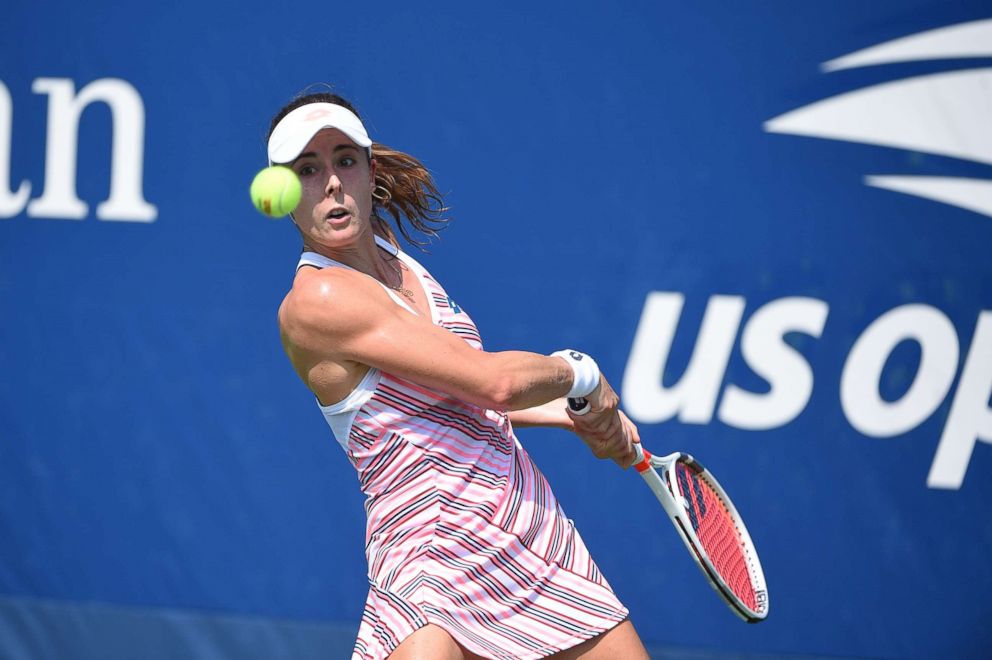 Cornet went on to lose the match to Larsson in three sets, 6-4, 3-6, 2-6.
Meanwhile, several male players were forced to retire early from their matches this week due to the scorching heat.
U.S. Open officials issued a statement on Wednesday apologizing for the penalty, saying Cornet's attire change was not a code violation.
"All players can change their shirts when sitting in the player chair. This is not considered a Code Violation," the statement said. "We regret that a Code Violation was assessed to Ms. Cornet yesterday. We have clarified the policy to ensure this will not happen moving forward. Fortunately, she was only assessed a warning with no further penalty or fine. Female players, if they choose, may also change their shirts in a more private location close to the court, when available. They will not be assessed a bathroom break in this circumstance."
Cornet appreciated the apology.
"Well, I think it's very fair from them to apologize to me. I really appreciate it. I mean, I think that the proportion that it took is huge. When I woke up this morning, I didn't think that this code violation would become so famous in less than 24 hours, and I'm very surprised about it, actually, to be honest. Because on the court, it really seemed like a mistake from the umpire and nothing else. That's how I take it," Cornet said.
The Women's Tennis Association, the organizing body of women's professional tennis, also released a statement, saying Cornet "did nothing wrong" and the code violation was "unfair" and "not based on a WTA rule."
"The code violation that USTA handed to Alize Cornet during her first round match at the U.S. Open was unfair and it was not based on a WTA rule, as the WTA has no rule against a change of attire on court," the statement said. "The WTA has always been and always will be a pioneer for women and women's sports. This code violation came under the Grand Slam rules and we are pleased to see the USTA has now changed this policy. Alize did nothing wrong."