10 killed in Boulder shooting: Victims identified, suspect charged
The victims range in age from 20 to 65.
Ten people, including a police officer, were killed in Boulder, Colorado, on Monday afternoon when a gunman opened fire at a King Soopers grocery store, where residents had gathered to shop and receive COVID-19 vaccines.
The victims range in age from 20 to 65, Boulder Police Chief Maris Herold said.
The slain officer, 51-year-old Eric Talley, was the first member of law enforcement to arrive at the scene, Herold said. He was shot in the head, according to the arrest warrant affidavit.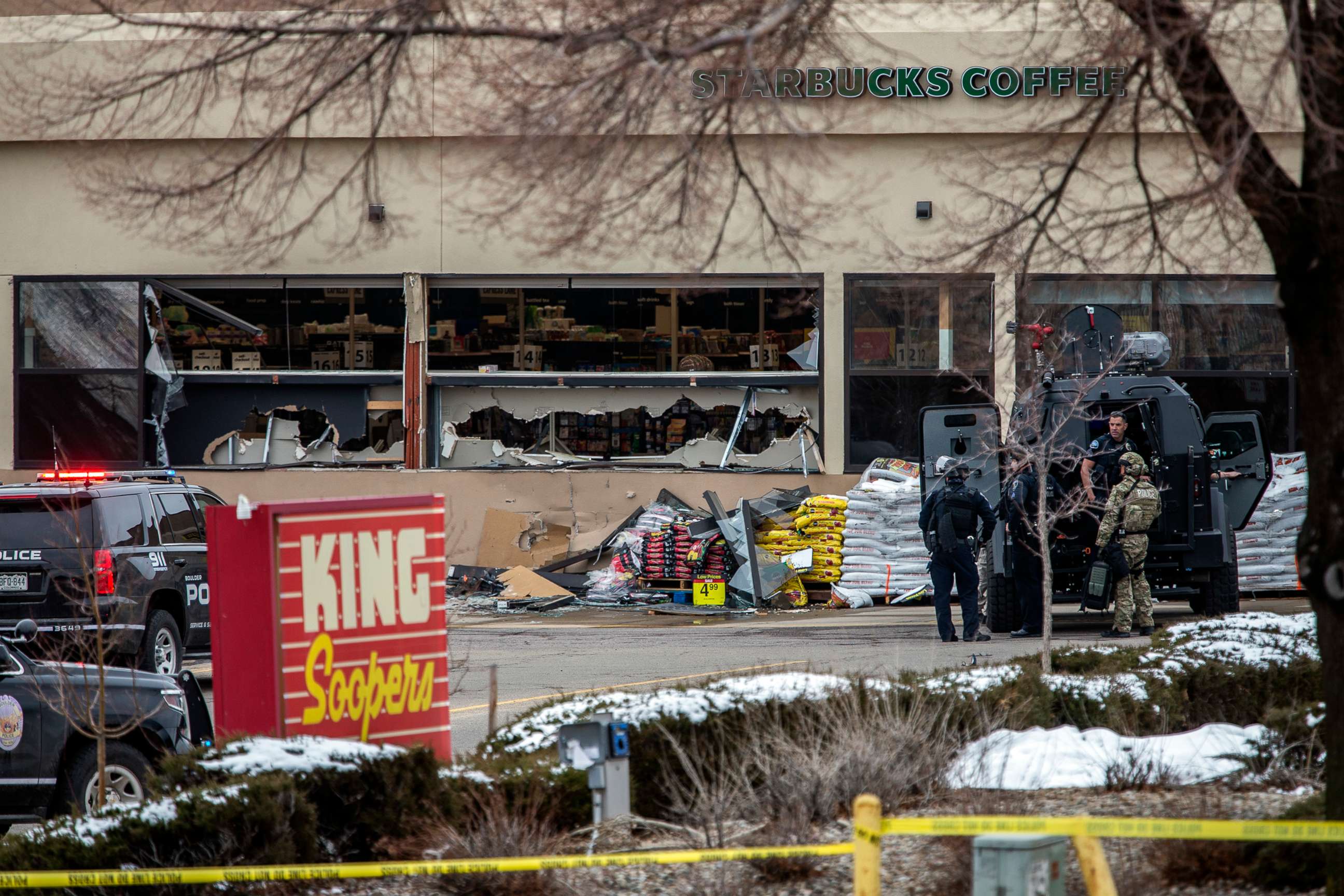 The other victims were identified as: Denny Stong, 20; Neven Stanisic, 23; Rikki Olds, 25; Tralona Bartkowiak, 49; Suzanne Fountain, 59; Teri Leiker, 51; Kevin Mahoney, 61; Lynn Murray, 62; and Jody Waters, 65.
The shooting was reported at about 2:40 p.m. local time, police said. Officers arrived within minutes, entering the store and engaging with the suspect, who was shot in the exchange of gunfire, according to police.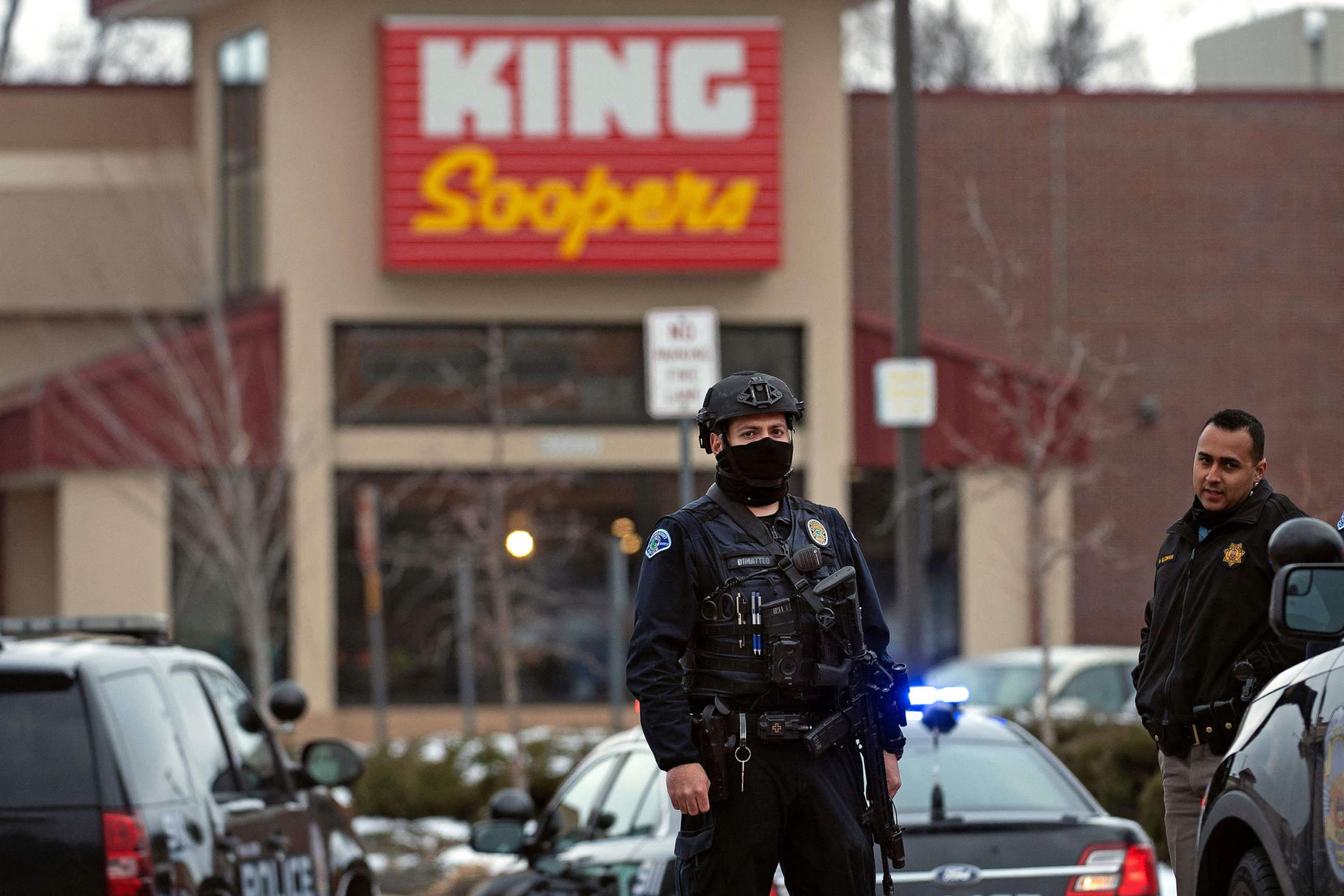 The suspect, 21-year-old Ahmad Al Aliwi Alissa, of Arvada, Colorado, suffered a leg wound and was taken into custody at 3:28 p.m. Monday, the chief said.
The suspect has been charged with 10 counts of murder, Herold said. He was expected to be taken to the Boulder County Jail Tuesday following his release from the hospital, Boulder District Attorney Michael Dougherty said.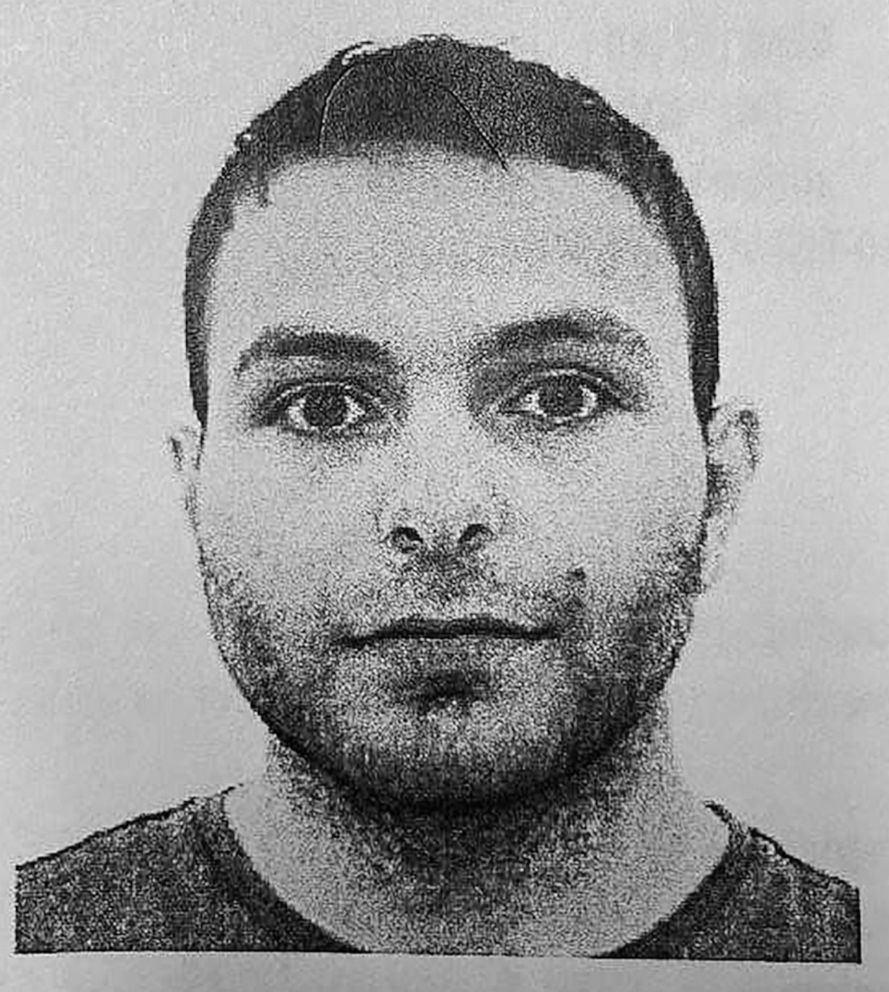 The victims were found in the store and in the parking lot. One person was in a car in the lot, according to the arrest warrant affidavit.
The chief said she lives several blocks from the store.
"I feel numb. And it's heartbreaking," she said at a Tuesday news conference.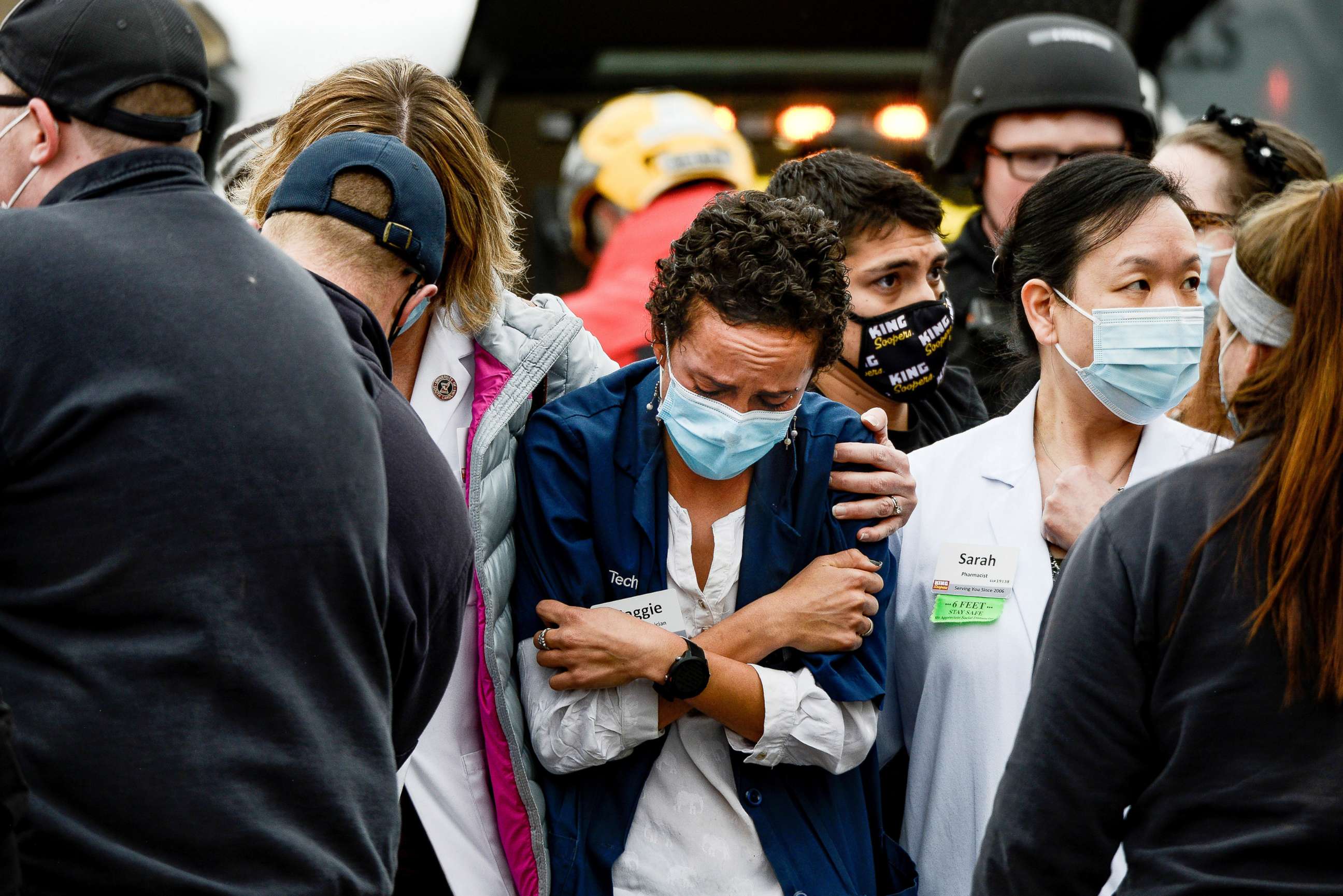 Talley had been a member of the Boulder Police Department since 2010.
He "loved this community," the police chief said. "He's everything that policing deserves and needs."
President Joe Biden said Tuesday, "Officer Talley did not hesitate in his duty, making the ultimate sacrifice in his effort to save lives. That's the definition of an American hero."
Talley was a father of seven.
"He loved his kids and his family more than anything," Talley's father, Homer Talley, said in a statement to ABC News.
Talley's father said the late officer joined the police force when he was 40 years old and recently started training to be a drone operator so he could get a job to keep himself off the front lines.
"He didn't want to put his family through something like this," Homer Talley said.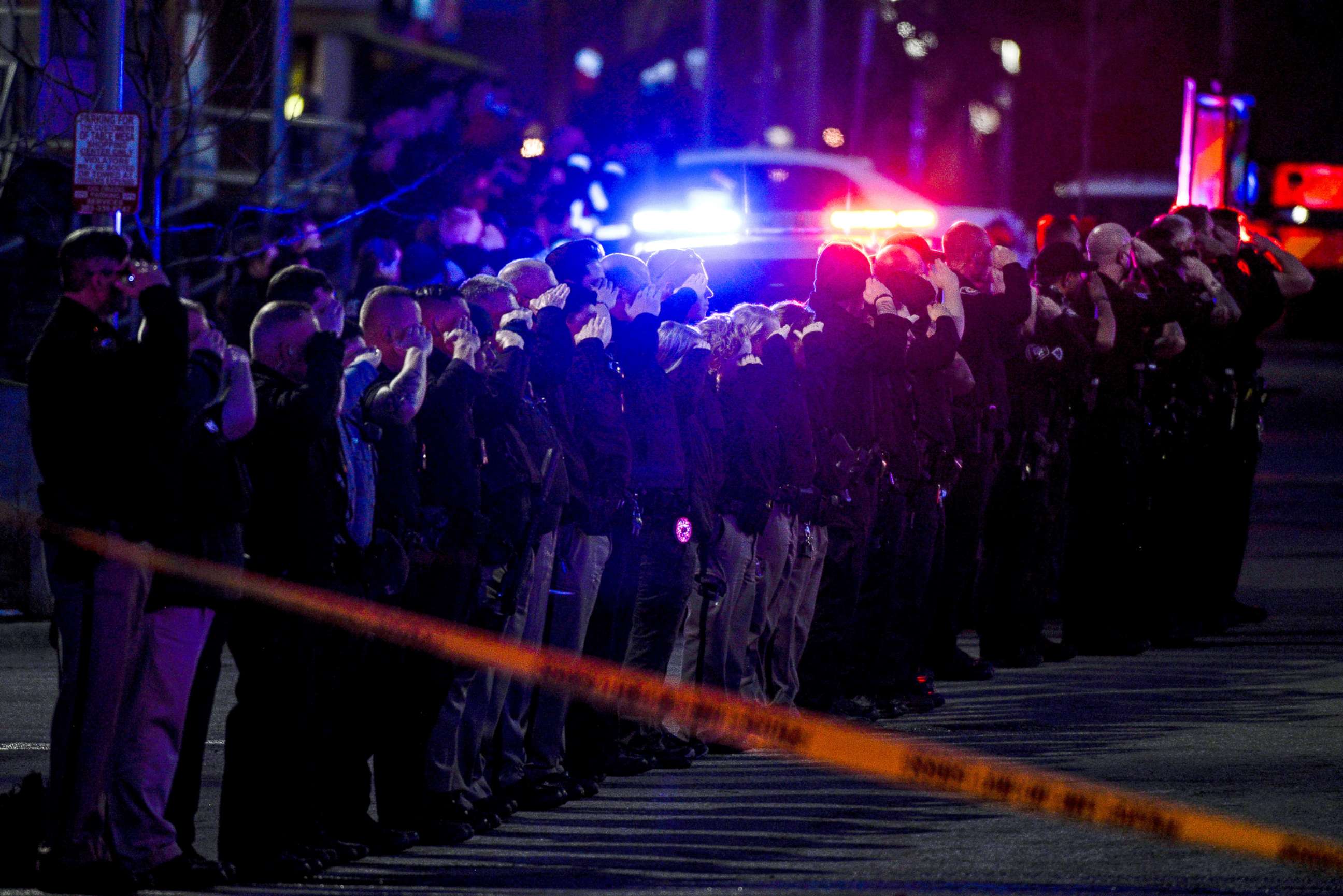 Victim Rikki Olds, 25, was a "strong, independent" young woman who worked at the grocery store, her uncle, Robert Olds, told ABC News.
Her boyfriend rushed to the store parking lot in hopes of good news, he said.
"She was so loved and she will be so missed," Robert Olds said. "We are heartbroken and saddened and devastated."
The suspect bought a Ruger AR-556 pistol on March 16, according to the arrest warrant affidavit.
Biden urged lawmakers on Tuesday to take action by banning assault weapons and high-capacity magazines.
"I don't need to wait another minute, let alone an hour, to take common sense steps," he said.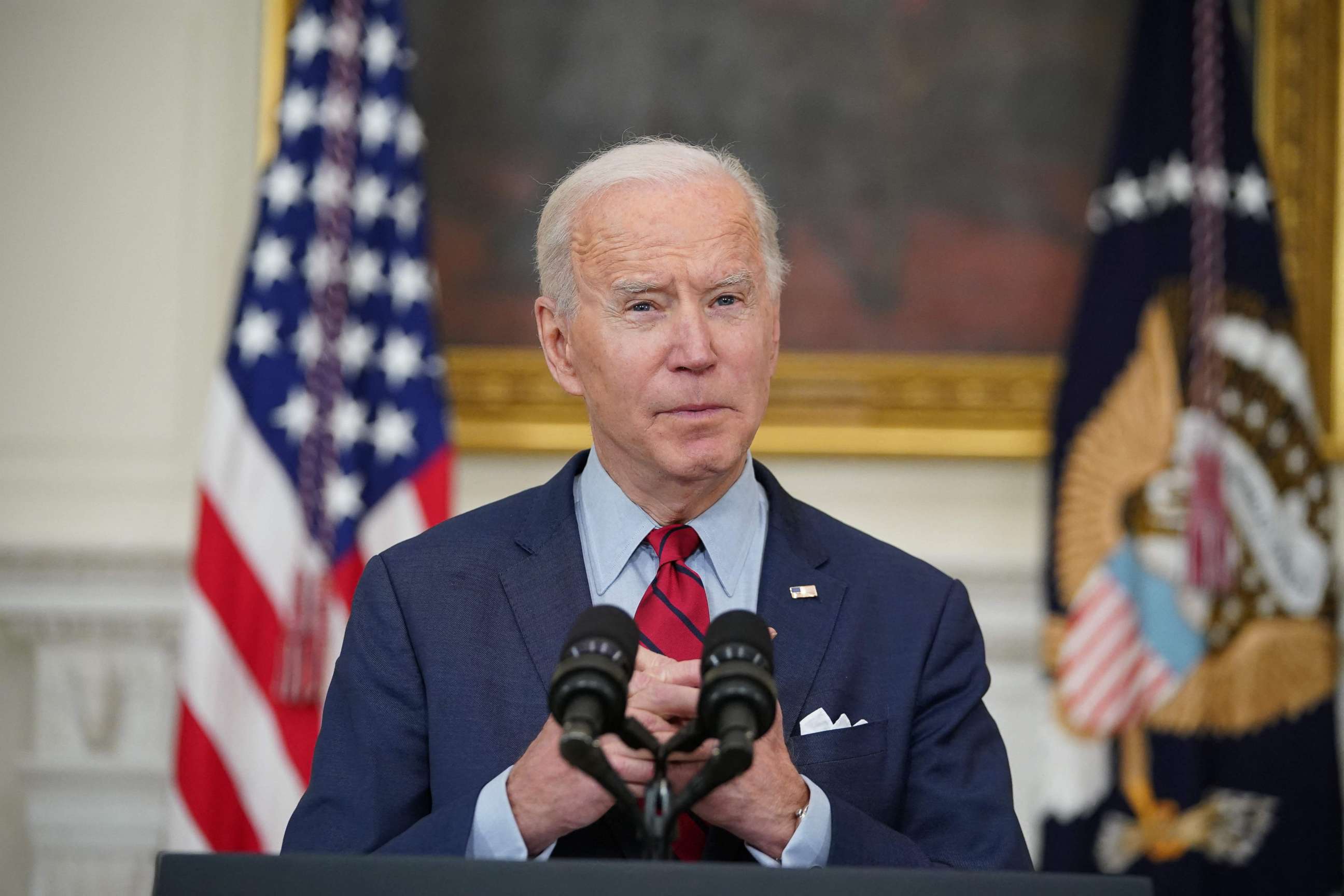 The Senate "should immediately pass the two House-passed bills that close loopholes in the background check system," Biden said.
Biden has ordered flags to be flown at half-staff at the White House. Last week, the president ordered flags to fly at half-staff in honor of the Georgia spa shooting victims. That order expired at sunset on Monday.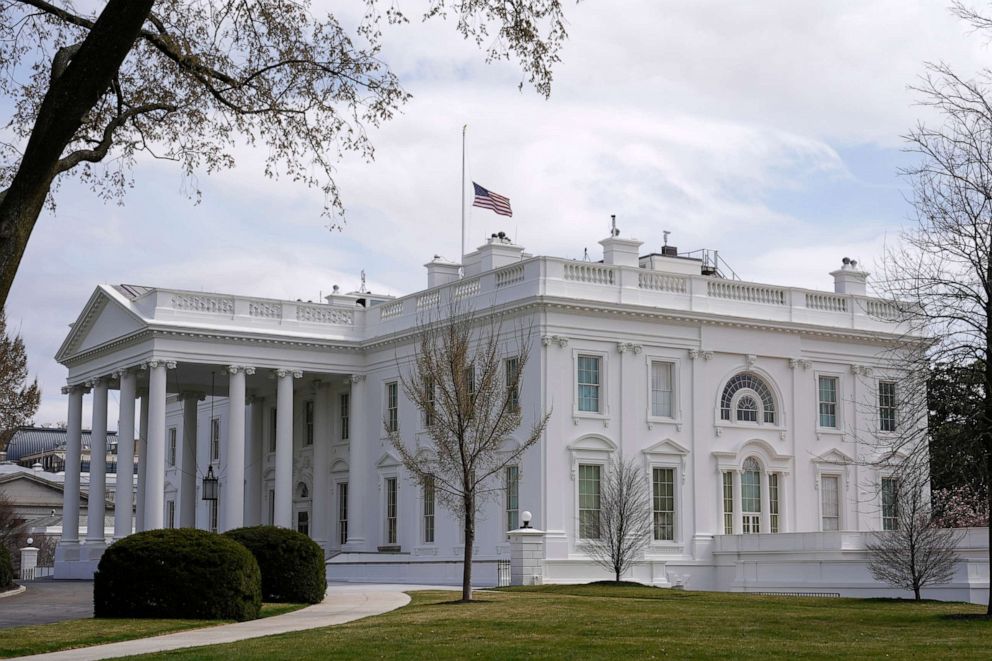 Former President Barack Obama said in a statement, "It is long past time for those with the power to fight this epidemic of gun violence to do so."
"We can overcome opposition by cowardly politicians and the pressure of a gun lobby that opposes any limit on the ability of anyone to assemble an arsenal," Obama said. "We can, and we must."
Colorado Congressman Joe Neguse told reporters Tuesday, "We need to see a change because we have lost far too many lives."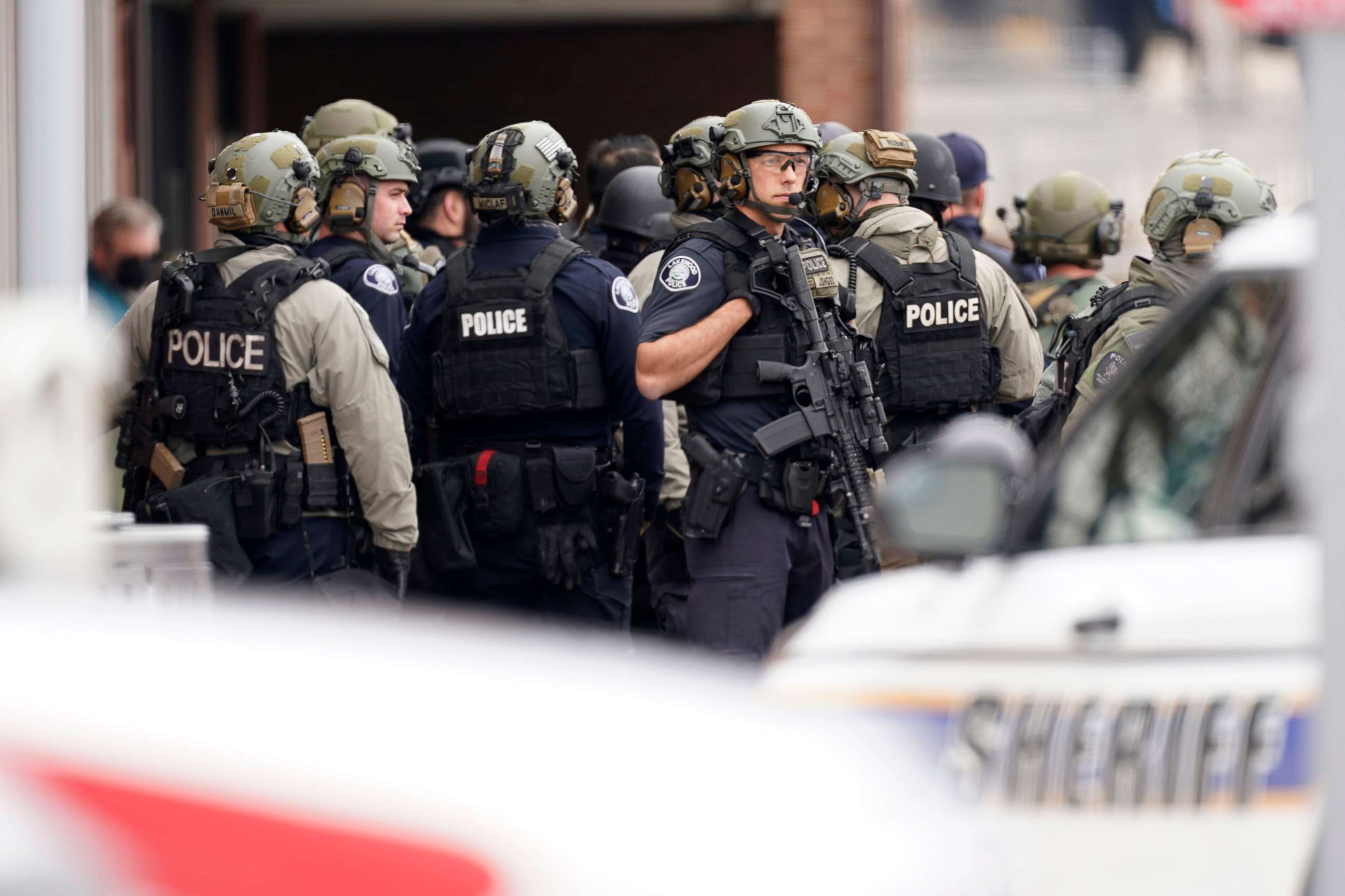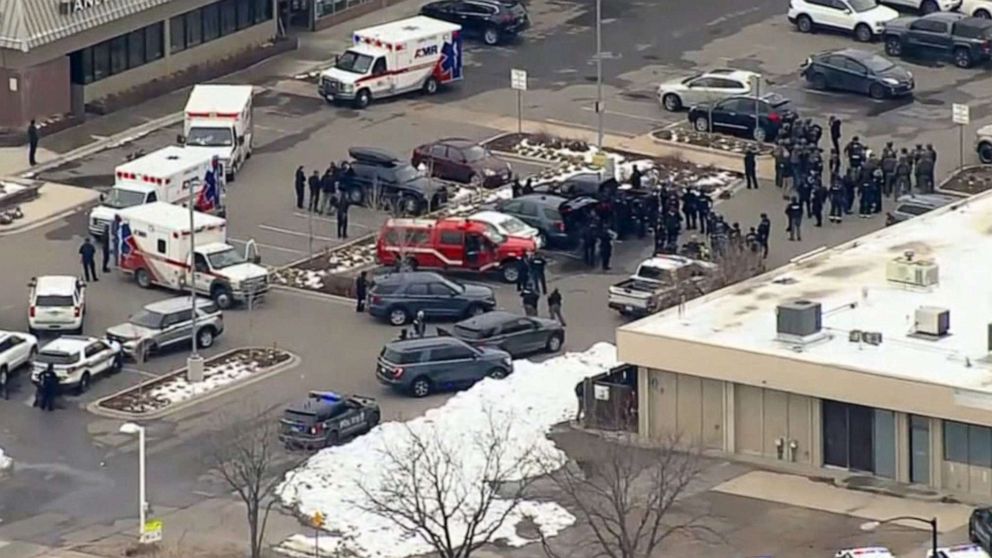 As the shooting unfolded Monday afternoon, eyewitnesses shared videos from the parking lot on social media. The videos showed officers ordering a suspect to come out of the store with his hands up and surrender. Eyewitness videos from inside the supermarket show shoppers and employees trying to flee or hide.
Andy Arellano, who works at the King Soopers store, told ABC Denver affiliate KMGH that he was concerned for his colleagues and shoppers as gunshots rang out.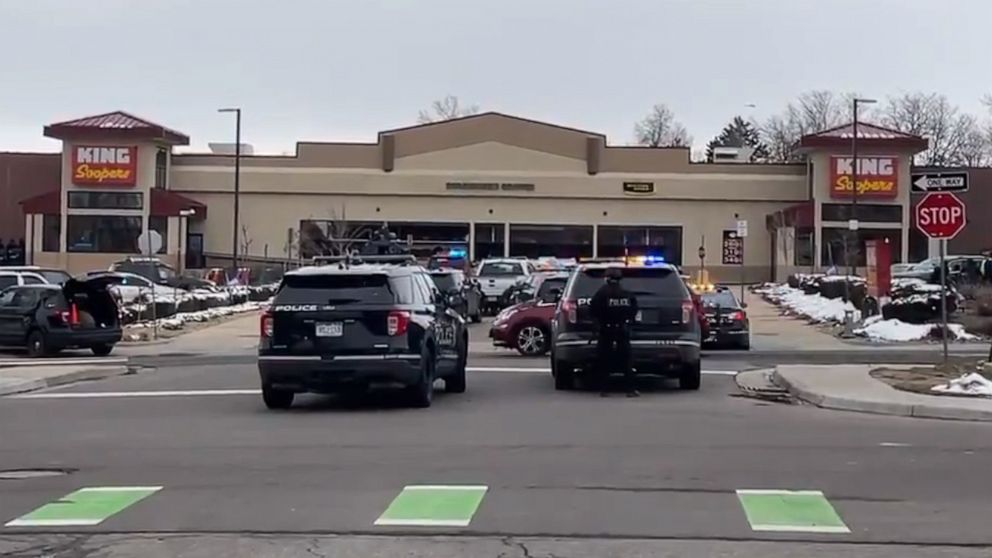 "We were like sitting ducks, you know, and that's one thing that I'm reliving it and looking at it in my head," Arellano said. "And that, that bothers me, I'm still shivering, I'm still shaking."
Andrew Hummel told KMGH that he was at another store in the same shopping center when he heard the shots, prompting him and others to run out.
Hummel said his roommate works at the store and hid in a storage room with some customers, texting updates to him.
"I think one of the biggest scary text[s] that he sent, he just said, 'I love you guys, like, thank you for everything, in case, like, things go bad,'" Hummel said. "That's something that I would never want to hear from any of my friends, because I knew the seriousness of what was going on. And I was horrified."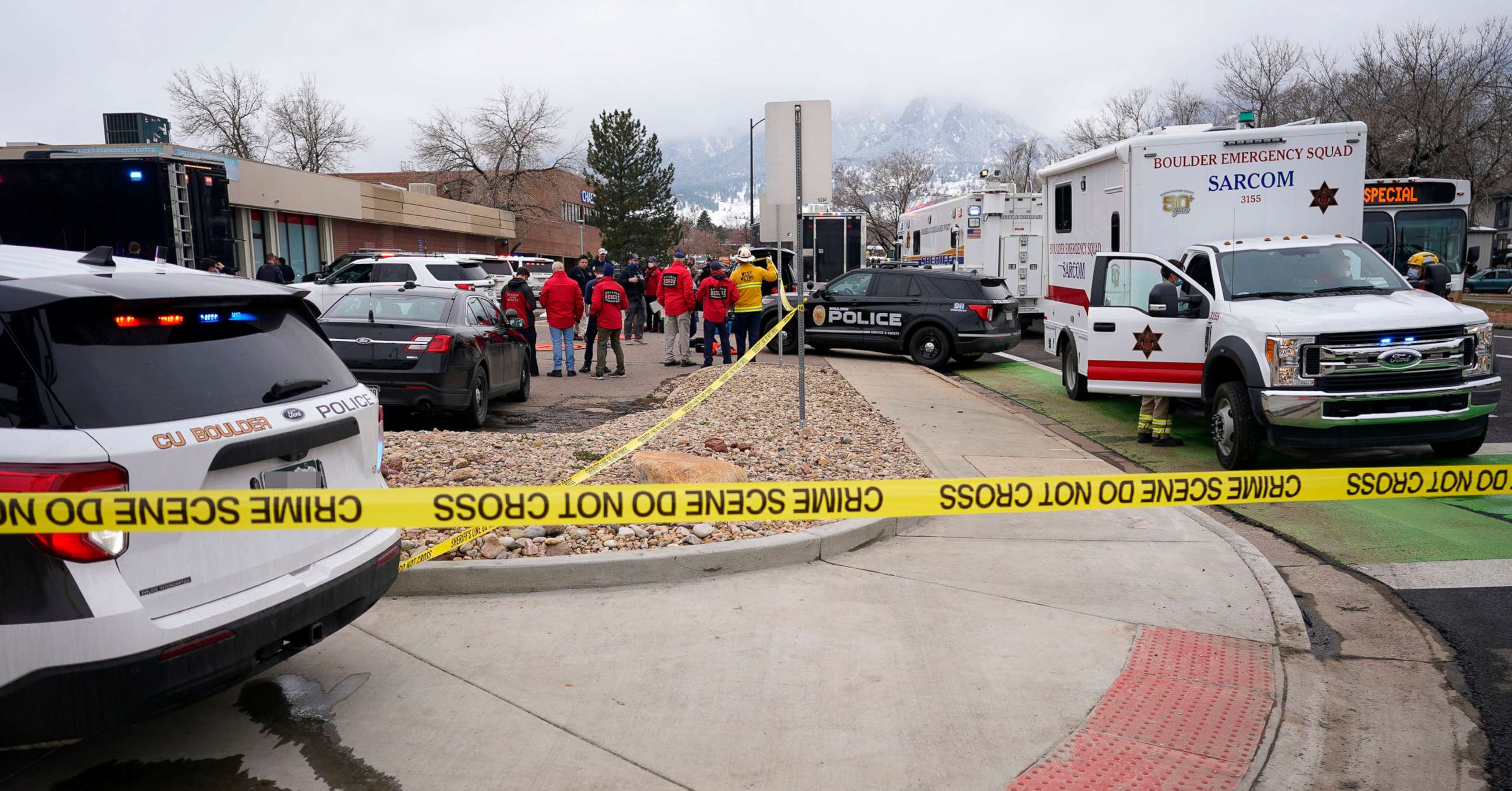 Colorado Gov. Jared Polis said in a statement, "Tonight, the families of these victims, our fellow Coloradans, my neighbors, are hearing the devastating news that their loved one who simply woke up and went to work this morning, or who ran out to pick up eggs, won't be coming home."
"Today we saw the face of evil. I am grieving with my community and all Coloradans," he said.
The King Soopers supermarket chain and its parent company, Kroger, released a joint statement Monday evening, offering "thoughts, prayers and support to our associates, customers, and the first responders who so bravely responded to this tragic situation."
"We will continue to cooperate with local law enforcement and our store will remain closed during the police investigation," the statement added.
ABC News' Luke Barr, Alexander Malin, Nadine Shubailat and Morgan Winsor contributed to this report.