5 victims, shooter dead; 5 police officers injured in shooting at workplace in Aurora, Illinois
The shooting was reported Friday afternoon in Aurora, Illinois.
Five victims were killed and five police officers were injured by gunfire in Aurora, Illinois, when an apparently disgruntled employee at an industrial warehouse opened fire after being told he was being fired from the job he had worked there for 15 years, according to authorities.
The gunman, identified as Gary Martin, 45, was killed by responding police officers, according to Aurora Police Chief Kristen Ziman.
The shooting unfolded at the Henry Pratt Company in Aurora, a town about 40 miles west of Chicago.
The first 911 calls came in at 1:24 p.m. local time, according to Ziman. She said that Aurora police officers were on scene within four minutes "and were fired upon immediately."
In addition to the dead employees and the injured police officers, another unidentified victim was being treated for non-threatening gunshot injuries, Ziman said at a late night press conference on Friday.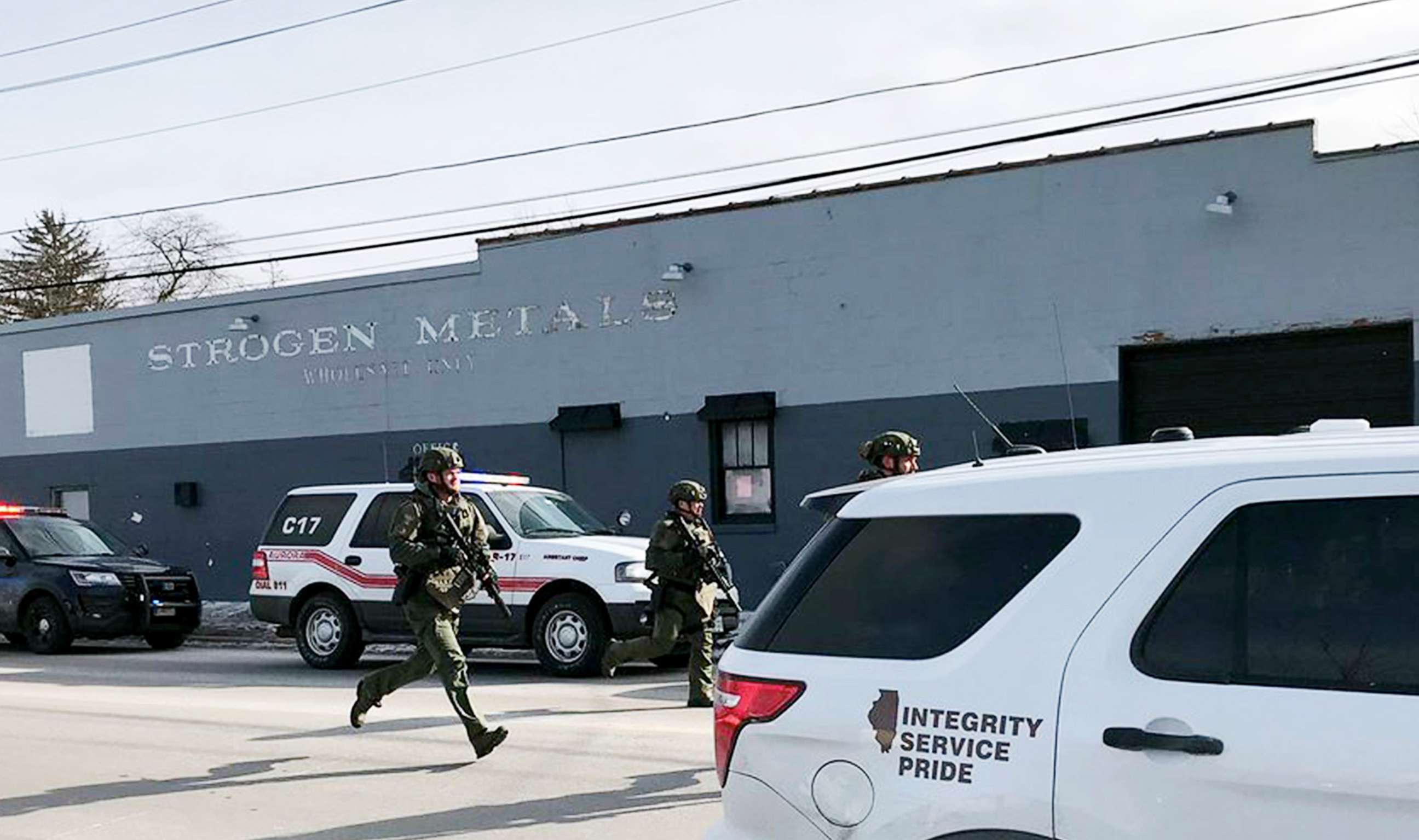 Ziman said that all five officers are hospitalized with non-life-threatening injuries, and that the five victims fatally shot were all men.
SWAT teams entered the massive, 29,000 square foot warehouse to locate Martin, Ziman said. When they found him, they engaged him in gunfire, ultimately killing him.
Law enforcement sources told ABC Chicago station WLS late Friday night that Martin was told Friday he was being fired from his longtime job an assembler at the company, and that it was during his termination meeting that he produced his gun and began firing, then went out into the plant at large and continued shooting.
Ziman declined to confirm those details at the last press briefing of the evening. She also said that none of the victims would immediately be identified, pending family or next-of-kin notification.
Authorities also obtained a search warrant on Friday and scoured Martin's home.
'We saw one guy get shot'
People who escaped the building when the shooting began described the chaos inside.
John Probst, a Henry Pratt employee who escaped, described to WLS seeing a man holding a pistol equipped with a laser sight, shooting indiscriminately. Probst told WLS he recognized the shooter as a coworker, though authorities have not confirmed whether Martin was employed there.
There would have been approximately 30 people in the building at the time of the shooting, Probst said.
Another witness who escaped the building with Probst and later ended up hiding out in a nearby home, described the chaos and confusion inside, and his split-second decision to flee.
"We got out of the back door as soon as we heard shots," Howard Sebby told ABC News. "We saw one guy get shot, he was a co-worker, he was shot in the arm and back, I think they took him to the hospital."
Sebby also said he saw the shooter "running," though it was unclear where the gunman may have been going.
Little information about Martin was immediately available. It was not immediately clear whether he has a criminal record in Illinois. WLS reported that Martin was convicted of felony aggravated assault in Mississippi in 1995. Ziman said that investigators were "looking into his criminal history...that's being done as we speak."
Nearby hospital Rush-Copley Medical Center tweeted that they have received two patients who are being treated for non-life threatening injuries connected to the shooting.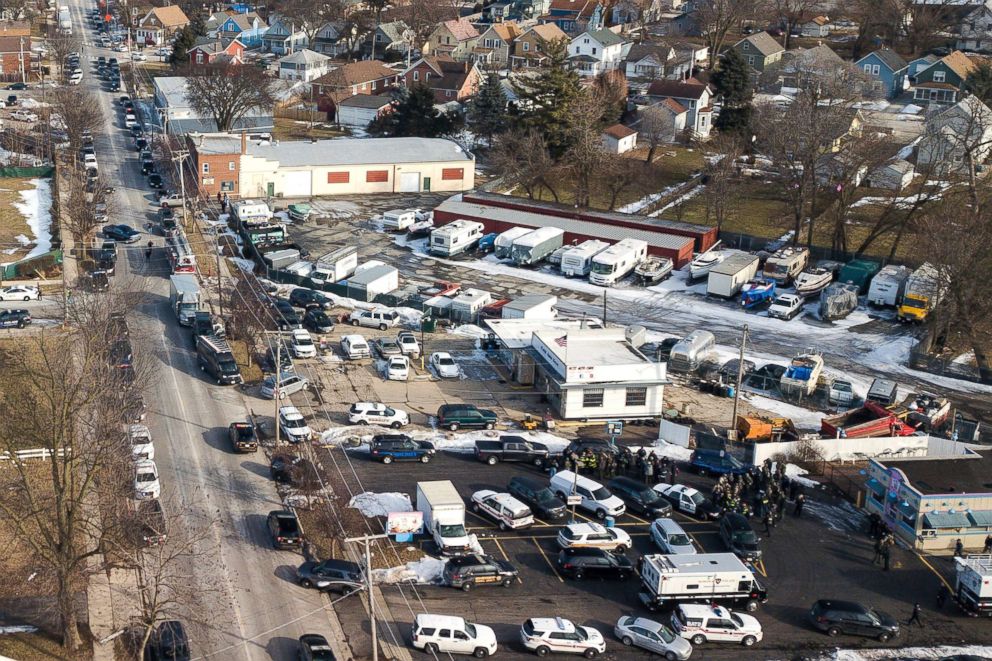 Prayers and support
The Chicago field office of the Bureau of Alcohol, Tobacco, Firearms and Explosives (ATF) responded to the scene, as did FBI agents out of the Chicago field office, a spokesperson for FBI-Chicago told ABC News.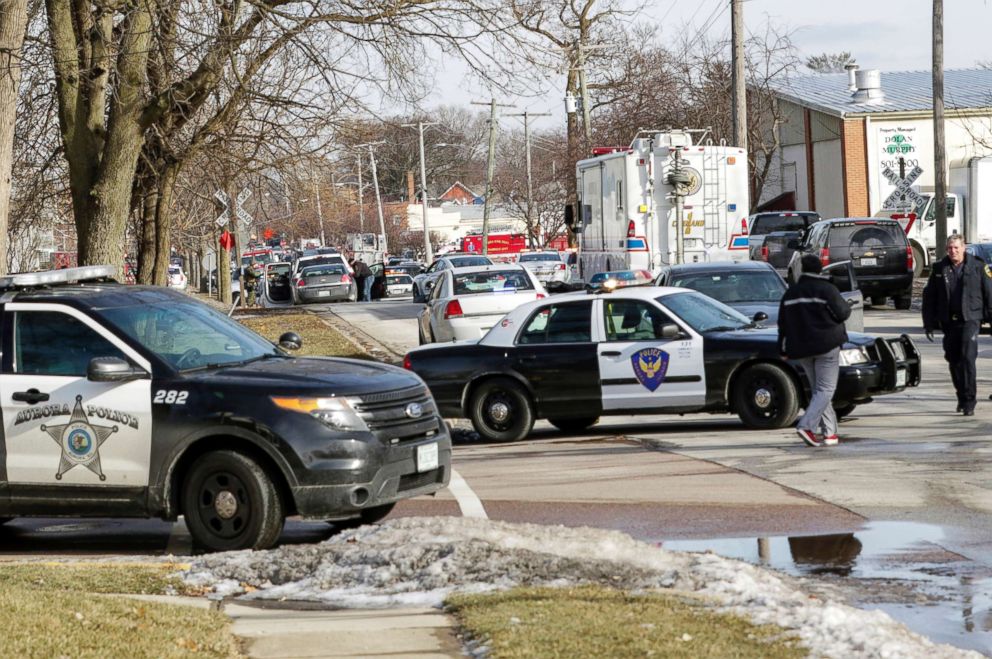 White House press secretary Sarah Sanders said that the president has been briefed and is monitoring the situation.
Sen. Tammy Duckworth, D-Ill., thanked the "brave" first responders, and called it "a scary, sad day for all Illinoisans and Americans."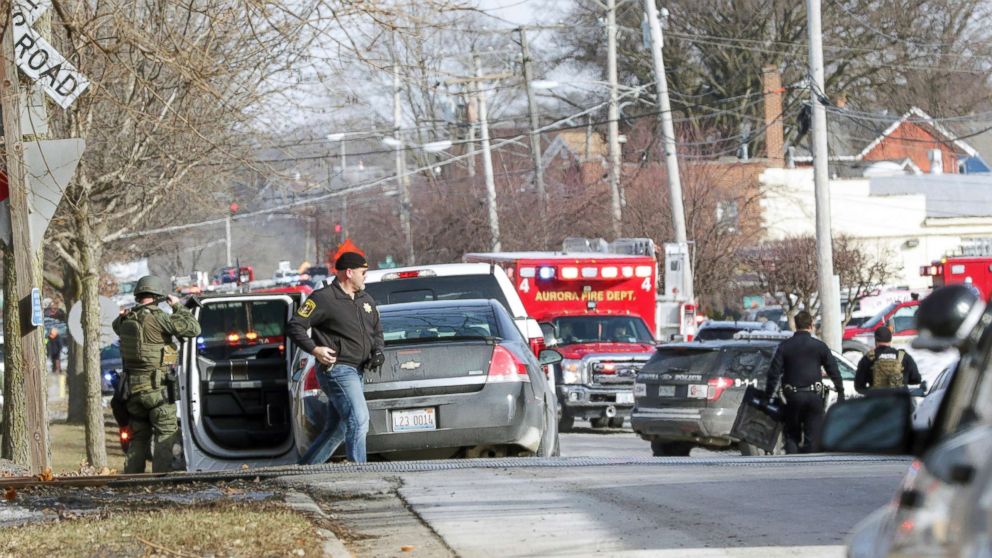 "I am monitoring the situation in Aurora, Illinois. This is a scary, sad day for all Illinoisans and Americans. Thank you to the brave first responders who risked their lives this afternoon and apprehended the shooter," she wrote on Twitter.
The Illinois Fraternal Order of Police issued a statement hailing the heroism of the responding officers.
"Every police officer dreads days like this one, yet these four courageous Aurora officers and their colleagues did not hesitate to literally put their lives on the line today to stop further bloodshed," the statement said. "These four heroes willingly ran into harm's way to protect their fellow citizens and very nearly paid the ultimate price."
Authorities said they would hold their next press briefing at 10 a.m. local time Saturday.