In the most devastating testimony against Harvey Weinstein to date, a woman who claims the disgraced movie mogul raped her in 2013 painted a grotesque picture of Weinstein as angry, controlling and manipulative, but acknowledged under cross examination that she maintained a consensual sexual relationship with him before and after the 2013 incident.
Weinstein is charged with raping the woman in a New York City hotel room in 2013. Her account represents the most complicated testimony of the six women testifying against Weinstein at this trial in New York -- and features the first direct account of Weinstein injecting erectile dysfunction medication into his penis.
The woman, who is not being named by ABC News because she said she was sexually assaulted and has not publicly identified herself, claimed Weinstein told her he had "guys with bats" he could order to hurt people and allegedly forced her into sexual acts.
In graphic testimony, she described Weinstein's genitals as deformed.
The woman testified that Weinstein would ask to see her, and she would allow him to perform sex acts on her.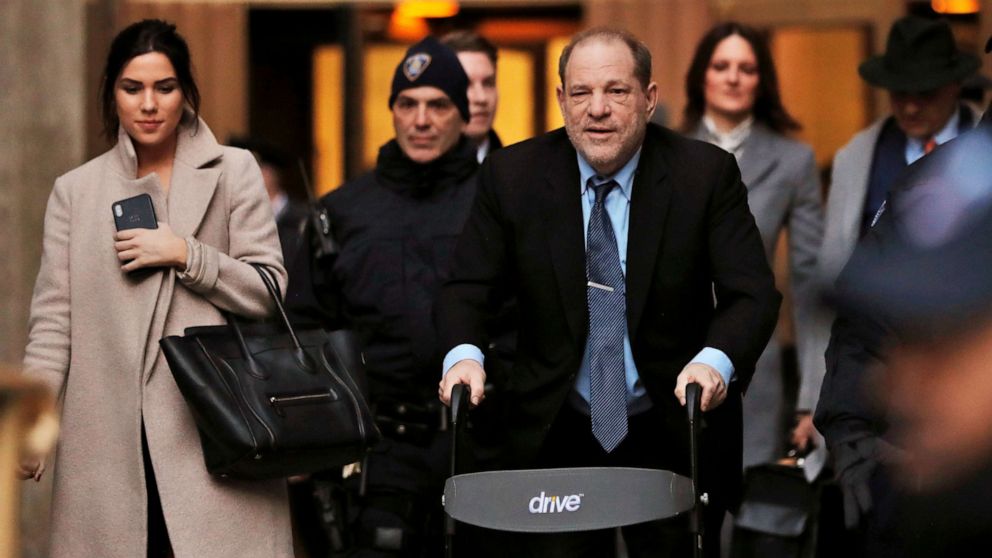 "I entered what I thought was going to be an agreeable relationship with him, and it was extremely degrading from that point on," she testified. "He would talk very dirty to me about fantasies and things and compare me to other actresses."
"He always wanted to film me," she added, but she did not allow him to do so.
In a harrowing scene, the woman described being locked in a suite with Weinstein against her will on March 18, 2013, at the Doubletree Hotel in midtown Manhattan. She testified he held the door closed each time she tried to flee, and that eventually she gave up. Then, she said, he ordered her to undress and when she refused, he took her hands and forced her to remove her clothes.
The woman claimed Weinstein stood over her until she was naked and laying on her back on the bed. She said she was terrified.
"I thought what we were doing was role playing," she said.
He went into the bathroom and returned naked and had sex with her, the witness testified. She said she didn't want to, but that she didn't resist.
Afterwards, she said she went into the bathroom and panicked at what she saw -- a needle that prosecutors have said Weinstein injected into his penis to gain an erection.
She wept as she explained her reaction.
"He stabbed himself with a needle and there has to be blood and he was inside of me," she testified. "And I was kind of in shock over that," she testified, because, she said, he did not use a condom.
At one point, the witness was sobbing so hard she had to be helped down off the witness stand.
Weinstein is charged with performing a forcible sex act on Miriam "Mimi" Haleyi in 2006 and with raping the accuser taking the witness stand Friday. He has pleaded not guilty to all charges and has denied ever engaging in nonconsensual sex.
At Weinstein's urging, she and her roommate joined Weinstein the following night at a movie premiere, Manhattan prosecutor Meghan Hast said during opening arguments.
"Even after she was forcibly raped by the defendant, she continued some semblance of a relationship with him for years," Hast said.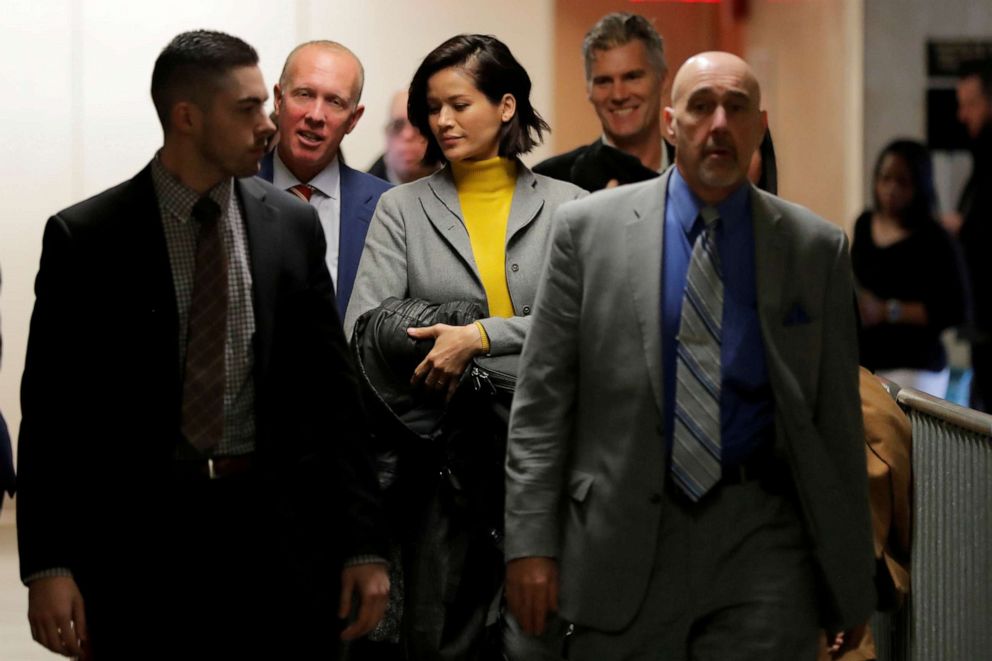 That included a disturbing account the witness gave of a meeting in November 2013 at the Peninsula Hotel in New York, where the witness testified that after telling Weinstein she had a boyfriend and the relationship had grown serious, he grew angry and again violently attacked her, insisting that she "owed him one more time." (Weinstein was not charged in this incident.)
Under about an hour of cross-examination that will continue on Monday, the witness said she maintained a consensual sexual relationship before and after the March, 2013 alleged rape -- lasting until their final, consensual sexual encounter in 2016.
She said she hid the relationship from her friends because she was ashamed, and that despite not being attracted to him, engaged in consensual sexual encounters out of a sense of compassion for him.
"You never wanted to have sex with Mr. Weinstein?" defense attorney Donna Rotunno asked the witness on cross examination.
"No."
"Even when it was consensual?"
"No."
"So you were lying to him every single time ... ?" Rotunno asked.
"There were times when I pretended to role play at times with him," she said. "I thought it was his way of reenacting and feeling he was having sex. I had compassion for him."
If you or someone you know experienced sexual assault and is seeking resources, call the National Sexual Assault Hotline at 1-800-656-HOPE (4673).