At least four people are dead and 159 others are unaccounted for after a 12-story residential building partially collapsed in southern Florida's Miami-Dade County early Thursday, officials said.
"Tragically, I woke up to learn that three bodies had been pulled from the rubble last night. Devastating news for families waiting for any hope of survival," Miami-Dade County Mayor Daniella Levine Cava told ABC News' Cecelia Vega in an interview Friday on "Good Morning America."
"Those three people have not been identified at this time," she noted. "It does bring our count to four of those who have lost their lives in this tragedy."
One of the four victims has been identified by family as Stacie Fang, 54, the mother of Jonah Handler, a high schooler who was captured getting rescued from the rubble by firefighters Thursday.
"There are no words to describe the tragic loss of our beloved Stacie," the family said in a statement. "The members of the Fang and Handler family would like to express our deepest appreciation for the outpouring of sympathy, compassion and support we have received. The many heartfelt words of encouragement and love have served as a much needed source of strength during this devastating time. On behalf of Stacie's son, Jonah, we ask you now to please respect our privacy to grieve and to try to help each other heal."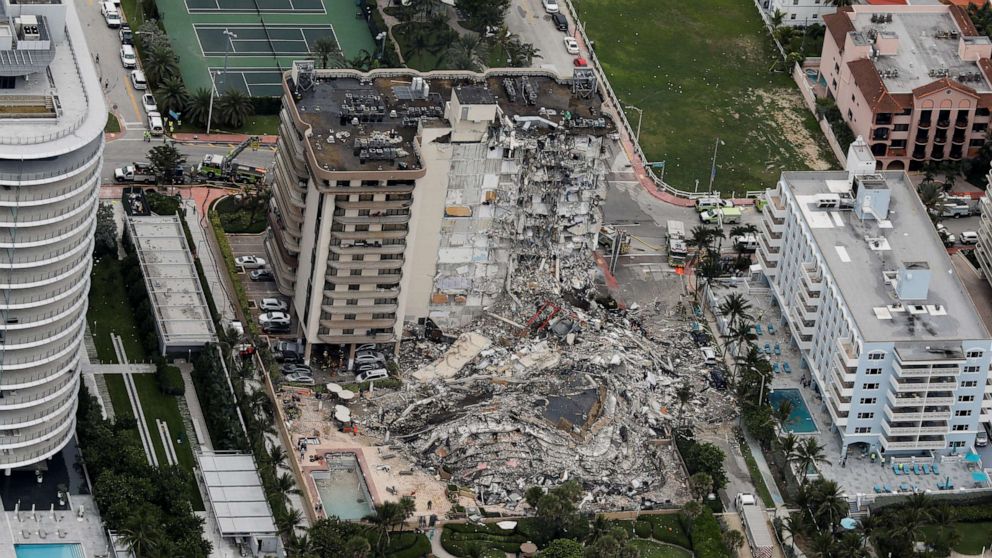 The first death was confirmed early Thursday, just hours after the partial collapse occurred at the Champlain Towers South condominium in the small, beachside town of Surfside, about 6 miles north of Miami Beach. The oceanfront complex has 136 units, and approximately 55 of them were destroyed along the northeast corridor, according to Miami-Dade Fire Rescue Assistant Chief Raide Jadallah.
A massive search and rescue operation has been underway since then, as crews carefully comb through the pancaked wreckage and remaining structure in hopes of finding survivors. So far, they have rescued 35 people who were trapped in the building and two others from beneath the rubble, according to Jadallah.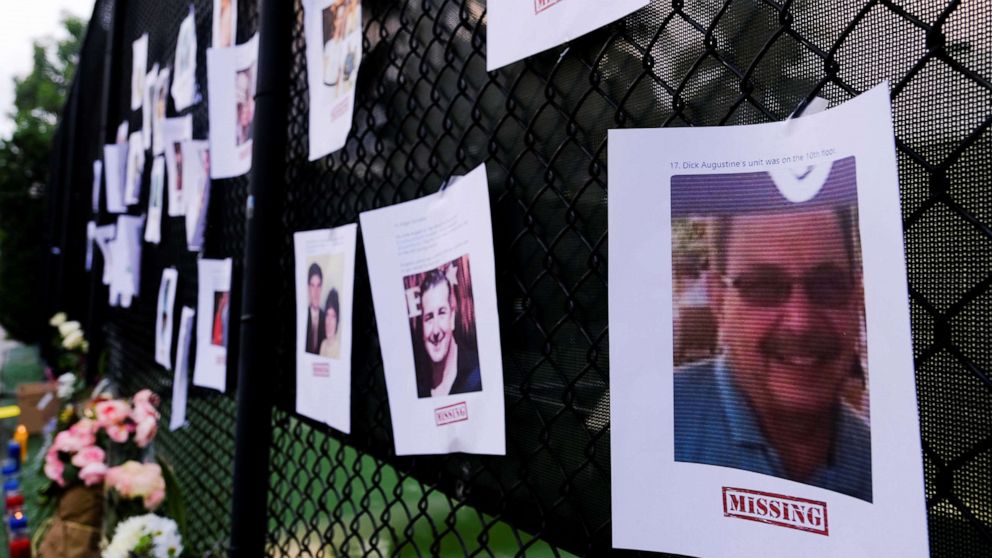 Levine Cava said officials still have hope they will find survivors as the search efforts enter a second night.
"We have hope because that's what our search and rescue team tells us, that they have hope," the mayor said during a press briefing Friday night. "They see opportunities, they see fissures that they could go in, they see places that they could break through."
There have been "encouraging signs" like knocking sounds, she said. The responders also have discovered people in rubble over a week after an incident in previous disasters, "and so that is why we are continuing our search and rescue mission," she added.
Jadallah told reporters that at least 11 people were medically assessed and treated on site, four of whom were then transported to local hospitals.
Meanwhile, the number of people who have been accounted for has gone up to 127, according to Levine Cava, who has cautioned that the numbers are "very fluid." A Miami-Dade County official told ABC News it's been difficult to determine how many people were in the collapsed section of the building, partly due to the fact that there isn't an on-scene management company that keeps track.
"We will continue search and rescue because we still have hope that we will find people alive," Levine Cava said during a press conference in Surfside on Friday morning. "That is exactly why we are continuing."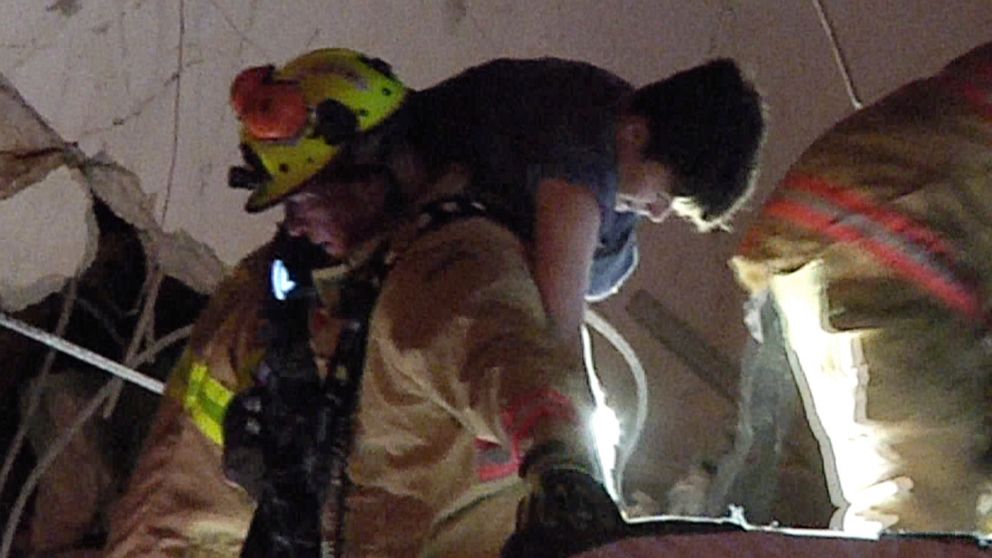 'Extreme risk' in search effort
Some 130 firefighters have been taking part in the search and rescue efforts, cutting through the layers of debris with various machinery and using sonar devices as well as specially trained dogs. First responders have not heard any voices coming from the pile but have continuously picked up sounds, according to Jadallah.
"It's not necessarily human sounds," Jadallah said during a press conference in Surfside on Friday morning. "It could be various things. It could be just steel twisting, it could be debris raining down."
"We have hope," he added, "and every time that we hear a sound, we concentrate on that area."
The remaining structure that still stands has been cleared by the rescue crews and all resources have now shifted focus to the rubble, according to Jadallah.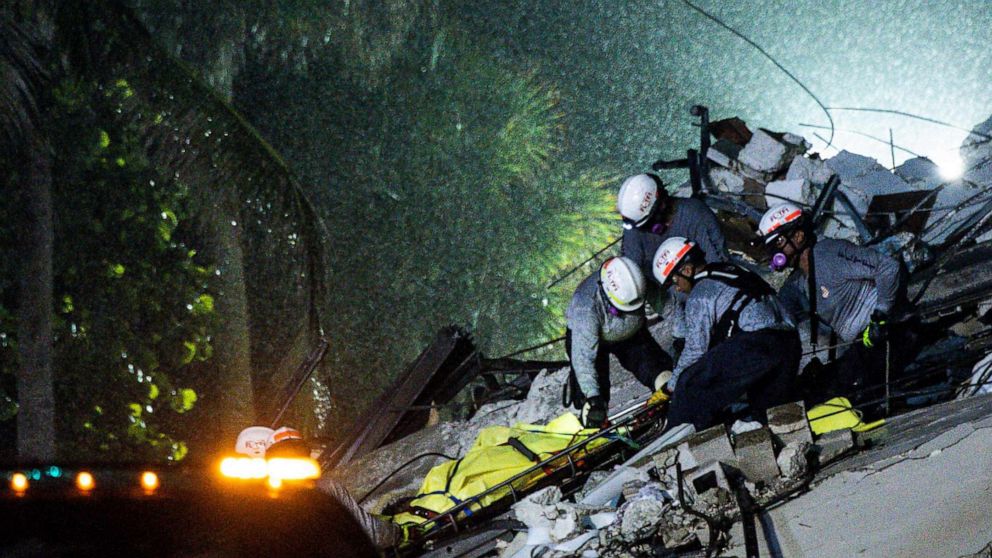 A Miami-Dade county official told ABC News that there's real concern about the structural integrity of the remaining building, particularly from dangling wires and portions of concrete. Fires have flared up throughout the day, adding to the danger for the search and rescue teams, according to the official.
Levine Cava said there are trained experts, including structural engineers, on site to help keep rescuers safe while they search for survivors but that there is still "extreme risk."
"Debris is falling on them as they do their work," she told reporters Friday. "But they are proceeding because they are so motivated and they are taking extraordinary risk on the scene every day."
Jadallah said it's a risk that they are willing to take if it means finding people alive.
"It's the risk versus benefit," he told reporters Friday. "Every time we have that belief, that there's hope, you know, with personnel that are trapped, we do risk our lives."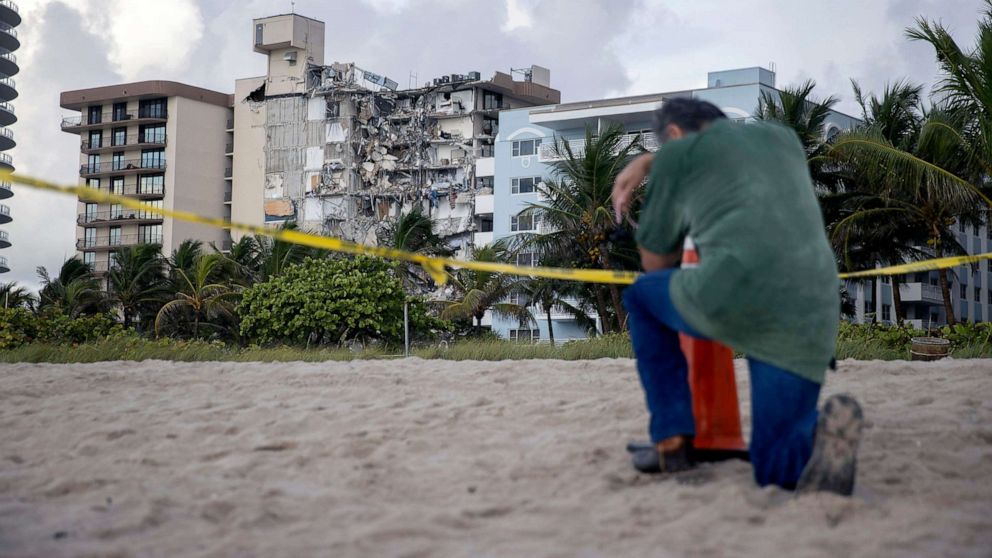 'All hands on deck'
President Joe Biden subsequently approved an emergency declaration in Florida and ordered federal assistance to supplement state and local response efforts in the wake of the partial building collapse. The action authorizes the Federal Emergency Management Agency to "identify, mobilize, and provide at its discretion, equipment and resources necessary to alleviate the impacts of the emergency," according to a statement from the White House.
Levine Cava told ABC News that she's "grateful" to the president.
"He called me yesterday morning and asked me what I needed. I told him FEMA would be a great assist to us and he moved mountains," she said.
The Miami-Dade Fire Rescue is now pulling additional resources from FEMA to assist with the search and rescue efforts, Jadallah told reporters Friday morning.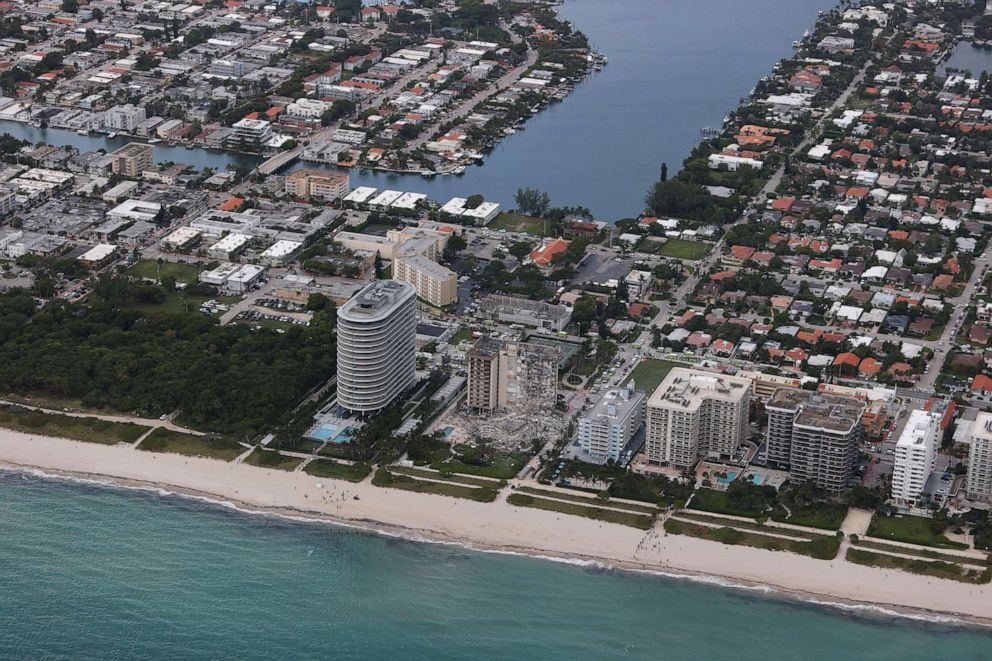 "The state's here to help, and the federal government is also here, and so we feel like we have all hands on deck to be able to assist with the search and rescue mission," Florida Gov. Ron DeSantis told reporters during a press briefing Friday afternoon.
No foul play suspected as cause investigated
The cause of the partial collapse remains unknown. The Miami-Dade Police Department is leading an investigation into the incident.
So far, there is no evidence of foul play, according to Levine Cava.
"Of course, it's not ruled out," she told ABC News on Friday. "Nothing's ruled out. But, at this point, nothing to indicate that."
DeSantis said Friday that in a call with Biden, the president offered to send personnel to support the investigation if needed.
"We need a definitive explanation for how this could have happened," he said. "I do think it's important that it's timely because you have a lot of families here that lost loved ones in this building collapse. They have a right to know. You have other folks who were able to get out safely, but then lost their homes."
The Champlain Towers South condominium was built in the 1980s and was up for its 40-year recertification, according to Surfside officials. The roof was also undergoing work and the entire building had been under scrutiny due to potential construction projects nearby, officials said.
The Champlain Towers South Condo Association was preparing to start a new construction project to make updates and the condominium had been through extensive inspections, according to Kenneth Direktor, a lawyer for the association. Direktor said the construction plans had already been submitted to the Town of Surfside but the only work that had begun was on the roof.
Direktor noted that he hadn't been warned of any structural issues with the building or about the land it was built on. He said there was water damage to the complex, but that is common for oceanfront properties and wouldn't have caused the partial collapse.
"Nothing like this has ever been seen, at least not in the 40 years I've been doing this," Direktor told ABC News during a remote interview on Thursday.
Public records show a lawsuit was filed in 2015, claiming an outside wall of the Champlain Towers South had water damage and cracks. Engineers were hired to go through the inspection process, according to Direktor.
"Nothing like this was addressed to the board or the owners as an existing risk," he said.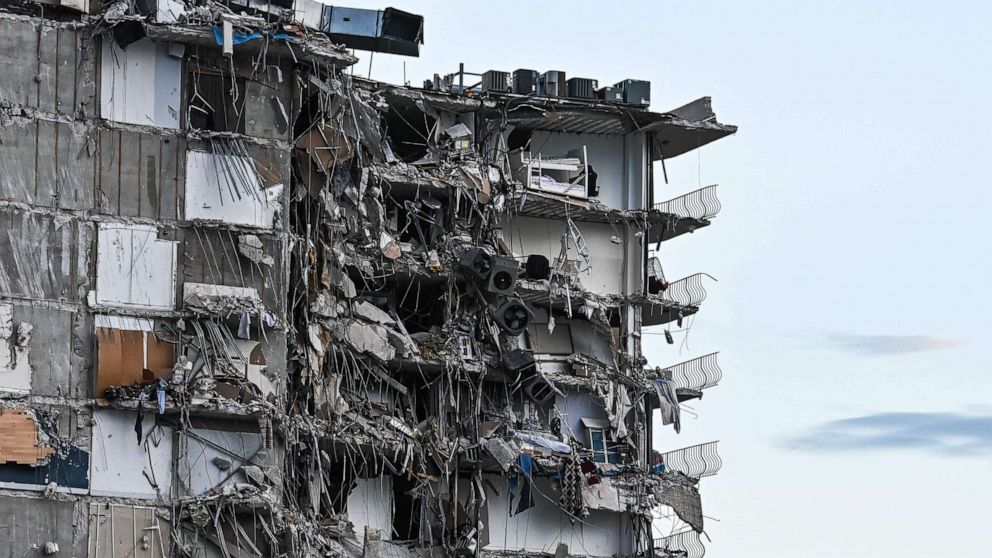 A 2020 study conducted by Shimon Wdowinski, a professor at Florida International University's Institute of Environment in Miami, found signs of land subsidence from 1993 to 1999 in the area where the Champlain Towers South condominium is located. But subsidence, or the gradual sinking of land, likely would not on its own cause a building to collapse, according to Wdowinski, whose expertise is in space geodesy, natural hazards and sea level rise.
"When we measure subsidence or when we see movement of the buildings, it's worth checking why it happens," Wdowinski, who analyzed space-based radar data, said in a statement Thursday. "We cannot say what is the reason for that from the satellite images but we can say there was movement here."
Areas where land is subsiding are more likely to experience more serious effects of sea level rise, according to the study, which was published in the international journal Ocean & Coastal Management.
Miami-Dade County officials are aware of the study and are "looking into" it, Levine Cava told ABC News.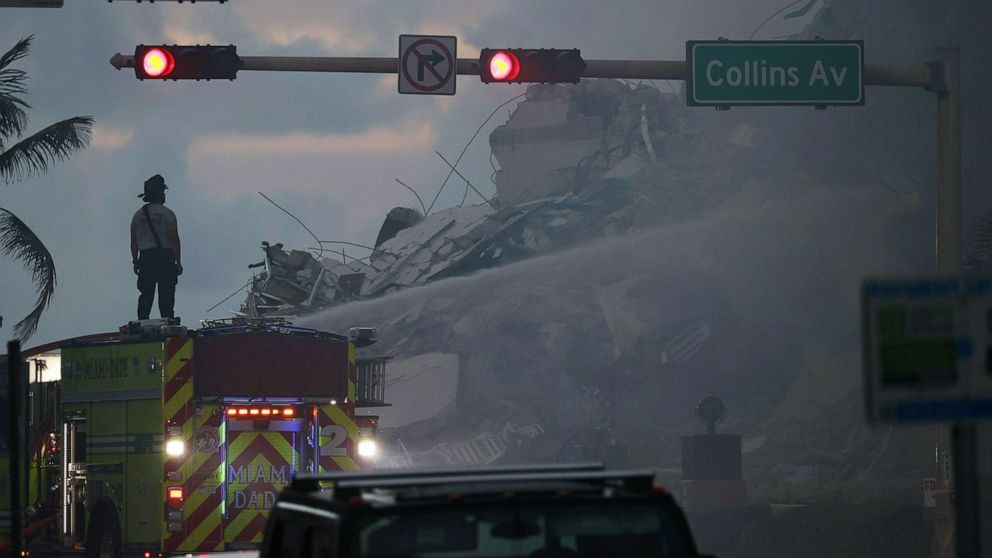 Experts say collapse was rare, 'bizarre' incident
Greg Batista, president of G. Batista Engineering and Construction in Davie, Florida, told ABC News that he worked on the planters at the Champlain Towers South in 2017 and was among the structural engineers on scene after the partial collapse early Thursday. He said he has not heard of any structural issues with the Champlain Towers South.
"It's just ... bizarre for me to see what happened here because of the rarity of something like this happening," Batista told ABC News during a remote interview Thursday.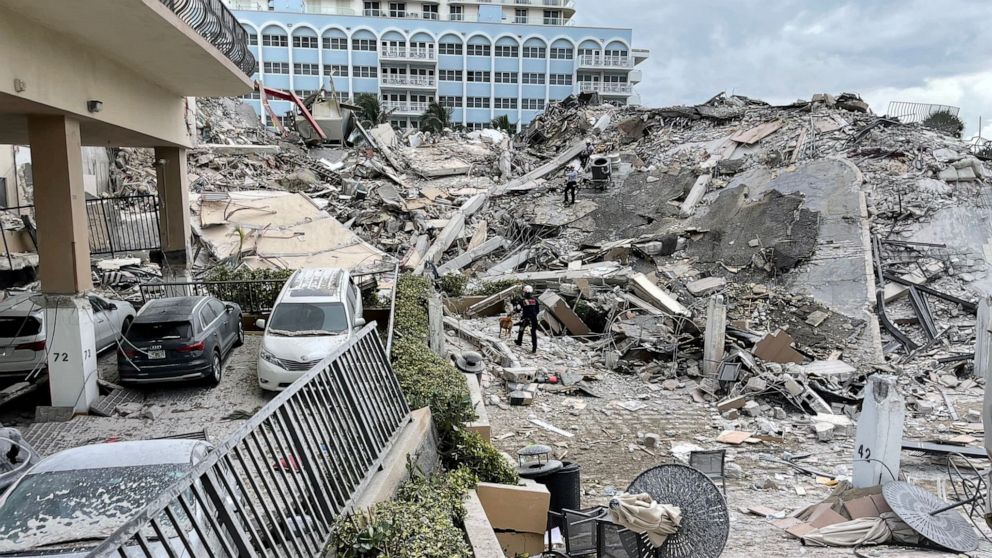 Jason Borden, a structural engineer for O&S Associates, told ABC News that his firm conducted an hour-long site survey of the building in January 2020. He said what he observed "was typical of a 40-year-old building that had had some deferred maintenance," in that parts of the building had reached their "expected useful life" and needed to be repaired or replaced. Borden said his team did not see anything potentially catastrophic, or even out of the ordinary.
John Pistorino, a longtime structural engineer in Miami who helped write Florida's building codes, told Tequesta ABC affiliate WPBF that he has been hired to help investigate what caused the partial collapse and said it could take "months." Once search and rescue efforts have finished, the structure will be dismantled and the debris will be looked at "piece by piece," he said.
Investigators will also look at any reports on the building and may send samples from the site to a laboratory for testing, according to Pistorino.
When asked what could have led to the partial collapse, he said "it could be a number of issues."
"There's just too many issues for me to even begin to come up with a laundry list of possibilities that would be informative," Pistorino told WPBF during a telephone interview Thursday. "I'm just surprised that it happened to begin with."
Late Thursday night, what is believed to be the first lawsuit in the collapse was filed.
The class action, filed on behalf of resident Manuel Drezner and "all others similarly situated," alleged that the collapse could have been avoided if the condominium association made needed repairs and ensured it was safe. The lawsuit is seeking $5 million in damages.
ABC News has reached out to the Champlain Towers South Condo Association's counsel for comment.
ABC News' Eliana Larramendia Boyd, Lucien Bruggeman, Kendall Coughlin, Alexandra Faul, Christopher Godburn, Joshua Hoyos, Aaron Katersky, Rachel Katz, Soo Rin Kim, Victor Oquendo, Laura Romero, Emily Shapiro, Ben Stein, Christine Theodorou and Nery Ynclan contributed to this report.