He's been known on TV as Dr. Cliff Huxtable in "The Cosby Show," Alexander "Scotty" Scott in "I-Spy," and the title character in the cartoon series "Fat Albert," but on Wednesday morning Bill Cosby started his first full day as inmate No. NN7687.
Cosby woke up in a cell about the size of a walk-in closet at the State Correction Institute Phoenix, a sprawling prison in Collegeville, Pennsylvania.
"He was in good spirits last night, as reported by the staff at the prison," Amy Worden, a spokeswoman for the maximum-security lockup, told ABC News on Wednesday.
Far beyond the razor-wire fence of the penitentiary, efforts were underway to erase Cosby's celebrity status.
The Los Angeles Urban Policy Roundtable presented the Hollywood Chamber of Commerce with a petition on Monday signed by thousands of people who want Cosby's star removed from the Hollywood Walk of Fame.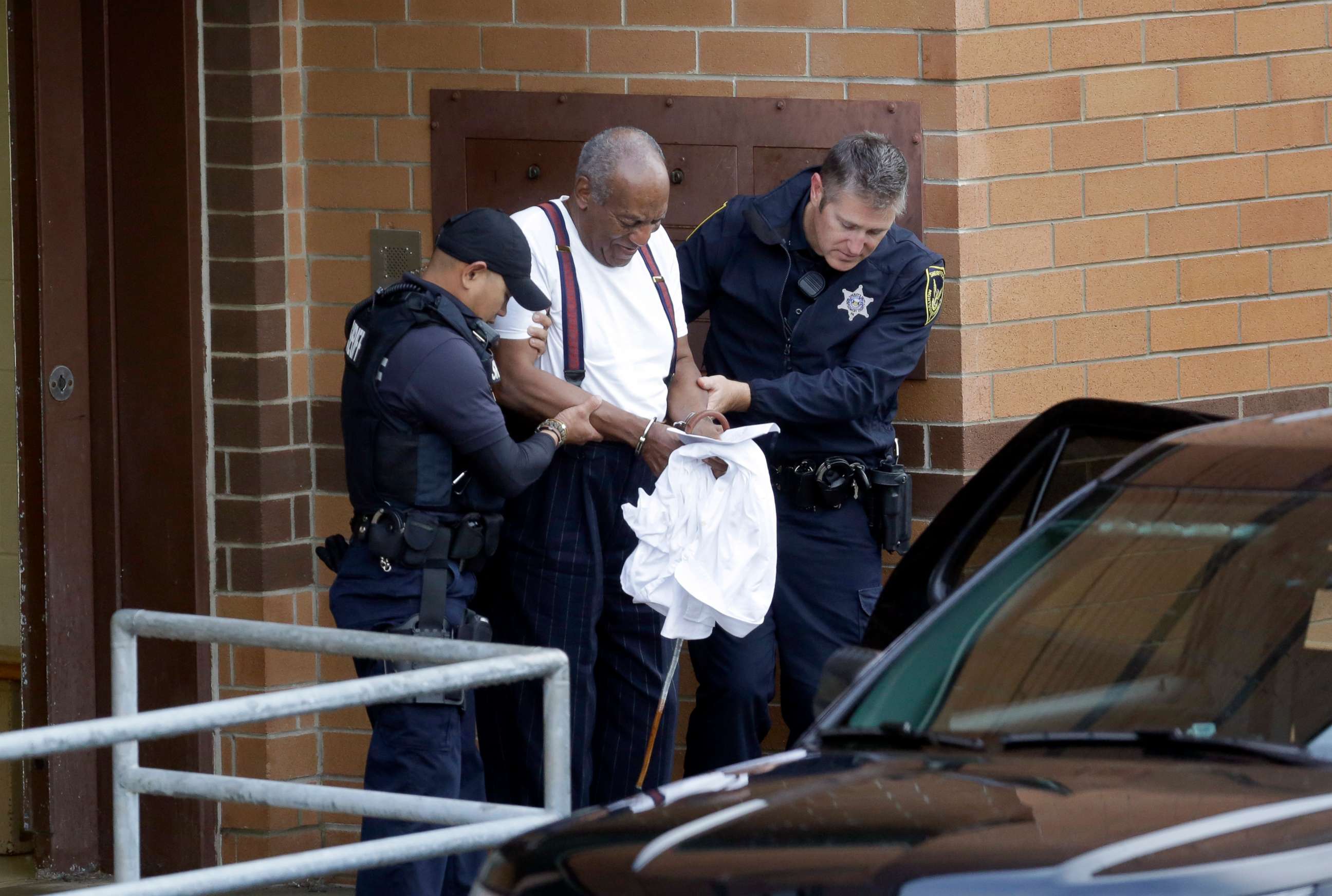 "The campaign to have Cosby's star removed from Hollywood Boulevard has garnered thousands of signatures in the past three years and hundreds more have signed after his conviction," Earl Ofari Hutchinson, president of the roundtable, said in a statement.
"By keeping the Cosby star and ignoring the demand of thousands for removal the Chamber violates its own rules that an honoree must make worthy contributions to the community," he said. "Cosby's horrendous documented sexual abuses hardly qualify as worthy contributions to the community."
Hollywood Chamber of Commerce officials said that despite the petition Cosby's star, which was unveiled during a ceremony in 1977, will remain intact.
"The Hollywood Walk of Fame is a historical record of entertainment figures past and present. Once installed, the stars become part of the historic fabric of the Walk of Fame, a 'designated historic cultural landmark,'" the chamber said in a statement.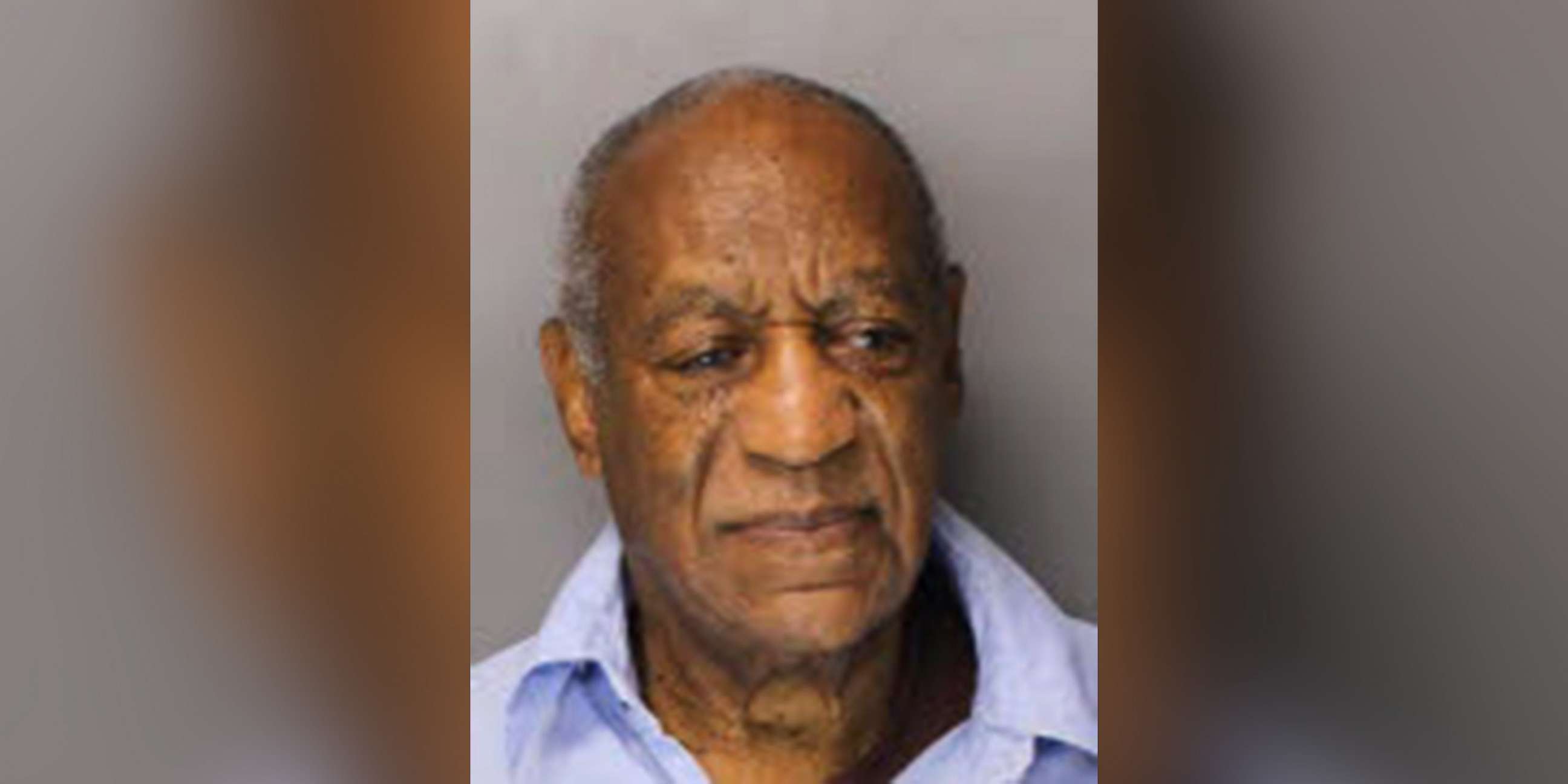 Cosby's star was vandalized earlier this month when someone used a black marker to scrawl the words "serial rapist" on it.
Cosby arrived at the prison on Tuesday evening just hours after being sentenced to three to 10 years of "total confinement" and being designated by a judge as a "sexually violent predator" for drugging and sexually assaulting Andrea Constand at his suburban Philadelphia mansion in 2004.
Once he arrived at the 1 million-square-foot prison, a state-of-the-art $400 million maximum-security facility opened earlier this year, the 81-year-old entertainer was handed a blue prison uniform, a pair of boots, toiletries, towels, and linens for his prison cell bunk bed, officials said.
His first meal in prison Tuesday night consisted of meatballs, rice, potatoes, and green beans, Worden said.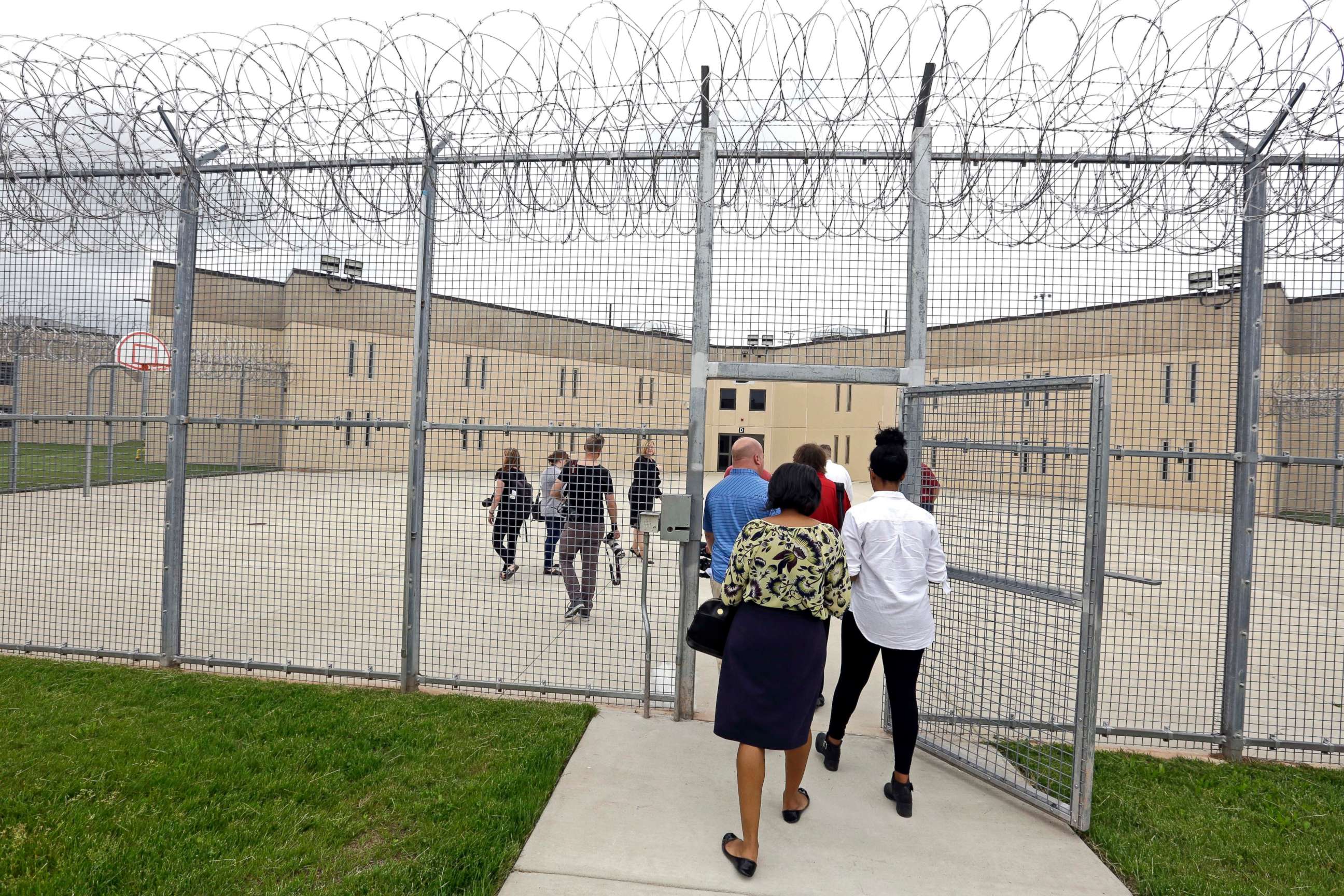 The prison is only 25 miles from Cosby's mansion in Elkins Park, Pennsylvania, but his new digs don't include the luxury amenities the multi-millionaire is used to.
His prison cell measures 7-by-13 feet with a 10-foot ceiling and is furnished with a bunk bed, a desk and stainless steel toilet.
The 81-year-old Cosby, who is legally blind, is in a cell adjacent to the prison infirmary, officials said.
"We are taking all of the necessary precautions to ensure Mr. Cosby's safety and general welfare in our institution," Pennsylvania Secretary of Corrections John Wetzel said in a statement Wednesday.
Following breakfast at 7 a.m., Cosby was to spend most of Wednesday in meetings, Worden told ABC News.
"He'll start the meetings with medical staff, psychological staff, and the records staff, which is part of the regular intake process for all inmates," Worden said.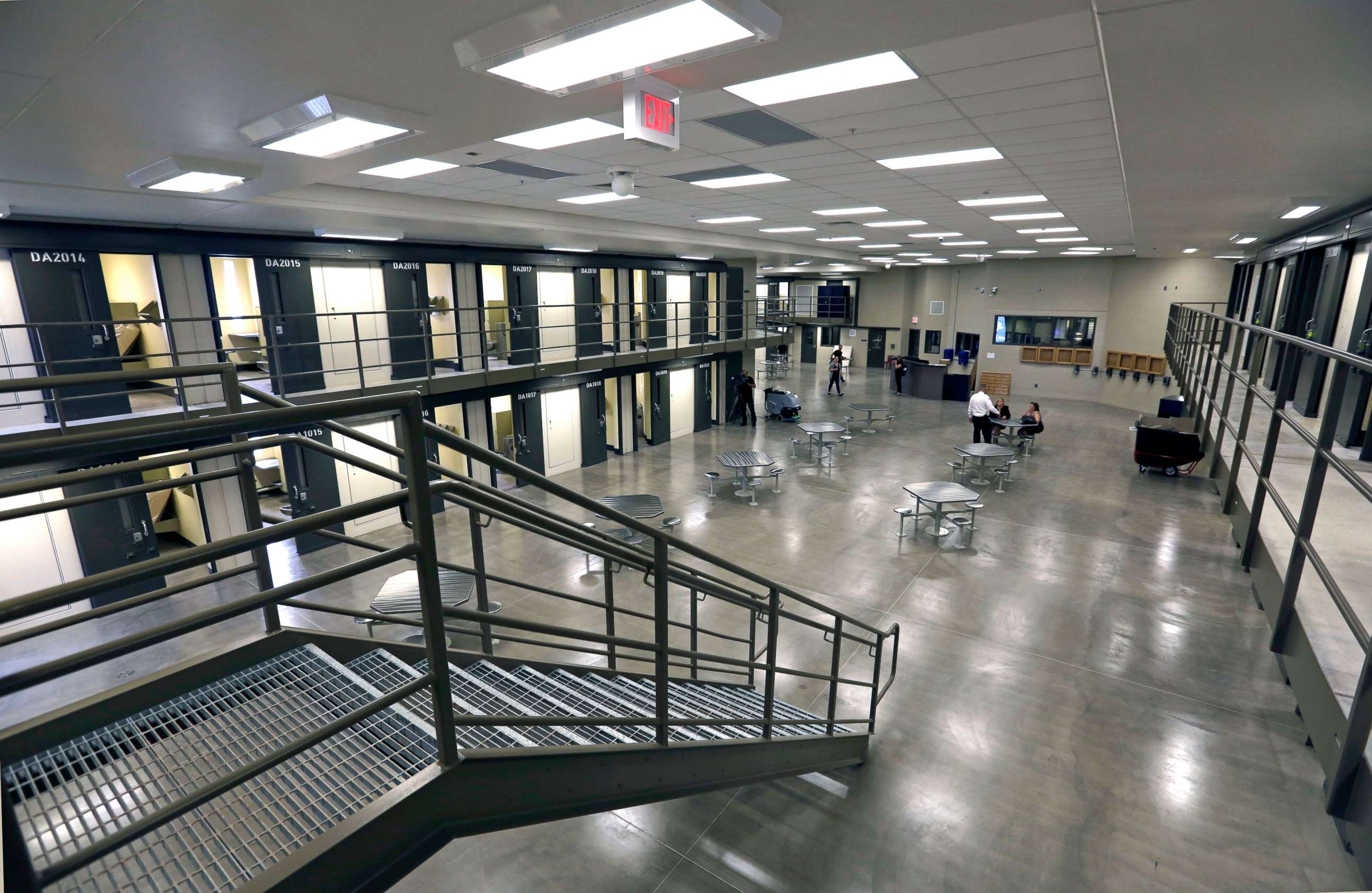 He'll be allowed phone calls and visitation in accordance with prison policy and will be given the opportunity to exercise during his classification process, she said.
His first phone call Wednesday morning was to his wife, Camille, said Cosby's spokesman Andrew Wyatt told ABC News. Cosby assured his wife he is fine and told her not be worried, Wyatt said.
He said Cosby's lawyers are working on an appeal and have asked for a bail hearing, expected to be presided over by the same judge, Steven O'Neill, who sentenced Cosby and denied his request for bail on Tuesday.
Cosby will not be put in immediately with the general population of the prison, which has beds for nearly 3,900 inmates, Wetzel said.
"The long-term goal is for him to be placed in the general population to receive the programming required during his incarceration," Wetzel said.
The prison is comprised of 31 buildings and ample space for programs to help rehabilitate prisoners.
"The program space is especially critical when you think that a third of our inmates are mentally ill, 75 to 80 percent suffer from an addiction issue," Wetzel said when the prison opened in June. "So, this is a facility that meets the needs, creates a safe and secure environment for staff and inmates. It gives us the ability to really fulfill our mission, which is to have people leave our system better than they came in."
More than 60 women have accused Cosby of sexually assaulting them in attacks dating back to the 1960s.
He was convicted in April on three counts of indecent aggravated assault, stemming from his attack on Constand, a former director of operations of women's basketball at Cosby's alma mater Temple University who once considered the comedian a mentor.
"No one is above the law, and no one should be treated differently or disproportionately," Montgomery County Judge Steven O'Neill told Cosby before sentencing him on Tuesday as about a dozen women who accused Cosby of sexual assault watched from the Norristown courtroom gallery
Prior to being sentenced on Tuesday, Cosby told his legal team, "I'm ready for this," Wyatt told ABC News.
"I knew this was going to happen. This has nothing to do with justice this has to do with the conspiracy to ruin Bill Cosby," the comedian told his legal team, according to Wyatt. "This was already written in my future that this would happen to me."