The last two of the six people killed when a newly-installed pedestrian bridge collapsed at Florida International University in Miami were identified Sunday.
FIU President Mark Rosenberg named Brandon Brownfield, a married father of three, as the final victim to be identified after Thursday's catastrophe.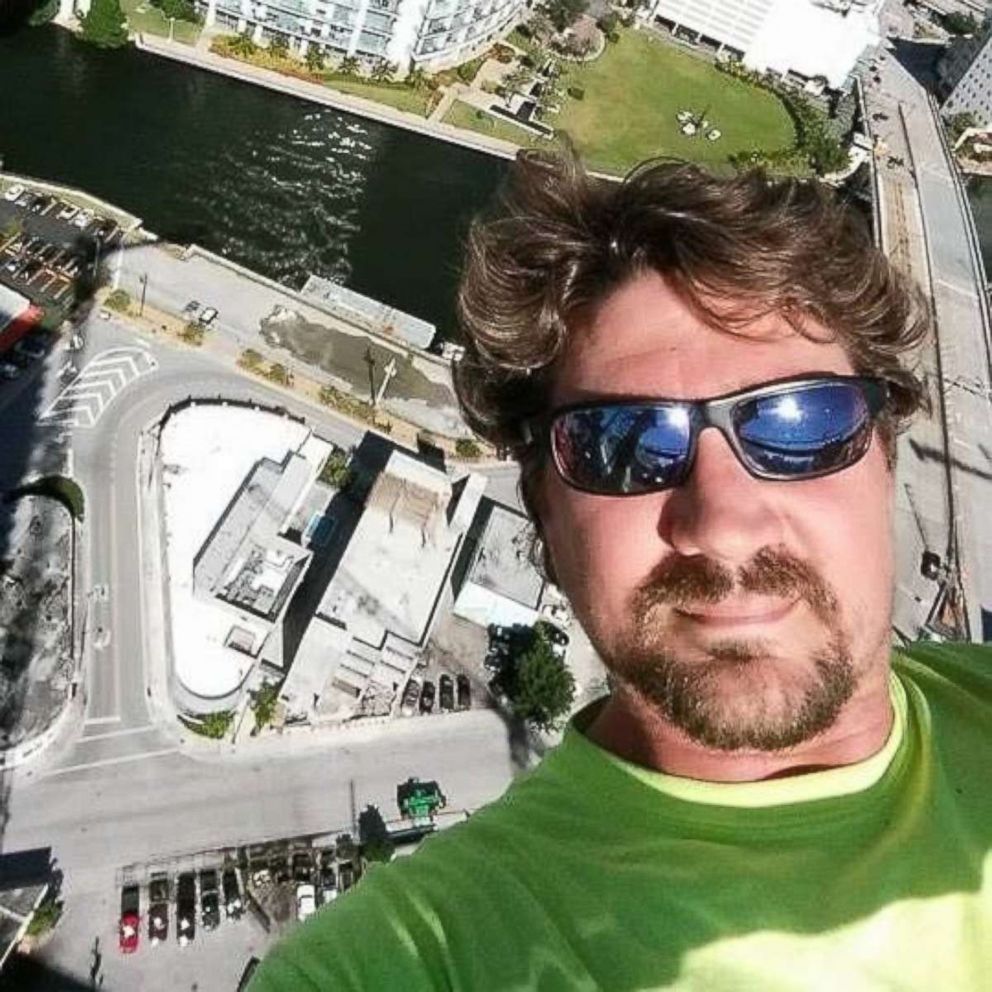 "It's a pretty magical thing to find your soulmate in this world. Like pieces of a jigsaw puzzle, our crazy curvy edges matched and we fit together like no one else could," Brownfield's wife of nearly four years, Chelsea Brownfield, wrote in a Facebook post on Sunday.
"I keep trying to find the words to share with you -- our friends and family -- but nothing feels right," she added. "I want to thank you all for your continuous love and support and prayers over the last 3 days. The coming days are going to be excruciating, as we dig deep to find the strength we need to heal. Please keep us in your prayers, as I now have to find the words and the answers to tell my girls that their Daddy is not coming home."
Brownfield worked as a tower crane technician for Maxim Crane Works and was killed when the bridge fell on his truck as he was driving to his home in Homestead, Florida, a friend, Ryan Lee, wrote on an online GoFundMe page he established for Brownfield's family.
Early Sunday, Miami-Dade Police confirmed that Alexa Duran, an 18-year-old student at FIU, was also killed when the 174-foot long prefabricated span broke into pieces and came crashing down on cars stopped underneath it for a traffic light.
Police confirmed early Sunday that Duran died in the collapse. Her body was recovered about 5:12 p.m. Saturday when firefighters removed her gray Toyota 4Runner from the rubble and found her inside.
Her family had informed reporters on Friday that she was among those killed when the 950-ton bridge collapsed on top of at least eight cars stopped under the span waiting for a red traffic light to change.
"Rest In Peace my sweet little sister. Words cannot describe how heavy my heart is," Alexa's sister, Dina Duran, wrote in an Instagram post on Saturday. "I would give anything to take your place and all of your pain. I will cherish every memory we've made and will miss you every day for the rest of my life. A piece of my heart is with you. Heaven is a better and funnier place with you in it. May your beautiful soul rest with the Angels my love. I will see you again soon."
Rosenberg, meanwhile, called for a moment of silence tomorrow to honor the victims and console their grieving families.
The bodies of three victims -- Rolando Fraga Hernandez, Oswald Gonzalez and Alberto Arias -- were found Saturday morning after crews removed two cars from the rubble, according to Miami-Dade police. Another victim, Navarro Brown, died at a hospital, police said.
Before police officially identified Rolando Fraga Hernandez as being among the dead on Saturday, his nephew, Jorge Fraga, told ABC News he planned to hold out hope until there was none left.
"I'm trying not to think he isn't there," Fraga said.
Police said Hernandez's body was found about 5:40 a.m. Saturday when his gold Jeep Cherokee was removed from the debris.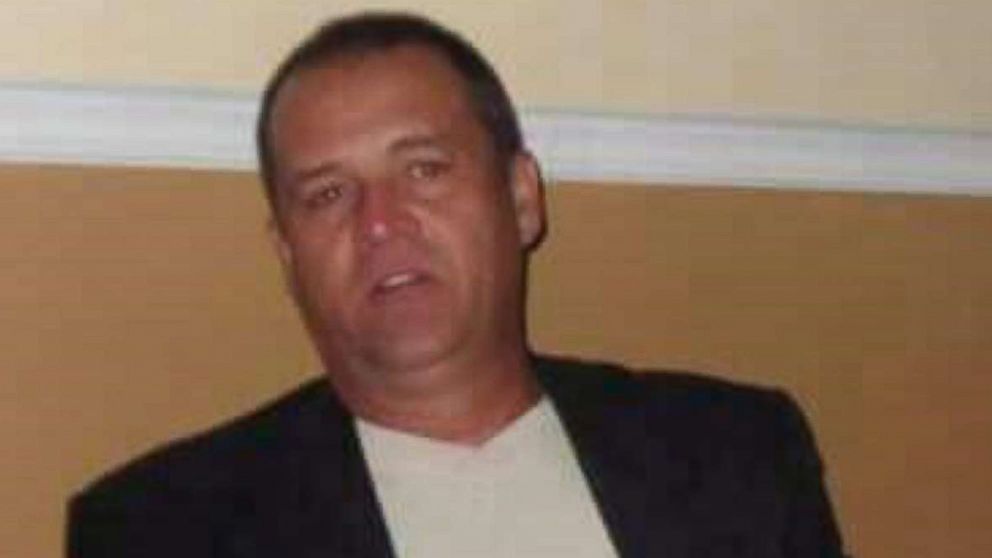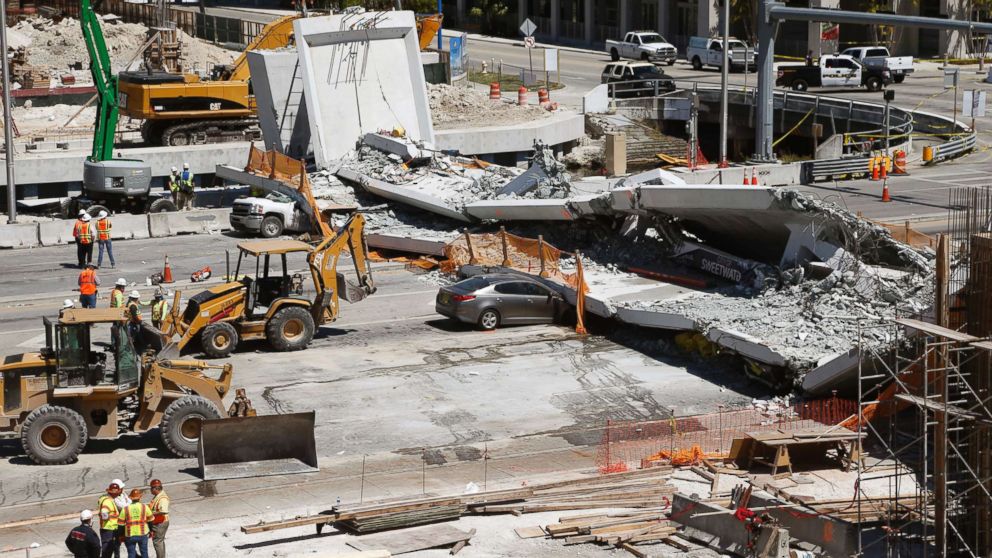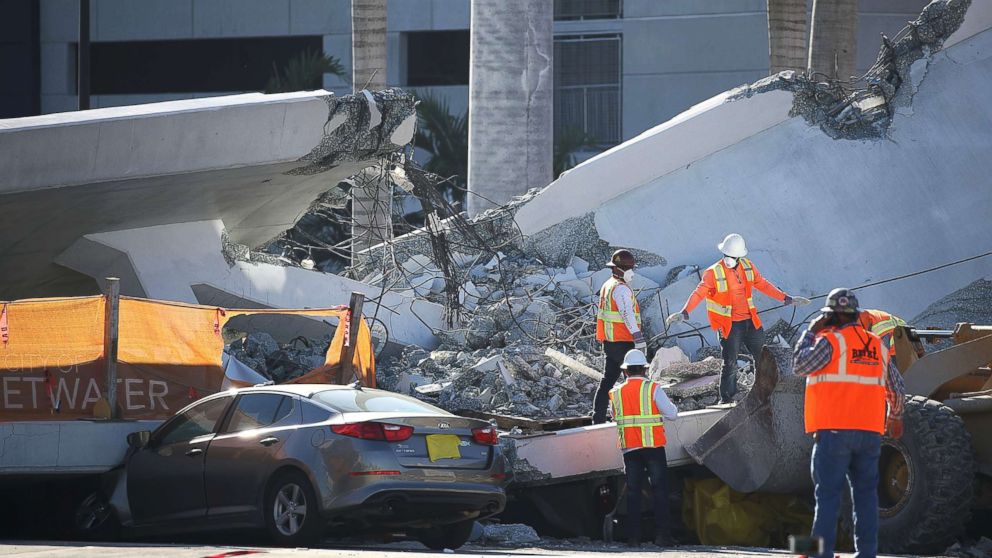 Authorities said at a press conference late Saturday the six people who died in Thursday's bridge collapse were recovered and they did not expect to find any other victims.
In a video statement released Sunday, Rosenberg named all of the victims and called for a moment of silence at 1:47 p.m. on Monday, the exact time the collapse occurred on Thursday.
"Our hearts continue to ache for the victims of the bridge collapse," Rosenberg said. "Futures and families have been shattered."
He said the university has "a sense of urgency about getting to the bottom of this accident."
"Right now our focus is on the victims' families and doing everything in our power to comfort and support them," Rosenberg said. "It's going to take time for us to and our community to heal."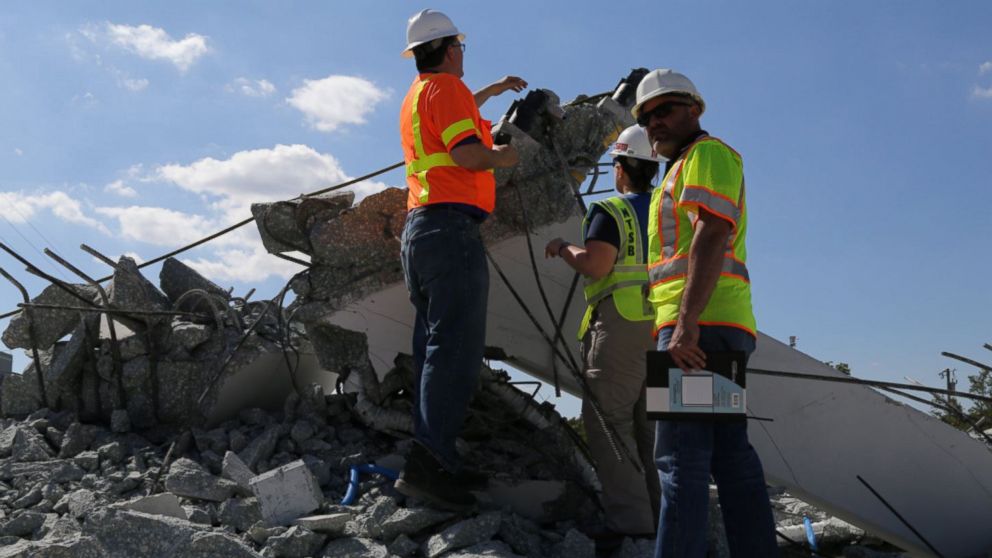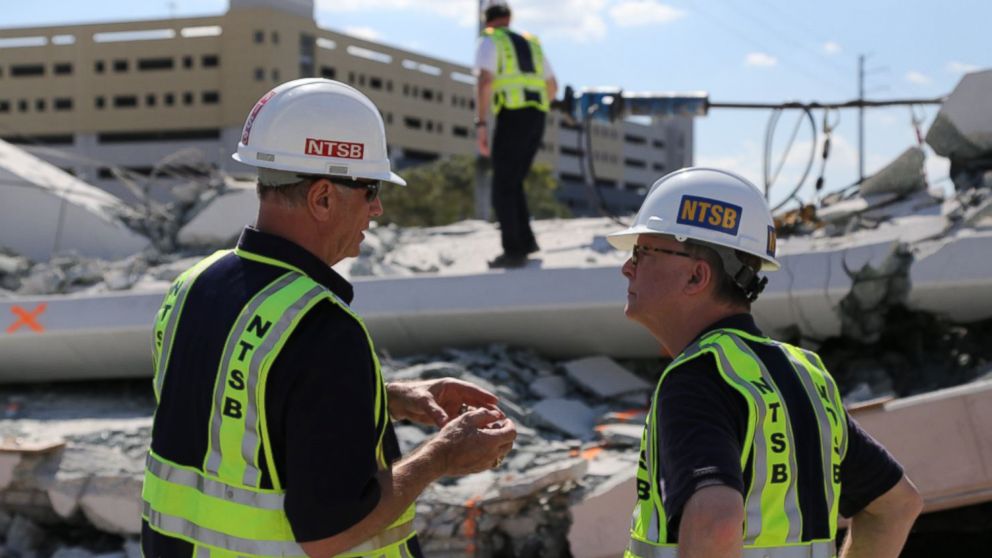 A total of eight cars were trapped under the bridge after it crumbled, including six that were "significantly entangled," authorities said.
Maurice Kemp, deputy mayor of Miami-Dade County, said the primary goal was to remove all victims and cars in a "dignified and respectful manner."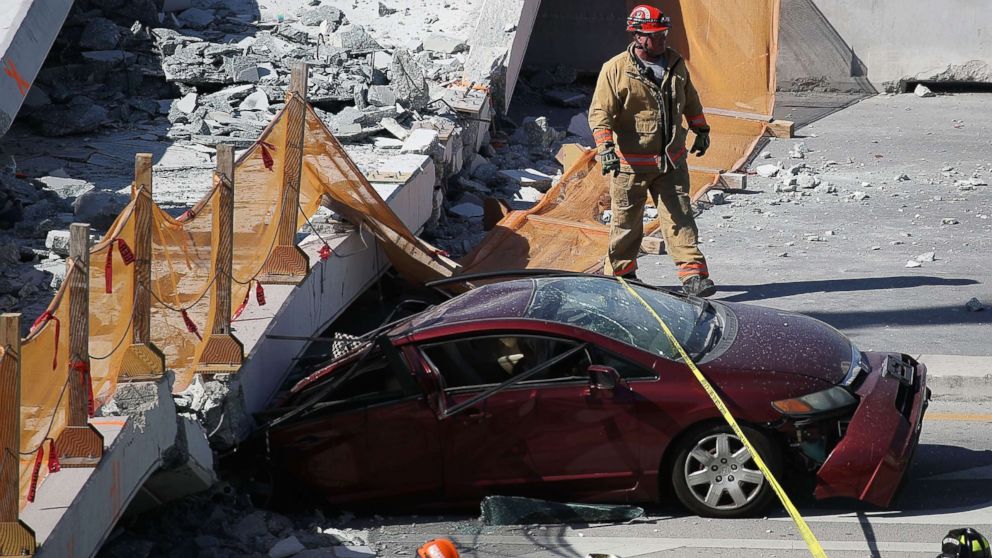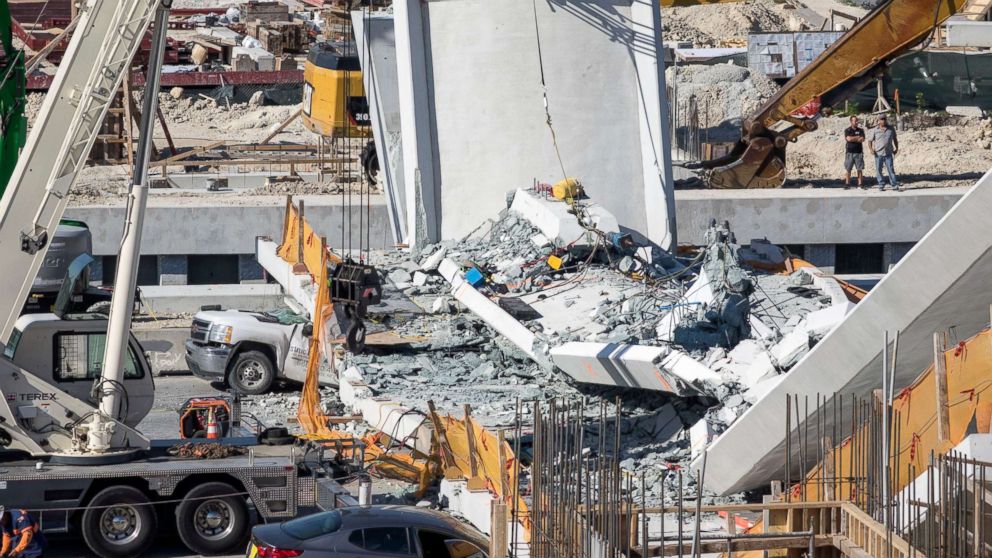 FIU had touted the pedestrian bridge as one of the first of its kind, tweeting that it swung into place March 10.
The National Transportation Safety Board is investigating the bridge collapse, but have yet to release a cause.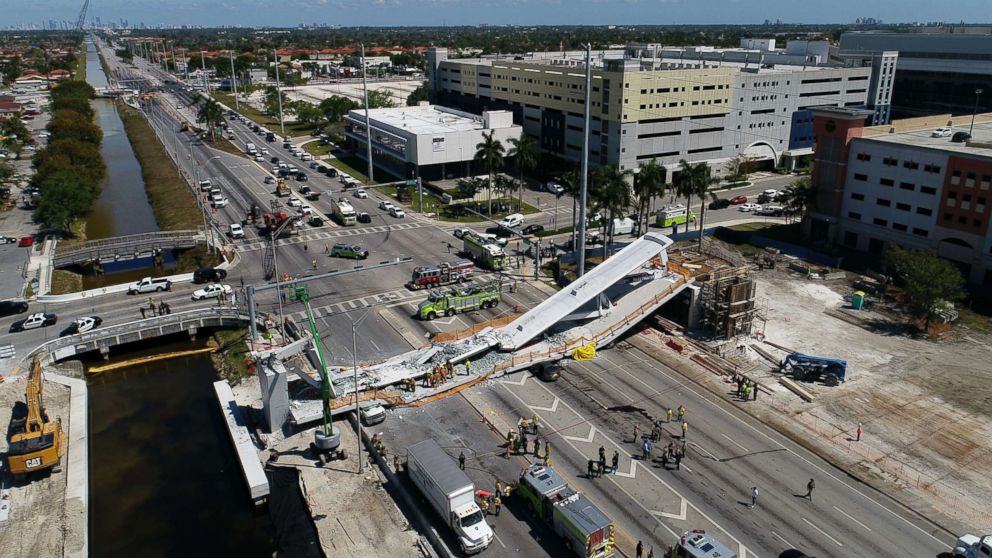 On Friday, NTSB investigator Robert Accetta said work crews were applying post-tensioning force on the bridge support cables when the span collapsed, but investigators aren't sure if that's what caused the bridge to fall.
Officials also said Friday that an engineer left a voicemail with the Florida Department of Transportation two days before the bridge collapsed, reporting that cracks had been found at one end of the concrete span.
The voicemail wasn't picked up until after the collapse, however. NTSB officials are investigating the report, but said it's not clear if cracks contributed to the bridge's catastrophic failure.
ABC News' Victor Oquendo and Whitney Lloyd contributed to this report.