Buffalo suspect had plans to continue his killing rampage: Commissioner
Ten people -- all of whom were Black -- were killed in the Buffalo shooting.
Payton Gendron, the 18-year-old who allegedly gunned down 10 people -- all of whom were Black -- at a Tops grocery store in Buffalo, New York, would have continued his rampage had he not been stopped, Buffalo Commissioner Joseph Gramaglia told ABC News.
"We have uncovered information that if he escaped the [Tops] supermarket, he had plans to continue his attack," Gramaglia said. "He had plans to continue driving down Jefferson Ave. to shoot more Black people ... possibly go to another store [or] location."
Authorities are calling Saturday's massacre a "racially motivated hate crime."
"This was well-planned ... by a sick person," Gramaglia said.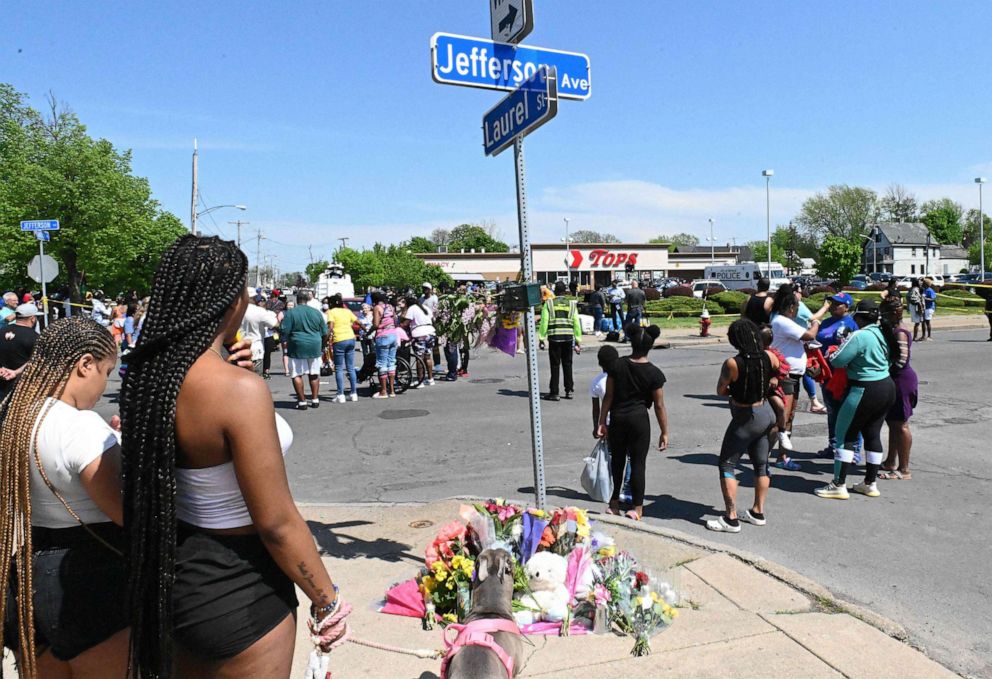 Gendron -- who is from Conklin, New York, about 200 miles from Buffalo -- drove to Buffalo on March 8 and visited the Tops supermarket, according to a document obtained by ABC News. He was confronted by a security guard at the store as he was compiling detailed plans of the location.
The document included sketches of the store where he outlined different aisles and how he would navigate around quickly.
Gendron allegedly dropped off ammunition at his best friends house on Friday, the day before the shooting, Matthew Casado, 19, who has known Gendron since the second grade, told ABC News.
He allegedly showed up to Casado's Conklin house unannounced, Casado, who described himself as one of Gendron's best friends, said. One of Casado's roommates let Gendron in around 8 a.m. and Gendron dropped off five boxes of ammo, Casado said.
Casado was away at work and later received a text from Gendron around 4:30 p.m saying that he, "put ammo cans in my room because he needed space to arrange in his house," Casado said. Gendron said that he would come get the munitions around 7:30 p.m. that night but never showed up, Casado said.
Casado's family later called the authorities and they picked up the ammo, he said.
Casado, who is Hispanic, said Gendron never stuck out to him as racist.
"Up until Saturday when I got the news, I always thought he was a kind harmless person. He never stuck out to me as dangerous. He never stuck out to me as racist," he told ABC News.
Pamela Burdock, Casado's mother, who said she was like a second mother to Gendron, said the suspected shooter's parents did not allow him to play violent video games.
"Payton didn't play video games that had guns. He wasn't allowed to. He wasn't allowed to at his house, and when he came here, he chose not to. He respected his parents' wishes."
While Casado would play Call of Duty, Gendron would play on his phone or sit in another room, Casado said.
"I love Payton. He was like my other child. I never had a problem with him. He was always respectful. He was nice to me … It's breaking my heart that he did this," Burdock said.
Evidence points to Gendron self-radicalizing when the pandemic began, spending inordinate amounts of time engrossing himself on hate posts on social media, according to a senior law enforcement source briefed on the case.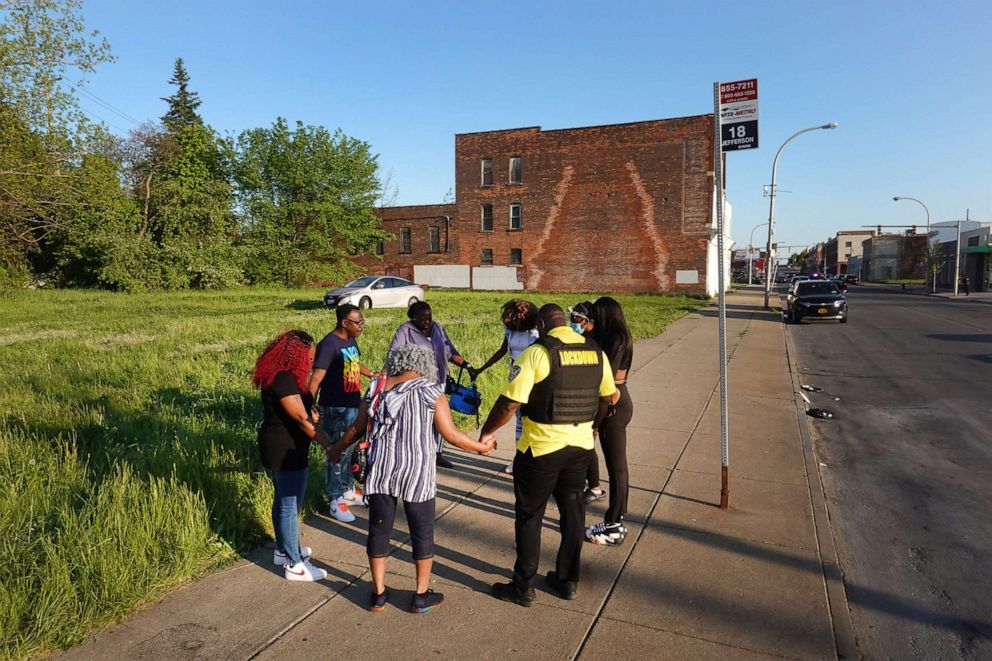 Law enforcement assessed that in May 2020, the teen watched a 17-minute video of the gunman who attacked two mosques in New Zealand in 2019, killing 51 people.
In recent months and weeks, some of the items Gendron posted on social media became increasingly violent in tone, a senior law enforcement source said.
Some of the online postings of Payton Gendron that were part of the over-500 page document were written online in a private group chat on the social media platform Discord, sources told ABC News. It is unclear who had access to the group.
Discord is a popular platform mostly with high school students and has been used to spread conspiracy theories, said former Department of Homeland Security official and ABC News Consultant John Cohen.
The platform can be used to message users privately or as a public messaging board for other users to see, Thomas Holt, director and professor in the School of Criminal Justice at Michigan State University, told ABC News. It depends on the user profile to determine what type of privacy settings to have, he added.
"In these forums you can kind of act as you wish, and it just depends on the moderators of either subsection or the overall site to take action and that's highly variable," Holt said of the platforms containing message boards Gendron allegedly used, which include 4chan and 8chan as well.
Approximately 30 minutes prior to allegedly shooting and killing 10 people at a Tops Friendly Market in Buffalo, Gendron invited a small group of people to view a chat log on the online community platform Discord that he'd been using to plot his attack, a Discord spokesperson confirmed to ABC News.
"We are continuing to do everything we can to assist law enforcement and the investigation remains ongoing," a Discord spokesperson said in a statement.
"What we know at this time is that a private, invite-only server was created by the suspect to serve as a personal diary chat log. Approximately 30 minutes prior to the attack, however, a small group of people were invited to and joined the server. Before that, our records indicate no other people saw the diary chat log in this private server."
The company added: "Our deepest sympathies are with the victims and their families. Hate has no place on Discord and we are committed to combating violence and extremism."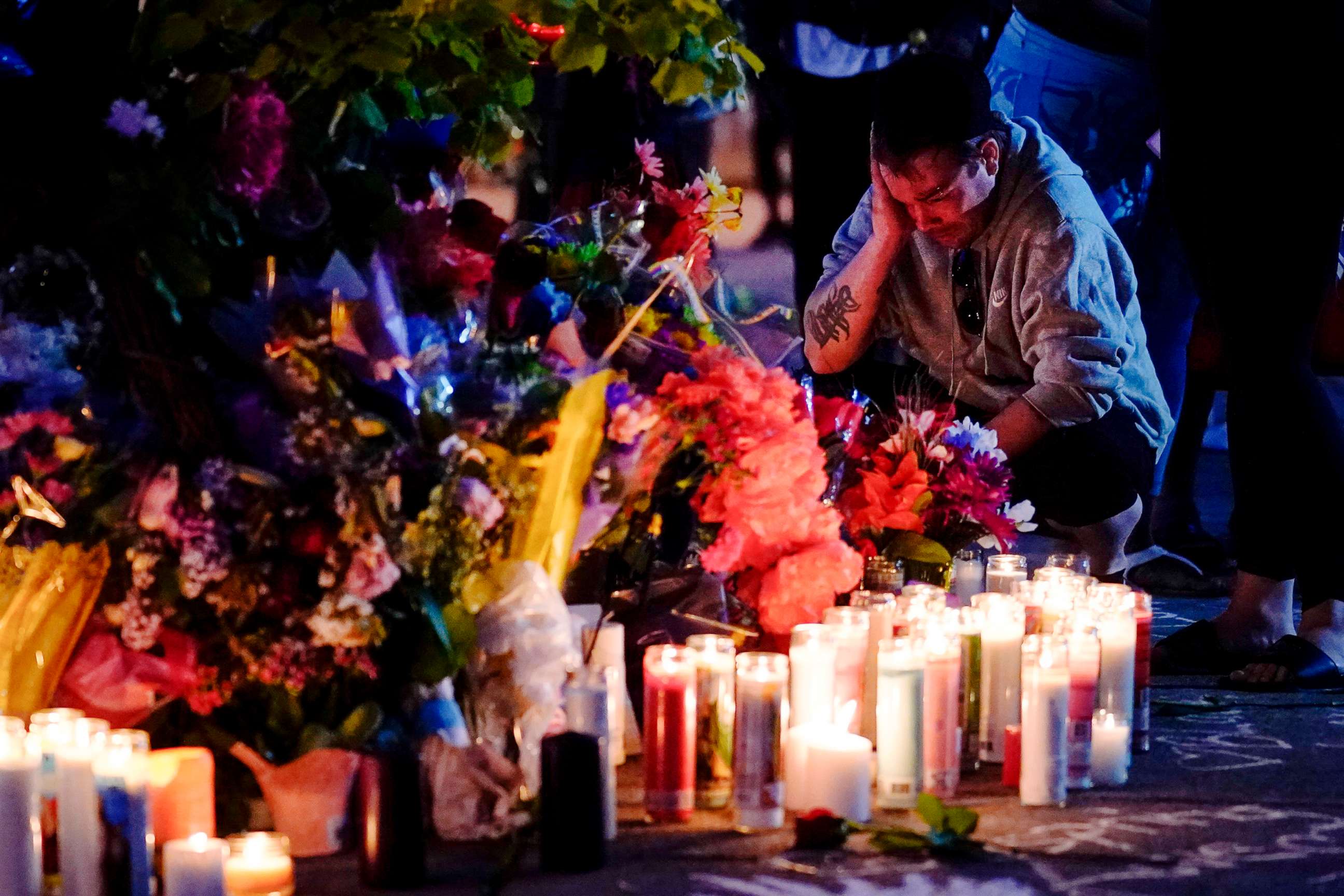 FBI Director Christopher Wray described the shooting as a "targeted attack" and a "hate crime" during a conference call Monday with faith leaders, civil rights leaders, as well as private sector and local, state and federal law enforcement partners.
Wray offered his deepest condolences to the victims and their families and to the entire community of Buffalo for what he called a "despicable attack."
"I want to be clear, for my part, from everything we know, this was a targeted attack, a hate crime, and an act of racially motivated violent extremism," said Wray said "While there remain a lot of unknowns as there always do in an investigation at this stage, what is absolutely certain is that we at the FBI are committed to comprehensively and aggressively investigating Saturday's attack."
Wrap continued, "Racially motivated violence will not be tolerated in this country."
Officers responded to Saturday's shooting within one minute and when they approached the suspect, the teen put his assault rifle to his neck, according to the commissioner.
The commissioner praised the responding officers who he said deescalated the situation and convinced the gunman to drop his weapon, saving countless lives.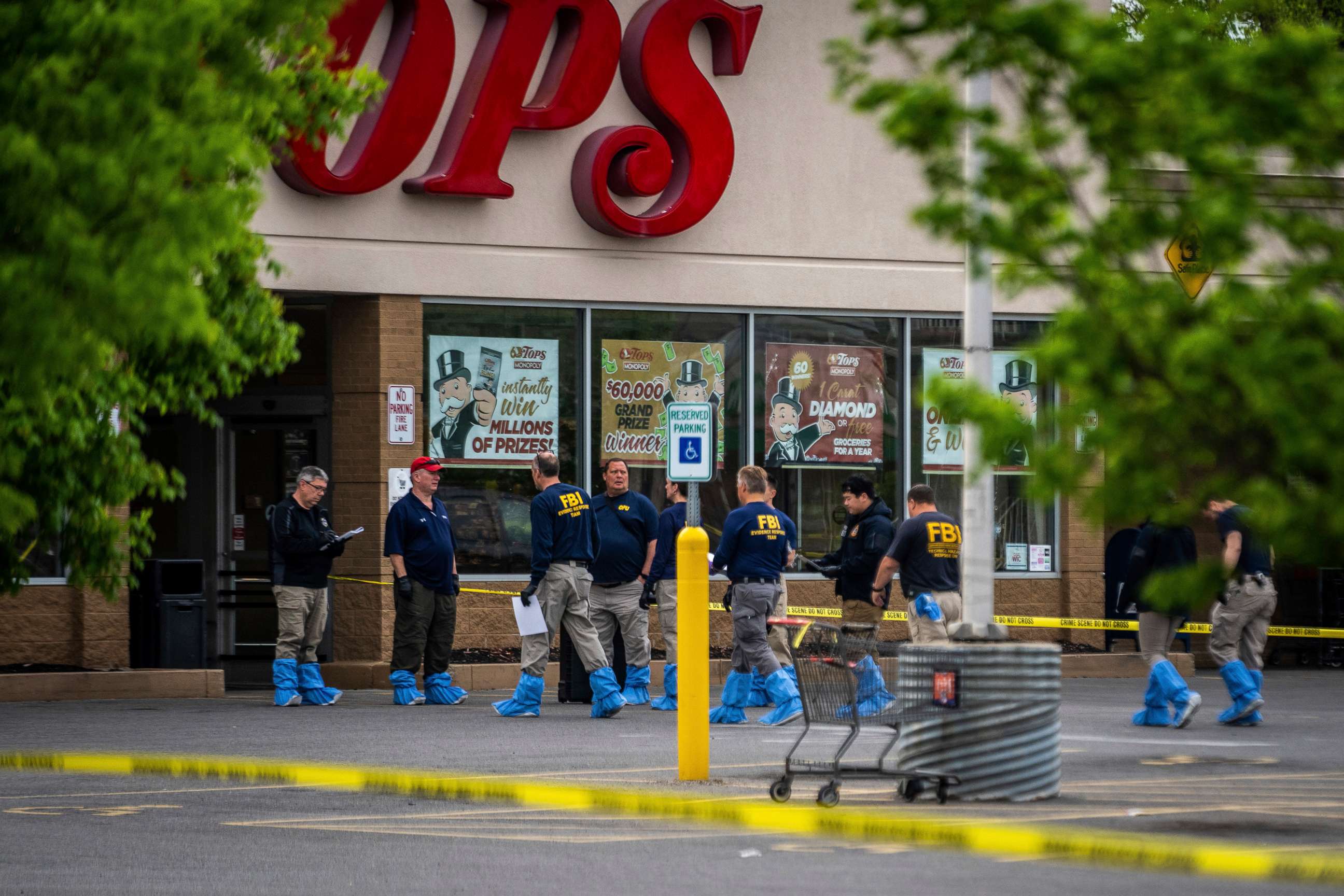 Multiple high-capacity magazines were recovered on Gendron and in his car, the commissioner said. While he declined to say what evidence pointed to additional shooting plans, the commissioner said investigators have been going through his phone and other electronics.
Police determined Gendron arrived in Buffalo on Friday via license plate reader and other evidence, the commissioner said. Police are still working to determine where he stayed overnight before Saturday's attack.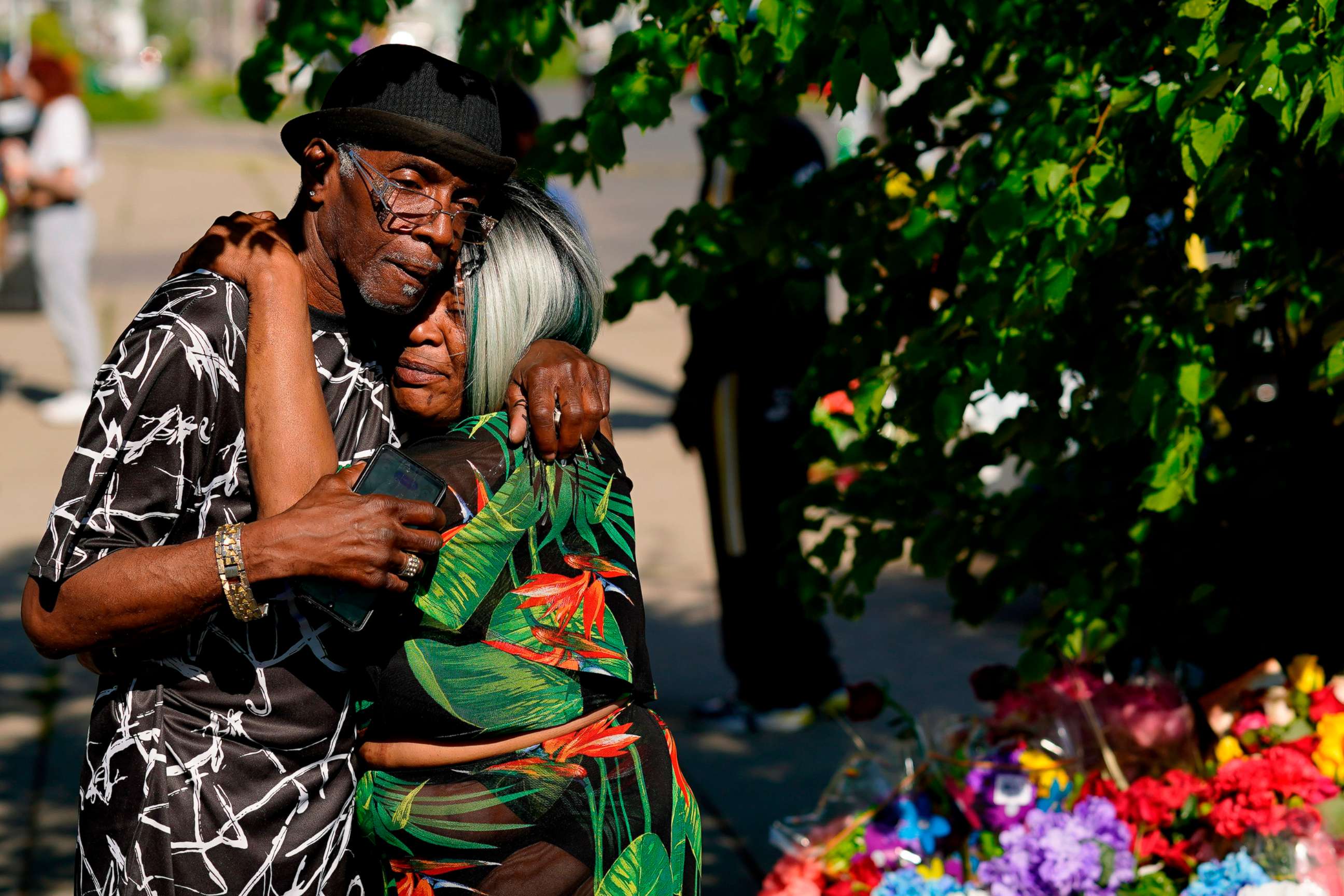 Shonnell Harris Teague, an operations manager at Tops, said she saw Gendron sitting on a bench outside of the store on Friday afternoon. She said he was there for several hours with a camper bag on his back, dressed in the same camouflage outfit he wore Saturday.
She said Gendron entered the store Friday evening, and appeared as if he was bothering customers. Teague asked him to leave and he did so without an argument.
The next time Teague saw him was on Saturday as a mass shooting unfolded at her store. She escaped out of the back when she saw Gendron.
"I see him with his gear on and his gun and how it was all strapped on. ... I seen all the other bodies on the ground. ... It was just a nightmare," she said.
Multiple Buffalo officials are urging community members, including children, to take advantage of mental health resources in the wake of the tragedy.
President Joe Biden is expected to meet with victims and their relatives during his trip to Buffalo Tuesday to offer them comfort and "grieve with them," White House press secretary Karine Jean-Pierre said.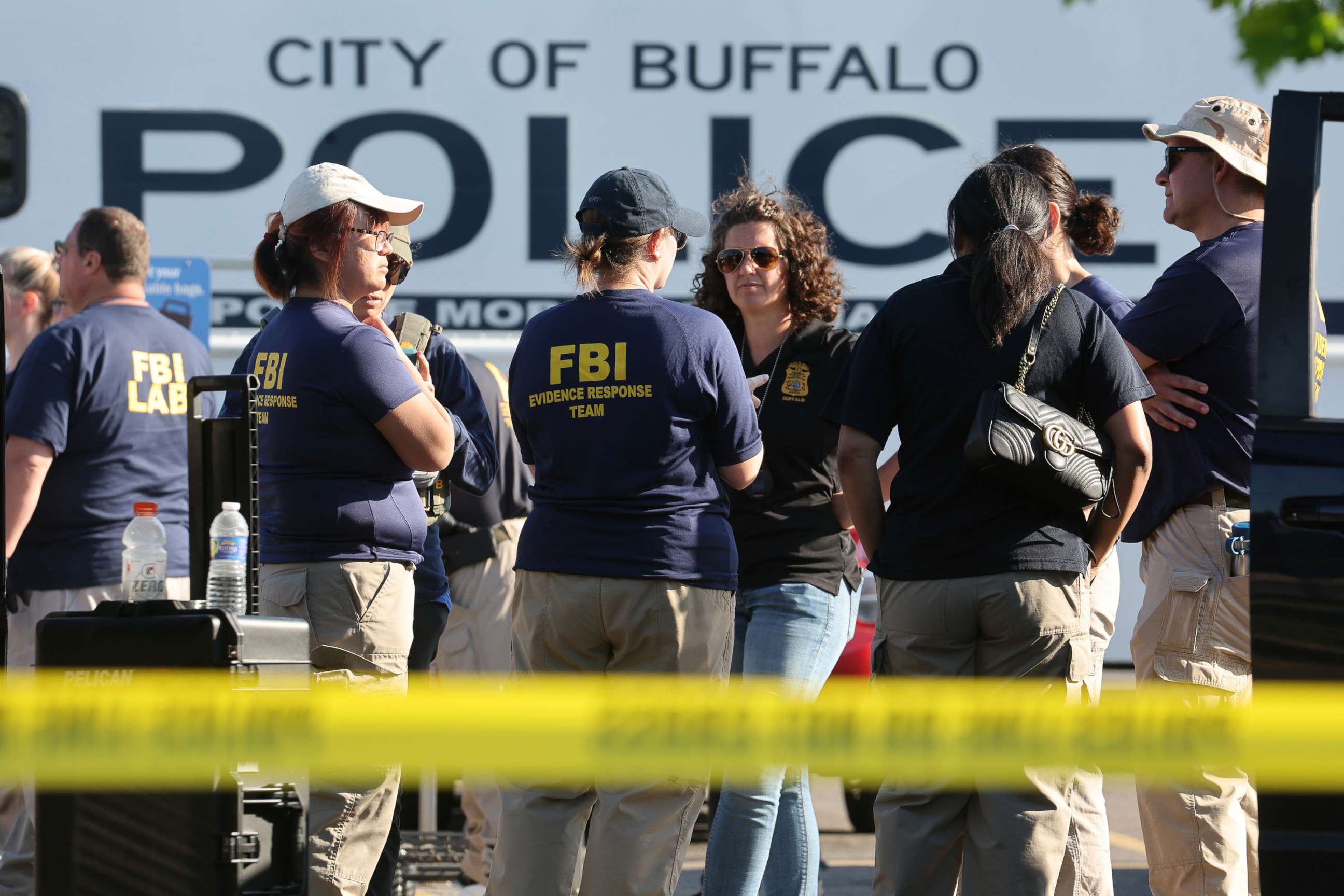 Gendron has been arraigned on one count of first-degree murder and is due back in court on May 19.
Gendron underwent a mental health evaluation after he expressed a desire last June to carry out a murder-suicide. But he was still able to legally buy the semiautomatic rifle police said was used in the attack because no criminal charges resulted from his encounter with New York State Police.
Gramaglia told ABC News the nature of Gendron's threat last June was "generalized" and included nothing specific.
Meanwhile, a Buffalo man, Joseph Chowaniec, has been charged with making terroristic threats after he allegedly referenced the supermarket shooting during threatening phone calls to a pizzeria and a brewery on Sunday, the Erie County District Attorney's Office said.
"Let this case send a message," Erie County District Attorney John Flynn said Monday. "He's facing seven years in jail -- and that's what anyone in the public is gonna face if … they want to reference the awful tragedy at Tops."
Chowaniec, 52, was arraigned on Monday and is set to return to court on May 20.
ABC News' Pierre Thomas, Luke Barr, Miles Cohen, Jack Date, Justin Gomez, Julia Jacobo and Will Steakin contributed to this report.