As the number of confirmed novel coronavirus cases and deaths continue to rise in the United States, Americans are hunkering down and more and more schools, sports leagues and amusement parks are closing.
There are at least 2,028 confirmed cases of COVID-19 in the U.S. and 48 coronavirus-related deaths, according to data compiled by the Center for Systems Science and Engineering at Johns Hopkins University and ABC News reporting.
Globally there are over 137,000 cases and over 5,000 deaths.
Tune into ABC News Live at noon ET every weekday for the latest news, context and analysis on the novel coronavirus, with resources from the full ABC News team.
Today's biggest developments:
Trump declares national emergency
Dr. Fauci says spread will 'get worse before it gets better'
US death toll rises to 48
Trump administration, Pelosi agree to spending bill
Europe now 'epicenter of the COVID-19 pandemic'
Italy fatalities jump by 250 in 24 hours
Here's the latest on the developing situation. All times Eastern. Please refresh this page for updates.
12:21 a.m. Trump physician says quarantine, COVID-19 test 'not currently indicated' for president
Despite coming into contact with multiple people who have been diagnosed with the coronavirus, President Donald Trump's physician said late Friday night that a home quarantine or COVID-19 test are "not currently indicated."
Last week while hosting the Brazilian delegation at Mar-a-Lago, Trump came in close contact with at least two people who later tested positive for the virus, according to Trump physician Dr. Sean Conley.
One person only had a brief interaction with the president --a handshake and photograph-- and began to show symptoms three days after the interaction. The other shared a table with the president, but Conley said that person was symptom-free until Friday. Both interactions are defined as "low risk" for transmission, according to the Centers for Disease Control and Prevention.
"Given the president himself remains without symptoms, testing for COIVD-19 is not currently indicated," Conley wrote Friday. "I will continue to closely monitor and care for the president."
9:43 p.m. Montana, Puerto Rico announce 1st cases
There is now only one state in the U.S. without a coronavirus case.
Montana announced its first four presumptive cases on Friday evening, meaning the only state not to announce one is West Virginia. The four cases include one man in his 40s, two men in their 50s and one woman in her 50s.
"We've been monitoring this rapidly evolving situation and vigorously preparing for COVID-19 to reach Montana, making today's news unsurprising," Montana Gov. Steve Bullock said. "As our public health officials work relentlessly to prevent further spread, I urge all Montanans to continue efforts to plan and follow public health recommendations to take the proper precautions."
Puerto Rico also announced its first three confirmed cases. A 71-year-old man from San Juan tested positive, as well as a 68-year-old woman -- referred to as an Italian resident -- and her husband, 70. All were listed in stable condition, according to the governor's office.
9:17 p.m. 2nd death reported in Santa Clara County, Calif.
A woman in her 80s from Santa Clara County, California, who had been hospitalized on March 9, died on Friday to mark the second death in the county.
"The Public Health Department is saddened to share this news and expresses its condolences to her family," the county health department said.
The death was the fifth in California, second-most in the U.S. behind Washington.
It was also at least the 48th total death in the country.
8:43 p.m. Agreement on bill comes after all
After a brief delay following House Speaker Nancy Pelosi's announcement of a coronavirus funding bill, the president tweeted that his administration had come to an agreement with the Democratic leader.
"I fully support H.R. 6201: Families First CoronaVirus Response Act, which will be voted on in the House this evening. This Bill will follow my direction for free CoronaVirus tests, and paid sick leave for our impacted American workers," President Donald Trump tweeted.
7:45 p.m. No deal on Families First Coronavirus Response Act?
Less than an hour after House Speaker Nancy Pelosi announced that an agreement had been reached with the Trump administration regarding the coronavirus relief bill that was proposed this week, the brakes are being pumped on the deal.
A senior White House official told ABC News that the bill was still being reviewed, which was echoed by House Majority Leader Steny Hoyer.
"I think they thought there were some things in there that weren't in there or vice versa," he said as he walked to the speaker's office.
Hoyer says Democrats might still vote on their bill tonight: "We've got a really good bill. I want to bring it to the floor. I want to pass it tonight, send it to the Senate, so they can act on it as soon as possible."
Some provisions introduced in the legislation include providing emergency paid sick leave for two weeks and family and medical leave up to three months, expanding SNAP benefits for households to afford food that children would normally receive at school and increases in federal funds for Medicaid.
The funds proposed for the bill will come from an $8.3 billion emergency coronavirus spending package proposed earlier this month.
7:41 p.m. Consumer Financial Protection Bureau exposed to virus
The U.S. Consumer Financial Protection Bureau, a federal agency tasked with protecting American consumers buying financial products and services, is ordering its employees in Washington, D.C., and New York City to work from home through the end of next week because of "potential exposure."
In an email obtained by ABC News, staff were told the move was necessary "because we have received reports of potential exposure to COVID-19 from individuals who work or have been in these locations."
It's at least the second federal building closure this week. Earlier this week, the Securities and Exchange Commission's office directed its employees to telework because of a suspected case involving one of its workers.
The offices will be "deep cleaned next week and access to the building is restricted," the email stated.
The order applies to all employees who have telework agreements in both its Washington, D.C., headquarters and its New York regional office. Agency employees at other locations are encouraged to "make full use of all workplace flexibilities, especially telework," the email stated.
6:15 p.m. New York City mayor keeps public schools open
As public, private and charter schools across the country have announced closing amid the increasing reports of coronavirus, New York City Mayor Bill de Blasio continues to push back on shutting down the New York City's educational facilities.
At a press conference on Friday afternoon, de Blasio reported that 89% of students were in attendance on Monday, but by the end of the week the rate dropped to 68%.
There was also a slight uptick of teacher absences.
As of Friday, at least 46,000 schools nationwide are closed, are scheduled to close or were closed and later reopened, affecting at least 26 million students, according to Education Week.
New York Gov. Andrew Cuomo shut down the public schools in New Rochelle -- in the epicenter of New York's COVID-19 outbreak -- on Tuesday for two weeks.
The superintendent of Denver Public Schools made a "difficult decision" on Thursday to extend spring break from March 16 until April 7.
Florida and Wisconsin public schools were shut down on Friday for the rest of the month, while the governor of Louisiana closed all public schools until April 13.
Boston announced it was closing public schools late Friday, joining other major cities, like Houston, Miami, Chicago, San Diego, San Francisco and Los Angeles, which have instituted closings for an extended period of time.
6:12 p.m. Idaho reports 1st novel coronavirus case
The Department of Health and Welfare and Gov. Brad Little announced that Idaho has its first COVID-19 patient.
The patient is a woman over 50 from Ada County who returned from a conference in New York where three people from the event tested positive for coronavirus. The woman contacted her doctor, and a laboratory test later confirmed she has the virus.
"She is self-isolating at home and is doing well," said Elke Shaw-Tulloch with the Idaho Department of Public Health at a press conference.
Now, the only U.S. states that haven't reported cases are Montana and West Virginia.
5:32 p.m. 6 additional deaths reported in Washington
The death toll in the U.S. rose to at least 47 on Friday as Washington state announced six more deaths.
The state has by far the most deaths of any in the country: 37.
Thirty-two people have died in King County, with five new reported deaths on Friday, while the sixth death was reported in Snohomish County, officials said.
No further details were given on those who died.
5:27 p.m. Guest at Mar-a-Lago fundraiser tested positive for COVID-19
A guest who attended a fundraiser event on behalf of President Donald Trump's campaign on Sunday has tested positive for the coronavirus, according to an email obtained by ABC News.
"We unfortunately write today to notify you that an attendee at the Trump Victory-sponsored event you attended at Mar-a-Largo on Sunday, March 8," the joint committee between the Trump campaign and Republican National Committee wrote in an email sent today.
While the entire Trump family was at the event, a senior campaign official tells ABC News the donor did not interact with the president.
"The attendee had no direct interaction with the president or the first family at this event and the VP did not attend this event," an RNC official said.
A Brazilian official who met with Trump while at the resort on March 7 also tested positive.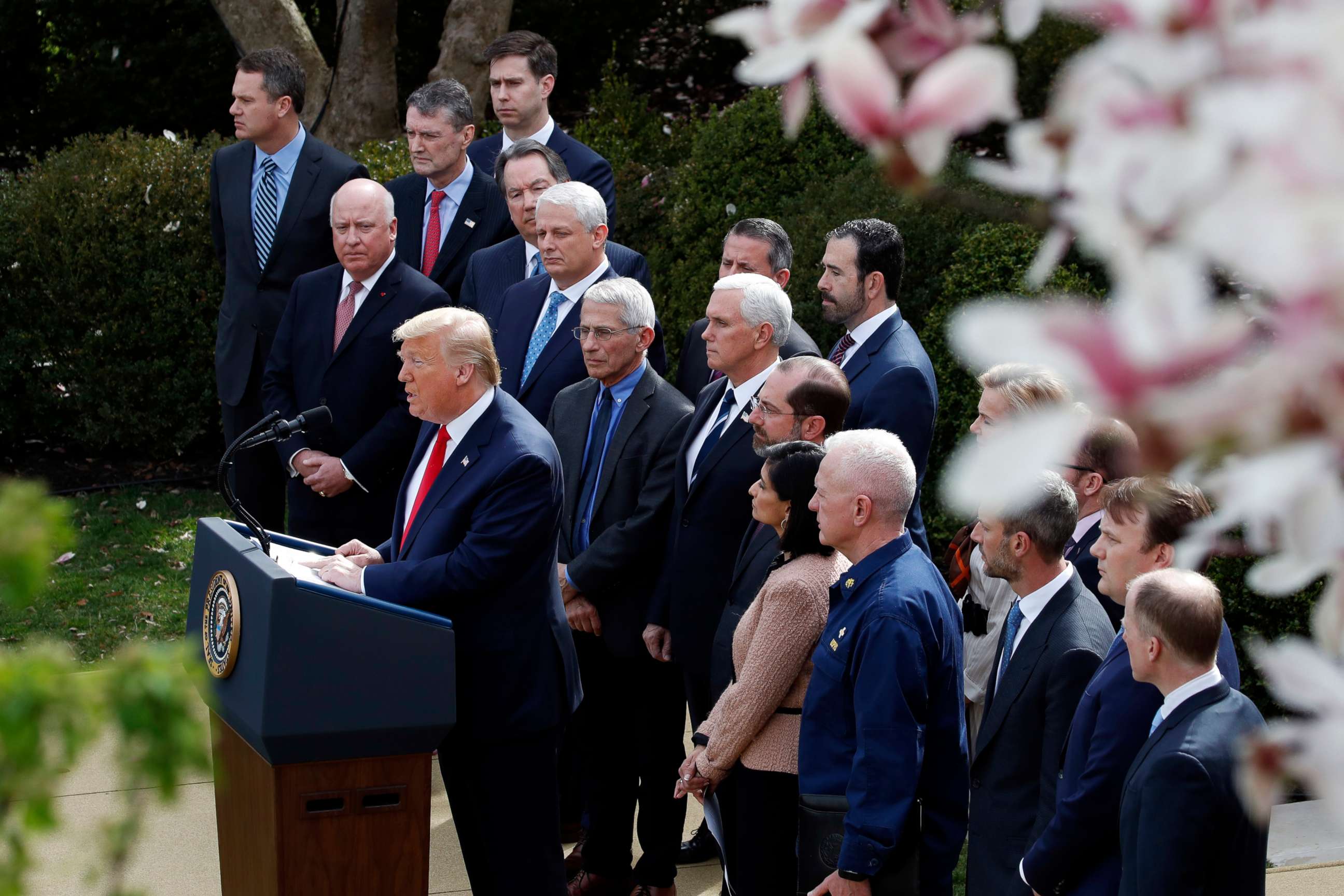 4:56 p.m. All major amusement parks in Florida closed
Starting on Monday, all major theme parks in Florida will be closed through the end of the month.
Tampa-based Busch Gardens said in a statement on Friday that it will be closed until April due to the global pandemic.
"During this time our animal care experts will continue to look after the health, safety and nutritional needs of the animals in our care," the statement read. "Our animal rescue and rehabilitation operations will also continue to operate."
Busch Gardens is part of the SeaWorld family of companies. SeaWorld closed all of its parks -- in Orlando, Florida; San Diego and San Antonio -- earlier in the day.
Disney World and Universal closed its parks on Thursday.
4:53 p.m. Colorado reports the 1st death
An 80-year-old woman is the first person in Denver with the coronavirus to die, public health officials said.
"While we were expecting this day, it doesn't make it any less difficult to hear and share this news," said Governor Jared Polis in a statement. "As a state we are in mourning and our hearts go out to the family and loved ones of the Coloradan we lost."
The woman, who lived in El Paso County, had underlying health conditions.
4:23 p.m.: Major cruise lines suspend voyages for up to 30 days
Norwegian Cruise Lines and Royal Caribbean Cruises announced voluntary suspension of all cruises set to embark within the next 30 days.
"The safety, security and well-being of our guests and crew is our highest priority," said Frank Del Rio, president and chief executive officer of Norwegian, in a statement issued on Friday.
All current trips on Norwegian Cruise Line, Oceania Cruises and Regent Seven Seas Cruises will end immediately and guests on board will be disembarked and assisted with travel arrangements.
Norwegian Cruise Lines will continue services after April 11.
Royal Caribbean cruises will also suspend cruises for the next 30 days, but will allow guests on cruises that departed U.S. ports before midnight Friday and international cruises to continue their scheduled itineraries. Ships that already left U.S. ports and are at sea will finish their itineraries as planned.
Guests with upcoming trips during the suspension dates are asked to contact their travel agent or the cruise line for more information on refund offers.
3:37 p.m.: Trump declares national emergency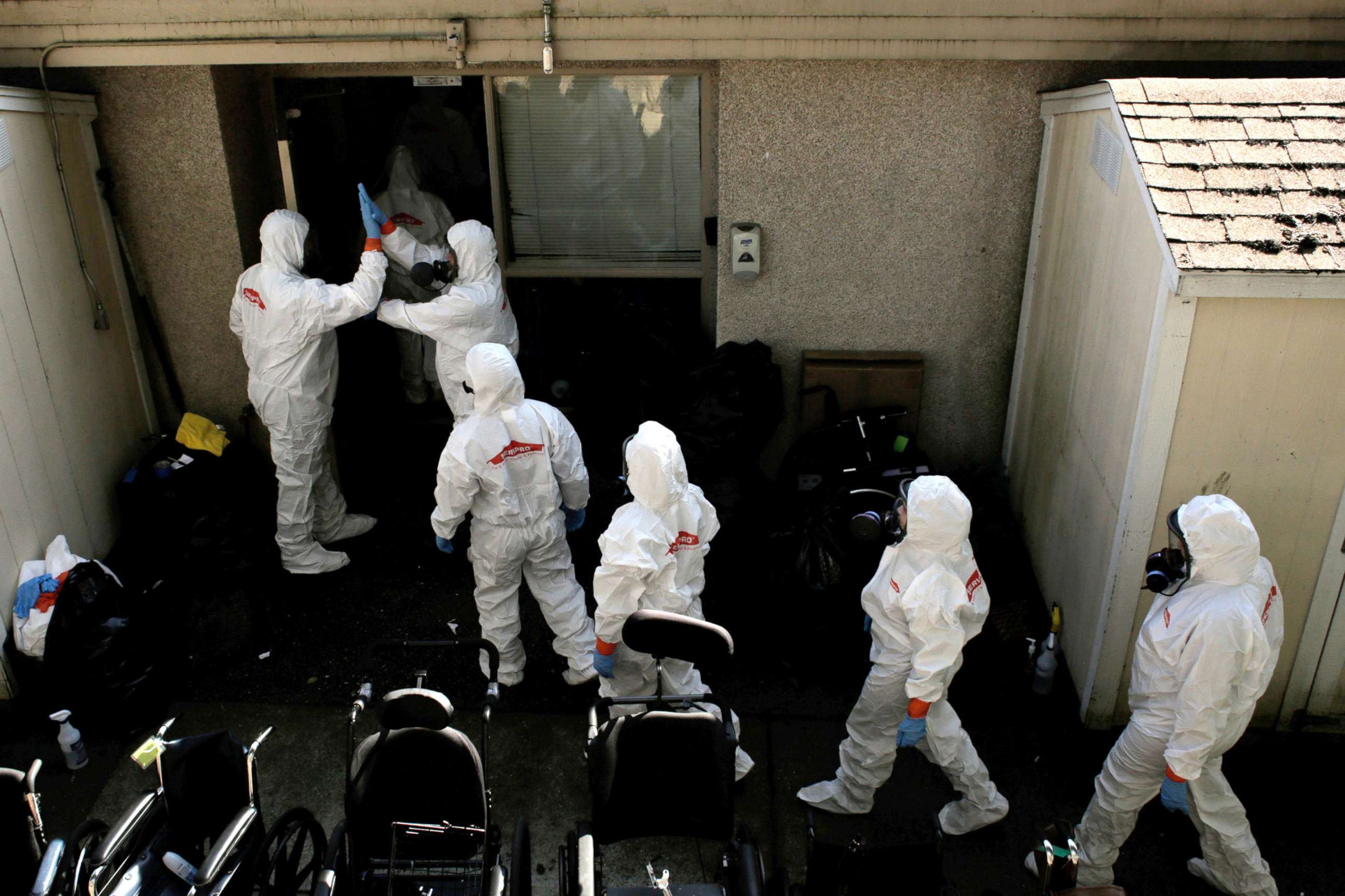 President Donald Trump declared a national emergency on Friday which he said "will open up access to up to $50 billion" to fight COVID-19.
"The secretary of HHS [Health and Human Services] will be able to immediately waive provisions of applicable laws and regulations to give doctors, hospitals, all hospitals and health care providers maximum flexibility to respond to the virus and care for patients," Trump said at the White House.
Trump also announced private sector partnerships to "accelerate our capacity to test for the coronavirus."
"We want to make sure that those who need a test can get a test very safely, quickly and conveniently," the president said.
The FDA approved a new test from Roche Diagnostics which is expected to make "up to half a million additional tests" "available early next week," Trump said.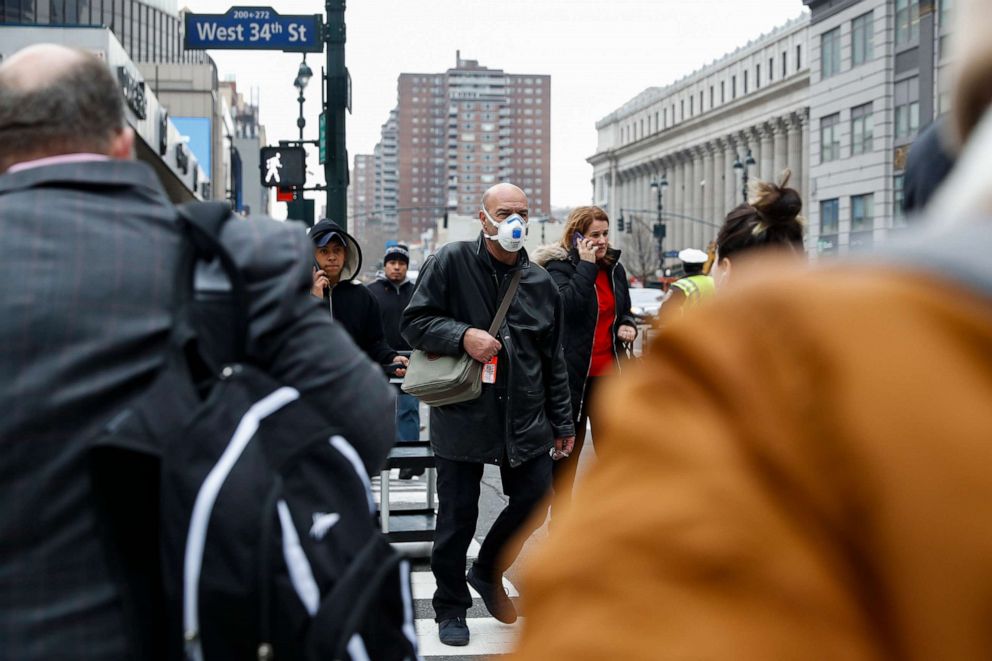 Trump said the FDA also hopes to authorize an application from Thermo Fisher within 24 hours, which he said would create 1.4 million more tests next week and 5 million within a month.
"At the same time, we've been in discussions with pharmacies and retailers to make drive-through tests available in the critical locations," he said.
3:15 p.m.: Los Angeles, San Diego, Pennsylvania, West Virginia schools close
All Pennsylvania schools will close for 10 business days starting on March 16 to try to stop the spread of COVID-19, the governor announced.
California's two largest school districts, the Los Angeles Unified School District and the San Diego Unified School District, will close their doors on Monday. The two districts teach more than 750,000 students combined.
West Virginia Gov. Jim Justice announced he will close his state's public schools, saying the "risks outweigh the good."
West Virginia is just one of three states, along with Idaho and Montana, without any confirmed coronavirus cases.
2:17 p.m.: New York cases soar to 421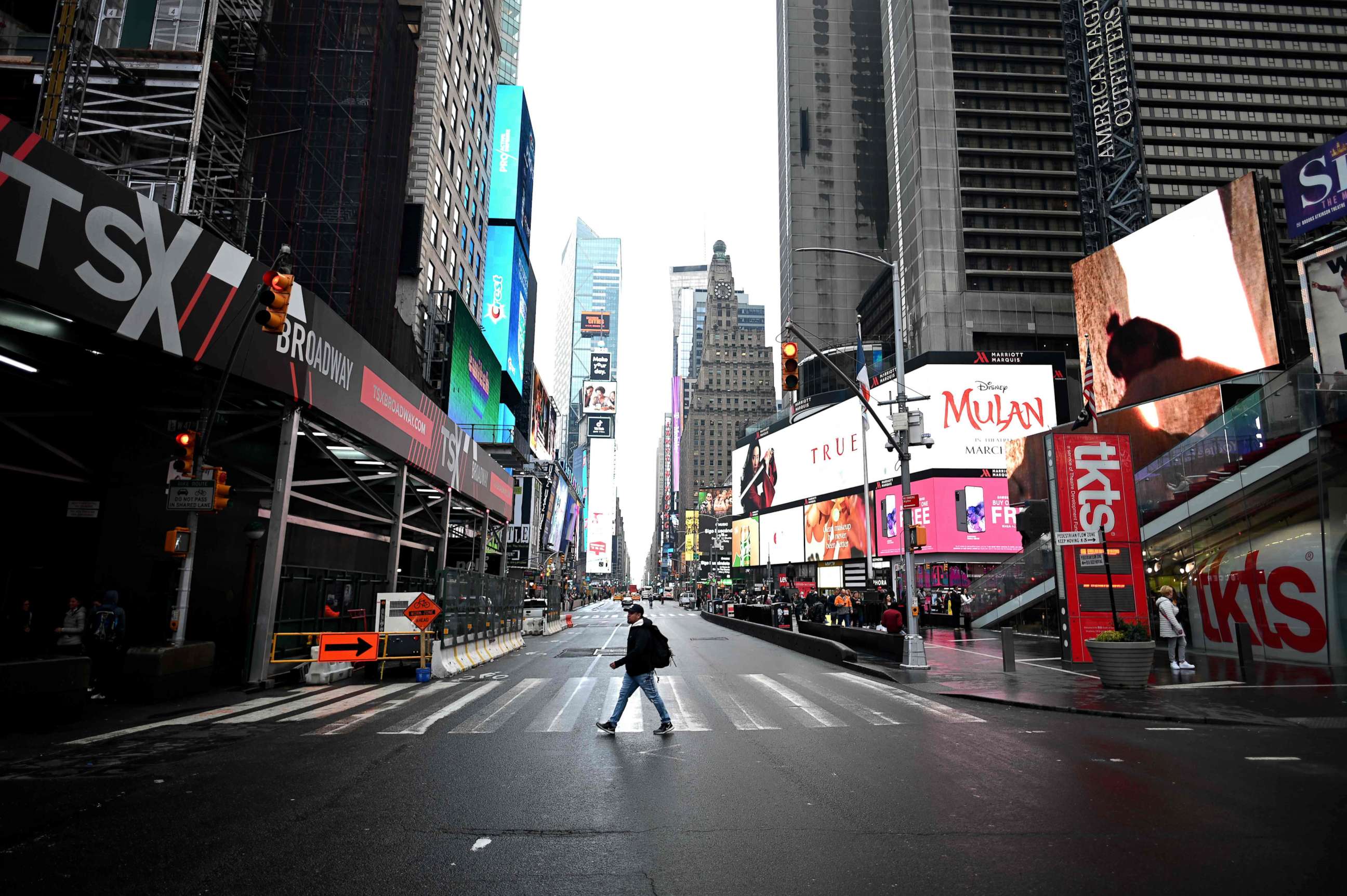 New York state now has 421 confirmed cases of coronavirus, the highest in the country, New York Gov. Andrew Cuomo said.
That total includes 154 people in New York City, he said.
Of the 421 people, 50 are in the hospital, the governor said.
"There could be tens of thousands of cases," he warned. "My guess is there are thousands of cases or people who had coronavirus, didn't even know they had the coronavirus, had symptoms, resolved, moved on, and never knew they had it."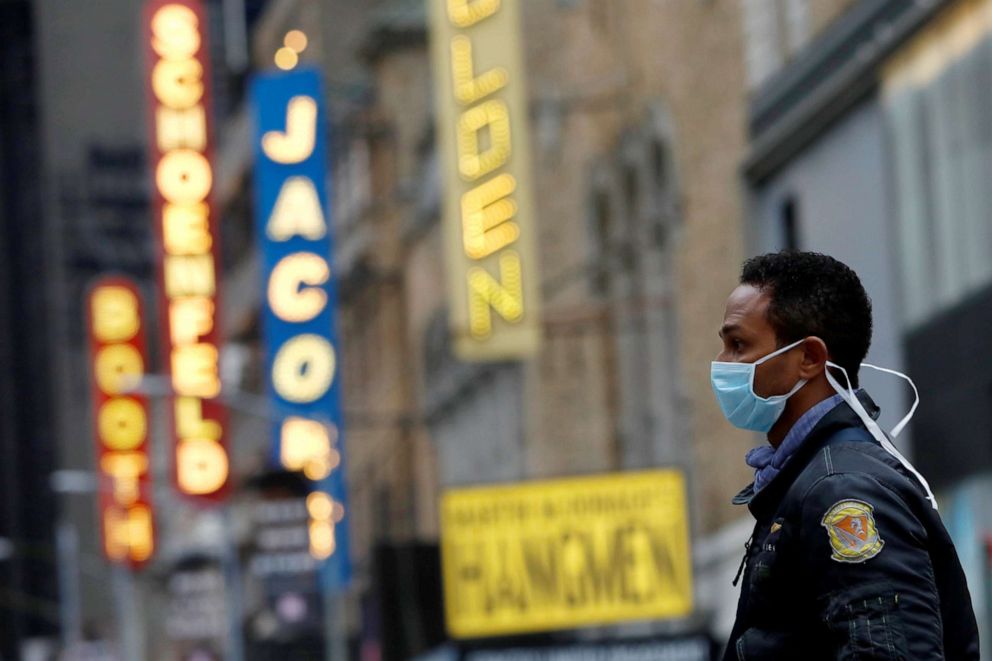 1:53 p.m.: Italy fatalities jump by 250 in 24 hours
Italy saw 250 more fatalities from the coronavirus in just 24 hours, the Italian Civil Protection Authorities said Friday.
That brings the total number of infected in Italy to 17,660 since the outbreak began on Feb. 21, and the number of related deaths to 1,266.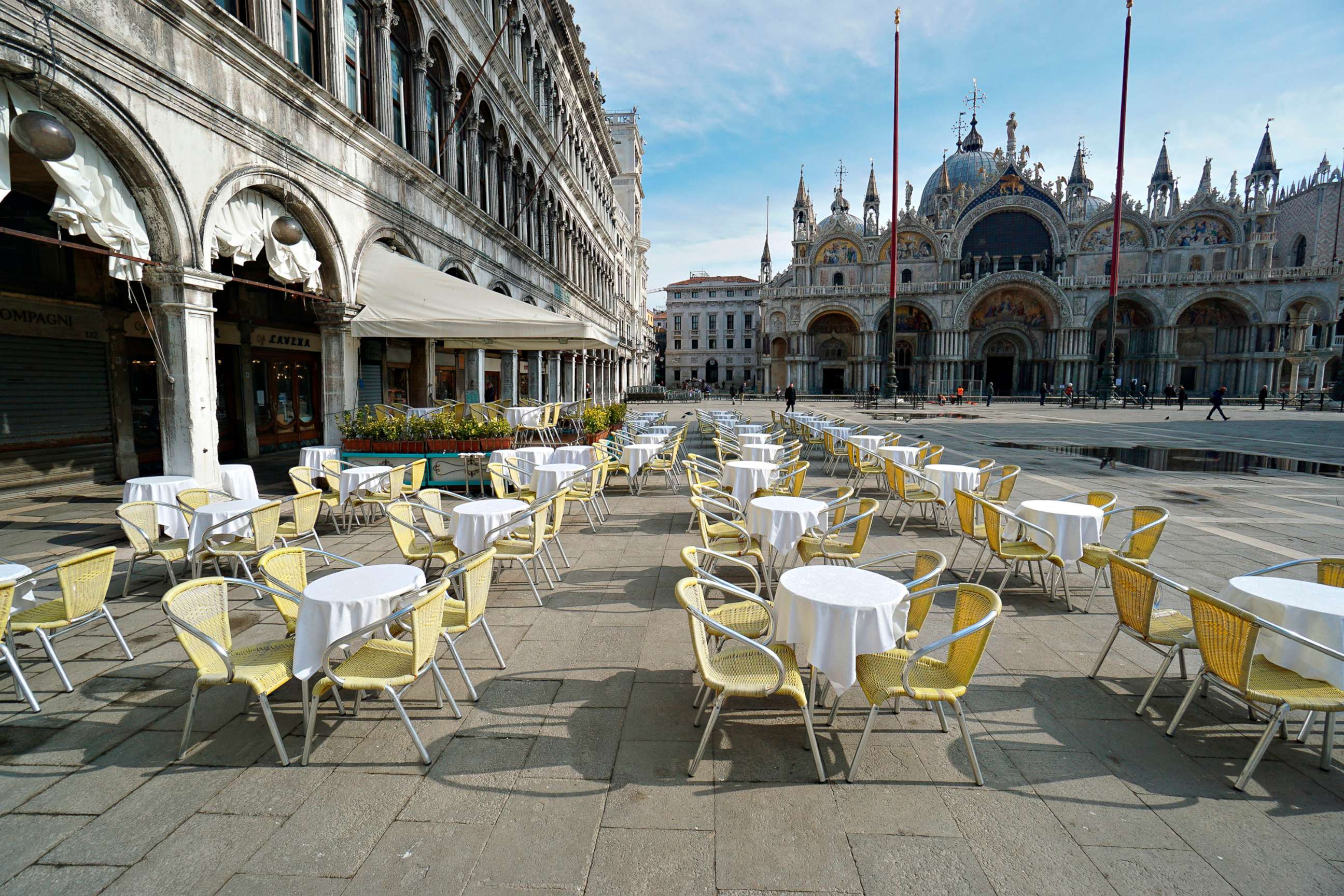 1:05 p.m.: Miami mayor tests positive
Miami Mayor Francis Suarez said Friday that he has coronavirus.
The mayor added that he feels "completely healthy and strong" and will "remain isolated while I lead our government remotely."
"If we did not shake hands or you did not come into contact with me -- if I coughed or sneezed -- there is no action you need to take whatsoever," Suarez said in a statement. "If we did, however, touch or shake hands, or if I sneezed or coughed near you since Monday, it is recommended that you self-isolate for 14 days, but you do not need to get tested."
Suarez attended events in Miami on Monday and Tuesday with a Brazilian government official who later tested positive for coronavirus, a city of Miami spokesperson told ABC News.
The mayor gave welcoming remarks both times but did not spend any significant amount of time with the Brazilian delegation at either event, the spokesperson said.
Trump also met with that Brazilian official over the weekend at Mar-a-Lago.
12:11 p.m.: Europe now 'epicenter'
World Health Organization Director General Tedros Adhanom Ghebreyesus said, "Europe has now become the epicenter of the COVID-19 pandemic, with more reported cases and deaths than the rest of the world combined, apart from China."
He urged other countries on Friday to look at the actions taken by "China, South Korea, Singapore and others," which, he said, "clearly demonstrates that aggressive testing and contact tracing, combined with social-distancing measures and community mobilization, can prevent COVID-19 infections and save lives."
"Our message to countries continues to be: You must take a comprehensive approach. Not testing alone. Not contact tracing alone. Not quarantine alone. Not social distancing alone. Do it all," he said. "Any country that looks at the experience of other countries with large epidemics and thinks 'that won't happen to us' is making a deadly mistake. It can happen to anyone."
11:25 a.m.: Drive-through mobile testing center opens in hard-hit New Rochelle
New York state's first drive-through COVID-19 mobile testing center opened in the city of New Rochelle Friday.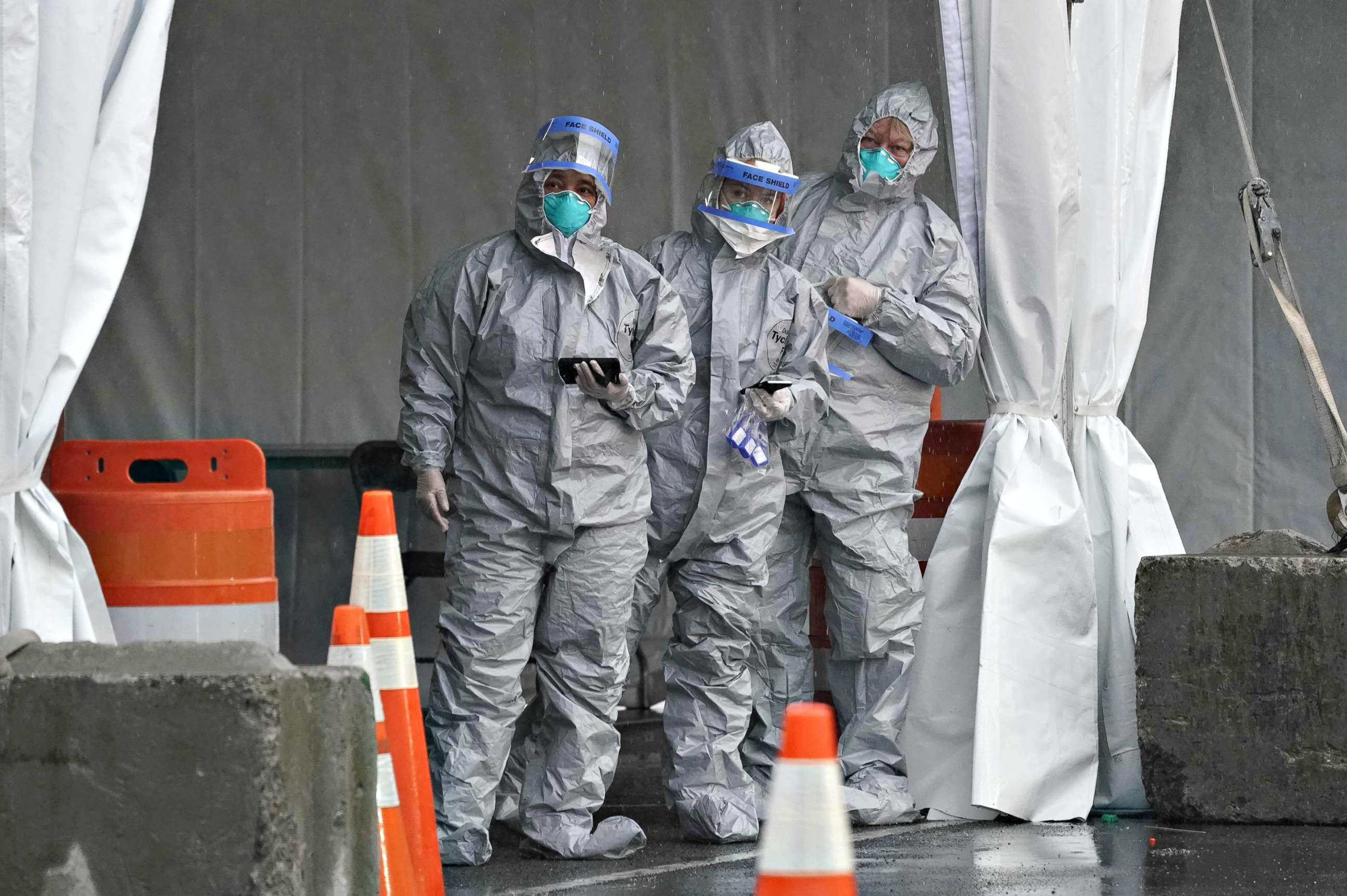 The center will test up to 200 people on Friday and that number could reach 500 per day, the governor said.
A one-mile radius "containment area" was established in New Rochelle to try to stop the virus from spreading.
10:25 a.m.: Boston Marathon postponed
The 2020 Boston Marathon is postponed until Monday, Sept. 14, Boston Mayor Marty Walsh announced Friday.
9:43 a.m.: Sen. Ted Cruz extends quarantine
Sen. Ted Cruz has decided to extend his self-quarantine.
While the senator's elected self-quarantine ended Thursday afternoon, he said he then learned Thursday night that "he had a second interaction" with someone who tested positive for coronavirus on Thursday.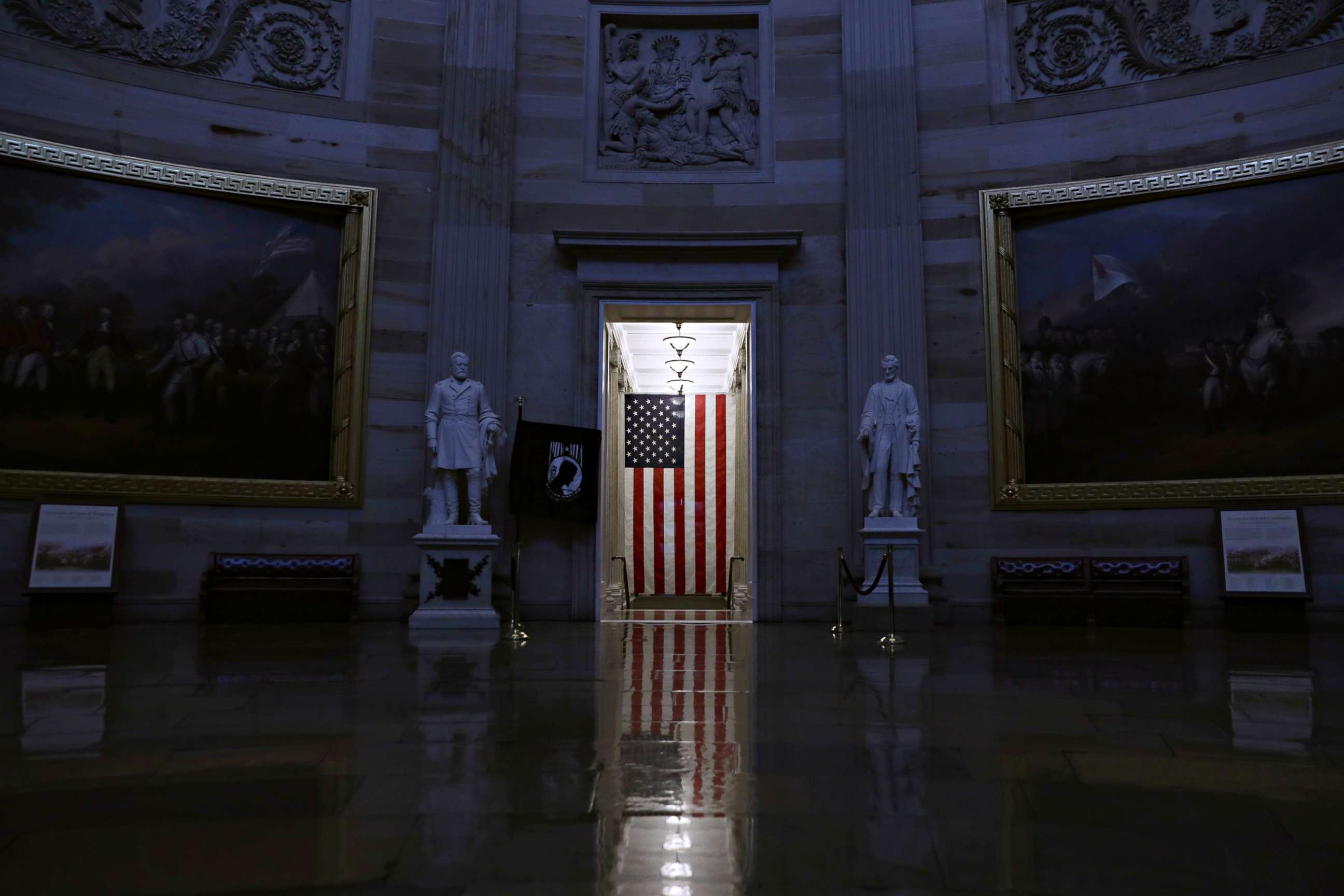 "On March 3, I met in my D.C. office with Santiago Abascal, the leader of the Vox Party in Spain. We met for about 20 minutes, sitting together at a conference table. We shook hands twice and took pictures together," Cruz said in a statement Friday. "My understanding is that Mr. Abascal tested positive for COVID-19 last night. His staff have informed us that he was asymptomatic at the time of our meeting and that several days after our meeting he had extended interactions with another individual who has also tested positive."
"I'm still not feeling any symptoms," Cruz went on. "But, for the same reasons I initially self-quarantined—out of an abundance of caution and to give everyone peace of mind—I am extending the self-quarantine to March 17, a full fourteen days from my meeting with Mr. Abascal."
Cruz is one of nine members of Congress who have elected to self-quarantine.
7:45 a.m.: DC public schools to close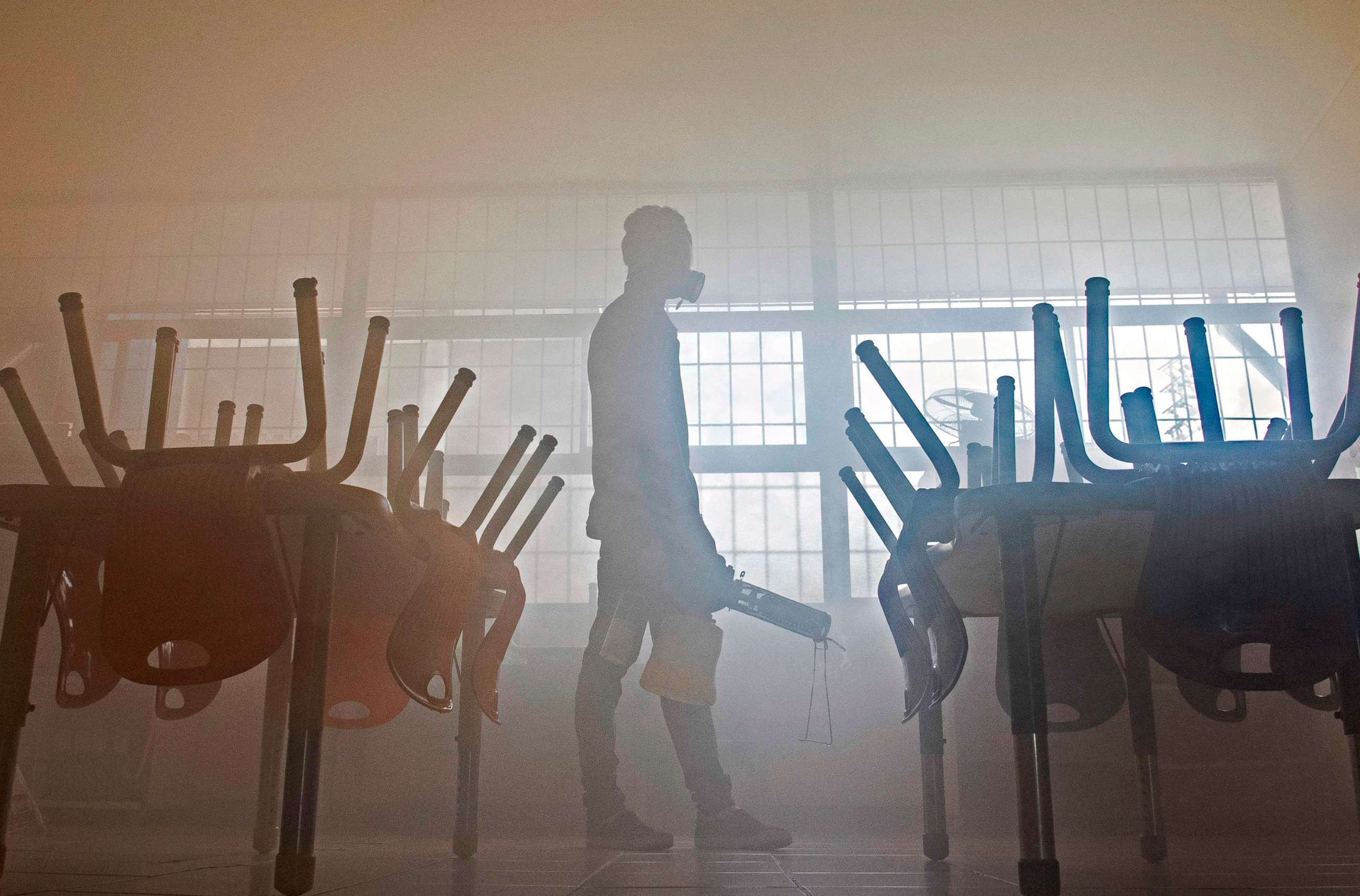 Washington, D.C., public schools will shutter from Monday, March 16, through the end of the month, said Mayor Muriel Bowser.
After spring break next week, students will learn through "distance learning" the rest of the month, the mayor said.
Children will have access to meals on the days schools are closed, the mayor said.
7:34 a.m.: Australian official tests positive after meeting with Ivanka Trump
Australia's minister for home affairs, Peter Dutton, said Friday he's contracted coronavirus, one week after he was seen meeting with President Trump's daughter and senior adviser, Ivanka Trump, in Washington, D.C.
Dutton said in a statement, "I feel fine and will provide an update in due course."
Dutton "was asymptomatic during the interaction" with Ivanka Trump, White House spokesman Judd Deere said in a statement Friday.
"Exposures from the case were assessed and the White House Medical Unit confirmed, in accordance with CDC guidance, that Ivanka is exhibiting no symptoms and does not need to self-quarantine," Deere said. "She worked from home today out of an abundance of caution until guidance was given."
Attorney General William Barr was also at the meeting with Dutton and Ivanka Trump.
A Justice Department spokesman said Barr is "staying home" Friday.
"The AG is feeling great and not showing any symptoms," the spokesperson said, adding that the "CDC is not recommending he be tested at this point."
7:16 a.m. Fauci says spread will "get worse before it gets better"
Dr. Anthony Fauci, director of the National Institute of Allergy and Infectious Diseases, told "Good Morning America" Friday that the coronavirus spread will "get worse before it gets better."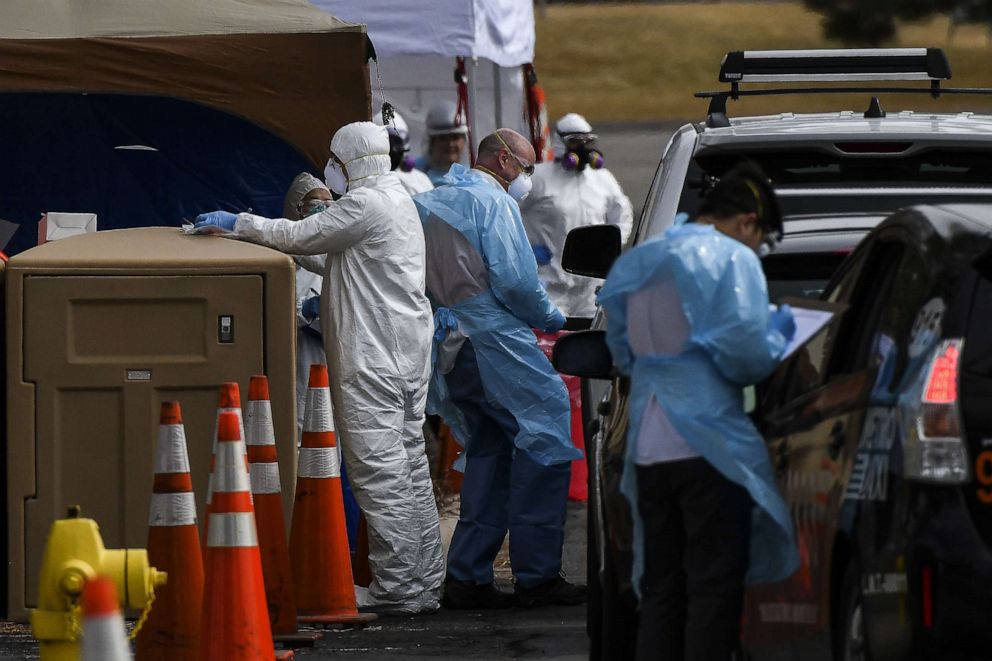 "There's no doubt that we have not peaked yet," Fauci said.
"It will be at least a matter of several weeks. It's unpredictable, but if you look at historically how these things work, it will likely be anywhere from a few weeks to up to eight weeks," Fauci said. "I hope it's going to be in the earlier part, two, three, four weeks, but it's impossible to make an accurate prediction."
Fauci urged Americans to adapt to physically separating, calling it "one of the very effective ways you can really mitigate the spread."
As many Americans say they're not getting access to COVID-19 tests, Fauci told "GMA": "I think in the next week or so you're gonna see an acceleration in the availability of tests."
As for when people should request testing, Fauci recommended that the public follow the guidelines of the Centers for Disease Control and Prevention (CDC).
What to know about coronavirus: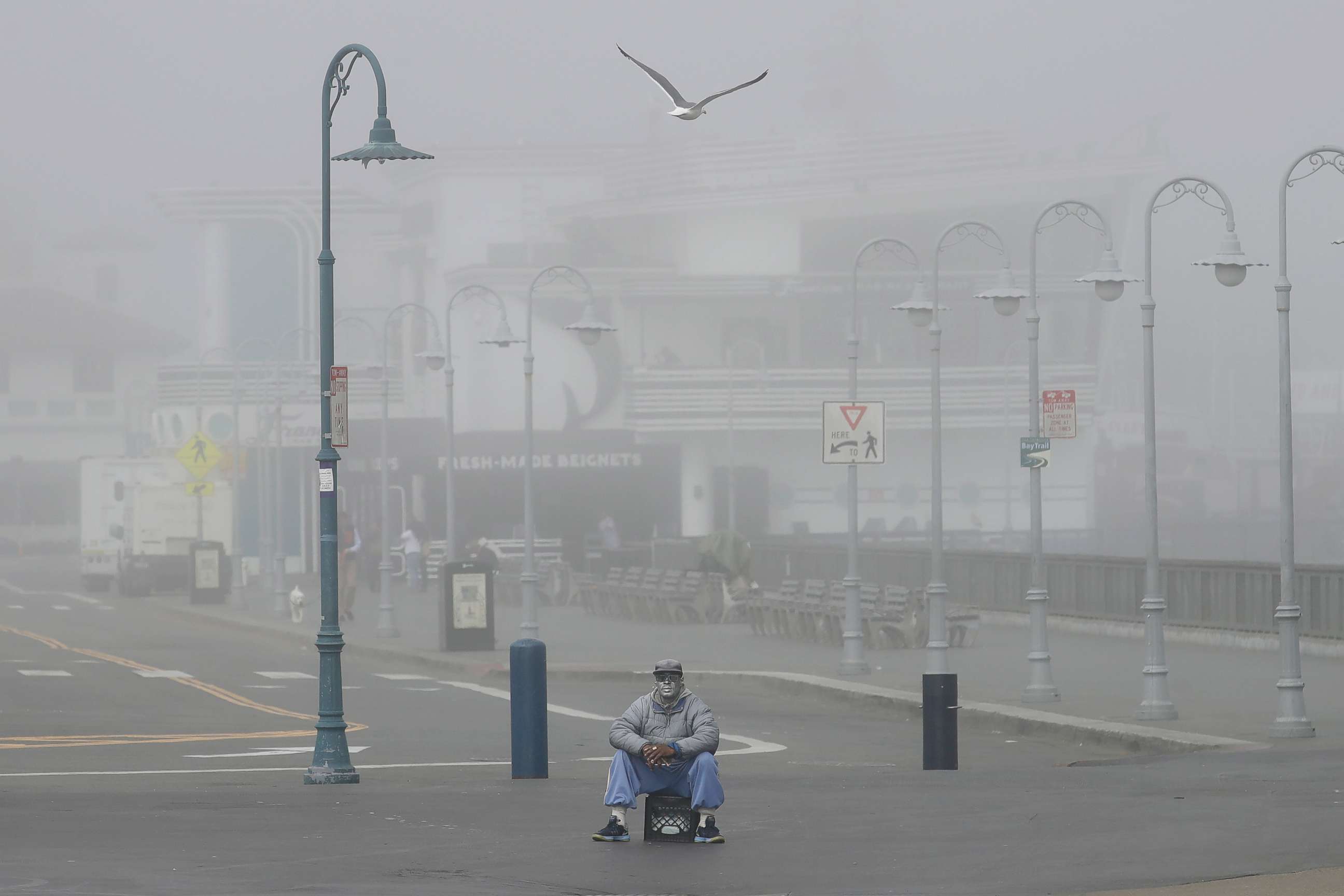 5:42 a.m. Charles Barkley in self-quarantine, awaiting COVID-19 test results
NBA Hall of Famer and TNT broadcaster Charles Barkley announced Thursday night that he is self-quarantining and is awaiting results from a coronavirus test.
Barkley, in a phone interview with his co-hosts of "NBA on TNT," said he felt sick after returning to Atlanta from a trip in New York City.
"I talked to a couple people at Turner and a couple doctors and they told me to self-quarantine for the next 48 hours. I started yesterday, this is my second day," Barkley said.
"I haven't been feeling great and they didn't want me to take any chances ... I went and took the coronavirus test late this afternoon, I have not gotten the results back," he said. "So I'm just kinda in limbo right now. I'm really hoping it was just a bug."
The NBA is suspending the 2019-2020 season due to the coronavirus. NBA commissioner Adam Silver said Thursday night play would be suspended for at least 30 days and the league intends to resume play this season when it's safe.
3:18 a.m. Oregon, Michigan close all schools
Officials in Oregon and Michigan said Thursday night they are closing all K-12 schools in an attempt to slow the spread of the coronavirus.
Oregon schools will be shut down through the end of March while Michigan schools will be closed until at least April 5.
Oregon Gov. Kate Brown said she understands the burden closing schools puts on families and students, but the move was necessary for public safety.
Ohio's public, private and charter schools will be closed from March 17 through April 3, while all public schools in Maryland will be closed from March 16 to March 27.
Washington Gov. Jay Inslee has ordered all private and public schools to close for six weeks in three counties: Snohomish, King and Pierce. Classes must end no later than March 17 and remain closed until April 24.
ABC News' Kirit Radia, Josh Hoyos, Will Gretsky, John Santucci, Josh Margolin, Jordyn Phelps, Katherine Faulders, Scott Withers, Anne Flaherty and Kelly McCarthy contributed to this report.