Four people were killed and two others critically injured when a man naked from the waist down and wielding an AR-15 assault-style rifle opened fire at a Waffle House in Tennessee early Sunday, police said.
The suspected gunman was identified as Travis Reinking, 29, from Morton, Illinois. He was arrested in July for allegedly breaching a barrier at the White House and demanding a meeting with President Donald Trump, officials said.
Reinking had also threatened to commit suicide in May 2016 in a parking lot in Illinois and at the time his family told authorities he was having "delusions" involving Taylor Swift. He believed the singer was stalking him and harassing him, according to police records obtained by ABC News.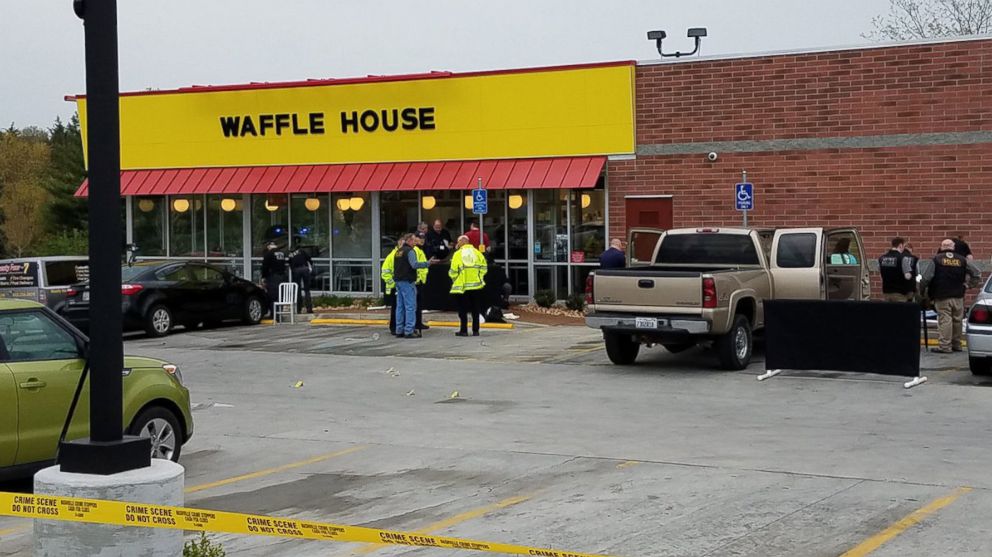 Early Sunday, Reinking ran from the scene after a patron at the restaurant wrestled the rifle away from him, police said. Police on Sunday evening were using dogs and a helicopter to search a wooded area near the restaurant where the gunman was last seen.
"He's murdered four times with no apparent reason, no apparent motive. So we're very concerned," said Chief Steve Anderson of the Metropolitan Nashville Police.
Anderson said a pistol belonging to Reinking had not be recovered and he should be considered armed and dangerous.
A witness to the shooting, Chuck Cordero, 50, told ABC News that he had just pulled up to the Waffle House in Antioch, a suburban area about 12 miles from downtown Nashville, when gunfire broke out.
James Shaw, Jr., likely prevented further bloodshed when he wrestled the gun away from the shooter.
"He was only wearing a jacket and nothing else on," Cordero, a roadside-assistance worker, said of the gunman.
Police said two of the dead were shot outside the restaurant and one inside. A fourth person who was shot inside the restaurant later died at the hospital.
Two other people shot in the incident were in critical but stable condition at Vanderbilt University Medical Center in Nashville. Other victims were struck by shattered glass.
The person who wrestled the rifle away from the shooter is a "hero," police said.
Cordero used the same word.
"There's a hero," Cordero said. "I don't know what his name is, but there's a gentleman who was in there, who when this guy stopped to reload or stopped to do something with his gun, he took that opportunity and wrestled the guy till the gun went flying and then the dude took off running."
"I talked to him afterward and told him, 'You are a hero, man,' because had that guy reloaded, there were plenty more people in that restaurant," he said.
But the courageous patron, identified as James Shaw Jr., 29, refused to call himself a hero.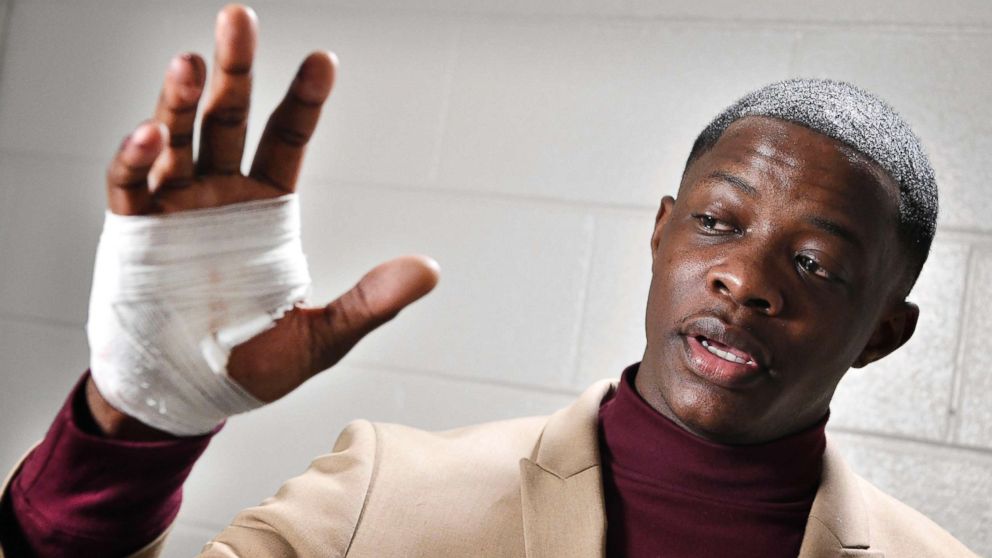 "I just knew it was me or him. It was that type of scenario," Shaw said at a news conference Sunday afternoon. "So I chose to go with what I wanted to go with and it worked."
Shaw said that when the gunfire broke, a bullet grazed his elbow as he ducked for cover near the restaurant's restroom. He said that when he saw the gunman look down at his weapon apparently to reload, he made his move.
"It was at that time I kind of made up my mind ... that if it was gonna come down to it, he was going to have to work to kill me," Shaw said.
Cordero said there were about 30 people in the restaurant at the time of the shooting.
He said the first victim, identified by authorities as Joe E. Perez, 20, of Nashville, was killed at the front door of the restaurant. Cordero said the second victim was a friend, a cook at the Waffle House identified by police as Taurean C. Sanderline, 29, of Goodlettsville, Tennessee, who was outside on a cigarette break when he, too, was fatally shot while trying to run from the gunman.
The gunman fired into the window of the restaurant, shattering it, before entering and unleashing more gunfire. Killed inside the restaurant was 21-year-old DeEbony Groves, from Gallatin, Tennessee. Groves was a student at Belmont University.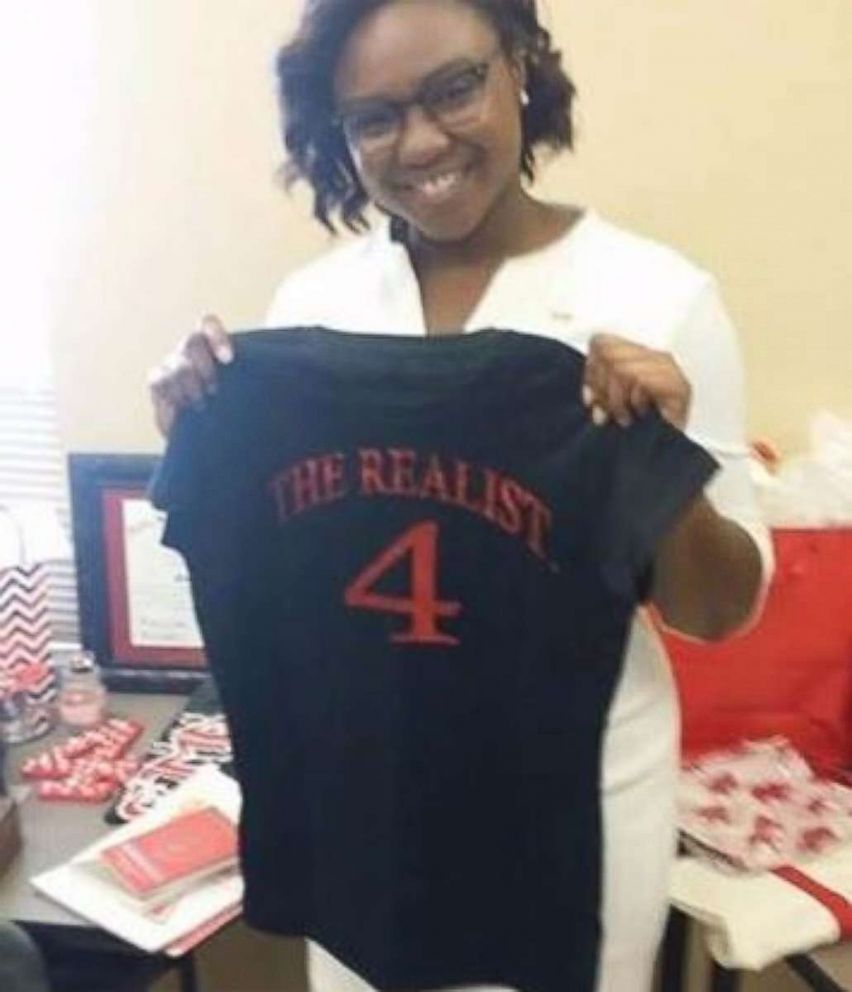 "The entire campus community is shocked and devastated by how such senseless violence has taken the life of this young woman, an individual full of immense potential," the school said in a statement. "We extend our thoughts and prayers to her family and friends as they come to terms with unimaginable grief."
Akilah DaSilva, 23, of Antioch was also shot and later pronounced dead at Vanderbilt University Medical Center, police said.
"Once he started shooting inside I dropped to the ground and I started to crawl around my car because I didn't know if he was going to come after me," Cordero told ABC News. "So I was able to see his feet from underneath the car. Once he went inside I tried to run across the parking lot and I fell because my legs just ... I was scared."
Cordero said the shooter seemed to remain silent, saying nothing during the rampage.
But Shaw said the gunman was cursing at him for intervening "like I was in the wrong trying to save my life."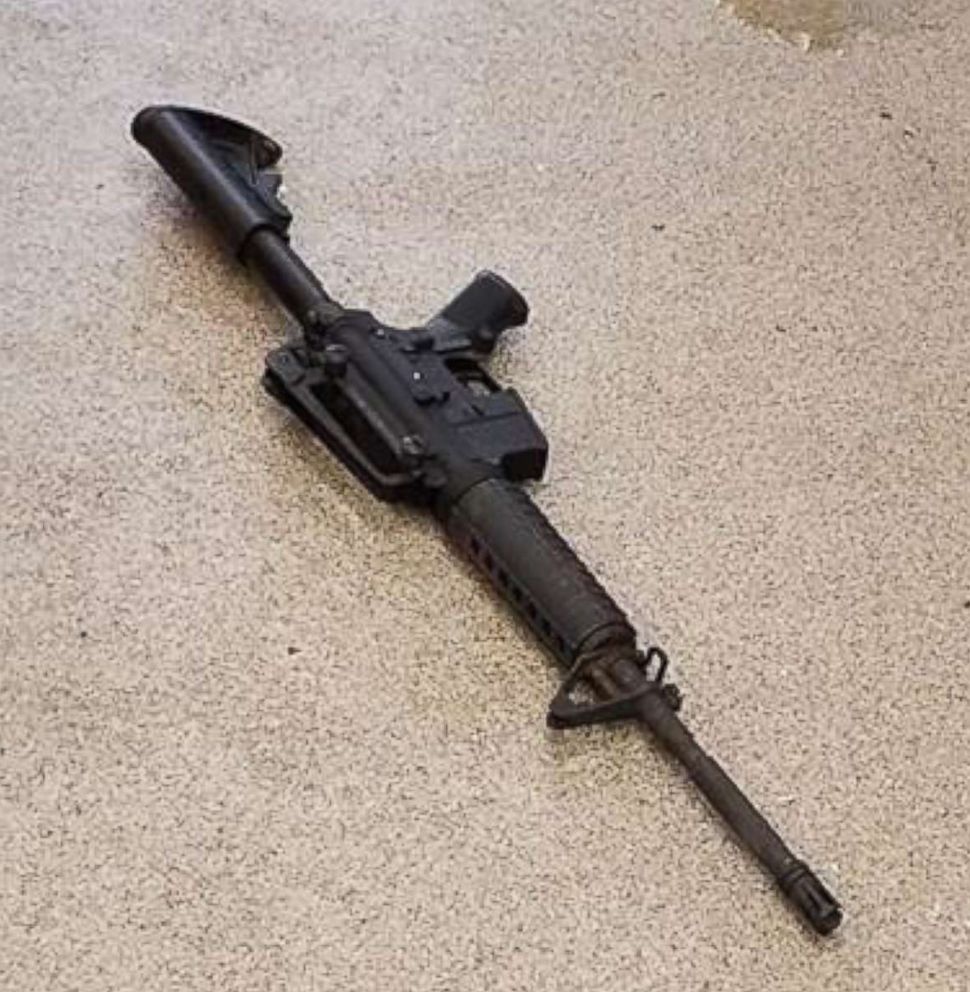 Don Aaron, a spokesman for the Metropolitan Nashville Police Department, said the suspect arrived at the restaurant in a gold-colored Chevrolet Silverado pickup at 3:19 a.m.
"Reinking sat in the pickup truck for three-and-a-half to four minutes just looking at people inside the restaurant," Aaron said. "After about four minutes, Reinking got out of his truck armed with an AR-15 rifle and started shooting."
He said Reinking was only wearing a green jacket with nothing on underneath, Aaron said.
Aaron said the gunman shed his jacket after Shaw wrestled away his weapon. He said the suspect fled on foot, leaving his truck parked outside. The truck was registered to Reinking, he said.
Police found several ammunition cartridges in Reinking's jacket, which he left at the scene, Aaron said.
Aaron said police believe Reinking ran to a nearby apartment complex where he lives, put on a pair of pants and ran into the nearby woods shirtless.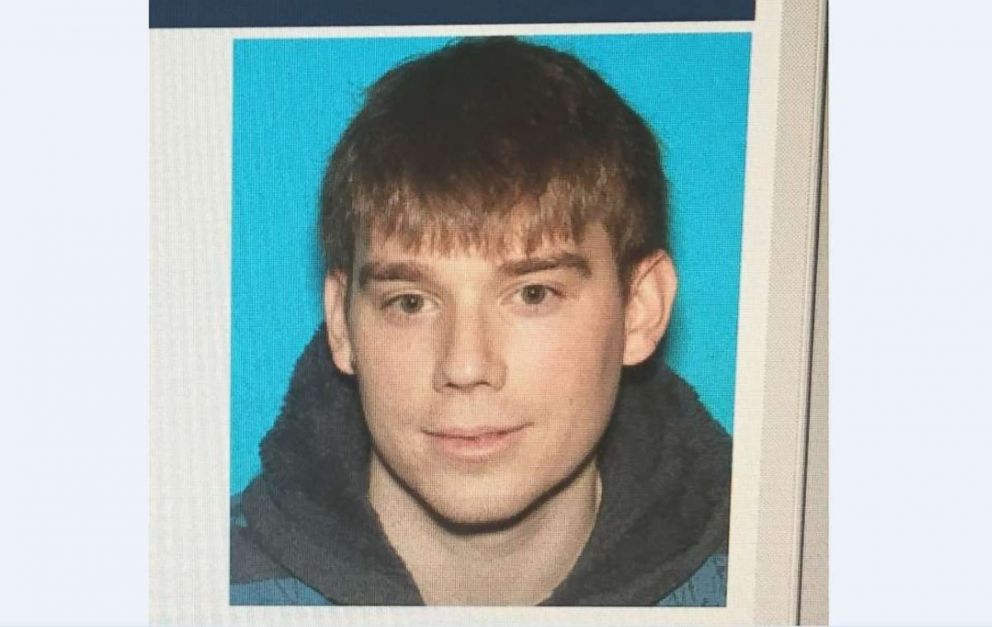 He said Reinking's has an Illinois driver's license and is known to law enforcement in Illinois. Reinking is believed to be from Morton, Illinois, but had been living in the Nashville area since the fall of 2017, Aaron said.
A motive for the shooting remains under investigation, Anderson said.
"We suspect some mental issues, but at this time there's no note, no verbal explanations," Anderson said. "So we don't have a motive at this time."
Todd Hudson of the U.S. Secret Service Nashville Office said Reinking was arrested on July 7, 2017, after he allegedly crossed an exterior barrier at the White House, breached a restricted area and refused to leave. Hudson said Reinking asked to meet with the president.
He was arrested on suspicion of unlawful entry and later interviewed by FBI agents in Illinois.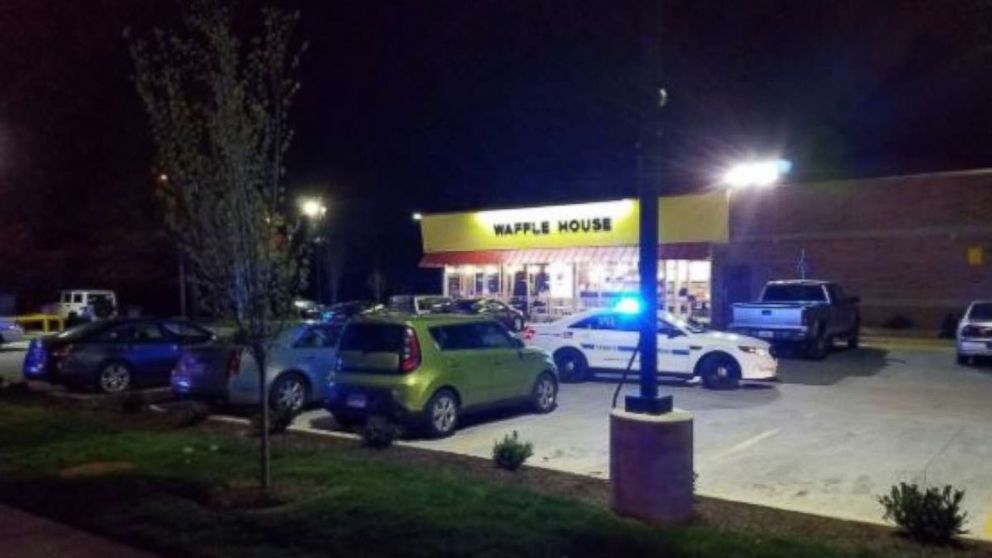 Reinking entered a deferred prosecution agreement over the misdemeanor charge on July 26, which called for him to stay away from the White House for four months and perform 32 hours of community service, the U.S. Attorney's Office for the District of Columbia said. He met those conditions and the case was dismissed Nov. 17.
As a result of the White House arrest, Reinking's firearms license was revoked and his four guns were seized by the Tazewell County, Illinois, Sheriff's Office.
Matthew Espenshade, special agent in charge of the FBI's national office, said the bureau's agents conducted a thorough investigation of Reinking, including database reviews and interviews with people familiar with Reinking.
"After conducting all appropriate investigation, the FBI closed its assessment of Mr. Reinking in October of 2017," Espenshade said. "I feel confident that the FBI took the appropriate steps and did everything within our federal jurisdiction that we could at the time."
Anderson said the guns seized from Reinking were eventually turned over to his father, including the AR-15 rifle used in Sunday's shooting.
"It's my understanding the guns were surrendered to him [Reinking's father] and that's part of Illinois law because he could properly possess them," Anderson said. "At some point, he returned them to the son."
Anderson said only two of the Reinking's four guns have been accounted for: the AR-15 and another gun found in a search of his residence.
Two other guns, a hunting rifle and a handgun, have not been located and Anderson said he feared Reinking is now armed with them.
There were 35 officers from three precincts responding to the shooting, police said. The FBI and federal Bureau of Alcohol, Tobacco, Firearms, and Explosives agents were also assisting in the investigation.
Pat Warner, director of public relations and external affairs for Waffle House, called it a "very troubling" situation.
"We are sending our corporate team from Atlanta and heading to Nashville now," Warner said. "Our thoughts are with those affected."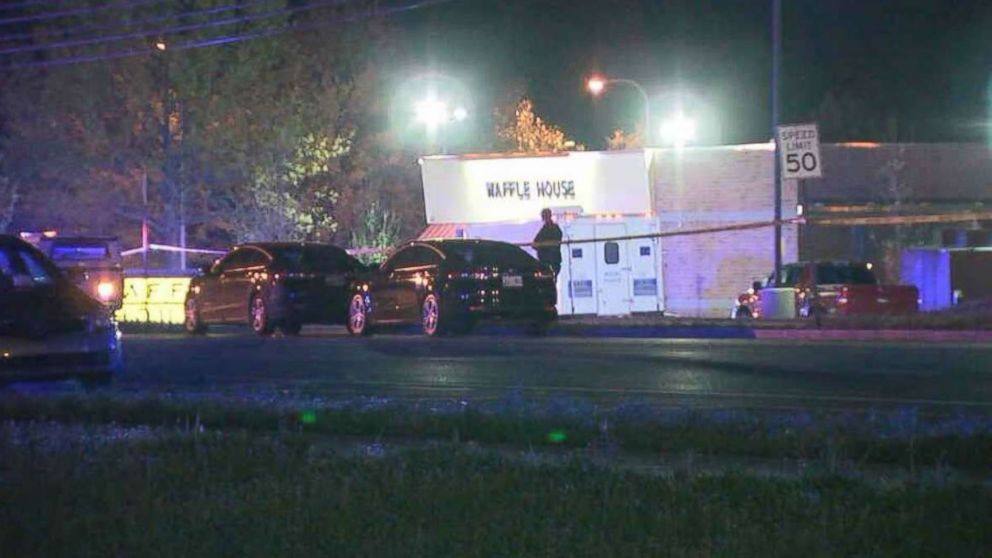 "We are deeply saddened by this tragic incident," Waffle House said later in a statement. "Right now, our first thoughts are with the victims and their families, and we will be there for them in this most difficult time. We are still gathering the details, and so we do not have much information to share ... This is a very sad day for the Waffle House family."
Nashville Mayor David Briley noted that the shooting came just seven months after another mass shooting at the Burnette Chapel Church of Christ in Nashville that left one person dead and seven injured. Emanuel Kidega Samson, a 25-year-old native of Sudan, was arrested and charged in the shooting.
"We need comprehensive gun reform to address mass shootings, domestic shootings, accidental shootings and homicides," Briley said. "If we can all just come together for the greater good, we can take these weapons of war off the streets of our country."
The mayor added: "Clearly the victims of this shooting deserve our prayers and our thoughts, but they also deserve leaders who will step up and take action and do something to get these weapons off our streets."