DeSantis weighs media strategy shift as donors fret about early campaign struggles: Sources
Top donors have been privately fretting about DeSantis' chances, sources say.
Only seven weeks into his 2024 campaign for the White House, Ron DeSantis is struggling to make a dent in former President Donald Trump's commanding lead in the Republican primary -- and the Florida governor's team is already looking for a possible media strategy reset while some top donors privately fret over the trajectory of the campaign, multiple sources tell ABC News.
DeSantis, who has been viewed in some more traditional Republican donor circles as the best shot at beating the former president for the GOP nomination, formally entered the race in May. But despite an impressive second-quarter $20 million fundraising haul, he has continued to trail Trump in national polls amid a series of early campaign stumbles.
Back in January, DeSantis trailed Trump nationally by just single digits, according to FiveThirtyEight's average of national polls. But since officially jumping into the race in May, DeSantis has seen his deficit balloon to nearly 30 points.
Amid that slow start, the DeSantis campaign has been weighing a shift in media strategy, sources tell ABC News. While candidates like former Vice President Mike Pence and former New Jersey Gov. Chris Christie have made regular appearances on CNN and MSNBC a part of their White House runs, DeSantis has largely shunned mainstream media outlets and has mainly stuck to more friendly platforms like Fox News and conservative news media -- a trend that has caught the eye of Trump and his team, sources said.
That may be about to change, according to multiple sources, who said the governor's team is leaning toward having DeSantis begin doing mainstream network interviews and possibly town halls.
The move would mark a stark shift in strategy for the governor's team, who sources said felt earlier in the year that DeSantis could afford to engage only with more friendly platforms and figures -- as evidenced by his campaign launch coming via a Twitter Spaces event hosted by Twitter CEO Elon Musk, who had previously expressed support for the governor.
In recent weeks, as Trump and his team have continued to hit DeSantis for avoiding tougher interviews, DeSantis' team has urged the governor to reconsider the strategy, sources said.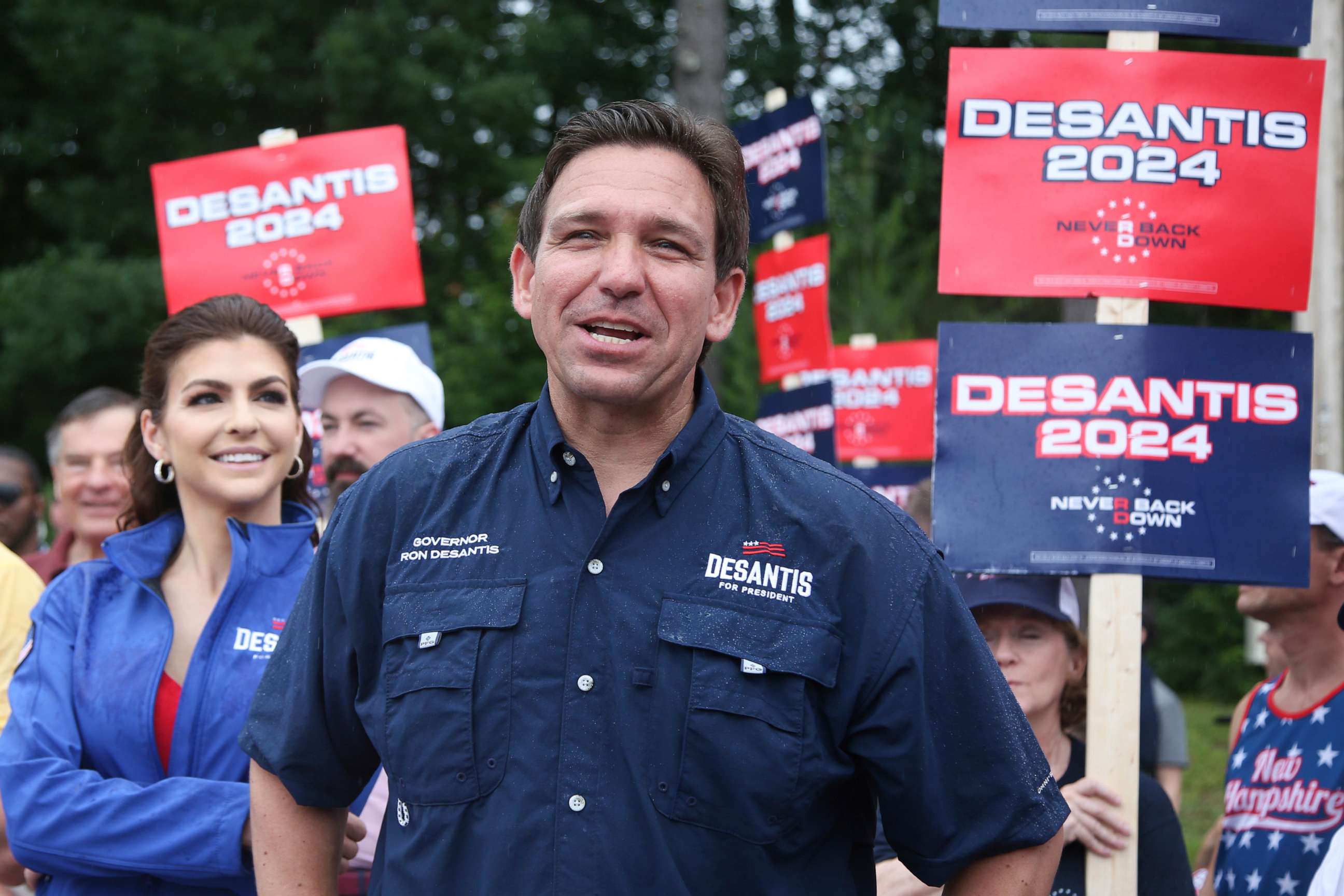 The potential shift would come a little more than a month from the first Republican primary debate in August, which will serve as DeSantis' biggest opportunity yet to introduce himself to Republican primary voters and to chip away at Trump's lead in the polls.
DeSantis' early struggles to catch Trump have led some of the Florida governor's big-money donors to privately question DeSantis' viability as a presidential candidate while Trump is still in the field, multiple sources told ABC News. Some donors have privately discussed holding their money until 2028, or until Trump is no longer a part of the presidential picture, sources said.
Hedge fund billionaire Ken Griffin, who early on had signaled plans to throw his support behind DeSantis' White House run, has in particular grown increasingly frustrated with how the Florida governor's early campaign has played out after hoping the governor would be the best bet to take on Trump in the primary, sources familiar with Griffin's thinking told ABC News.
Griffin has privately told people close to him, including other top donors, that he's growing impatient with waiting for DeSantis to show progress as a candidate, said a source familiar with Griffin's thinking. A source described Griffin as having "hit the pause button" on his support for the governor.
"My political participation is driven by values and policies, not poll numbers or personalities. I will continue to support candidates who relentlessly focus on policy solutions that ensure future generations can achieve the American Dream," Griffin said in a statement to ABC News. "I care deeply about all children having access to a high-quality education, preserving American competitiveness, guarding personal liberties, ensuring our communities are safe and secure, fiscal prudence, and maintaining America's leadership role on the global stage. I am committed to America being the greatest democracy in the world."
A spokesperson for the DeSantis campaign did not return a request for comment when asked about the possible change in media strategy or the concerns of some donors, including Griffin.
When asked about Griffin's support for DeSantis, a spokesperson for the billionaire reiterated that Griffin "continues to assess the field," and denied that he had paused support. The New York Times reported back in April that Griffin was assessing the field.
Still, many donors continue to view DeSantis as the only candidate who can take on the former president. Onetime Trump megadonor Hal Lambert, who is now backing DeSantis, told ABC News that he has not heard complaints from donors regarding the Florida governor's current standing in the polls.
"People that are concerned about these polls, I would just say -- Trump's poll numbers aren't great in my opinion," Lambert said. "I mean, 50 percent? You have half the party that doesn't want you? His numbers should be much higher."
The Florida governor's team is hopeful that if DeSantis can start inching back up the polls -- possibly after a strong showing in the upcoming debate -- the billionaire will reassess his stance and "come back" to support DeSantis, sources said.
"$150 million was just raised to elect Gov. Ron DeSantis the next president of the United States," Dave Vasquez, national press secretary for the super PAC backing DeSantis, Never Back Down, said in a statement to ABC News. "That combined haul is the largest in one single quarter out of any candidate in this primary. Not only are we outpacing the competition in fundraising, we're already lightyears ahead of the field when it comes to infrastructure on the ground -- that's what makes everyone going up against Gov. DeSantis so nervous."
Never Back Down says supporters have knocked on over 690,000 doors nationwide, and over 7,000 in Iowa, where the first GOP caucus will take place. The group also says it has 400 full-time paid canvassers deployed across the country.
Sources have told ABC News that some top donors who had planned to support DeSantis have started "shopping around" to other primary candidates, including taking meetings with the likes of Christie, Sen. Tim Scott, and former South Carolina Gov. Nikki Haley.
But Lambert said he isn't concerned.
"I think the polling will come around," Lambert said of DeSantis. "He's not running a campaign to juice polling numbers."
Editor's Note: This story has been updated.