Canadian wildfires are impacting states as far south as Georgia, with New York City experiencing some of the worst air quality in the world.
The wind conditions that are bringing plumes of smoke south are expected to last for several more days, experts say, as some fires in Canada continue to burn out of control.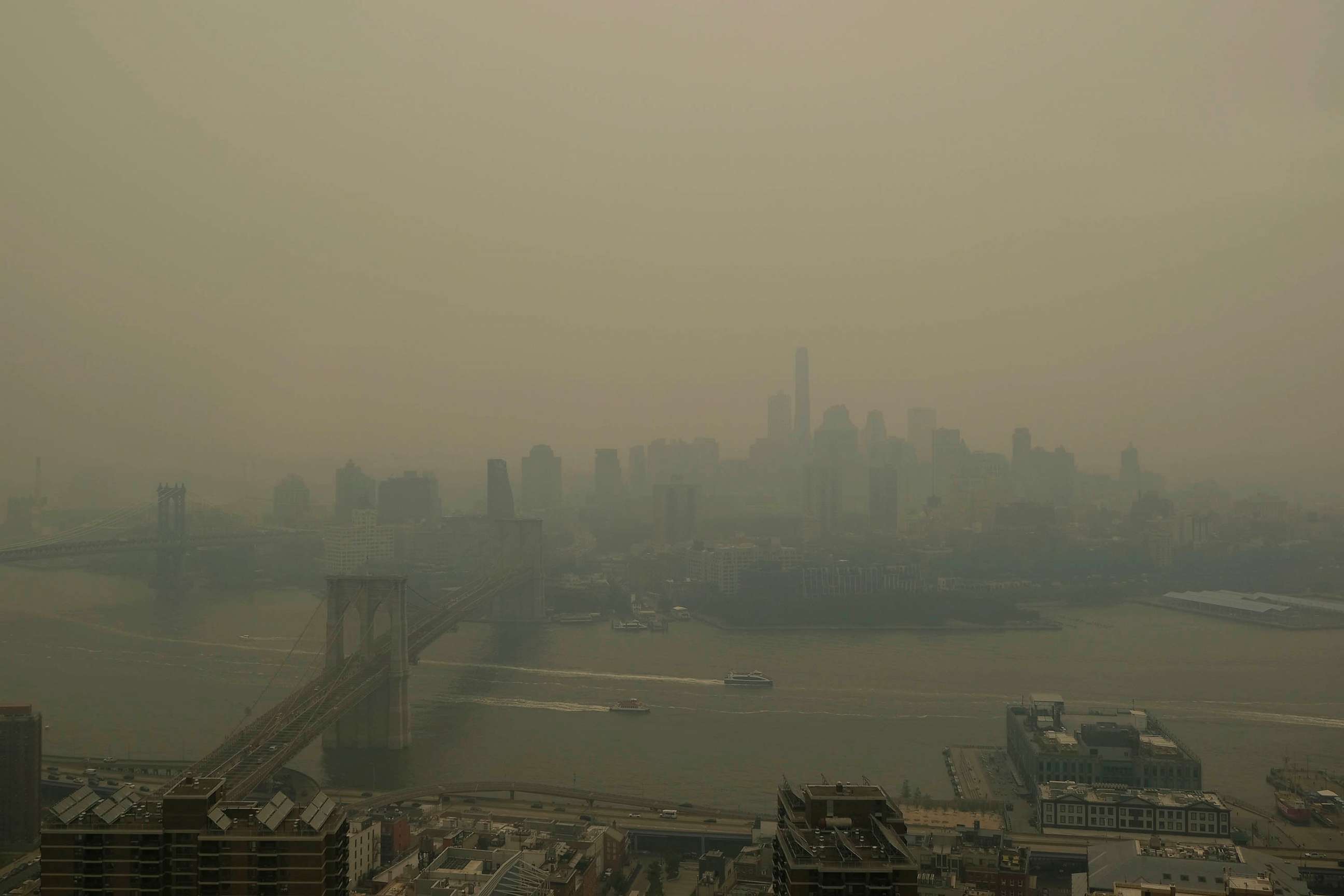 The smoke is primarily from several wildfires burning in Quebec that is being blown south in a narrow band by an intense storm system around Nova Scotia that has not moved in several days, according to Mark Wysocki, an air pollution meteorologist who teaches at Cornell University in Ithaca, New York.
"The smoke plumes from these fires, as they rise, they're all going to be concentrated to a very narrow kind of river, and they're going to be carried south right across us," Wysocki told ABC News. "The problem is there's no chance for the pollutants to disperse. They're just going to be held together in a high concentration."
"As long as you're underneath that plume, you're going to have the highest amount," he continued.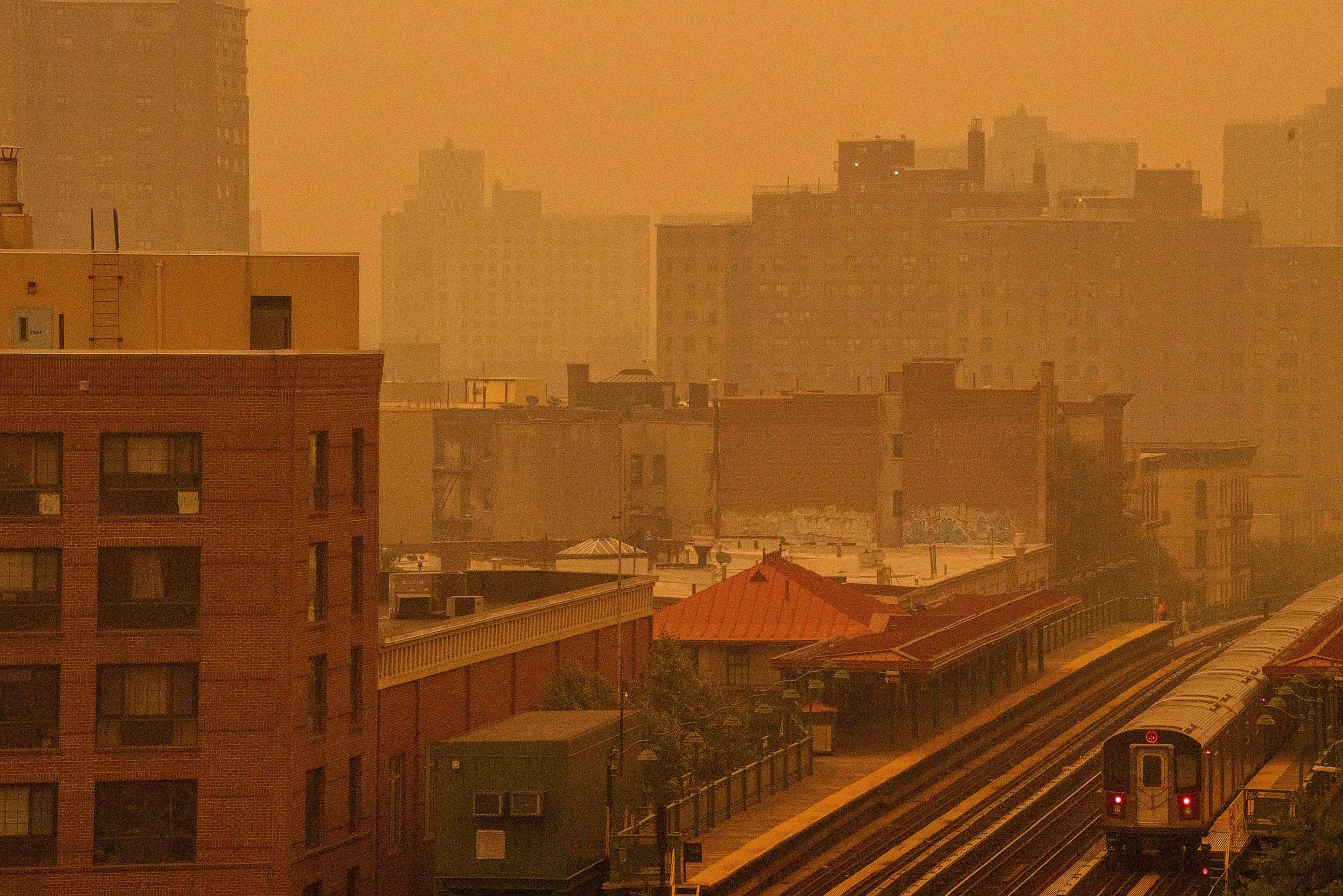 New York City on Wednesday shattered its record for the highest Air Quality Index since records began in 1999, as skies turned an eerie orange. The city approached 500 on the AQI Wednesday evening, which put it in the worst category -- hazardous -- on the U.S. government's air quality tracker.
"We're in a very unusual situation here because we have substantial forest fires going on in eastern Canada, which is not as common as having those kinds of fires happening in the western part of North America where the climate is drier. So that is unusual by itself," Tony Broccoli, professor of atmospheric science at Rutgers University in New Brunswick, New Jersey, told ABC News. "And we also have a particularly persistent weather pattern that's bringing the smoke from those fires south into the northeastern part of the United States."
"Both of those things are unusual individually; having them happen at the same time is very unusual," he continued.
Wysocki and Broccoli said the wind conditions bringing the smoke south are expected to change by the end of the week. As the intense storm over Nova Scotia gradually moves northeast, the winds will start to shift over parts of Ontario, where wildfires aren't as large, Wysocki said.
"That should improve our air quality down here, at least in the Northeast," he said.
Until then, officials as far south as Georgia are advising residents to be mindful of poor air quality conditions as the wildfires in Canada burn.
More than 400 wildfires are active across Canada currently, including nearly 240 that are considered out of control, Canadian officials said Wednesday.
Current projections show there will be "higher-than-normal" fire activity across Canada during the 2023 wildfire season due to warm temperatures and dry, drought conditions, according to Natural Resources of Canada.
"Our modeling shows that this may be an especially severe wildfire season throughout the summer," Canadian Prime Minister Justin Trudeau said at a news conference earlier this week.
It's too early to predict whether wind conditions will lead to parts of the U.S. seeing a repeat of the current prolonged, poor air quality conditions during the fire season, Broccoli said. There could also be fast-moving storms that impact the air quality for just a few hours, Wysocki said.
However, smoke will continue to be a concern this summer from the Great Lakes area to the Northeast as wildfires burn in remote, hard-to-reach areas in Canada, according to Wysocki.
"It's not a really good situation that we are in for this summer," Wysocki said. "There's no end in sight for these [fires] to be put out."