Family thanks worker who invited teen with autism to help stock groceries: 'He's the superstar'
The family started a GoFundMe for the worker; the teen was offered a job.
A supermarket worker is getting special recognition from people across the globe and from one family in particular after video was shared of him stocking items alongside a teen with autism who'd expressed interest in helping.
Jordan Taylor, 20, was stocking orange juice at Rouse's Market in Baton Rouge, Louisiana, on Sunday, as Jack Ryan Edwards, 17, and his father shopped. According to Edwards' sister, Delaney Edwards Alwosaibi, Taylor noticed Edwards, who has autism, watching him as he stocked the cooler's shelves.

After a bit of conversation, the two began working together, adding the orange juice to the refrigerated section. Edwards' father captured the moment on his cellphone and sent it to Alwosaibi.
"For my family to watch the video and to see him (Jack Ryan) having an accomplishment and doing something, it might mean nothing to other people ... [but] for us this was his shining moment," she told ABC News Thursday. "This was his big day."
"This was his (Edwards') shining moment," Alwosaibi said.
In a Facebook post on Monday, Alwosaibi wrote: "Talk about a stand up young man!!!!! ... We all know autism makes makes going out difficult and sometimes grocery stores can be a challenge. This young man (Taylor) took the time to slow down and allow Jack Ryan to help over 30 minutes, guiding him as he finished his task. He could have ignored him. He could have made an excuse and said he couldn't allow him to help. Instead, he let him have his moment and in turn gave my family a moment we will never forget."
She ended the post saying she wanted to do something "awesome" for Taylor and asking others for ideas.
On Wednesday, she launched a GoFundMe for Taylor.
"Jordan told me he loves math and would like to possibly be an educator someday. All I know is, whatever he decides to do he will excel! Thank you to Jordan for what you did for our Ziggy, we will never forget!" she posted on the GoFundMe page.
As of Thursday, the campaign had reached more than $58,000.
Donors from across the world donated nearly $50,000 in the first 24 hours, according to a GoFundMe spokesperson.
"I just wanted to tell everyone across the nation who has stepped up to say kinds words to Jack Ryan and about Jack Ryan that we really appreciate it," Alwosaibi said. "It means a lot to our family. ... I know [Jack Ryan] appreciates it."
Alwosaibi said that every time Edwards and the family returns to Rouse's, he smiles "bigger and bigger." She said the interaction with Taylor had helped Edwards feel more comfortable at the supermarket. And, she said the market had offered Edwards a job and he'd accepted.
"He knows that Rouse's welcomes him as a new employee," she said. "We're working out the details for him to start a part-time stocking job at Rouse's in the near future."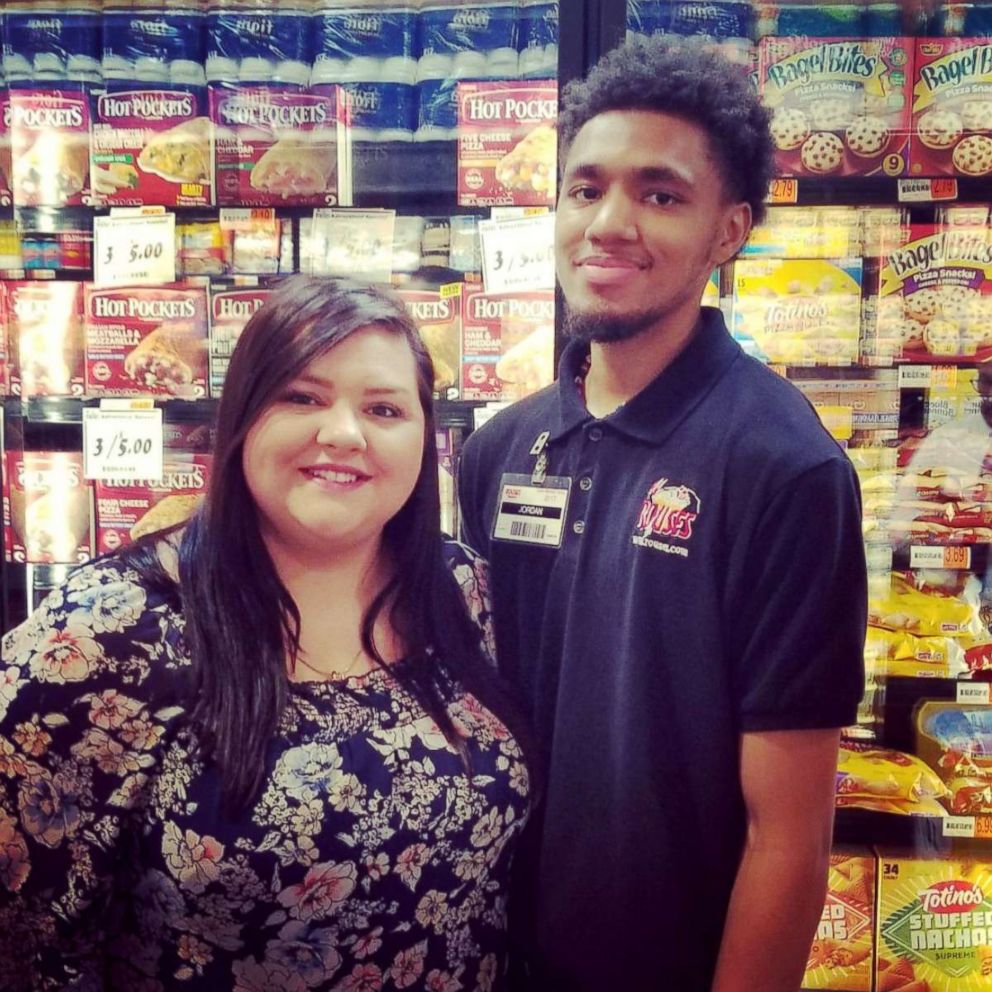 On Thursday, Alwosaibi again thanked Taylor for inviting her brother to help him stock that day.
"He's the superstar of all of this," she said of Taylor. "The amount that people have given to the GoFundMe for Jordan is just astounding and it shows that there's still good people. ... I hope that people follow his lead."