— -- The 19-year-old who is accused of killing 17 people and injuring dozens more when he opened fire on a South Florida high school Wednesday afternoon told investigators that he heard voices in his head, giving him instructions on what to do to conduct the attack, law enforcement sources told ABC News.
The voices were described as "demons" by law enforcement sources.
Those who knew suspect Nikolas Cruz described him as a troubled teen who was largely alone in the world. An attorney for the family who had taken Cruz in after his adoptive mother died said he was "depressed" following her death but had been going to therapy, while a student who participated in Junior ROTC with Cruz described him as a "psycho" who was enthusiastic about weapons.
Cruz was apprehended by authorities more than an hour after he was dropped off on campus by an Uber, Broward County Sheriff Scott Israel said in a press conference Thursday.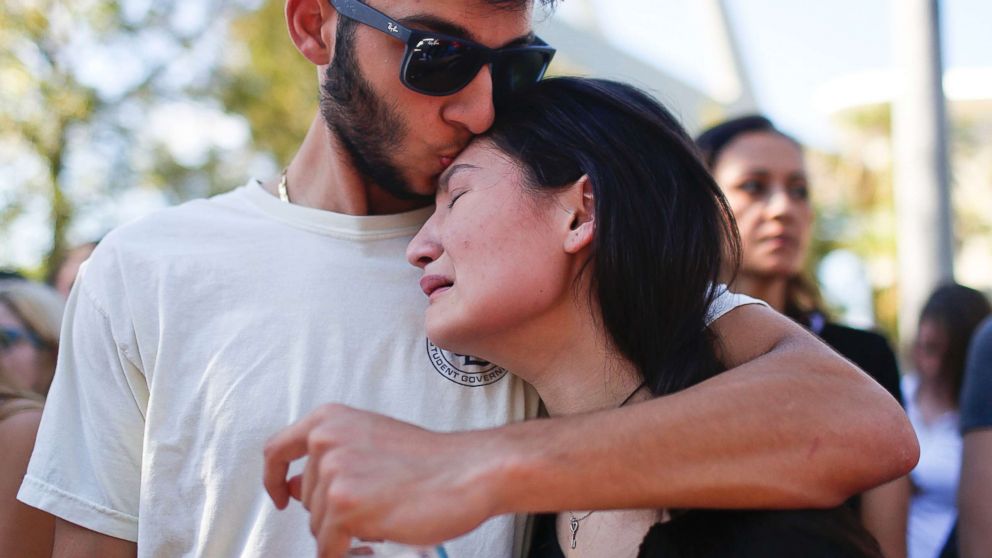 After Cruz was apprehended and read his Miranda rights, he allegedly stated to authorities that he was the gunman who entered the school with an AR-15-style rifle and began shooting students he saw in the hallways and on school grounds, according to a probable cause affidavit from the Broward County Sheriff's Office. He also allegedly stated that he brought additional loaded magazines to campus and kept them hidden in a backpack until he got there and began the attack, the affidavit states.
Broward Health hospitals received 17 patients after Wednesday's shooting at Marjory Stoneman Douglas High School in Parkland. As of Friday morning, those hospitals had one patient in critical condition, seven patients in fair condition and one patient in good condition, according to a statement from Broward Health.
Cruz attended Marjory Stoneman Douglas High School from Jan. 13, 2016, to Feb. 8, 2017, according to school records obtained by ABC Miami affiliate WPLG.
Cruz bought the weapon allegedly used in the crime just three days after his last day attending the school, on Feb. 11, and picked it up one week later on Feb. 18, 2017, following a background check, an attorney for the gun store owner said in a statement.
The Marjory Stoneman Douglas High School shooting and aftermath
On Feb. 14, 2018, a former student at the Marjory Stoneman Douglas High School in Parkland, Fla., entered the school and opened fire with an AR-15 style rifle, killing 17 students and staff and injuring 17 more in one of the deadliest school attacks in U.S. history.

Here, the school is pictured from the air after reports of the shooting on Feb. 14, 2018.
An assault involving Cruz occurred on Jan. 19, 2017, the records show. On that same day, he was suspended for one day and a threat assessment was ordered for him. He had been suspended for two days one month earlier. It is unclear what the result of the threat assessment was or whether one was even conducted.
School officials declined to answer questions about Cruz's record, citing privacy rules.
Here is the timeline of how the shooting unfolded on Wednesday, according to authorities:
2:06 p.m.
An Uber driver picks up Cruz, according to a timeline from the Broward County Sheriff's Office.
2:19 p.m.
Cruz allegedly dropped off on campus by an Uber driver, around the time students were to be dismissed for the day.
2:21:18 p.m.
Cruz enters Building 12 by the east stairwell with a black rifle stashed inside a black, soft case.
2:21:30 p.m.
Cruz exits the stairwell and removes the rifle from the rifle case.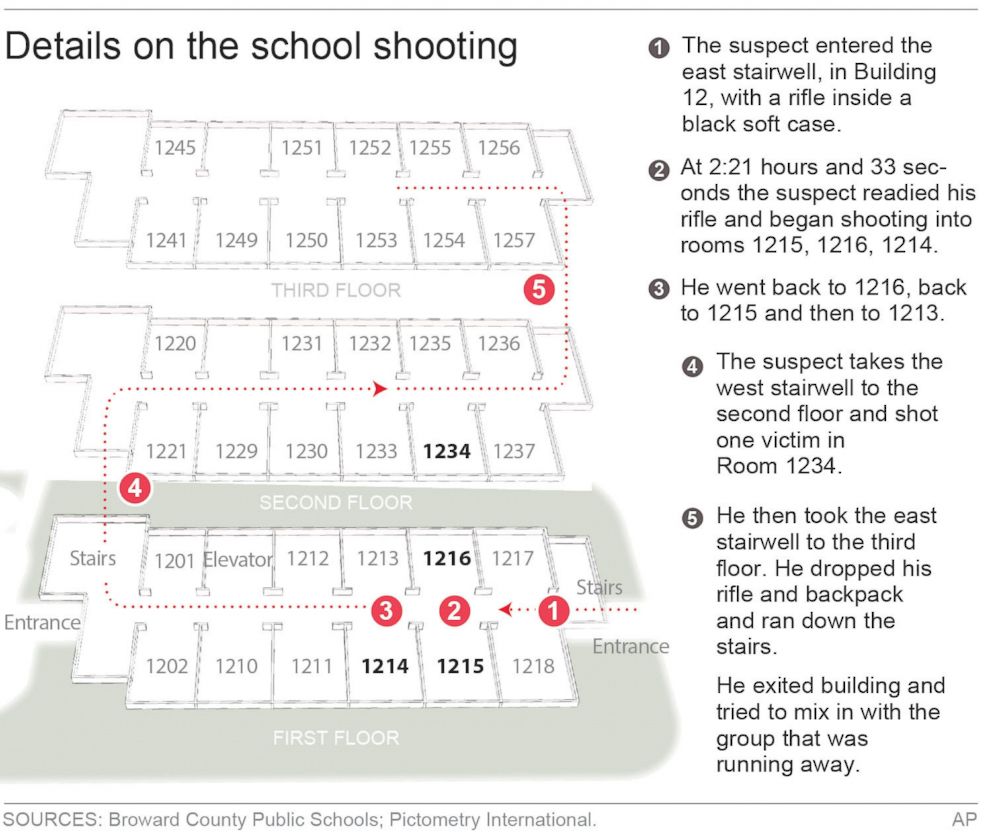 2:21:33 p.m.
Cruz allegedly readies his rifle before shooting methodically into classrooms 1215, 1216 and 1214. He then went back and shot into rooms 1216, 1215 and 1213, Israel said.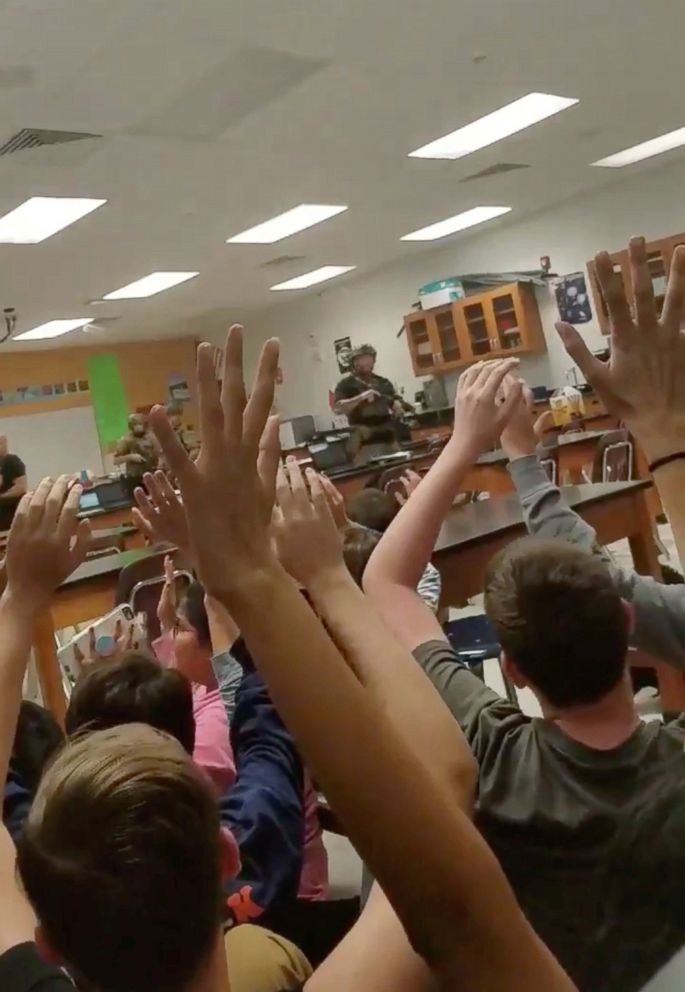 2:24:39 p.m.
Cruz then takes the west stairwell to the second floor and shoots one victim in room 1234, Israel said.
2:27:37 p.m.
Cruz takes the east stairwell to the third floor, drops his rifle and backpack, and runs down the stairs.
2:28:35 p.m.
Cruz exits Building 12 and runs toward the tennis courts.
2:29:51 p.m.
Cruz takes a southbound turn on foot, crosses a field and runs west, attempting to blend into groups of his former classmates as they fled the scene, "fearing for their lives," Israel said.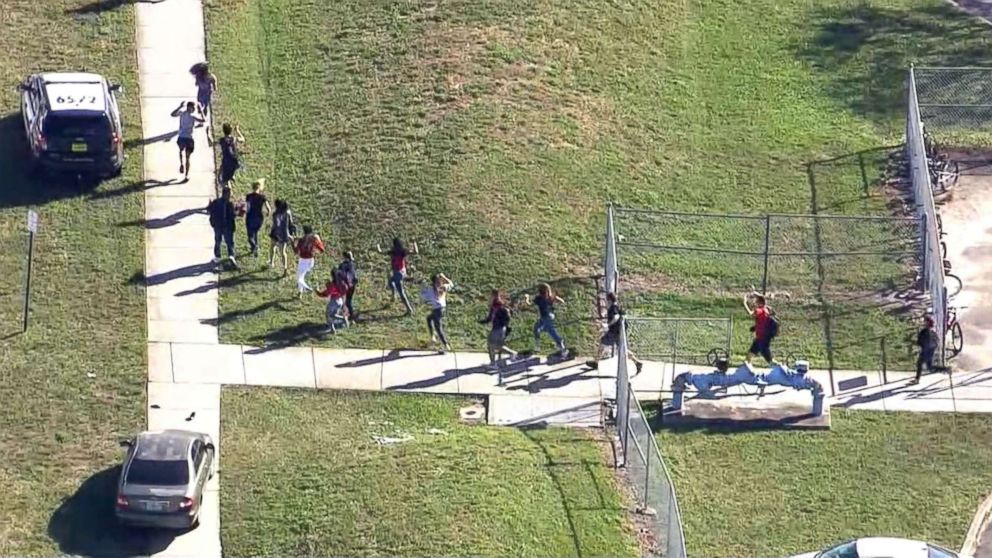 2:50 p.m.
Cruz arrives at a Walmart near the school, Israel said. There, he purchased a drink at the Subway before leaving the Walmart on foot.
3:01 p.m.
Cruz went to McDonald's and sat there for a short period of time before leaving on foot, Israel said.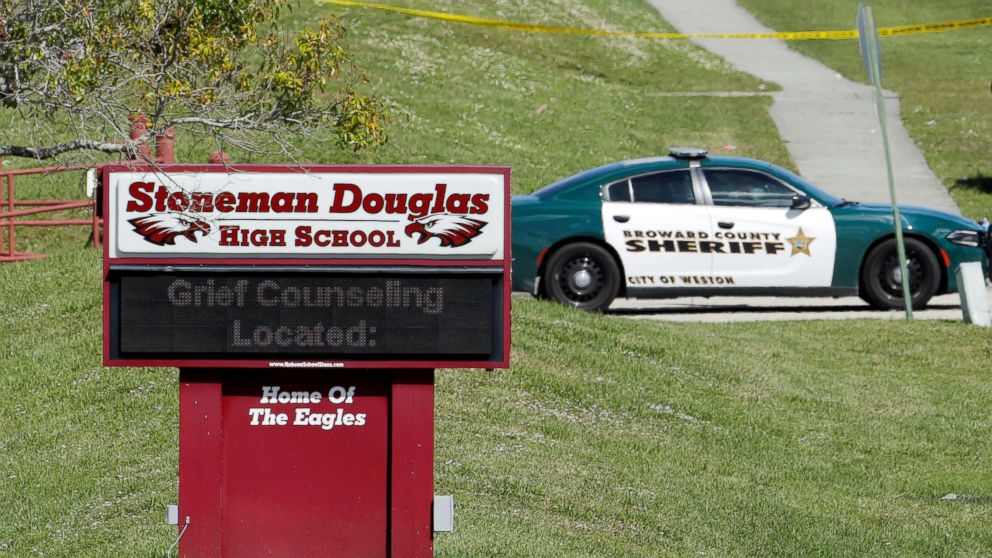 3:41 p.m.
Cruz is detained without incident, Israel said.
The officer who detained him, Michael Leonard of the Coconut Creek Police Department, said in an earlier press conference Thursday that he spotted someone matching the description of the shooting suspect in a residential neighborhood in Coral Springs, near the school.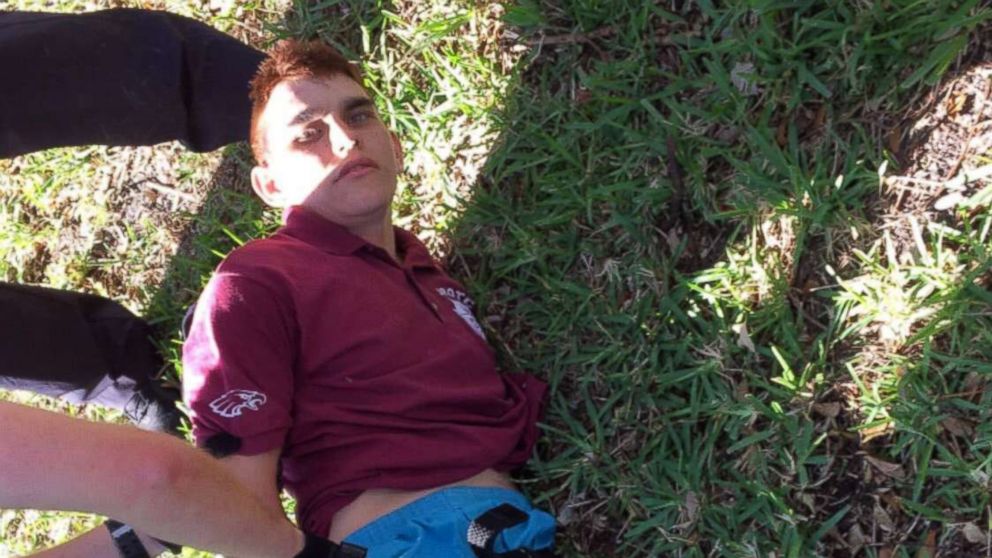 Cruz looked like a "typical high school kid," Leonard said. After he saw him, he "immediately" pulled over his vehicle, and Cruz complied with his orders, he said. Cruz was then positively identified by homicide detectives from the Broward Sheriff's Office and taken into custody.
Thursday afternoon
Cruz makes a brief court appearance. He is charged with 17 counts of premeditated murder and is being held at the Broward County Jail without bond.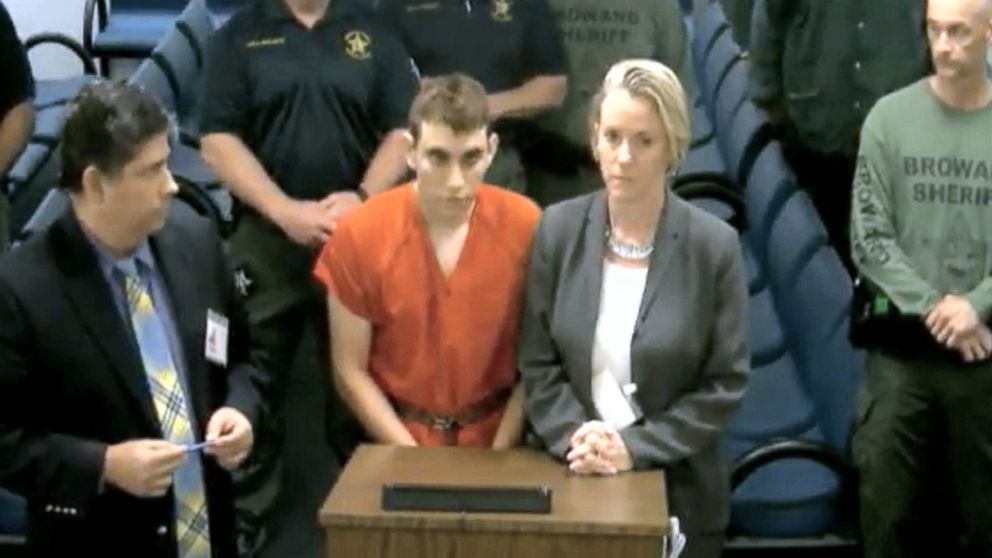 Multiple vigils were being held in the Parkland area Thursday in memory of the victims who died in the attack.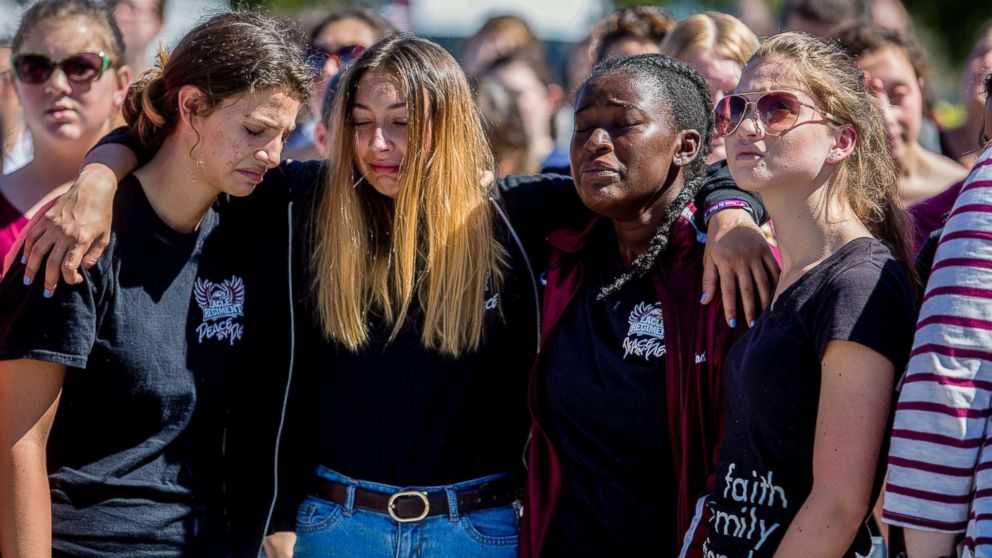 ABC News' Matt Gutman and Josh Margolin contributed to this report.