Blake Mompher, 5, loves Halloween and the color yellow.
Born with spina bifida -- a birth defect in which the spinal column fails to completely close during pregnancy -- and an infectious smile, Blake, a preschooler from Prospect, Ohio, gets around in a wheelchair.
But this Halloween, his favorite holiday, Blake is making moves and celebrating in a handmade, school-bus costume designed by his grandfather Gary Mompher, the family's "handyman."
"I tinker around a lot so I thought it would be fun to make it," Gary Mompher told ABC News. "I love to see Blake smile."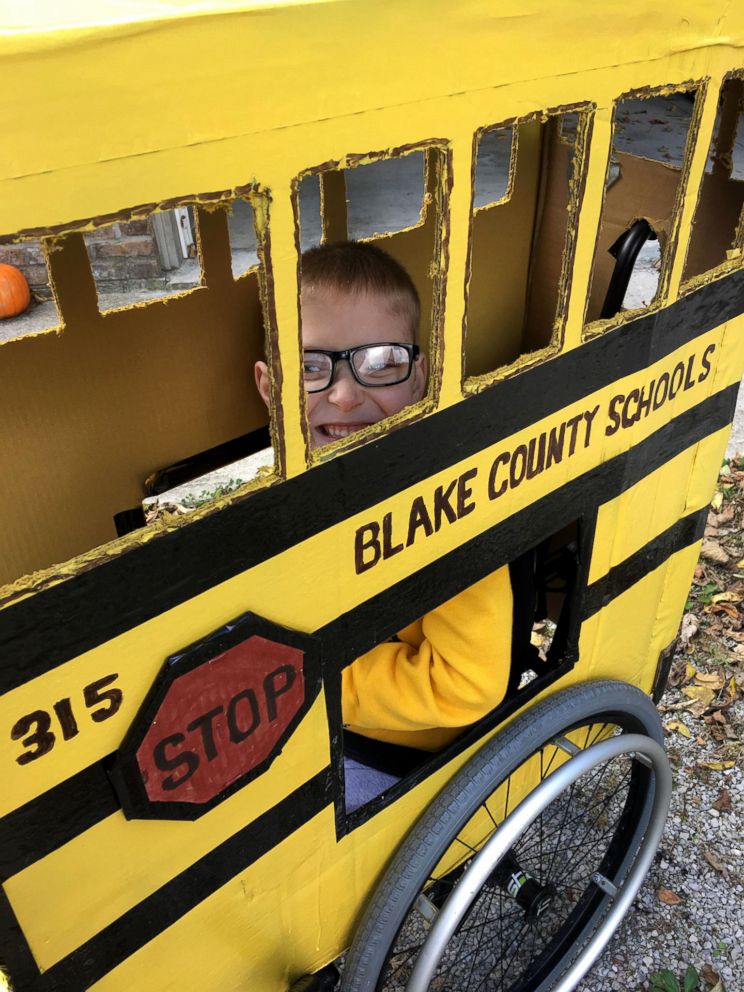 The plan was simple: Megan Mompher, Blake's mother, would supply the idea and Aric Mompher, his father, would provide the cardboard boxes.
Blake, the inspiration, witnessed the magic unfold every step of the way.
"We always had a bus in mind because he really likes school buses," said Megan Mompher, who said she'd showed an image on Pinterest to her father-in-law. "I said, 'Do you think this is something that you could do?'"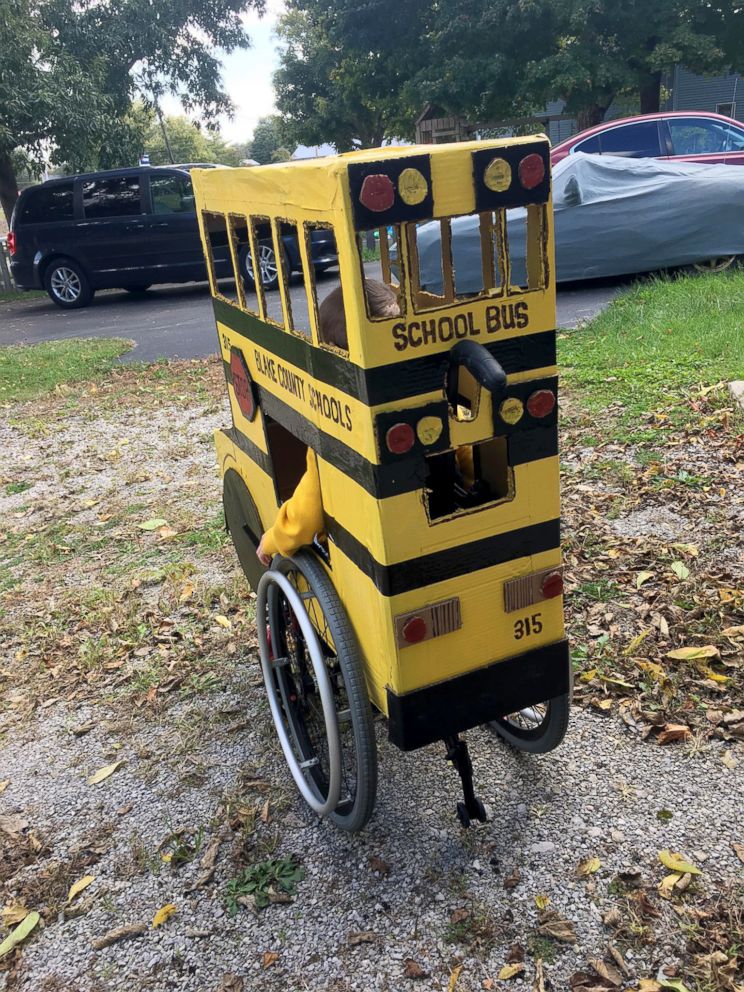 So Gary Mompher went to work, toiling for three days in the garage and spilling bright-yellow paint on the garage floor. The edges had to be clean and the details had to be perfect, he said. Gary Mompher even included custom lettering on the side of the bus.
"Blake lives in a county and it's a school bus so we threw in the words together and named it 'Blake County Schools,'" Gary Mompher said. "It was that easy."
Video and photos Megan Mompher posted online that have now gone viral show Blake maneuvering his custom-made school bus, the costume molded around his wheelchair.
Four circular, hand-painted red lights adorn the front and the words "BLAKE COUNTY SCHOOLS" are plastered in bold, black letters on the side of the vehicle.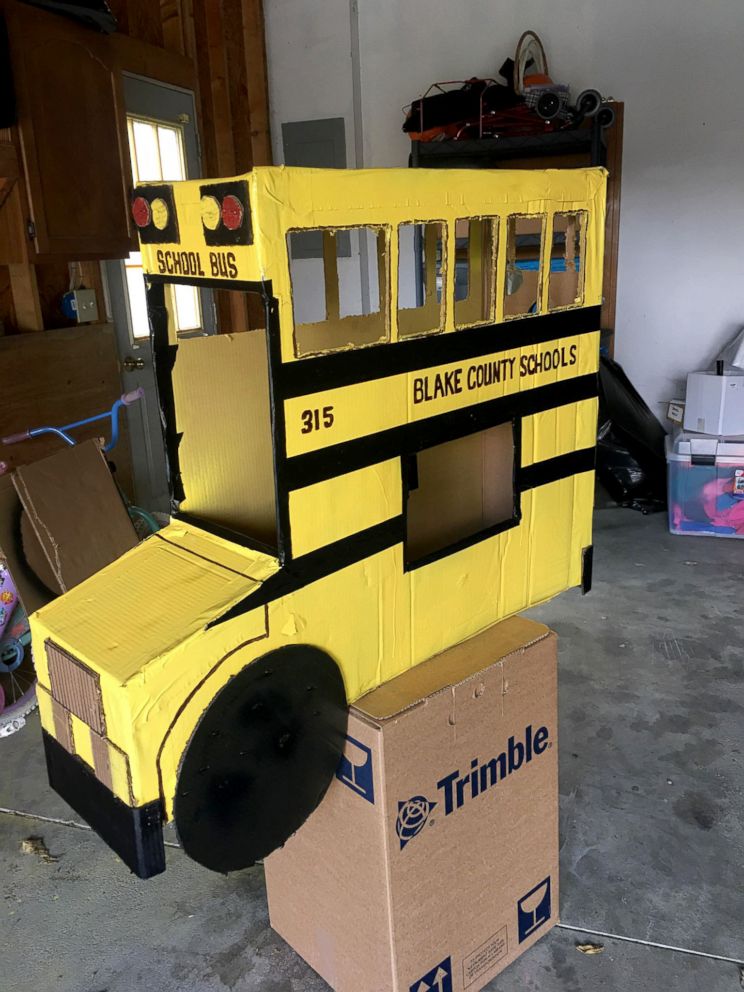 "Blake sees other kids running around and they're able to wear full-on costumes and he just can't do that," Aric Mompher said. "Our goal as parents is to make Halloween special for him and it so happens that my dad is very talented."
Gary Mompher's talents also shined in 2016, when the grandfather constructed a bulldozer costume for Blake from scratch. A yellow worker's helmet sat on top of the yellow frame but the crawler was heavy and prevented Blake from moving freely on his own.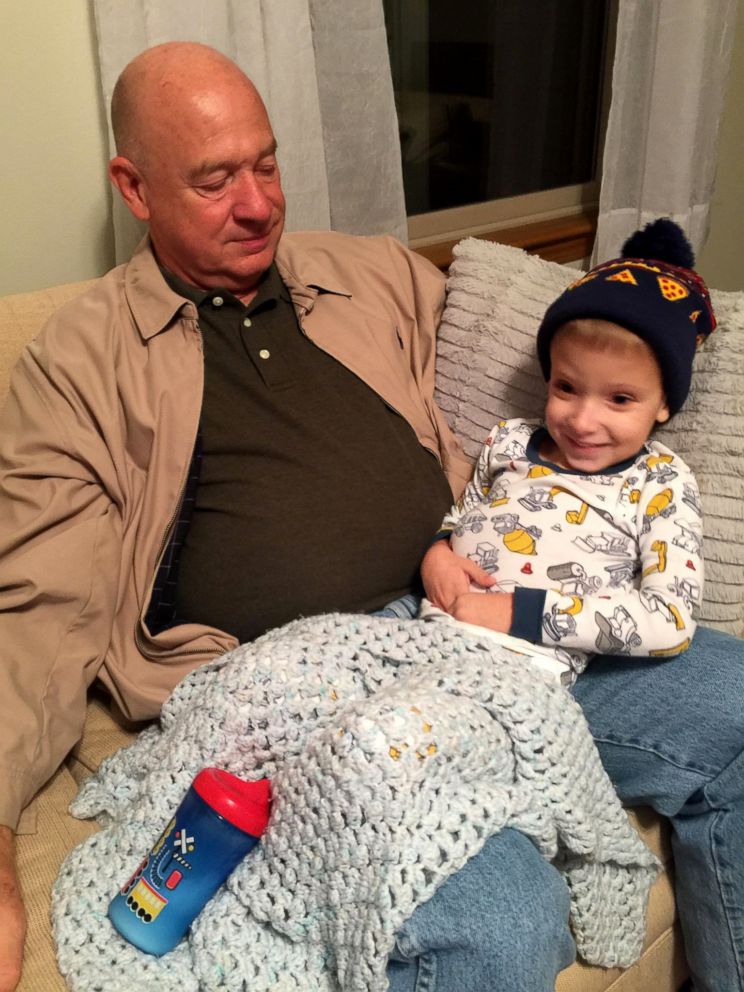 Last year, health problems prevented Blake from celebrating with an elaborate costume so Gary Mompher made sure to pull out all the stops this year.
"It was like a miracle to see him get in the school bus," said Gary Mompher, describing the moment Blake tried on his costume for the first time earlier this month. "He immediately started rolling the chair and trying to run me down and everybody down."
On Friday, Blake attended a school Halloween function in his school-bus costume, showing off to friends and teachers who greeted him with high-fives and M&Ms, his favorite candy.
"Just to see him happy, it means the world to us as parents," Megan Mompher said. "The joy in his face and the smile that Blake brings. It outweighs the hard that he goes through."
The Mompher family hopes to continue the tradition next year with Blake's Halloween costume for 2019 already set: a yellow fire truck.