As Hurricane Florence nears, North Carolina town still reeling from Matthew hunkers down
"Two years ago, it was so very traumatic for me," one resident told ABC News.
September 13, 2018, 3:22 PM
A town in North Carolina that remained under floodwaters for days after Hurricane Matthew is again bracing for another powerful storm.
Hurricane Matthew hammered the southeastern United States in October 2016, devastating entire communities and killing dozens of people -- many in North Carolina, which experienced the worst flooding since Hurricane Floyd in 1999.
The town of Lumberton is about 70 miles from North Carolina's shoreline, but it was one of the worst-hit areas by Matthew. The storm's heavy rains caused eight dams to be breached in the Tar Heel State.
The overflow of water from two of those damaged dams swallowed Lumberton, leaving homes, businesses, cars and roadways underwater. Emergency crews had to use helicopters and boats to rescue unsuspecting residents, some of whom were stranded on rooftops.
"I've lived here all my life, I grew up right down the street. All my life and we've never had anything like that," resident Linda Bostic told ABC News in an interview Wednesday. "We had almost 20 inches [of water] in the house with Matthew."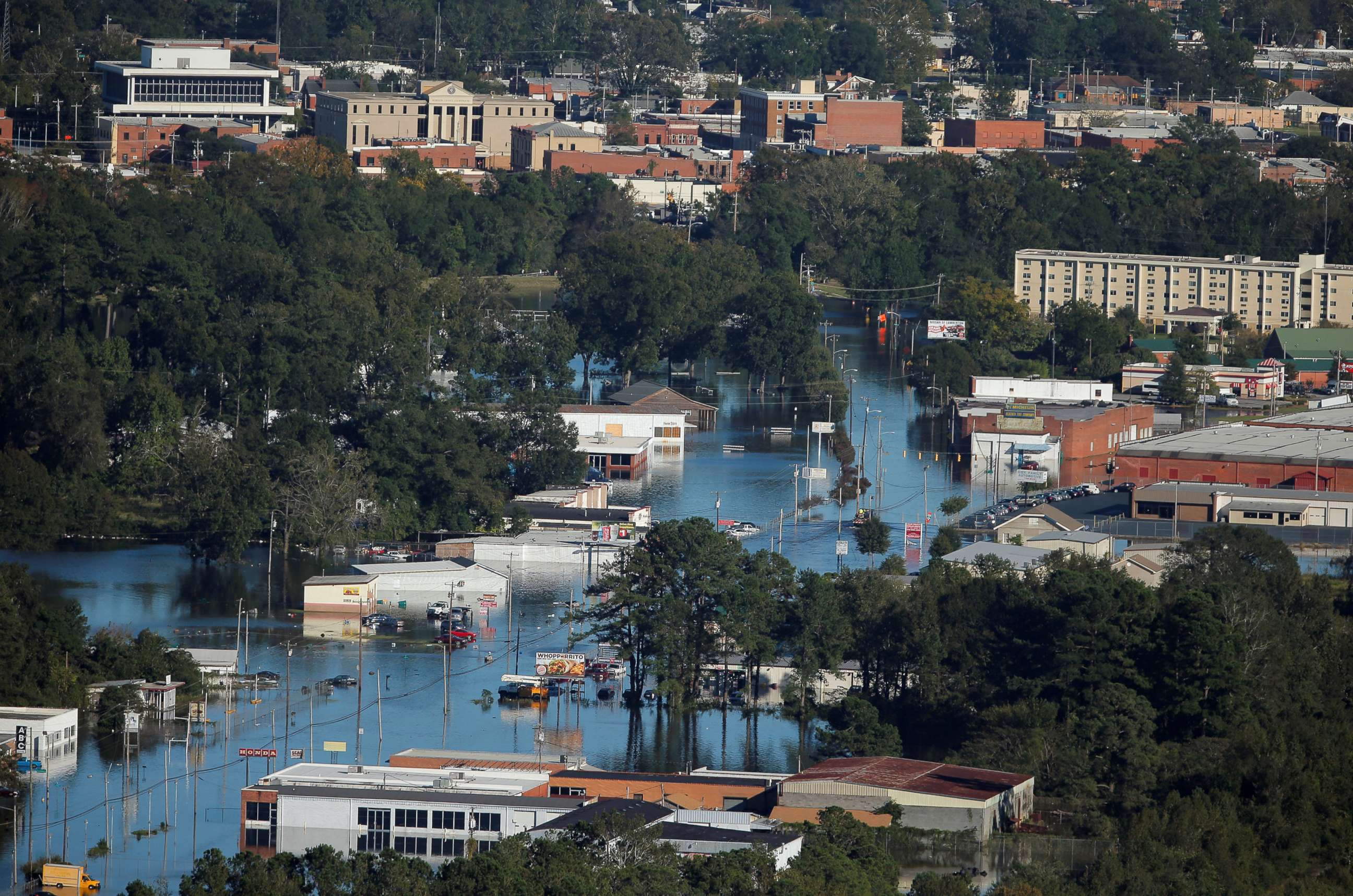 Almost two years later, Lumberton is still reeling from Matthew's disastrous effects. Countless residents remain displaced, and there are neighborhoods full of houses that are condemned, abandoned or awaiting repair.
Linda Bostic and her husband Maceo finally moved back into their home this year on July 6, after a Baptist network of volunteers restored it.
Now, the Bostics are preparing for Hurricane Florence, a dangerous Category 2 storm that's expected to pummel the region this weekend. Robeson County is under a voluntary evacuation order, but the Bostics -- like many other Lumberton residents -- said they plan to weather the storm for as long as possible.
"We want to be safe but I want to stay as long as I can. But if we can't then we just can't," Linda Bostic said.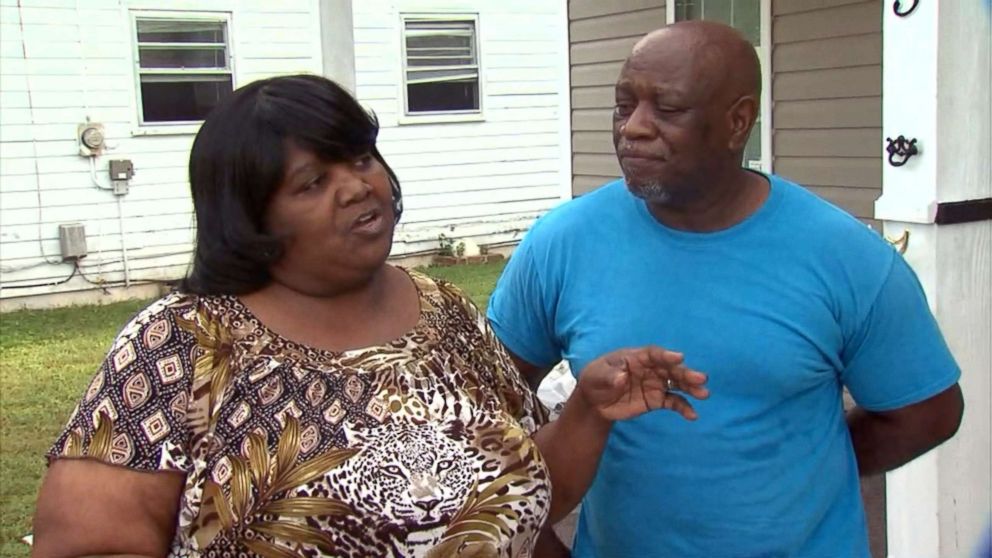 The couple has placed sandbags around the porch of their newly-rebuilt, one-story home in hopes of keeping floodwater out. They are also leaning on their faith and prayer, they said. The Baptist volunteers placed scriptures in the ceilings and beneath the floorboards during the months-long reconstruction.
"We just got to deal with the now," Maceo Bostic told ABC News. "[God] brought us through then and he can bring us through even worse of times."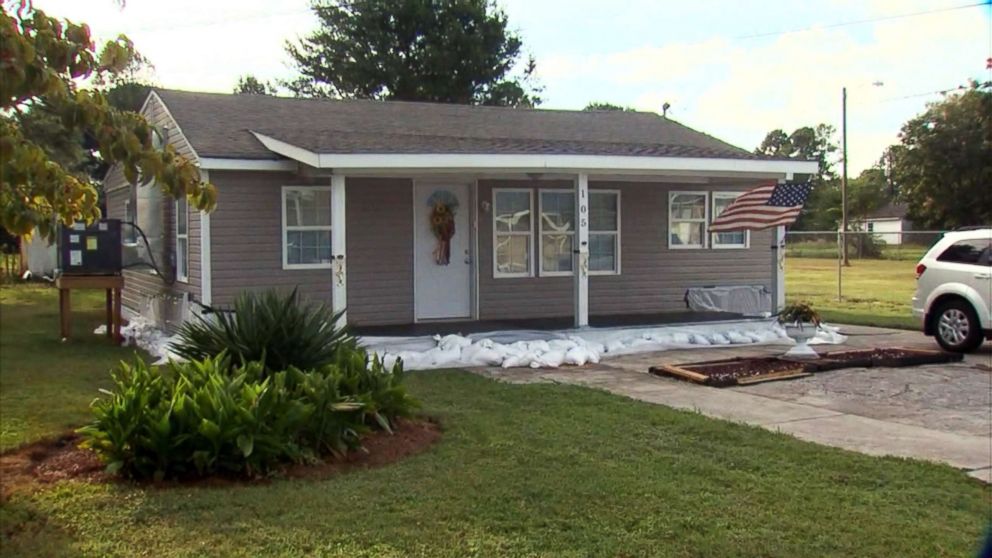 Tropical storm-force winds began lashing North Carolina Thursday morning as Hurricane Florence, once a Category 4, approached the coastline. The storm is expected to make landfall along the Carolinas Friday morning and then move very slowly over the area through Saturday, according to the latest forecast from the National Weather Service.
Parts of North Carolina may get as much as 40 inches of rain and the storm surges could be as high as 13 feet.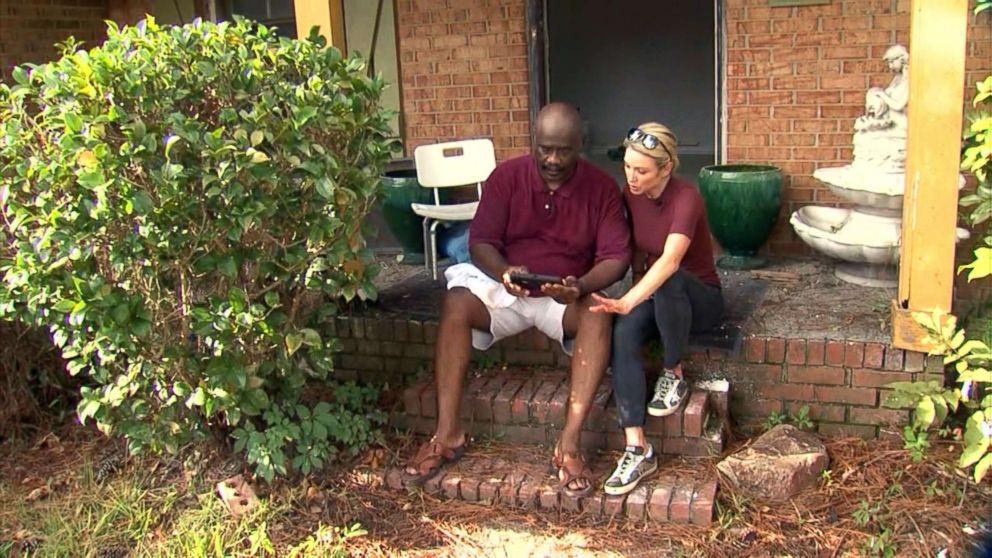 The thought of another hurricane hitting Lumberton brings Jerry Pone, Sr., to tears. He was asleep in his home when Matthew swept over his neighborhood in 2016 and dumped chest-high water in his front yard.
Pone was rescued by boat, and he had to leave behind all his belongings except for his medications and the clothes on his back. When the floodwaters receded and he was able to return, his home and everything inside was destroyed.
"Never in my life I thought I'd go through something like that," Pone told ABC News in an emotional interview Wednesday. "That's the roughest part of all. You think about, you know, what would happen again, what would I do then?"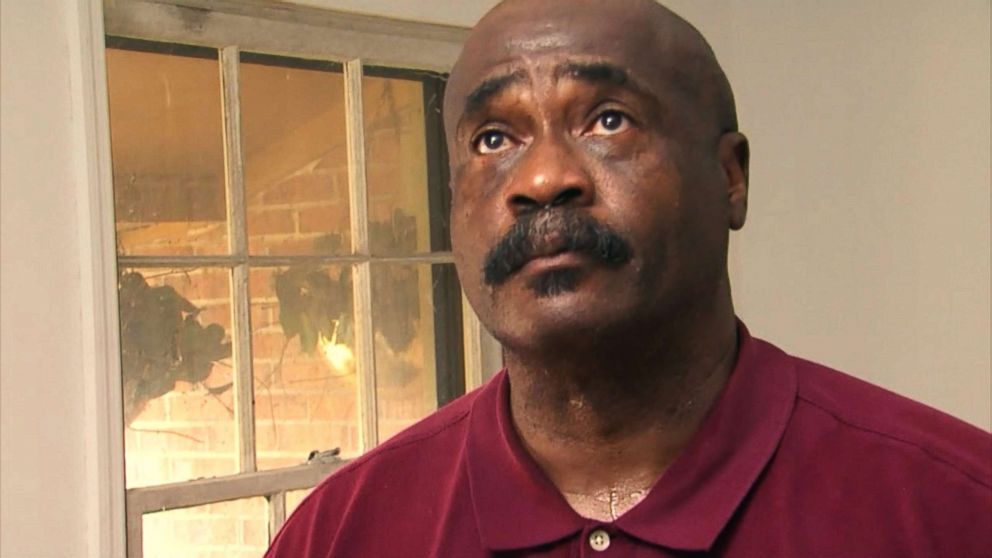 Pone's house is still under renovation, with help from community and church volunteers. He's been living with a friend in the meantime and had hoped to move back in by Christmas, he said. But that could be pushed back depending on the impact of Hurricane Florence.
"I used to feel I didn't want to ask nobody for nothing," he said. "Never feel too big and too proud to ask somebody, because somebody out there is willing to help you. All you have to do is ask."
Pone said the memories of Matthew are painful and he has "cried many nights," but the experience has left him with a new perspective that's given him a sense of resilience.
"I'm alive and a living witness that you will overcome," he told ABC News."I don't know the outcome of this one, but I do know one thing -- I went through one, I can go through another."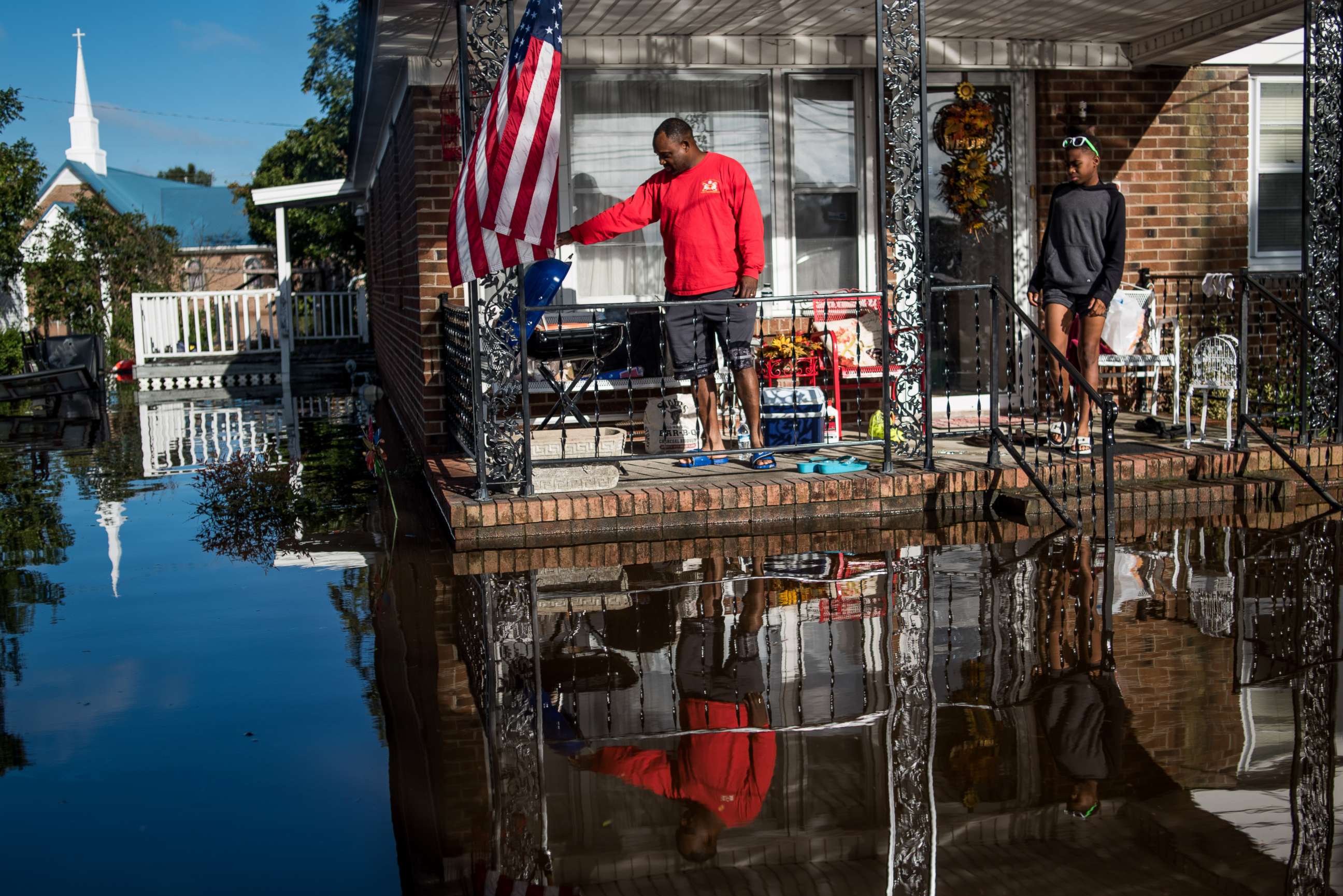 Several schools in the town were also badly damaged by Hurricane Matthew, and some were deemed irreparable.
The Public Schools of Robeson County School Board voted in June to officially close West Lumberton Elementary School, which was inundated by floodwater. The school had tried to continue holding classes at a nearby junior high in the aftermath of the storm, but enrollment plummeted as many students left the area with their families.
"It's a very poor county, so people had very little resources," the school's former principal, Tara Bullard, told ABC News in an interview Wednesday. "It's like a ghost town, it really is. Those families were not able to return and they've had to move on to other places."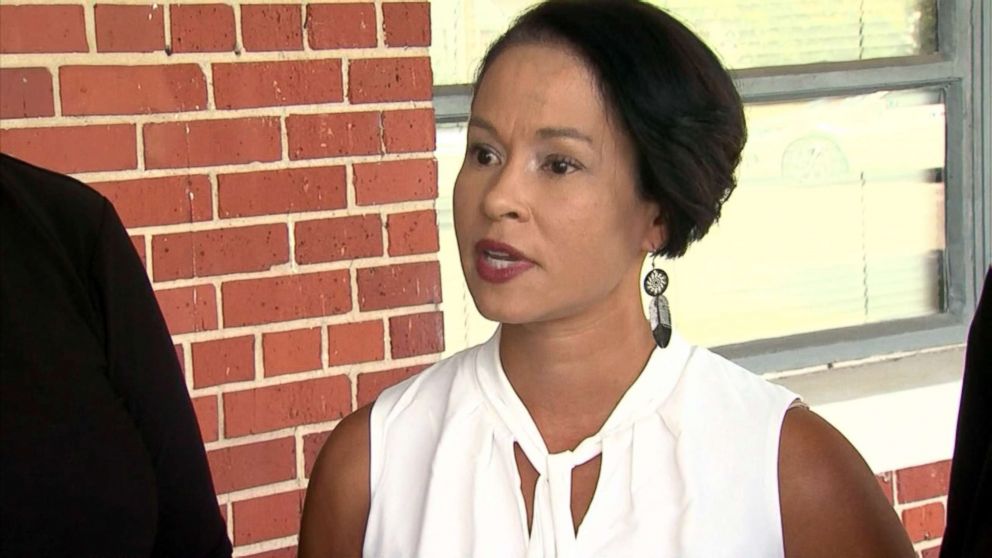 Bullard has since been reassigned to Rowland Norment Elementary School in Lumberton. She said the town is "nowhere close" to recovering from Matthew and she knows many families who are still without homes.
Bullard, who plans to hunker down with her husband and two daughters, told ABC News she feels "anxious" and isn't sure what to expect with Hurricane Florence.
"Two years ago, it was so very traumatic for me," she said. "The proximity between Matthew and Florence is just -- it's just very scary."