Hurricane Florence pummeled North Carolina, making landfall Friday morning with storm surges and wind gusts before contributing to at least five deaths.
Authorities have confirmed those storm-related deaths, including a mother and her infant child who died after a tree fell on their home in New Hanover County, where the storm hit Friday morning with a 105 mph wind gust, the strongest wind in the city since 1958.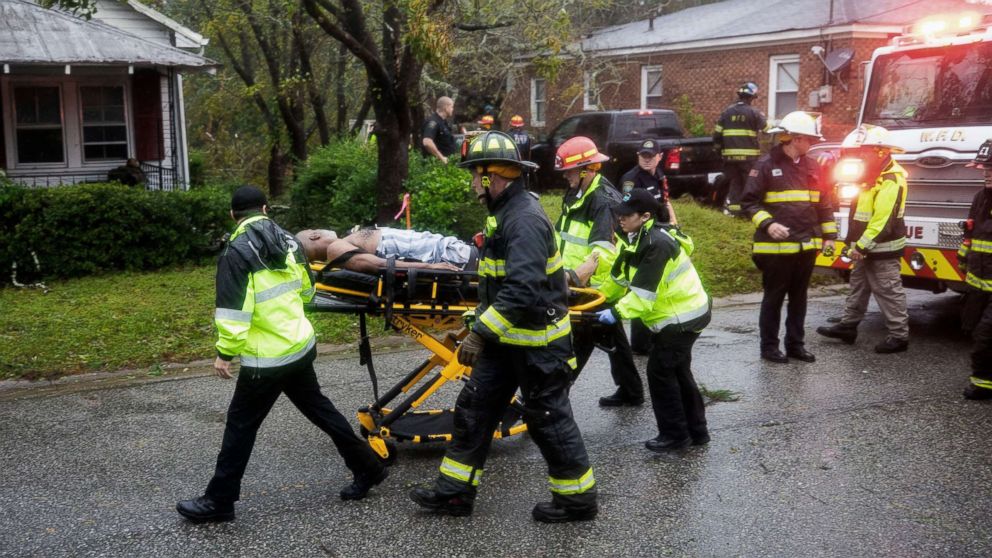 The baby was about 8 months old, Wilmington Police Chief Ralph Evangelous said in a press conference. The mother and infant were not extracted from the home alive, said Steve Mason, deputy chief for the Wilmington Fire Department.
The child's father was transported to a hospital with injuries, police said.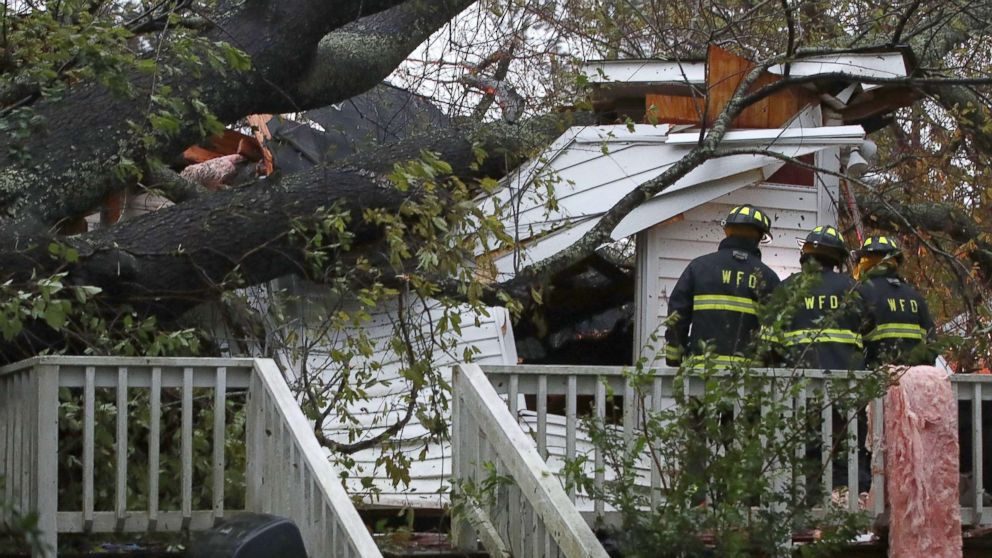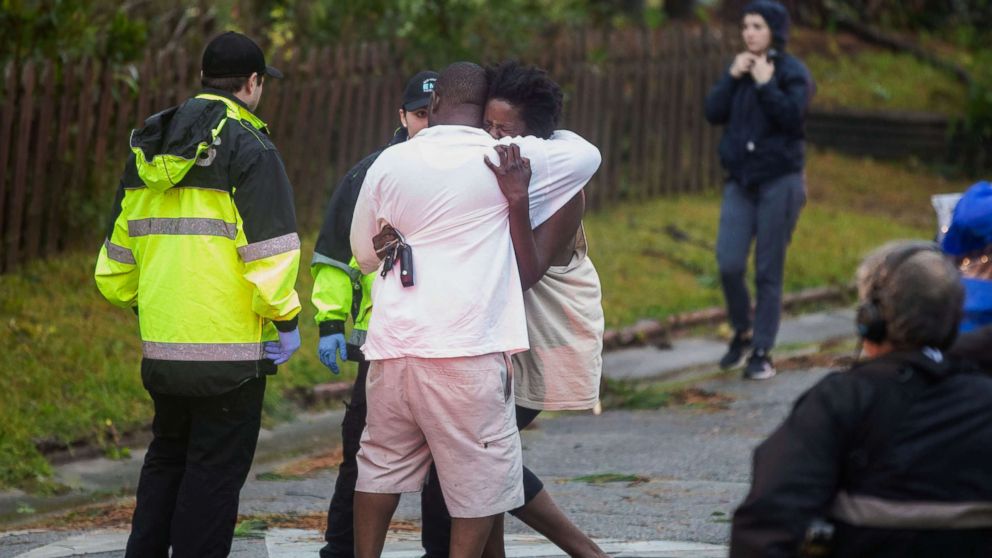 A third person died nearby in coastal Pender County, North Carolina, where an official called it a medical fatality but did not elaborate.
Another two people died in the city of Kinston, said Lenoir County Emergency Services Director Roger Dail. A 78-year-old man was electrocuted at his home while attempting to connect two extension cords outside in the rain, Dail said. North Carolina Gov. Roy Cooper had previously said that a person in Lenoir County was killed while plugging in a generator.
A 77-year-old in Lenoir County is believed to have died after he was blown away by heavy winds while attempting to check on his hunting dogs, Dail said. The man's family found his body Friday morning at his home, Dail said.
Flood conditions will worsen through the relentless rainfall over the next couple days, officials warned. The system was downgraded to a tropical storm on Friday afternoon but remained a slow-moving destructive storm.
Cooper told ABC News' David Muir that residents should continue to shelter in place, even though Florence is no longer a hurricane, because roads are covered in debris and water, and rescues are still taking place in coastal areas.
"There's a great temptation to want to go back east and to view you property," he said. "Do not go, and stay in place."
Rain forecasts show an additional 10 to 20 inches possible on top of the 10 to 20 inches that have already fallen. North Carolina's Newport and Morehead City have seen about 19 inches of rain so far.
"The sun rose this morning on an extremely dangerous situation and it's getting worse," Cooper said, calling Florence a "thousand-year rain event."
Wilmington Police Chief Ralph Evangelous agreed, telling Muir, "I see a biblical proportion flood event that's going to occur. I see the beach communities' being inundated with water and destruction that will be pretty, pretty epic."
Here's the latest:
As the rough winds toppled trees and power lines Friday, power was knocked out to more than 800,000 customers in North and South Carolina. Officials are predicting that potentially 2.5 million customers could be without power as the storm continues on.
In Bayboro, North Carolina, one of the areas under evacuation, resident Kim Dunn stayed behind. She was trapped in her truck surrounded by rising water Friday as her boyfriend and his cousin were stranded on a paddle boat less than a mile away.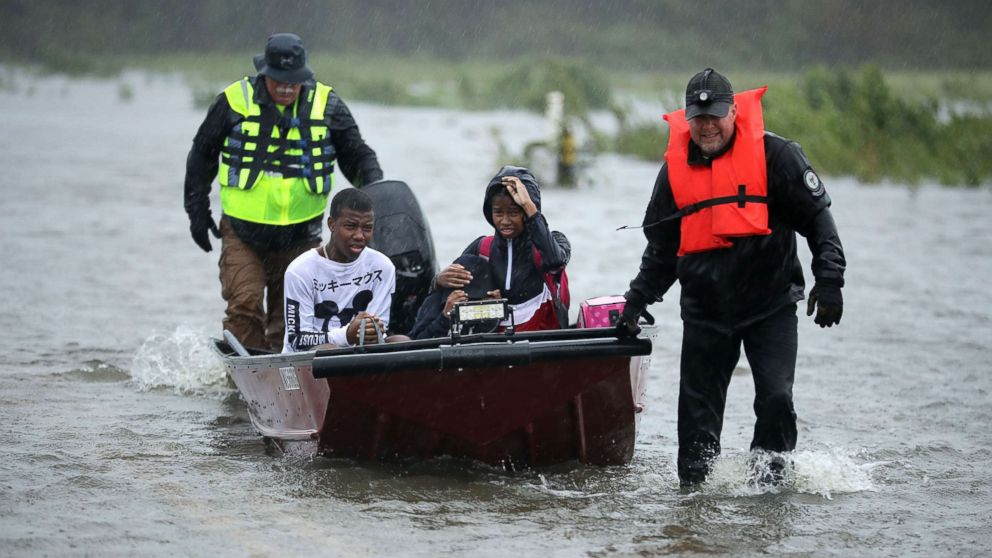 The water was as high as street signs, and "we have no way to get to them," Dunn told ABC News Friday morning.
"They've been out there for about six hours now just screaming for help," she said. "Only communication we have with them is just me flashing my lights to them and I think they have a flashlight they're flickering back to us."
Dunn, the mother of a 10-month-old, a 3-year-old and an 8-year-old, said she made a decision to stay behind while others fled.
"We were trying to figure out if we had enough finances to get out and if we were to get out, were we going to be able to get back home. So we made a decision to stay," she said. "I don't know how long it's going to be before the water actually starts to come into the apartment."
In nearby New Bern, where water levels reached at least 10 feet overnight, 150 people requested a rescue. Volunteers are using private boats to pitch in and help, city spokeswoman Colleen Roberts said.
The downtown area, at the confluence of two rivers, is mostly underwater.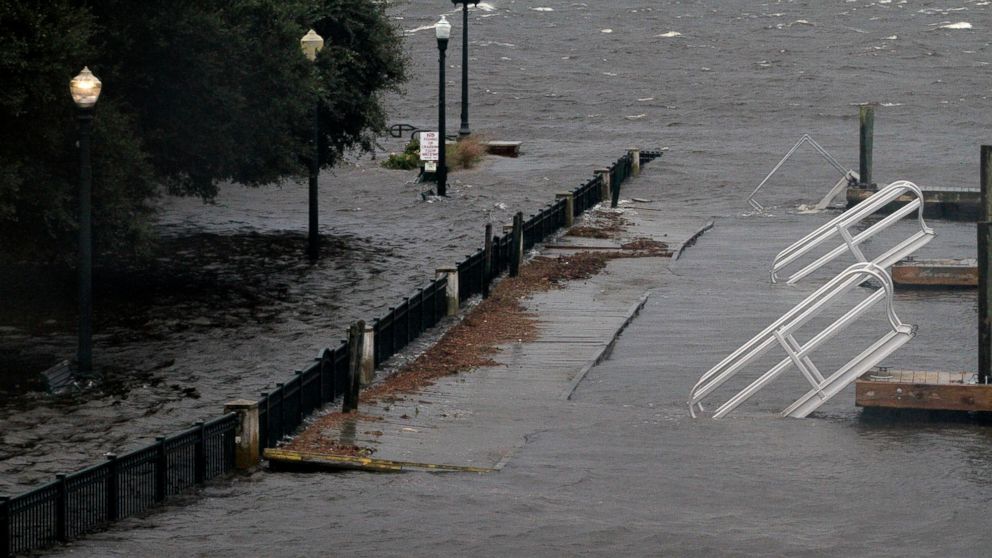 New Bern resident George Zaytoun chose not to evacuate and is trapped inside his home.
"It's like a bomb has gone off," Zaytoun told "Good Morning America" Friday. "Everything around us is underwater."
Zaytoun now regrets his decision, he said.
"I think we kind of let our guards down," he said of his community's response to the storm's being downgraded to Category 2 from 4.
Florence "is twice the size of Hurricane Hugo," which tore through the Carolinas in 1989, New Bern Mayor Dana Outlaw told "GMA."
Gov. Cooper said Friday, "As soon as it is safe, first responders will make sure they go and rescue people who need to be saved from this storm."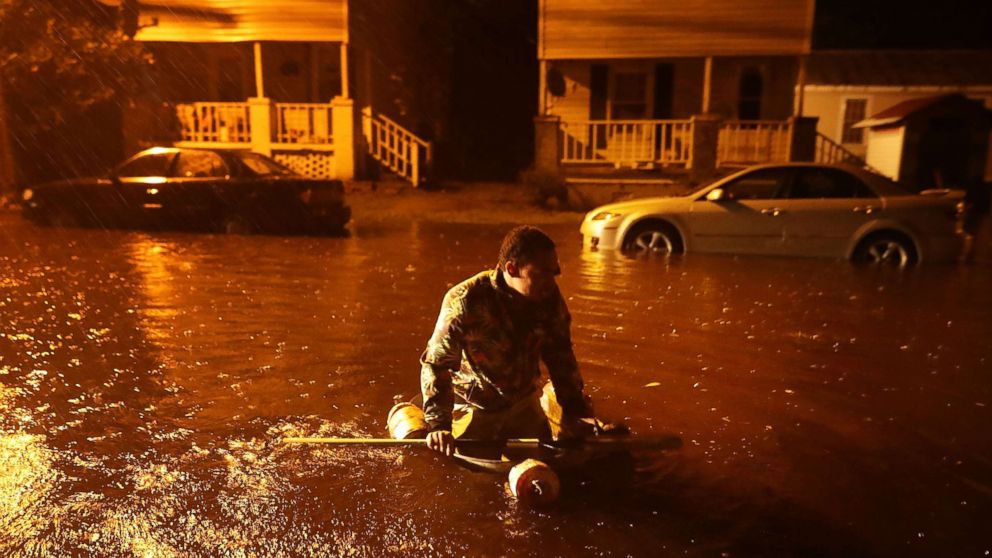 Some people were arrested for breaking into cars as Hurricane Florence approached North Carolina Thursday night, Brunswick County Sheriff John Ingram told ABC Wilmington affiliate WWAY-TV.
"If you seek to prey upon the citizens of Brunswick County, we're going to do everything we can to lock you up," Ingram warned. "I made sure ahead of time that we had adequate space for anybody that wanted to try that."
The rainfall is forecast to reach up to 40 inches in some areas over the next several days.
Storm surge could be as high as 11 feet in parts of North Carolina, prompting officials to closely watch the rise of rivers in the eastern part of the state. River flooding may be worse than Hurricane Floyd in 1999.
"We are expecting several more days of rain and our focus now is getting people away from immediate danger and then we will shift to putting our communities back together," Cooper said Friday.
"I know North Carolinians. We're going to make it through this because we're going to stick together and we're going to work together."
ABC News' Max Golembo, Sam Wnek, Josh Hoyos, Alex Faul, Dom Proto, Kelly McCarthy, Morgan Winsor, Nick Coulson and Kieran Mcgirl contributed to this report.