Survivors of the October 2017 Las Vegas massacre expressed outrage at a lawsuit filed against them by MGM Resorts International at a press conference on Monday, saying they had been forced to relive the pain and helplessness of the attack.
The company, which owns the Mandalay Bay resort-casino from where a gunman carried out the deadliest mass shooting in modern U.S. history, used an obscure law to sue the victims earlier this month in a bid to avoid liability for the shooting.
The shooter, Stephen Paddock, shattered the windows of his hotel suite and fired on a crowd of country music fans, killing 58 people and injuring hundreds more before killing himself.
"It brings it all up again, and takes me right back to being helpless," said Jason McMillan, who was paralyzed from the waist down in the attack.
"Hearing that I'm being sued -- it's not only insulting, it enrages me to think that this company can just try to skip out on their responsibilities and their liability for what happened."
McMillan vowed not to back down in the fight against the company.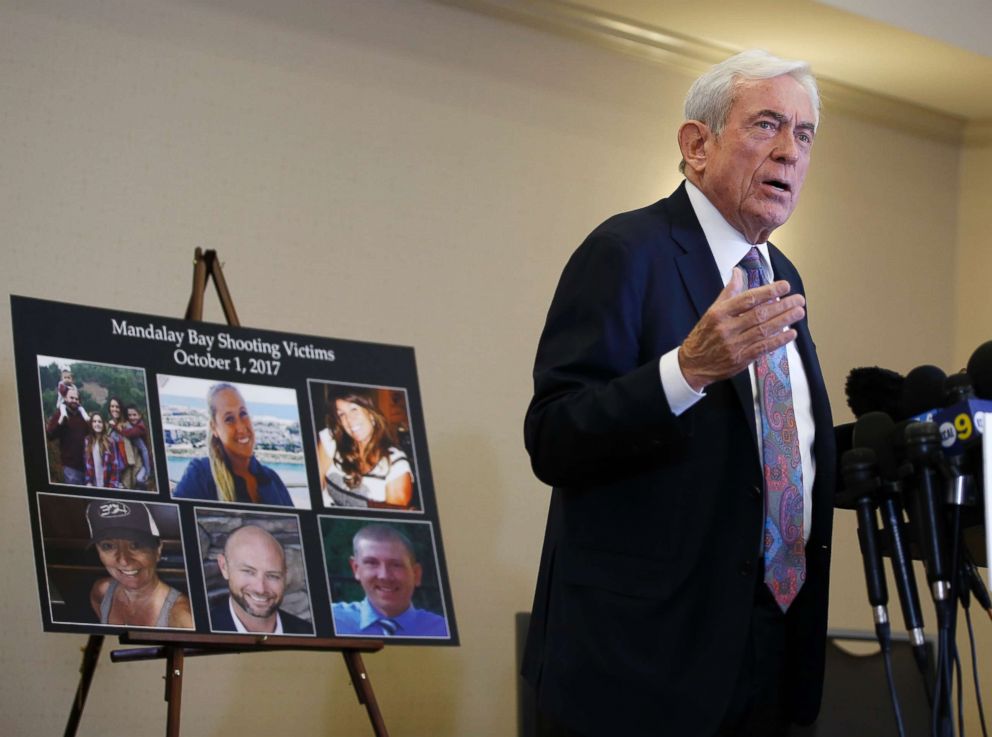 "To blame the victims, to say it's anyone else's fault other than their own - it's absurd. I can't believe the audacity of them. They're not going to get away with anything - We'll keep this going, as long as it takes," he added.
MGM is suing 1,977 victims in eight states, said Mark Robinson, an attorney for some of the victims.
The press conference was fraught with emotion, as survivors recounted details of what happened to them or their loved ones in the attack, and their painful journey towards recovery.
Joyce Shipp, 72, whose 50-year-old daughter Laura Shipp was killed in the shooting, said she was still learning to cope with the aftermath.
"I wasn't at the concert but I live it every day. Every time we go outside we see Mandalay Bay. It's hard to get that out of your head," she said.
"The fact that [MGM is] trying to sue us -- it's outrageous," she added. "That they would have the audacity to put me through that again -- It's like being kicked again to the ground."
In response to the press conference, MGM spokesperson Debra DeShong provided the following statement:
"It is heartbreaking to hear these personal accounts of an unspeakable tragedy. We grieve with all of the victims. No one wins from endless litigation and it will not change the fact that one person is responsible for this horrendous act of violence and he took his own life rather than face justice.
"Plaintiffs lawyers have filed and refiled dozens of lawsuits, in multiple jurisdictions, in state and federal court. Resolving each case individually would require years of testimony from victims, first responders and employees. We believe Congress determined these cases should be in federal court and that getting everyone in the same court, is the best and fastest way to resolve these cases. As we have said from the beginning, we filed actions involving individuals who have retained attorneys and either have sued or threatened to sue.
"Regarding the Dunbar case, our employees did the right thing. They saw weapons and we immediately called the authorities. Stephen Paddock went to great lengths to hide his guns and ammunition. The judge, when sentencing Dunbar openly said he did not believe he planned to use them to commit a violent crime, unlike Paddock who actually committed a horrendous crime. There is no comparison."
MGM is not seeking money in the lawsuits. Instead, it wants a federal court to declare that it has no liability to survivors or families of slain victims under a federal law enacted after the Sept. 11 terrorist attacks.
MGM's lawsuits target victims who have sued the company and voluntarily dismissed their claims, or have threatened to sue.