Kobe Bryant's 13-year-old daughter, Gianna, had a passion for basketball and was hoping to follow in NBA legend's footsteps before the two died in a helicopter crash on Sunday.
Bryant, 41, wasn't a frequent social media user, but his Instagram page was full of footage of Gianna on the court.
One of his last posts featured an image of the teenager taking a jump shot on the hardwood while wearing a dress and stilettos. He captioned the photo "#HoopsAndHeels #StealsAndStilettos."
The five-time NBA champion once shared a video of the two playing a game of one-on-one. Bryant was barefoot and playing defense and Gianna was energetic and scoring on her dad.
"A lil one on one with my baby Gigi #footwork #stringmusic #mambacita," the NBA player wrote in the video caption back in 2017.
Ramona Shelburne, an ESPN Senior Writer who developed a friendship with Bryant, said the father of four daughters once told her that kids are "the greatest blessing that God can give you." The NBA legend "lived for" his family, according to Shelburne.
"Every time I talked to him that's all he wanted to talk about," she told "Good Morning America." "The last few years all we would do is send each other texts about our kids."
Gianna reportedly wanted to attend the University of Connecticut and even got a chance to meet with the school's women's basketball team when they made a visit to Los Angeles in 2017.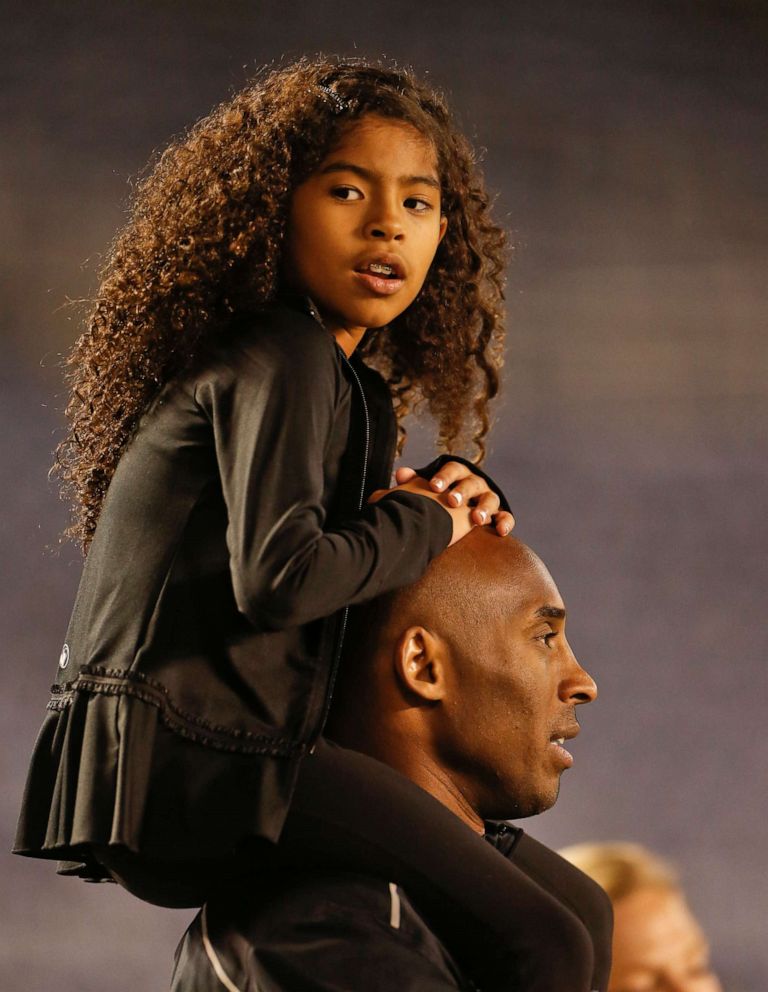 The team shared an image of the two on Sunday in the wake of their deaths.
"Kobe and Gianna meant a lot to our program. Our thoughts are with the Bryant family," the team posted. "Mamba Mentality will live on forever, but they are deeply missed."
Back in 2018, Kobe revealed that he started coaching Gianna's middle school team when he retired in 2016, ending his 20-year career with the Los Angeles Lakers.
"It's been fun!" he said in an interview with "Entertainment Tonight" in 2018. "We've been working together for a year and a half and they've improved tremendously in that time. I've got a group of great parents, a group of really, really intelligent, hardworking girls, and -- they're all seventh graders, they're all 12 years old -- but they've been playing so well!"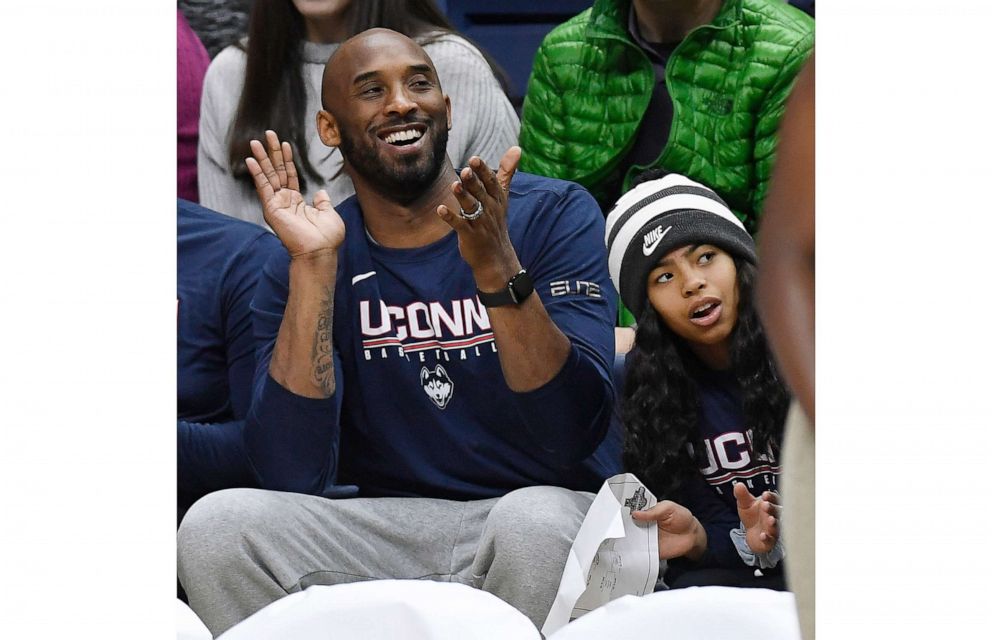 "They've been playing eighth and ninth grade, they've been winning tournaments. But the most important thing is they keep improving, keep getting better and they love doing it. They love being around each other," he added.
Bryant spoke about his daughter urging him to make the film "Dear Basketball," which won an Academy Award.
"My daughter gave me the best piece of advice. I was a little worried about turning this into a film. I'd never done something like that before," Bryant said after the Oscar win. "We were in the house and talking about it as a family and my little 11-year-old Gianna goes, 'Well dad, you always tell us to go after our dreams so … man up.' She's 11. Man up. So I had to man up and go for it."
Bryant's "Dear Basketball" film, his books and podcasts for kids and his coaching were all part of the legacy he wanted to leave, according to Shelburne.
"All he cared about going forward in his life was his legacy and what he could teach to not just his own kids but to all kids," she said. "He wanted to reach that next generation."
"I remember his last year [in the NBA] we were doing a story and I wanted to do the 'mic drop story' that would encompass all of it," Shelburne recalled. "He goes, 'I'm not into that … I only want people to learn what I've been through so that maybe I can inspire others.'"
Last year, when late night TV host Jimmy Kimmel asked Bryant about Gianna's aspirations to play for the WNBA, he responded: "She does for sure." He also recalled a short story about how the youngster once responded when a fan suggested that he should have a son to carry on his legacy.
"The best thing that happens is when we go out and fans will come up to me, and she'll be standing next to me. And they'll be like, 'Hey, you gotta have a boy. You and V gotta have a boy, man, have somebody carry on your tradition, the legacy.' And she's like, 'Oy, I got this. You don't need no boy for that. I got this.' And I'm like, 'That's right. Yes, you do. You got this.'"
The father and daughter duo were among nine killed on Sunday, according to the NBA, when a private helicopter went down in Calabasas, California, killing everyone on board. The other victims in the crash have not been officially identified.