Police have released intense bodycam footage from the deadly mass shooting in Las Vegas last October that shows first-responders struggling to dodge bullets and shield victims with little understanding of where the gunfire was coming from.
The Las Vegas Metro Police Department on Wednesday released more than two dozen video files with hours of officer bodycam footage and about 500 recordings of phone calls from the night of Oct. 1, when suspected shooter Stephen Paddock unleashed a hail of bullets on a crowd of concertgoers.
"There's a lot of casualties right in the middle of the field," one officer yelled.
"It's coming from the Mandalay Bay," another office screamed. "Get behind the police car ... stay down!"
The videos captured the earliest moments of what became the worst mass shooting in U.S. history -- 58 people died and more than 800 suffered injuries.
Paddock, 64, unloaded more than 1,000 rounds from the 32nd floor of the Mandalay Bay Resort and Casino before killing himself, police said.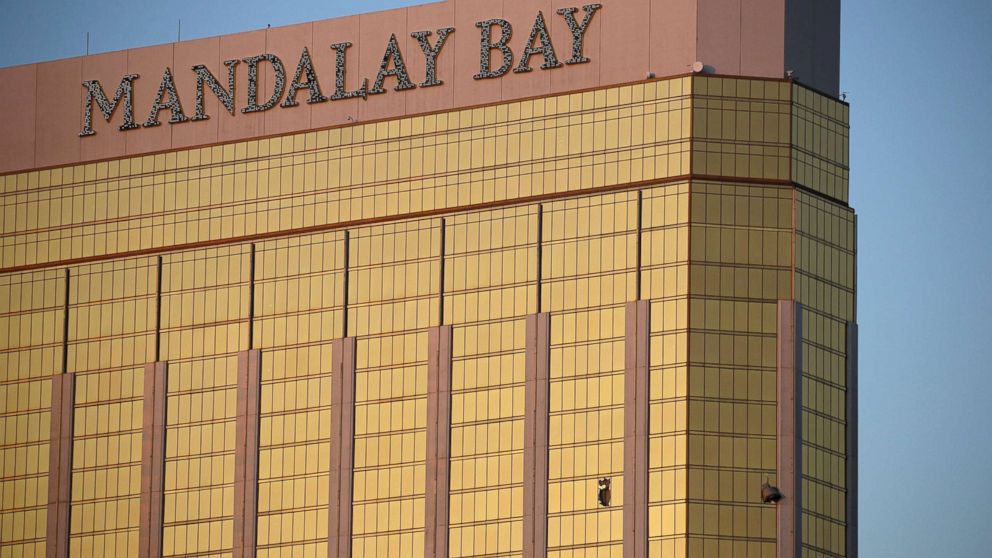 Names of the officers in the new videos were not provided in the department's latest release, which came in response to a lawsuit from news organizations, including ABC. The department had initially refused to release the footage, despite requests from journalists, who were forced to sue.
Authorities have released six batches of files containing audio, video and documents in connection with the massacre, but they have not offered any new information about a possible motive in the shooting.
Some of the video released Wednesday showed officers taking cover as bullets first rained down on the crowd.
"We got everyone trying to respond for victims, but no one trying to lock this very large scene down," one officer said from inside a patrol car. "I have two people shot in the head. They aren't doing too well."
Unlike previous releases, including video from May that showed the inside of Paddock's hotel room, this new material depicted moments of chaos as well as heroism.
Footage shows officers and good Samaritans tending to wounded victims near the Route 91 Harvest music festival, where the shooting started. One responding officer was seen sheltering with several concertgoers, before he jumped into action and carried a gunshot victim to a triage area and eventually to a hospital.
At one point, you see a young woman calling her father to tell him that was a shooting.
"Dad, I love you. I'm going to make it OK," she said. "I'm gonna try to get there ... Dad, I'm trying, I'm trying. There's gunshots everywhere."
The LVMPD also released 511 audio clips from 911 calls, on par with those it made public last week.
Investigators recovered 23 guns and thousands of rounds of ammunition from Paddock's hotel suite, in which he shot himself as police closed in.
Investigators previously disclosed that he had researched police SWAT tactics, rented hotel rooms overlooking other outdoor concerts and investigated potential targets in at least four U.S. cities, according to a preliminary report.
The FBI is expected to release its final report on the shooting in July.
ABC News Bonnie Mclean contributed to this report.