Authorities are calling on the public's help in finding a man who disappeared after a San Francisco 49ers home game on Monday.
Ian Powers, 32, was last seen at the 49ers game at Levi's Stadium, which he attended with his girlfriend.
During the fourth quarter, at around 8:15 p.m., Powers went to the restroom and never returned to his seat, according to Santa Clara Police Department Captain Wahid Kazem.
Surveillance footage from the stadium shows Powers exiting the stadium at the end of the game.
His girlfriend said that she had text messaged him and video chatted him to coordinate a place to meet each other, but that these were the last communications she had with him, Kazem said.
His phone has since lost power.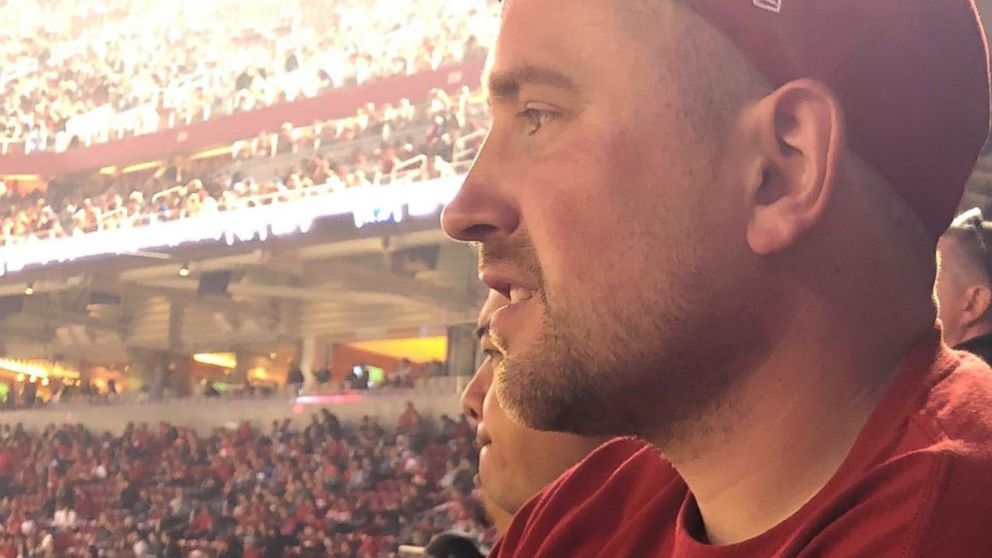 "It's incredibly unlike him," Sean Powers, Ian Powers' uncle, told San Francisco ABC affiliate KGO. "He's probably the most responsible person in my family."
Calling it a "baffling investigation," Kazem said that police did a grid search of the area surrounding the stadium, but smoke and conditions from the recent fires burning through California made visibility difficult.
He added that there is a marsh near the stadium and that it's possible Ian Powers may have headed in that direction.
"We cannot yet rule out any possibilities including foul play, walk-away, or some sort of accident or medical emergency," Kazem said. "None of the information or evidence has pointed us in a specific direction."
Ian Powers was drinking alcohol on the night of his disappearance, but he appeared to "look relaxed and have pretty decent mobility," Kazem said, referring to the surveillance footage obtained from the stadium.
Police are now working to put together a timeline to determine where Ian Powers could have gone.
"Our steps right now are contacting adjoining businesses, and trying to get external video surveillance," said Kazem.
Anyone who has any information, either before or after this incident, is asked to call the Santa Clara Police Department at (408) 615-4700.