A man's pledge to complete 30 acts of kindness for his 30th birthday has taken him to a Sacramento, California, hospital to recognize the work of nurses, including his own grandmother, with help from the hosts of "GMA3."
Bryan Tsiliacos explained how he came up with his "30 by 30" goal in an interview last December, saying it was borne out of feeling like he wasn't meeting societal expectations ahead of the milestone birthday.
"Rather than just dwelling on that, I took a more uplifting approach. I took out a sheet of paper and I started to write down all these things I was grateful for. And by doing that, by expressing my gratitude, I realized that every good thing that happened to me was helped by the support and generosity of others," Tsiliacos told "GMA3."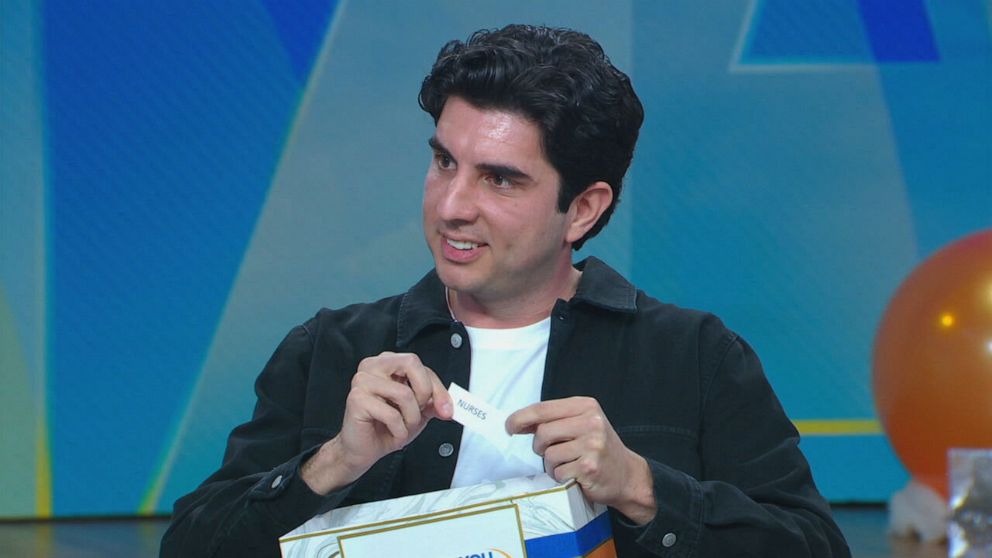 The segment featured footage of Tsiliacos delivering care packages to animal shelter workers in his community, which he chronicled on social media. He also delivered 400 flan desserts to local firefighters.
At the end of the interview, "GMA3" surprised Tsiliacos with an offer to help him carry out his next act of kindness. He chose nurses as the recipient from a box of slips of paper listing potential subjects.
Tsiliacos recently accomplished that good deed at Shriners Children's Hospital/Northern California, where 167 nurses were given a set of new scrubs and reusable tumblers to coincide with National Nurses Week.
Nurse Erica Macias and her family were also gifted an 8-day vacation to Nova Scotia & Prince Edward Island. Macias was nominated by her manager, Robert Tolbert.
"I see that she goes above and beyond as a nurse, every step of the way," Tolbert told "GMA3."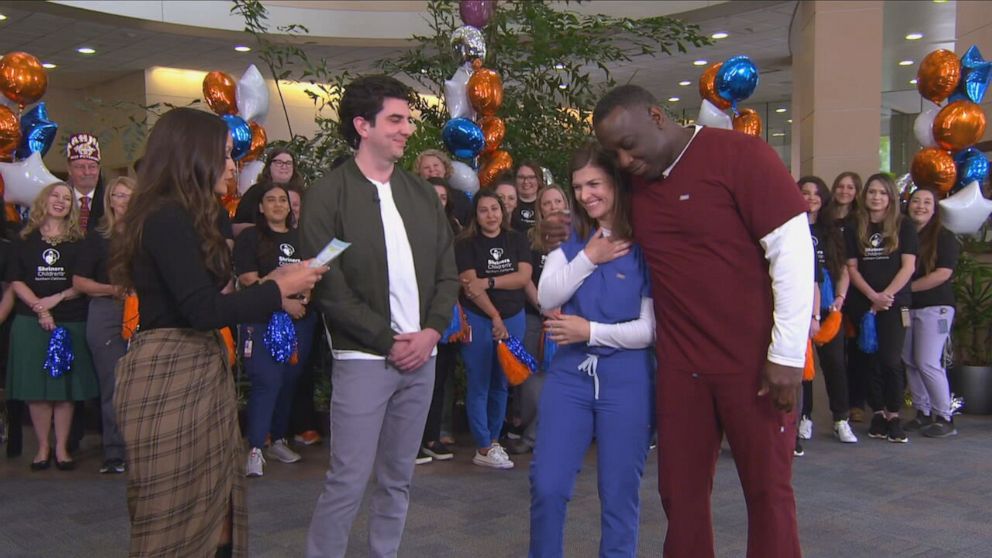 Macias said she was driven to become a nurse after spending time in the foster care system as child.
"When I was 4 or 5 in a home, I just remember laying in a hallway just peeking over the corner, watching a caregiver give food through a tube in the belly. And I had no idea what that was, because I had only ever seen people eat from their mouth. I just remember watching her and thinking, 'Wow.' And that memory stayed with me throughout me growing up," Macias said.
In high school, Macias said she would take care of her grandmother after school with her siblings and cousins.
"That was a level of fulfillment, where you kind of feel like maybe this is your calling," Macias said.
Giving back to nurses was especially important for Tsiliacos — his grandmother Alta May worked as a nurse at Shriners from 1959 to 1986. She was recently honored with a plaque that will be put up on a hospital wall.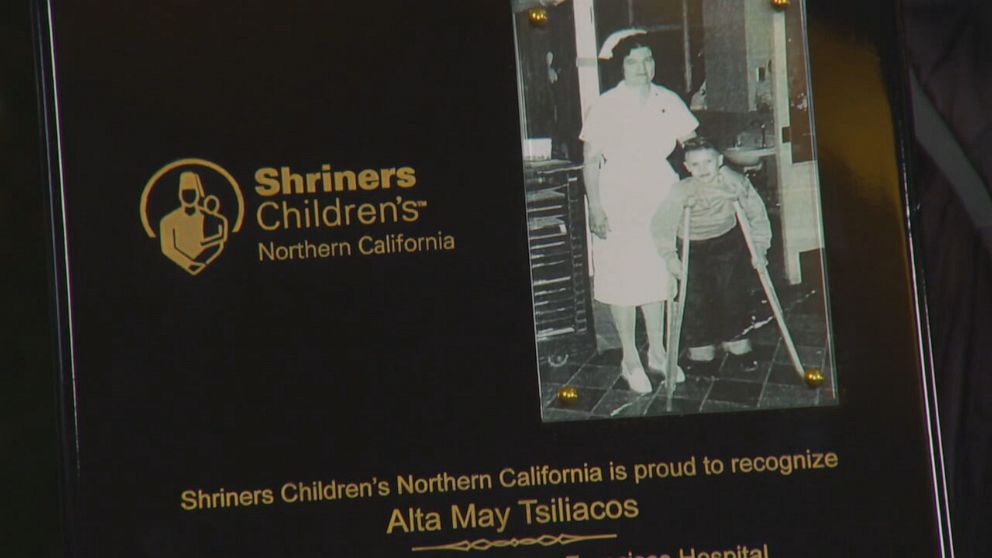 Alta May Tsiliacos began her career in the Cadet Nurse Corps, a program created to help alleviate the nursing shortage before and during WWII, the plaque said. After training, Alta May worked at various VA hospitals across the East Coast until coming to Shriners, where she was promoted to head nurse of the boys' ward and worked there until retirement.
"It's just so touching to see her legacy continue to live on through all of you," Tsiliacos said.
ABC News' Elizabeth Harrison contributed to this report.