— -- Lou Anna Simon resigned as president of Michigan State University on Wednesday evening just hours after former MSU athletic trainer Larry Nassar was sentenced to 40 to 175 years in jail for sexually assaulting former gymnasts in his care.
Pressure had increased on Simon to step down over the length of Nassar's sentencing hearing, which included a week of testimonials from Nassar's victims. More than 150 women alleged assault at the hands of Nassar. Many of those who spoke during sentencing were critical of Simon and the administration at Michigan State.
"As tragedies are politicized, blame is inevitable," Simon said in her resignation letter. "As president, it is only natural that I am the focus of this anger. I understand, and that is why I have limited my personal statements. Throughout my career, I have worked very hard to put Team MSU first.
"I urge those who have supported my work to understand that I cannot make it about me now," she added. "Therefore, I am tendering my resignation as president according to the terms of my employment agreement."
MSU's Board of Trustees chair Brian Breslin said the board will accept her resignation.
"President Simon has offered her resignation to the Board of Trustees, and we will accept it," Breslin said in a statement. "We agree with Dr. Simon that it is now time for change."
Simon took over as president of the public university in East Lansing, Michigan, in 2004. She had prepared to retire in December 2016, but agreed to stay on as the scandal surrounding Nassar grew.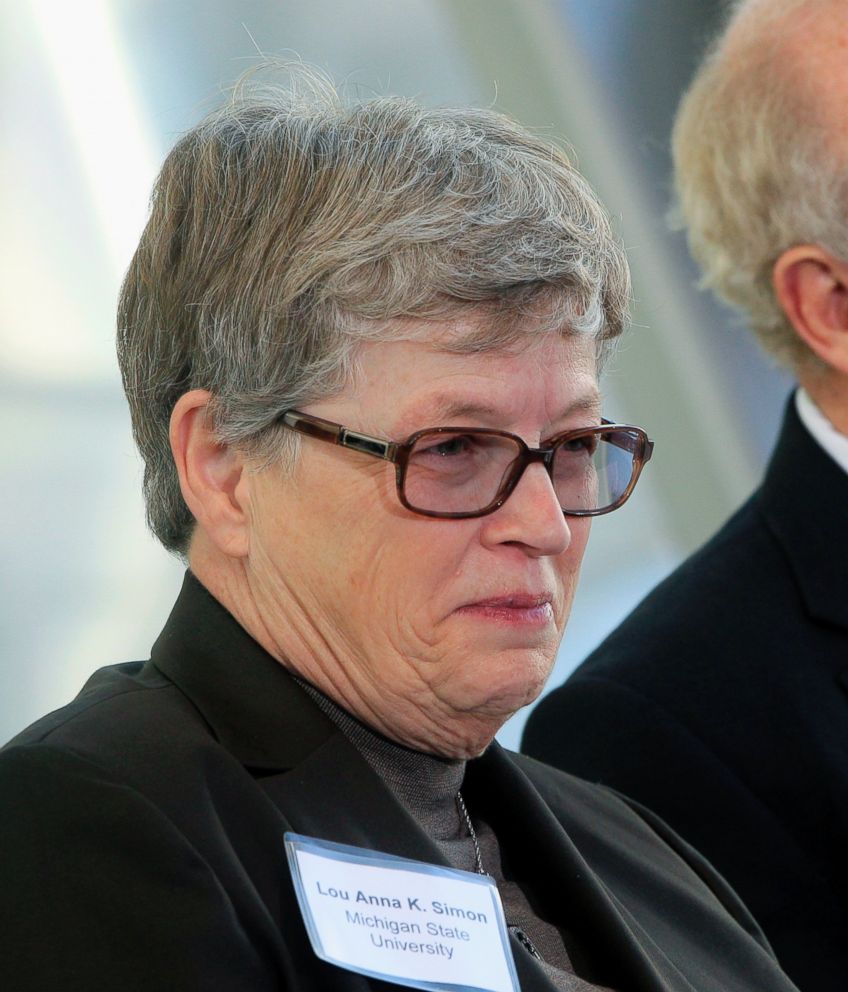 A number of the women assaulted by Nassar spoke following his conviction Wednesday, criticizing MSU and its leadership in a statement, saying, "MSU and its administrators could have prevented the Nassar scandal if they had simply followed Title IX and the mandatory reporting laws. They ignored complaints of his misconduct going back to 1997. When they finally conducted a Title IX investigation of Nassar in 2014, they botched it and allowed him to continue allegedly molesting dozens of women and girls for two more years, including Team USA gymnasts."
Nassar, 54, began working as an athletic trainer at Michigan State in the 1990s and was named national medical coordinator for USA Gymnastics in 1996. Nassar was fired by MSU in 2016 after the Indy Star reported on allegations of assault made by former gymnast Rachael Denhollander against Nassar.
Denhollander was given the final word against Nassar in statements delivered by gymnasts alleging assault by the trainer in court. U.S. Olympians Aly Raisman and McKayla Maroney were among the women to claim in sentencing testimony that Nassar sexually abused them.
He pleaded guilty to seven counts of first-degree criminal sexual conduct involving girls who were 15 years old or younger in November 2017. He was sentenced to at least 40 years in prison on Wednesday. That sentencing followed an earlier ruling of 60 years in prison for possession of child pornography.
Both U.S. senators from Michigan had called on Simon to step down in recent days. Gary Peters, a Democrat, said survivors of Nassar's assaults "have fully awoken us to the evil he perpetrated" and said "the leadership at Michigan State University has failed to adequately prevent, address or respond to the victimization of young women and girls on its campus."
"Michigan State University has a long way to go in rebuilding trust with its students, athletes, faculty, alumni and the entire state of Michigan," Peters, a graduate of Michigan State, said in a statement on Wednesday. "To do so, it must have new leadership."
Sen. Debbie Stabenow, a Democrat, tweeted on Wednesday, "It's clear that it's in the best interest of these courageous survivors, their families, and our State for President Lou Anna Simon to resign."