Missing Oregon Mom Found Dead: Police
Police say they have a "good idea of what happened."
— -- An Oregon mom missing for nearly two weeks has been found dead, authorities said.
Jennifer Huston's SUV was found Tuesday in a rural and remote area of Yamhill County, the Newberg-Dundee Police Department said.
Police swept the area and found her body a short distance away.
Family Searching for Missing Oregon Mother
Police Investigate Reported Sighting of Missing Oregon Mother
Missing Woman's Husband: 'I'm an Emotional Wreck'
Police said nothing indicated foul play but added that the case was an open death investigation.
"We're keeping an open mind, but I think we've got a pretty good idea of what happened," Newberg Police Capt. Jeff Kosmicki told ABC affiliate KATU.
But at a news conference, police said they were not ready to release the cause of death. They said the car, which was not damaged, was found by a property owner in a remote wooded area. It was unclear how long the car had been at that location.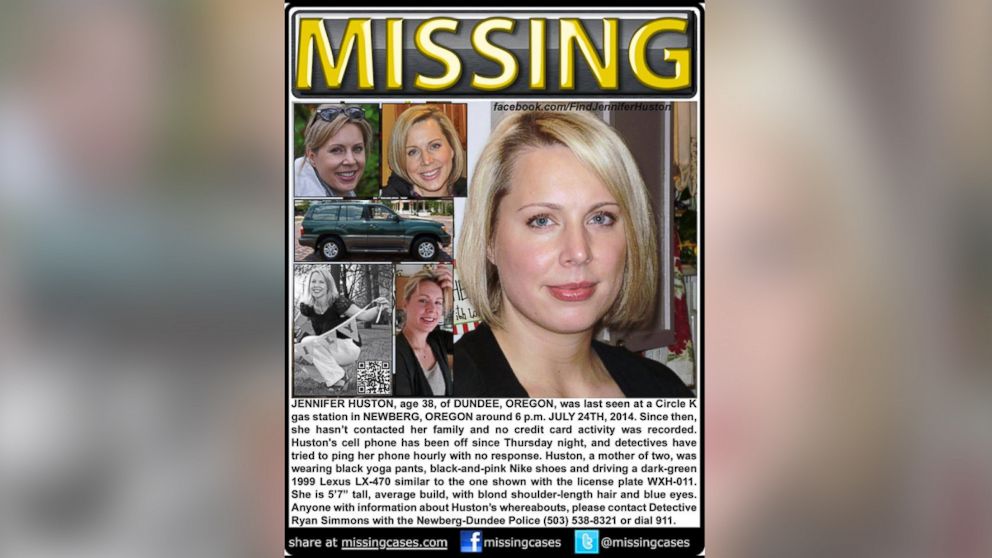 Van Clemmer spotted the SUV on his property on Tuesday, about one-eighth of a mile from his home.
"It's a pretty thick canopy of trees so it would be pretty difficult to see from the air," he told KATU.
Clemmer told his wife, Charlotte Clemmer, who immediately realized it was the missing mom's vehicle.
"I said, 'Was that SUV a late model 1999-2000?'" she said. "He said, 'Yep.'" I said, 'Was it dark green?'. He said, 'Yes.' I said, 'That's it.'"
Huston, 38, disappeared on July 24 after leaving to run errands. She was last seen at a gas station near Portland, Oregon. She also purchased trail mix, Gatorade and sleeping pills before she died, KATU reported.
Her family has been searching for her ever since, and her distraught husband pleaded for her return in an interview with ABC News last week.
He said he couldn't imagine his wife leaving her family of her own will. The couple had two sons, ages 2 and 6.
"She wouldn't leave all of us. She just wouldn't do this," Kallen Huston said. "Everybody who knows her agrees."
Huston's mother suspected foul play.
"Somebody has to have her because she wouldn't do this," Deborah Turner told ABC News in an interview last week. "And it is a thought you don't want to think about, but I'm pretty sure that somebody has her. She would call."
Get real-time updates as this story unfolds. To start, just "star" this story in ABC News' phone app. Download ABC News for iPhone here or ABC News for Android here.