Former Kansas City Chiefs' star running back Kareem Hunt broke his silence Sunday on a video that shows him beating and kicking a 19-year-old woman, saying he's "ashamed" of the incident but that he "deserves forgiveness" and a second chance in the NFL.
"Honestly, I just want to let the world know how sorry I am for my actions," Hunt said in an exclusive interview aired on ESPN's "Sunday NFL Countdown." "It's been a tough time for me. I'm extremely embarrassed because of that video."
Hunt, 23, who led the NFL in rushing in 2017 as a rookie, was cut by the Kansas City Chiefs Friday night after a surveillance video emerged showing the star running back pushing, striking and kicking a young woman.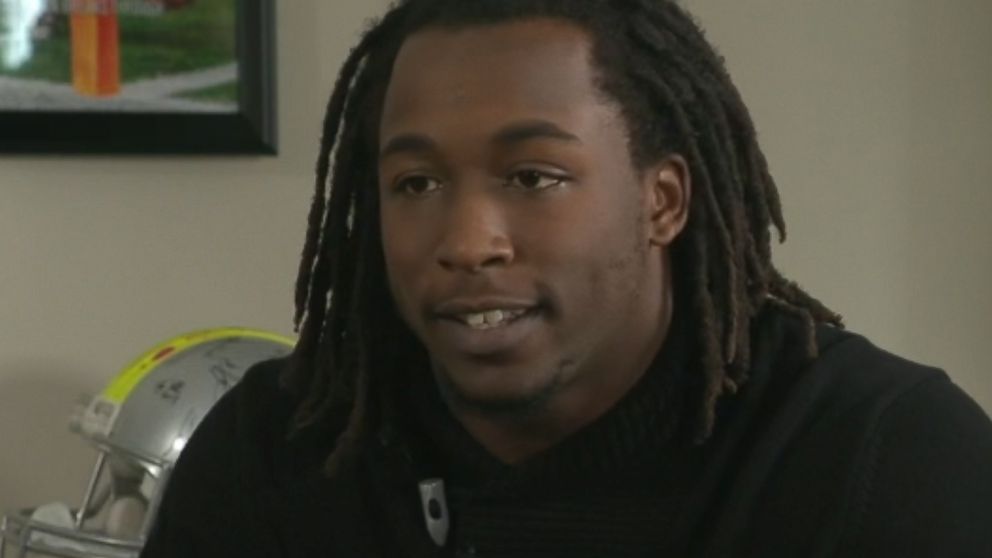 The incident happened in February at the Metropolitan at the 9 Hotel in Cleveland two days after Hunt had moved into a luxury apartment there.
Hunt said he plans to seek counseling and anger management "if needed," and hopes to return to the NFL after regaining the trust of his family, friends, former teammates and other NFL teams.
"I'm asking for forgiveness and I definitely believe I deserve forgiveness," Hunt said. "Everything is really happening fast right now and I just want everybody to forgive me. I know it's going to be hard. I made a bad choice and I'm not going to let this bring me down."
The alleged victim, Abigail Ottinger, a student at Kent State University, told Cleveland police on Feb. 10 that she was "assaulted by a player and the man working at the desk refused to let her call the police and called her a slut," according to police records obtained by ABC News.
The website TMZ posted the video on Friday of the violent confrontation between Hunt and Ottinger. The footage shows Hunt pushing Ottinger as a man attempts to get between them and separate them.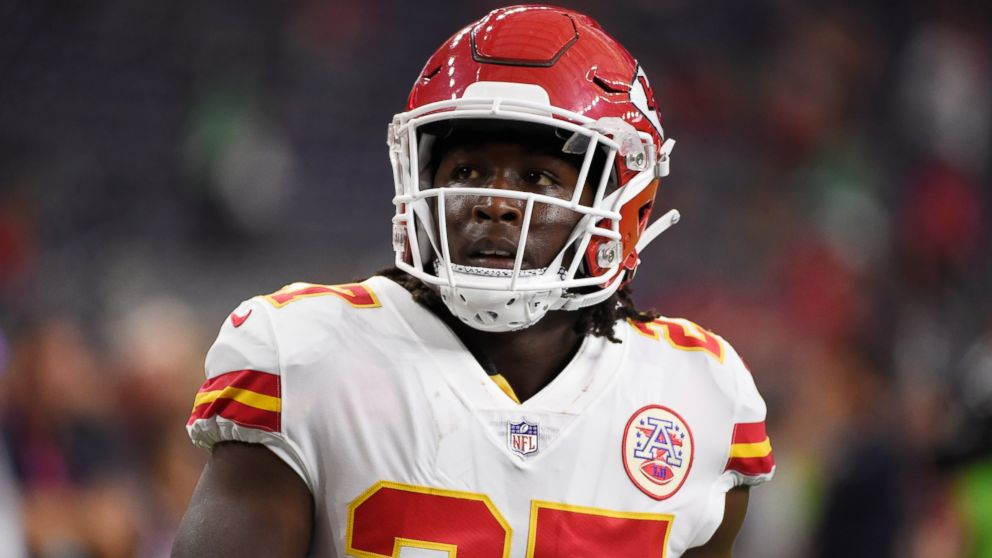 After getting pushed, Ottinger came back at Hunt and appeared to punch him in the face before several men hustle Hunt into a hallway and out of view of the camera. The video, which has no sound, shows Ottinger appear to follow Hunt into the hallway and say something to the player, who breaks free and pushes a man into Ottinger, sending them both to the ground and her face-first into a wall.
As several people, including another woman, appeared to grab Hunt to keep him away from Ottinger, Hunt is seen kicking her as she squats on the floor, knocking her to the ground again.
"You can't really explain it. The video shows it. I was in the wrong," Hunt told ESPN. "I'm not that type of person. I'm really disappointed and embarrassed for myself and my family and I really am taking actions to learn from this and do everything possible to become a better man."
The incident occurred about 3:45 a.m. on Feb. 10, after Hunt invited friends over to his new apartment, and one of them apparently brought along Ottinger as a guest.
"Honestly, I never met the girl before," Hunt said.
He said the episode started with a disagreement, escalated into an argument and then physical violence. He declined to say what the argument was about but it prompted him to ask Ottinger to leave his apartment.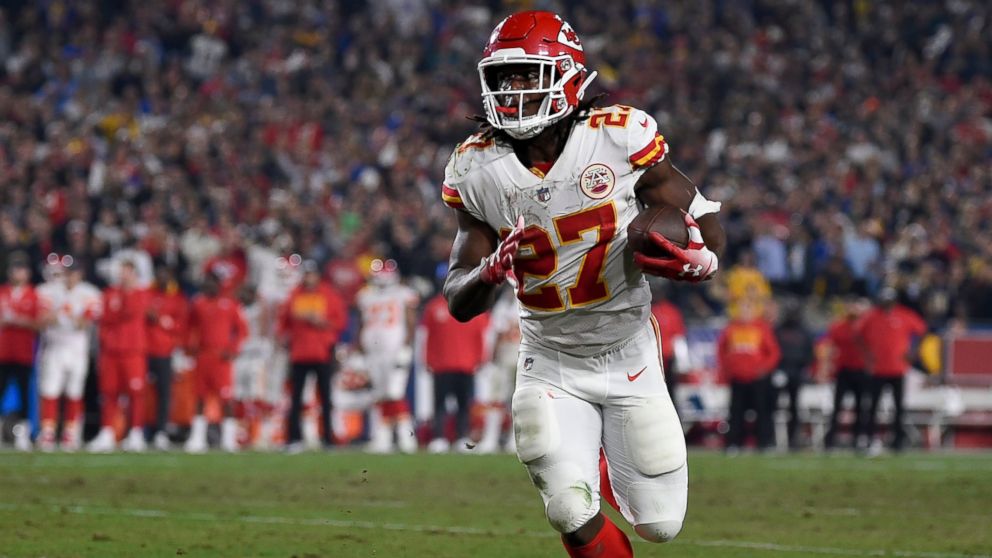 "To be exact, it don't really matter what happened," Hunt said. "I was in the wrong. I could have took responsibility and made the right decision to find a way to de-escalate the situation."
Ottinger immediately filed a complaint against Hunt, who countered by filing a complaint against her. He was not arrested and no charges have been filed against Hunt or Ottinger.
When the incident first occurred, several members of the Chief's management team interviewed Hunt about the allegations.
"Kareem was not truthful in those discussions. The video released today confirms that fact," the Chief's said in a statement released Friday announcing Hunt had been cut from the team.
In the ESPN interview, Hunt confirmed that he was not honest with the Chiefs about the incident.
"I lied to them. So, they pretty much said, 'We love you. Everybody cares about you. We have to let you go.' It was a tough conversation," Hunt said.
"I was definitely upset. I felt like I let the Chiefs down, my family down, those players down. And those [players] are like my brothers," he added.
He said he first viewed the video on Friday when it was posted on the TMZ website.
Hunt said he has yet to reach out to Ottinger.
"I don't really know the woman at all and I don't know how to even get in contact with her. But if I could I would want to tell her right now that I am sorry for my actions that night," Hunt said.
He said he has not been interviewed by NFL officials about the incident.
The NFL has placed Hunt on league Commissioner Roger Goodell's exempt list, meaning he is not allowed to play or attend any NFL games.
"The NFL continues to pursue a complete understanding of the facts," the league said in a new statement released following Hunts' ESPN interview Sunday. "The NFL's ongoing investigation will include further attempts to speak to the complainants involved in the incident. It will include a review of the new information that was made public Friday -- which was not available to the NFL previously -- as well as further conversations with all parties involved in the incident."
The startling video surfaced just days after the San Francisco 49ers cut its starting linebacker Reuben Foster following his arrest on Nov. 24 at the Grand Hyatt hotel in Tampa, Florida, on suspicion of assaulting his girlfriend. It was the second time this year that Foster had been arrested in a domestic violence incident involving the same woman.
Just two days after the 49ers fired Foster, the Washington Redskins claimed the player off waivers.
Facing a backlash for hiring Foster, Doug Williams, the Redskin's senior vice president of player personnel, issued a statement, saying, "Reuben will have to go through numerous steps including the full legal process, an investigation and potential discipline from the NFL, as well as meetings with counselors associated with the team before he will ever have the opportunity to wear the burgundy and gold as a player."
Meanwhile, Ray Rice -- the former Baltimore Ravens running back who was released by the team when a video showed him punching and knocking out his now-wife, Janay, in an Atlantic City elevator -- said he hopes to help Hunt deal with his problems.
"You look back at it and obviously you see some similarities between what happened in my situation," Rice said in an interview with NFL.com. "I'm never going to call myself an expert. I've [publicly] discussed the remorse I have for survivors of domestic violence, but knowing what I know now the top priority is learning that it comes down to those split-second decisions, which come at the most hostile times. And that's where this could be a teaching tool."