CNN reporter Jim Acosta's exchange with President Donald Trump wasn't the only fiery flare-up between the president and the press at Wednesday's press conference.
Reporter April Ryan was also shot down by the president during an exchange over a question.
"It was a real question then he proceeds to tell me I'm rude, I'm hostile," she said on "The View" Thursday.
Ryan, who is the White House Correspondent and Washington bureau chief for American Urban Radio Networks, said that she shouted a question about voter suppression which Trump then responded to, which she took as an opening to continue.
"As a reporter who's been doing this for 21 years, you want access," she told the show's co-hosts. "You want ask to your question, so there was a moment where the president had finished answering a question and he was finding someone to call on for the next time. There was pregnant moment, that pregnant pause that I lobbed a question in, and he responded."
"You know what that question was… it was voter suppression and he responded and he responded yea I got voter suppression or something like that and so I stood up I thought he was receiving my question and wanted to talk about it, and then when he sees me, he says 'sit down' you know, in a very terse tone. I was taken aback," she said.
It was a real question about a real issue that Americans were dealing with just the day before
"If I don't ask a lot of those questions then they will not be asked," she said.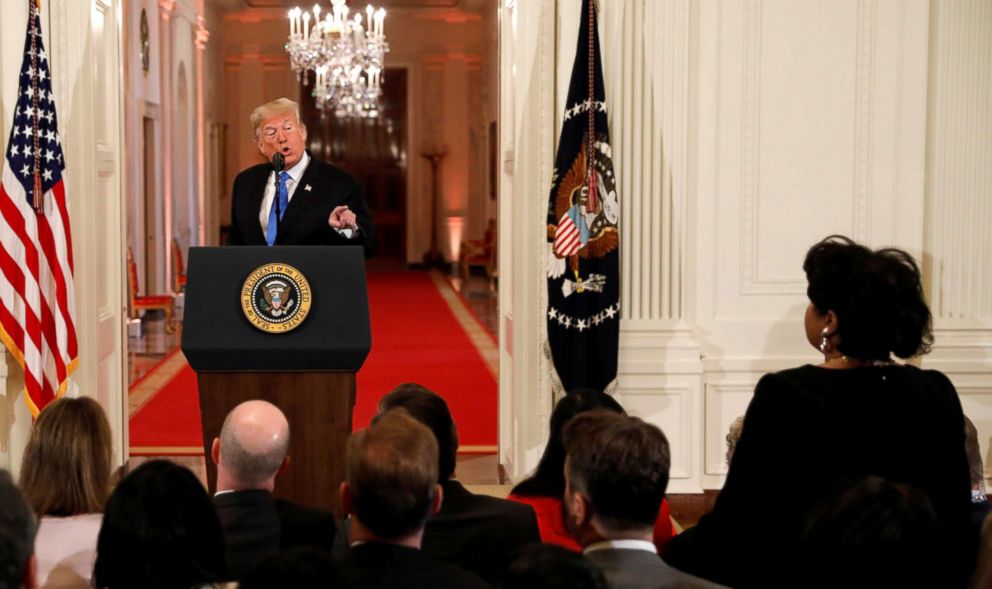 When "The View" co-host Joy Behar suggested that there may be "question suppression" in the White House press room, Ryan responded, "we are suppressed and oppressed."
Wednesday's tussle with Trump isn't the first time that Ryan has publicly sparred with Trump officials.
In March 2017, then-Press Secretary Sean Spicer was criticized for telling Ryan to stop shaking her head, and she has had confrontations more recently with press secretary Sarah Sanders.
"They clash with me," Ryan said.
Ryan said that she now has security -- after it was revealed that her name was on a list obtained from a pipe bomb suspect, and she believes that the White House should pay for those security costs.
"They stirred it up," said of the anti-media sentiment.
"If they get Secret Service protection on my tax payer dollars and I'm getting death threats left and right because of the stir from the top," she said without finishing the thought.