It's Monday, Sept. 23, 2019. Let's start here.
1. Ukraine call complaint
House Speaker Nancy Pelosi is warning President Donald Trump to release the whistleblower complaint about his communications with a foreign leader or face "a whole new stage of investigation" as a growing number of Democrats call for his impeachment.
At the center of the complaint is reportedly a summer phone call with Ukrainian President Volodimir Zelenskyy who Trump allegedly urged to investigate former Vice President Joe Biden's work in Ukraine and any ties it might have had with his son Hunter Biden's business dealings in the country.
"We don't know a lot though about the whistleblower-- who is this person, are they currently serving in the government?" ABC News Senior Editorial Producer John Santucci tells "Start Here" today. "We have a lot of questions still out there and that's why this ball is now going to head to Nancy Pelosi's court."
Biden has called on Trump to release details of the conversation, "Trump's doing this because he knows I'll beat him like a drum. And he's using the abuse of power and every element of the presidency to try to do something to smear me."
Trump told reporters on Sunday he was considering releasing the call transcript. He also appeared to acknowledge that he discussed Biden with Zelenskyy during a phone call that he said was "largely congratulatory, "all of the corruption taking place," and "largely the fact that we don't want our people like Vice President Biden and his son creating to the corruption already in Ukraine."
2. Iran tensions
Tensions between the U.S. and Iran are escalating ahead of the United Nations General Assembly in New York City this week.
The Pentagon is preparing to send more U.S. troops and air defense equipment to Saudi Arabia after key Saudi oil facilities were targeted in a massive attack, which the U.S. has blamed on Iran.
On ABC'S "This Week," Secretary of State Mike Pompeo defended the president's strategy toward Iran: "We are working diligently to see that this has a diplomatic outcome, but make no mistake about it, if we are unsuccessful in that, and Iran continues to strike out in this way, I am confident that President Donald Trump will make the decisions necessary to achieve our objectives."
The president said Sunday he has no intention of meeting with Iranian leaders at the UN, but "nothing is ever off the table completely."
"They want a peaceful resolution to this," ABC News' Conor Finnegan, who covers the State Department, says. "I think the issue is that neither side is really working with each other to get there."
3. A plan for Iowa
Sen. Elizabeth Warren, D-Mass., is riding a wave of momentum in the Democratic primary, jumping ahead of the pack in Iowa, according to a new poll from the Des Moines Register.
"In almost every poll, she's gaining traction," ABC News' Rachel Scott says from the Iowa Steak Fry. "As I travel the country and I talk to different folks, they tell me that they like that she has a plan for everything and that's one of her signature messages."
The poll also found that two-thirds of likely Democratic caucus-goers haven't made up their minds yet on a candidate in the wide field. The race could soon be thinning as Sen. Cory Booker, D-N.J., told Scott over the weekend he's trying to keep the campaign alive in the next week.
"We need $1.7 million before the end of the month to continue in it," Booker said.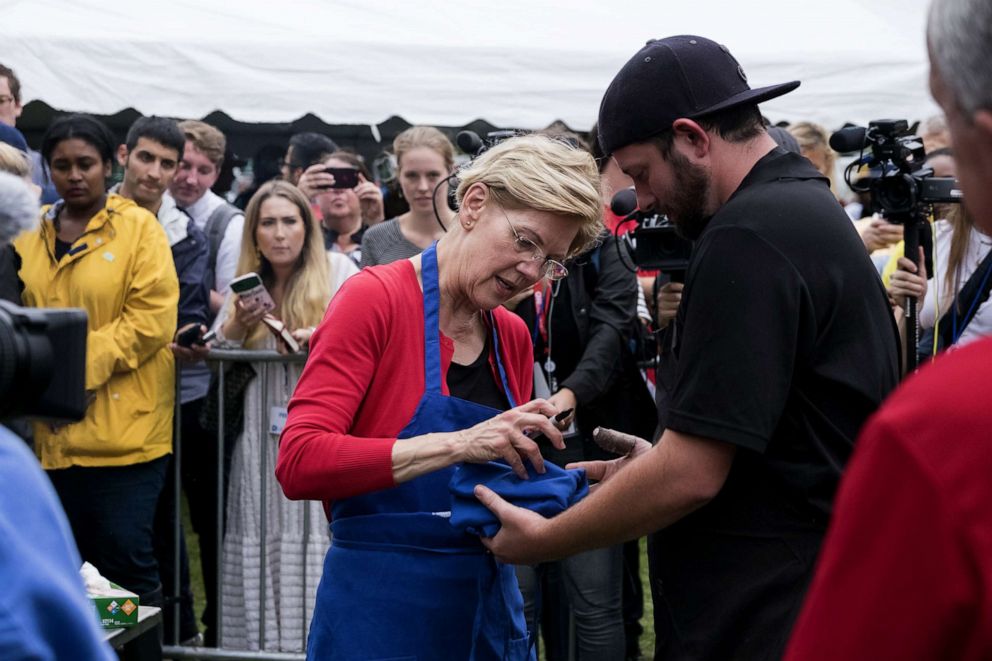 "Start Here," ABC News' flagship podcast, offers a straightforward look at the day's top stories in 20 minutes. Listen for free every weekday on Apple Podcasts, Google Podcasts, iHeartRadio, Spotify, Stitcher, TuneIn or the ABC News app. Follow @StartHereABC on Twitter, Facebook and Instagram for exclusive content and show updates.