A massive storm system that brought nearly a foot of snow to some parts of the Midwest is now threatening millions of residents in the Northeast with heavy snow, torrential rain and high winds.
The winter storm brought 11 inches of snow across Kansas on Saturday, which shut down some roadways in the region, including Interstate 70.
The snow was so heavy at some points that northwest Kansas saw up to 2 inches per hour.
More than 13 million Americans across 18 states from Arizona to Maine are currently under winter storm alerts. On Sunday, two low systems will merge, which are expected to exacerbate heavy rainfall from the Northeast to the South along the East Coast.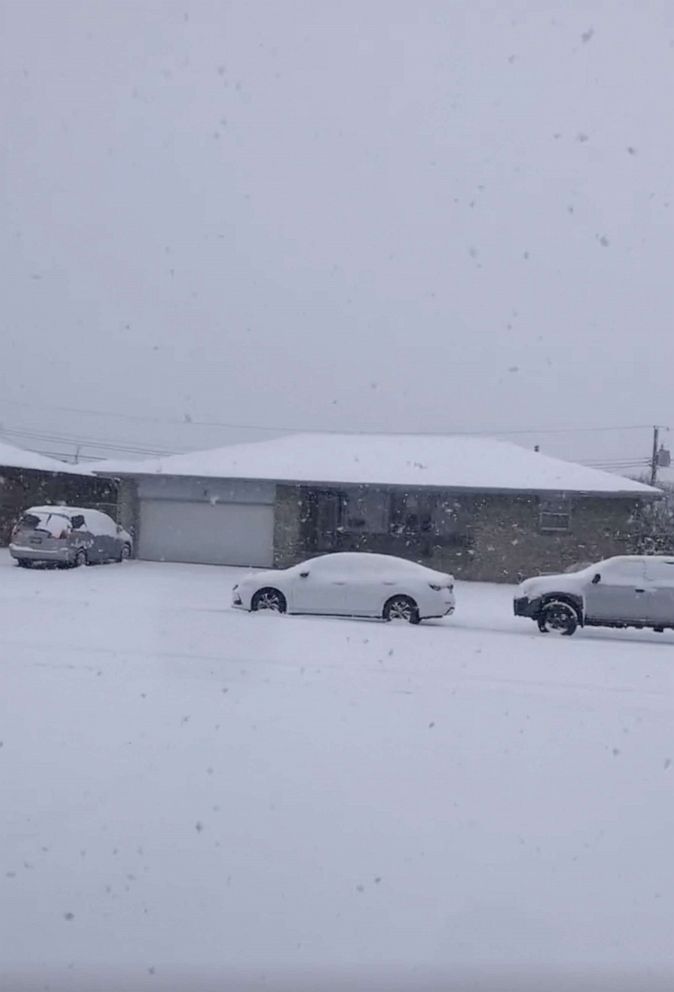 Interior parts of the Northeast will begin to experience snow from mid-to-late afternoon and will continue through the morning.
The weather could affect Sunday afternoon's NFL playoff game between Cincinnati Bengals and the Buffalo Bills at Highmark Stadium in Orchard Park, New York.
What starts as rain from parts of northern New Jersey to coastal Maine will change over to snow on Monday morning and into the afternoon.
Boston is expected to see 3 to 6 inches, while the areas from Scranton, Pennsylvania, to Bangor, Maine, will likely see between 6 and 12 inches, and even more in some spots, forecasts show.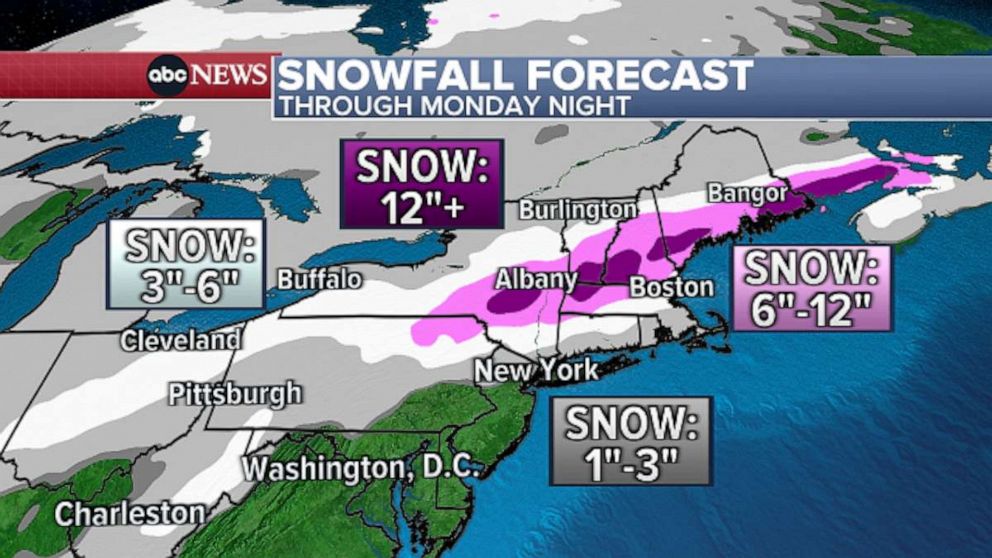 Snow accumulation in parts of northern New Jersey will measure in at 1 to 3 inches.
In the South, severe storms began rolling through the Florida Panhandle toward the South Carolina coast on Sunday morning and are expected to last until sunset. Much of the East Coast will also experience heavy rainfall.
The rain and snow will then move out into the Atlantic on Monday evening.
However, a new storm is brewing in the West, with winter weather advisories in effect for six states from Washington to Colorado.
Wind alerts are in effect for more than 6 million people, including California, where the NFL playoff game between the Dallas Cowboys and San Francisco 49ers is expected to take place Sunday afternoon. Winds could be gusting up to 20 mph as the game is played at Levi's Stadium in Santa Clara, California.
Snow is moving into the Rocky Mountains, while winds are expected to be very gusty across the southwest -- up to 65 mph in some places.
Winds will remain gusty through Monday morning.