Taking a knee wasn't the first time athletes protested social injustice on the field
"I cannot stand and sing the national anthem," Jackie Robinson wrote in 1972.
September 26, 2017, 5:00 PM
— -- The controversy between President Donald Trump and NFL players who refuse to stand during the national anthem is the latest example of a decades-long trend in which top athletes have used sports as a platform to express their political views.
On Tuesday, Trump took to Twitter to urge the NFL to make a rule against letting players kneel during the national anthem, his latest comment in an ongoing war of words with the sports league. Over the weekend, many players, teams, and owners had locked arms, knelt in solidarity or skipped the national anthem altogether as part of a peaceful protest against Trump's criticism that players who do so "disrespect" the U.S.
"Wouldn't you love to see one of these NFL owners, when somebody disrespects our flag, to say: 'Get that son of a b---- off the field right now, out,'" the president told a crowd during a campaign event in Huntsville, Alabama on Friday.
Trump's criticism has since spurred a league-wide movement, with some owners standing by or protesting with players engaged in game-day protests. Entire teams -- including the Pittsburgh Steelers and the Seattle Seahawks -- also decided to skip the national anthem altogether, remaining off the field while it was played.
In tweets over the weekend, Trump accused the players of not respecting the flag, the country and those who fought for it.
But America has a long history of athletes using their high-profile status to protest against the government and its policies. Ahead, a few of the most prominent examples.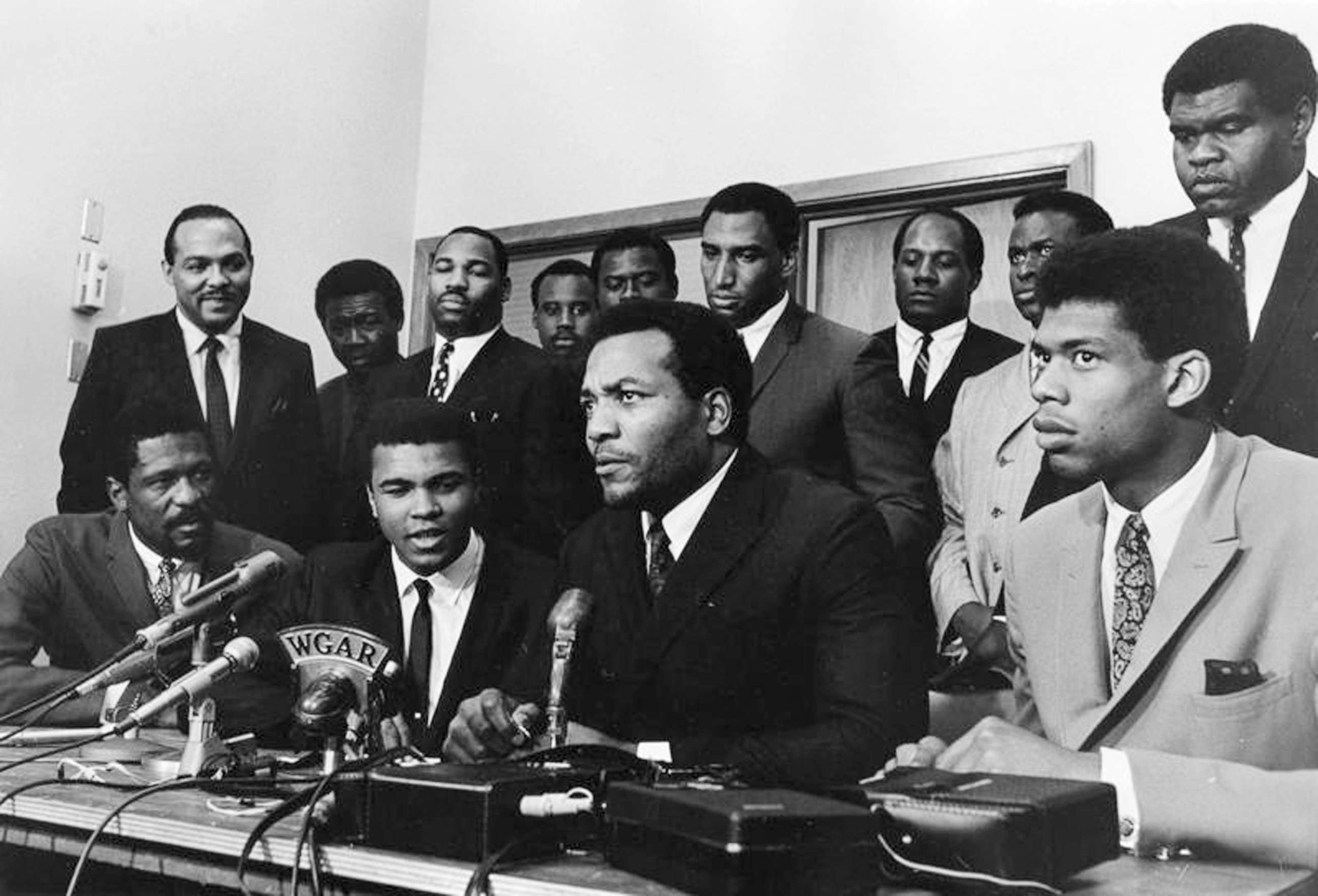 World champion boxer Muhammad Ali used his worldwide star power to take a stand against the Vietnam War by refusing to enlist in the military.
"I ain't got no quarrel with those Vietcong," he said at the time, a stance that left him with a five-year prison sentence for draft evasion, a $10,000 fine, and a ban from boxing for three years, .
Ali appealed the conviction, claiming he qualified for conscientious-objector status because he opposed the war as a Muslim.
"My conscience won't let me go shoot my brother, or some darker people, or some poor hungry people in the mud for big powerful America," Ali said in 1967. "How can I shoot them poor people? Just take me to jail."
He avoided jail time as his case was successfully appealed, but he was stripped of his championship title for refusing to join the armed forces in Vietnam.
Ali's conviction for evading the draft made it all the way up to the Supreme Court, but in 1971, the Supreme Court overturned the ruling.
In retrospect, one of the costs of Ali courageously standing his ground for his beliefs was that the three-year ban robbed him of some of his prime boxing years, his trainer Angelo Dundee told ESPN in 2012.
1968: Tommie Smith and John Carlos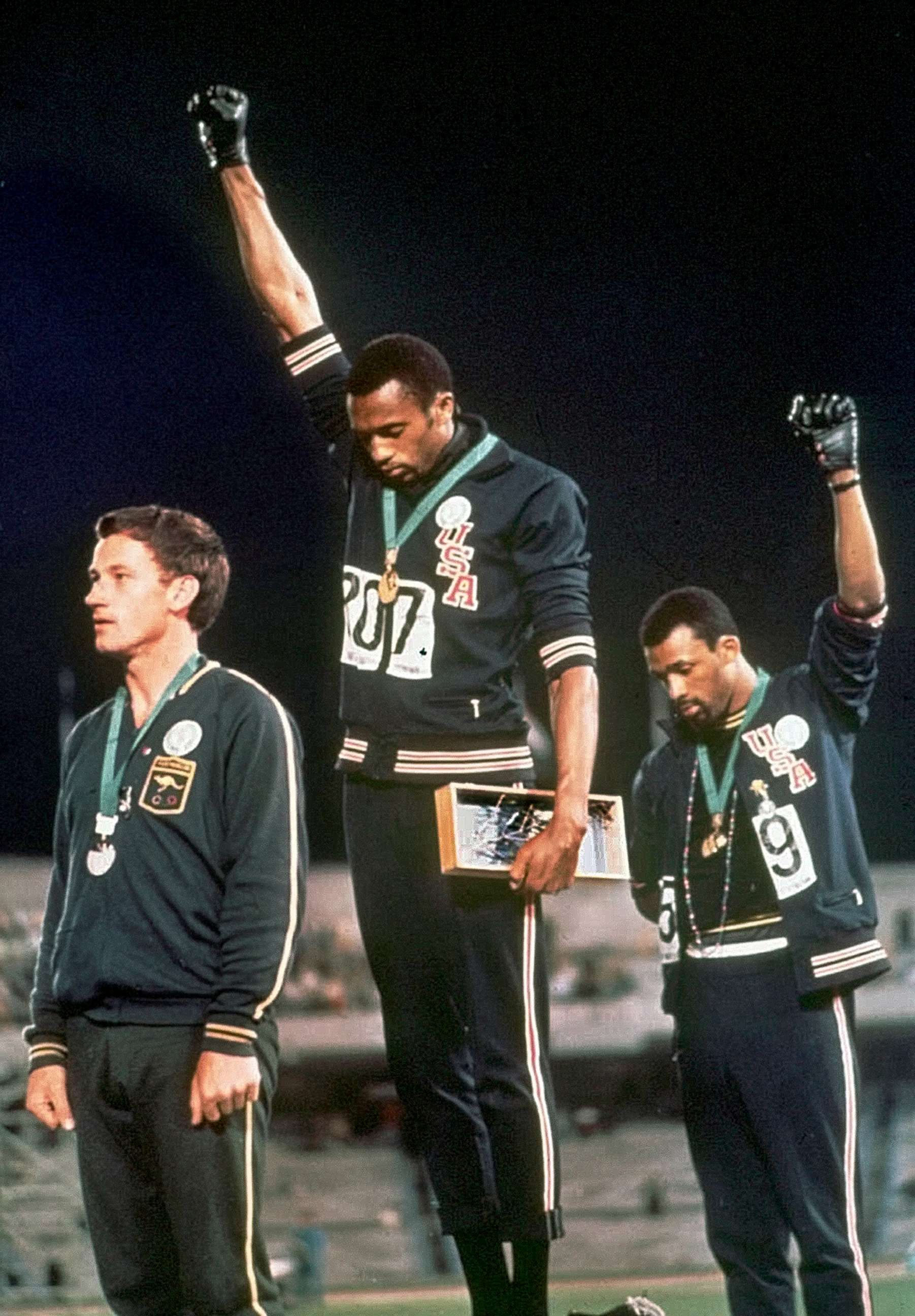 After winning gold in the 200-meter sprint at the 1968 Summer Olympics in Mexico City, Tommie Smith raised his fist in the air alongside his teammate and bronze medalist, John Carlos. Smith and Carlos claimed that they used the gesture to symbolize black power and to demonstrate against racism and injustice.
The pair later said that every detail of the act was strategically planned between the two of them, from which hands they chose to the scarves and beads they wore. As Smith explained to ABC Sports announcer Howard Cosell, "My raised right hand stood for the power in black America. Carlos' raised left hand stood for the unity of black America. Together they formed an arch of unity and power."
"If I win, I am an American, not a black American. But if I did something bad, then they would say 'a Negro.' We are black and we are proud of being black," Smith said at the press conference after their demonstration.
"Black America will understand what we did tonight," Smith added.
Peter Norman, the Australian silver medalist who stood next to the men on the podium, also wore an Olympic Project for Human Rights pin to show support for Smith and Carlos.
Two days after their protest, Smith and Carlos were suspended from the national team and sent back to the U.S. The pair were met by sharp criticism and even threats when they returned home.
1972: Jackie Robinson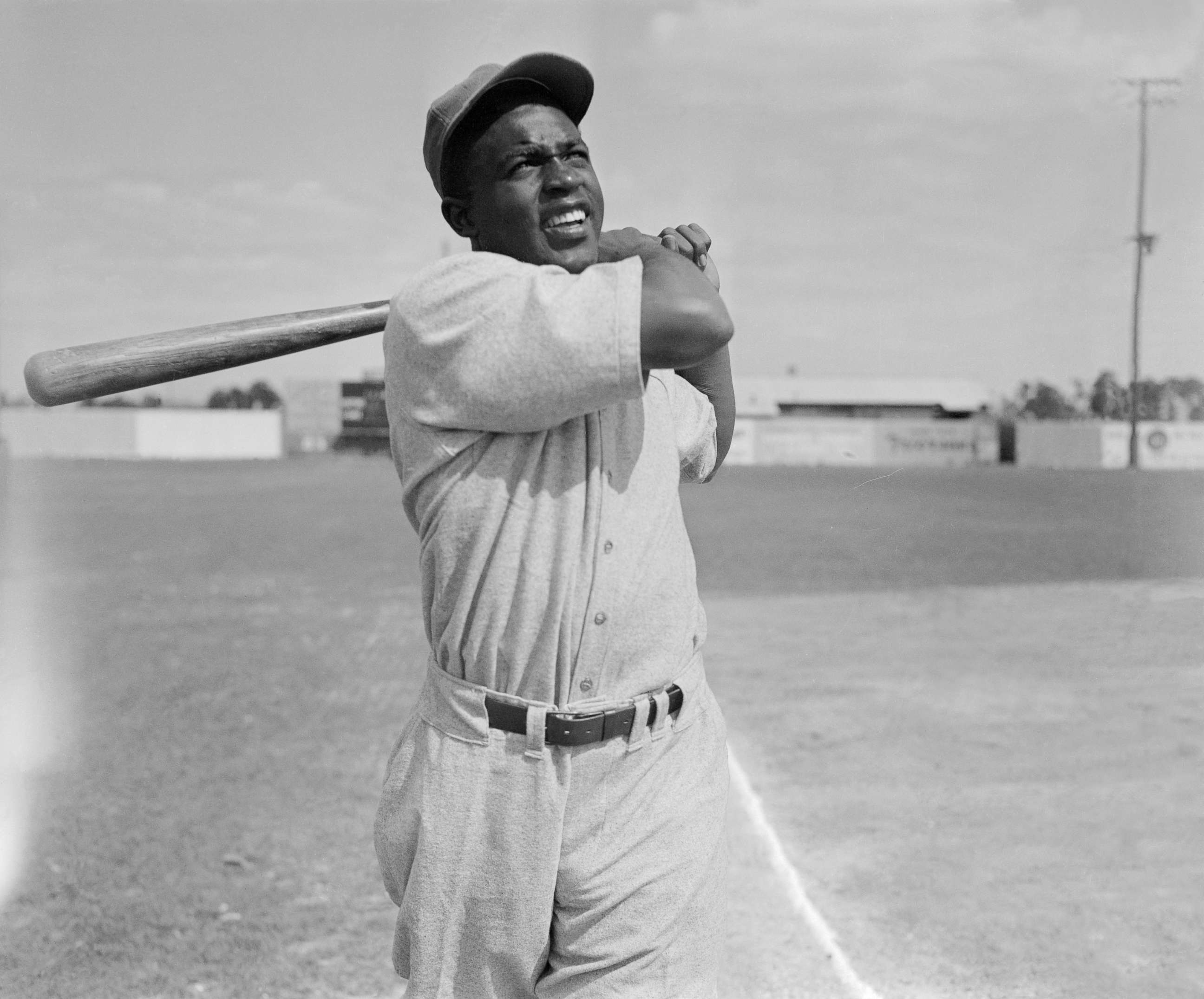 After breaking the color barrier in Major League Baseball, Jackie Robinson wrote in his 1972 autobiography, I Never Had it Made, "I cannot stand and sing the national anthem," admitting that he didn't sing the anthem when he stood for it before baseball games. This was his silent protest.
Branch Rickey, the baseball executive that signed him onto the Dodgers, made an agreement with Robinson that he would not respond to racial slurs and hate.
"I want a man who has the courage not to fight, not to fight back," Rickey famously said to Robinson. With that, Robinson stayed quiet until his retirement.
After retirement, Robinson spoke out about racial injustice and became a leader in the Civil Rights movement.
"I'm not fooled because I've had a chance open to very few Negro Americans," said Robinson when he testified before Congress about racial injustice.
2014: NBA teams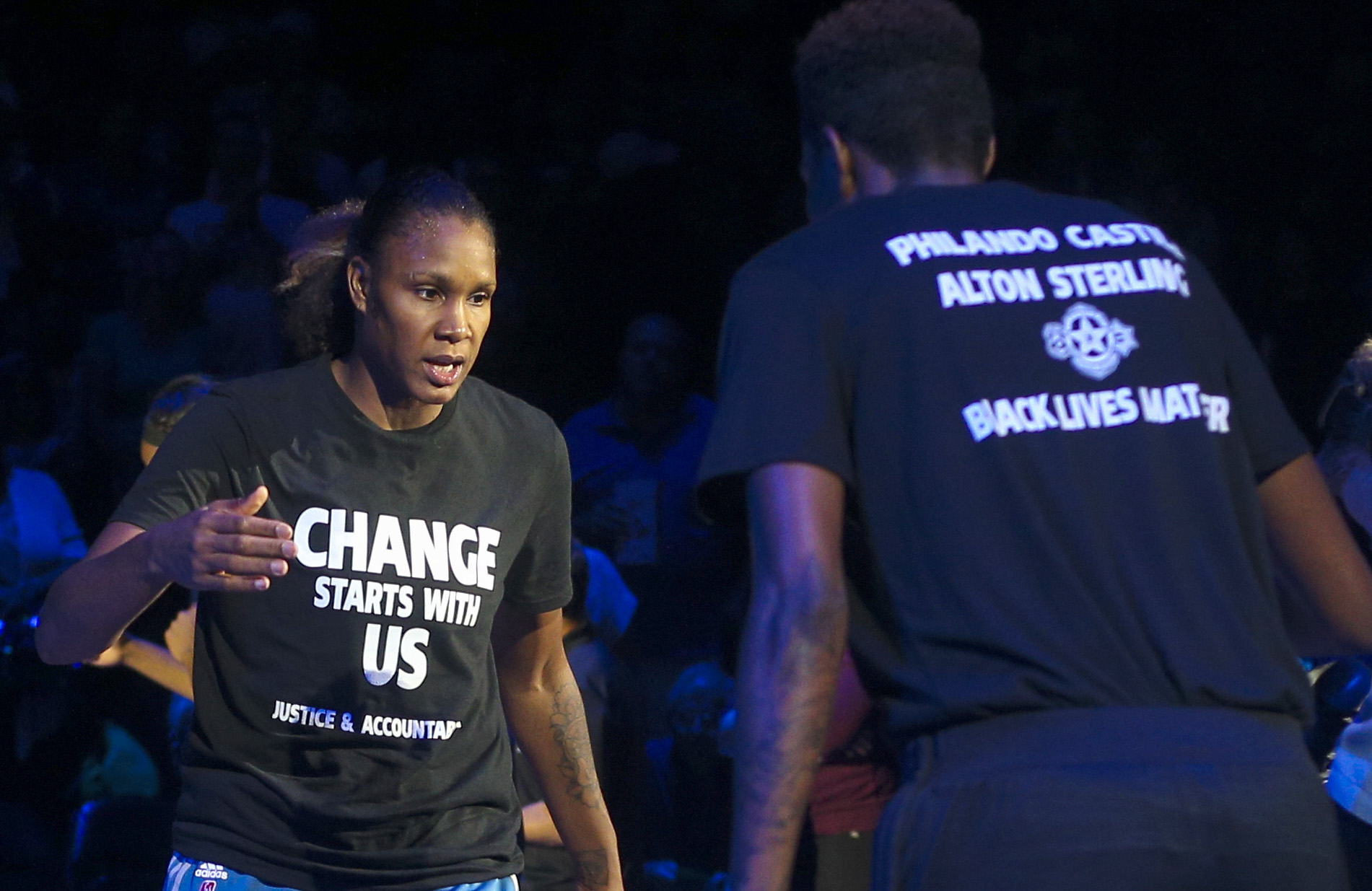 NBA teams first broke dress code rules back in 2014 to protest police brutality, wearing "I Can't Breathe" shirts during warm-ups. The shirts referenced the last words of Eric Garner before he died at the hands of a police officer in Staten Island. Lebron James and Kobe Bryant, among other players, wore the shirts before preseason games.
2016: WNBA teams
During the summer of 2016, the women of the WNBA silently protested by wearing shirts that supported Black Lives Matter to game warm-ups.
The Minnesota Lynx wore shirts that read: "Change starts with us – Justice & Accountability" on the front and listed the names of two men who had been fatally shot by police, Philando Castile and Alton Sterling, on the back, according to ESPN.
The New York Liberty wore shirts that read #BlackLivesMatter, #Dallas5, and a blank hashtag, which represented future victims of police brutality, during their game warm-ups.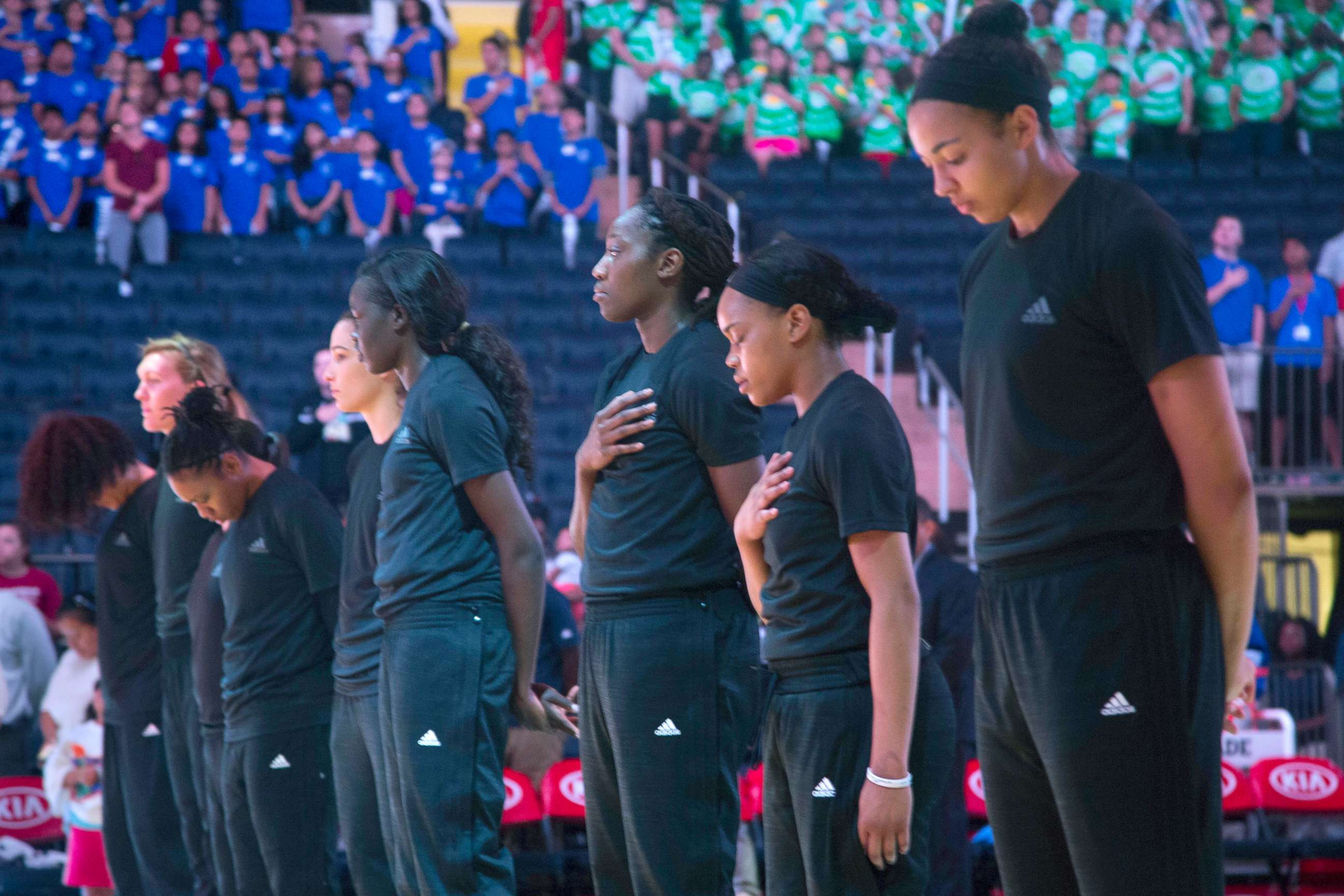 The Indiana Fever and Phoenix Mercury also wore shirts in protest against recent police shootings of black men, and the entire Indiana Fever team and some Mercury players knelt in protest during the national anthem.
The WNBA fined the teams, saying that league rules state that uniforms may not be altered in any way. But after public outcry over the fines, which were $5,000 to each organization and an additional $500 to the team members, the WNBA rescinded them.
The league's president, Lisa Borders, later said on Twitter she had done so to show that the league supported "players expressing themselves on matters important to them."
2016: Colin Kaepernick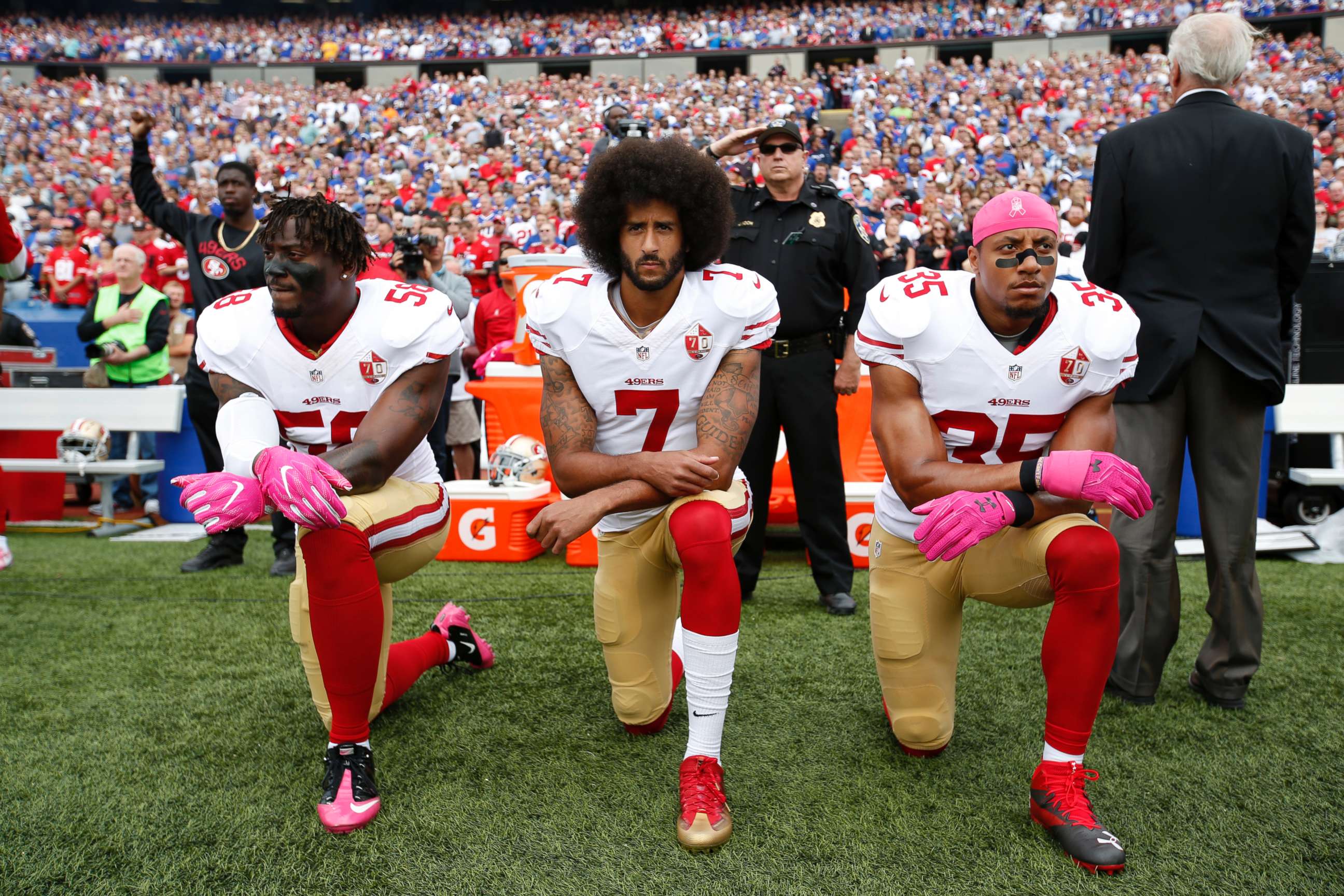 San Francisco 49ers quarterback Colin Kaepernick first sat during the national in August 2016. He later began kneeling before games to protest police brutality, starting before a game against the Green Bay Packers on Sept. 1, 2016.
Teammate Eric Reid expressed support of Kaepernick's message and approached him to strategize together.
At a press conference, Kaepernick explained "Me and Eric had many conversations and he approached me and said 'I support what you're doing, I support what your message is, let's think about how we can do this together.' We talked about it at length and we wanted to make sure the message that we're trying to send isn't lost with the actions that come along with it."
"I am not going to stand up to show pride in a flag for a country that oppresses black people and people of color," Kaepernick told NFL Media after taking a knee. "To me, this is bigger than football and it would be selfish on my part to look the other way. There are bodies in the street and people getting paid leave and getting away with murder."
At the beginning of March, Kaepernick opted out of his contract with the 49ers, making him a free agent. Kaepernick remains unsigned, and some accuse the NFL of blacklisting him, ESPN reported.