Former President Donald Trump's legal team turned over a folder with classification markings found last month at his Mar-a-Lago resort to federal agents, multiple sources familiar with the matter tell ABC News.
It is unclear what type of classification markings the folder had or what material had previously been inside.
In addition to the folder, one document with classification markings was also turned over to investigators, the sources said.
Additionally, sources tell ABC News that a laptop belonging to a current aide of the former president was also provided to federal agents.
Sources said the discovery occurred in mid-January as Trump's team was searching through additional boxes amid the Department of Justice's ongoing efforts to have Trump's attorneys verify that Trump no longer still has classified documents in his possession.
The material was discovered in the Mar-a-Lago complex, and not in a storage facility within the complex that housed hundreds of classified documents prior to them being seized in August 2022, the sources said.
During the August search, investigators seized 46 folders with classified banners that were empty.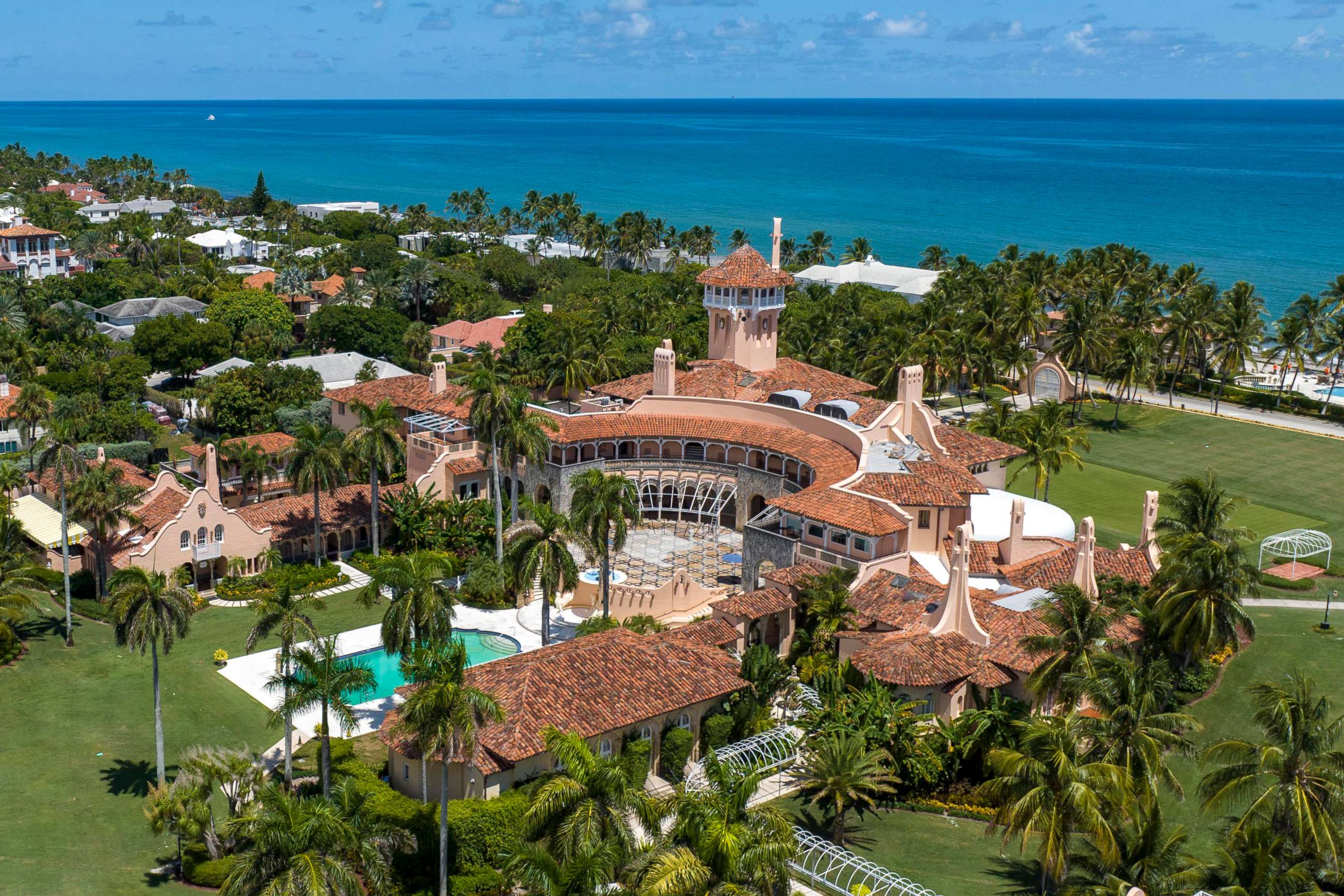 Trump attorney James Trusty turned over the folder with classification markings to federal investigators, and also informed agents that it had been electronically copied to a laptop of a current Trump aide, the sources said.
The folder with classification markings was discovered in a box with additional papers, the sources said. A copy of the box's contents was made electronically, raising the question about the existence of any additional electronic records that may be relevant to the special counsel's investigation.
ABC News has also learned that after the information was recovered, federal agents retrieved the laptop from the aide. The laptop was not retrieved on the Mar-a-Lago grounds, the sources said.
"It is customary in circumstances such as this for investigators to search the computer to see if classified material is still on that computer," said John Cohen, former acting undersecretary for intelligence at the Department of Homeland Security and now an ABC News contributor. "They will also seek to determine if classified material was transmitted electronically to other computers or devices via that computer."
In a statement to ABC News, a spokesperson for Trump called the government's ongoing probe "nothing more than a targeted, politically motivated witch hunt against President Trump, concocted to try and prevent the American people from returning him to the White House."
"Just like all the other fake hoaxes thrown at President Trump, this corrupt effort will also fail," the spokesperson said. "The weaponized Department of Injustice [sic] has shown no regard for common decency and key rules that govern the legal system."
Neither Trusty nor the special counsel's office responded to a request for comment from ABC News.
The development comes as a separate special counsel is probing the handling of classified materials by President Joe Biden after he left the vice presidency. There have subsequently been multiple recoveries of documents from various locations tied to Trump, Biden and former Vice President Mike Pence.
Federal investigators have reported mounting frustration with Trump, who some believe could still be unlawfully holding on to classified documents even after the FBI's unprecedented August search of his Mar-a-Lago estate.
ABC News reported in December that Trump had an outside team conduct a deeper search for any government documents at four properties, which turned up at least two more documents marked classified.
As ABC News previously reported, the Justice Department sought to hold Trump in contempt for not complying with their initial June subpoena for all documents with classification markings that were in his possession.
In December, a federal judge in Washington declined to hold Trump or his legal team in contempt of court and instead urged the Justice Department and Trump's legal team to resolve the dispute themselves, sources told ABC News at the time.
Chief Judge Beryl Howell did not rule out the possibility that Trump could be held in contempt if their talks broke down further.