Hours after tragedy struck at the Route 91 Harvest Music Festival in Las Vegas on Oct. 1 of last year, an unlikely connection was discovered between an injured survivor and the doctor that saved his life.
Philip Aurich and his girlfriend Alyson Opper were at the music festival when the barrage of bullets began raining down on them.
"You hear the first burst and it sounds very robotic; the second round happens and then everyone realizes what it is," Aurich told ABC affiliate KSTP. "It starts again and we get down on the ground, and that's when I got shot on the left side."
The couple began to make their way out of the concert venue when Aurich realized he couldn't breathe because a bullet had punctured his lung, he said. Once outside the venue gates and after several attempts to get into an ambulance, Aurich and Opper were loaded into a police officer's squad car and taken not to the closest hospital, but to University Medical Center.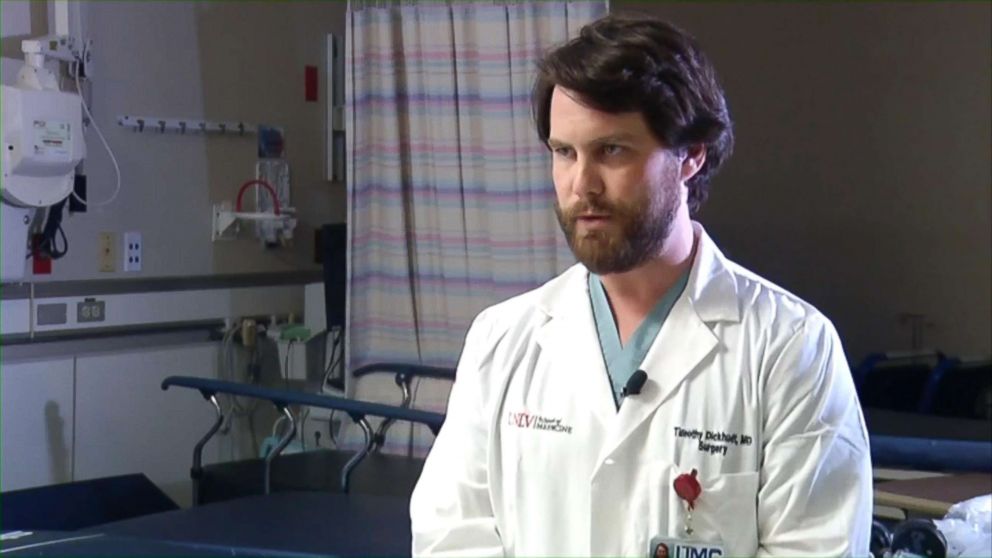 Aurich was in a line of gurneys in a hallway when a doctor walked by, stopped and said, "He's got to go next."
The doctor, Dr. Timothy Dickhudt, had just wrapped up a 13-hour shift at the hospital when he rushed back to help with the incoming patients from the concert.
"He was pale, diaphoretic, confused, he just didn't look right, after seeing his vitals and then the eyeball test, I saw where he was shot and absolutely knew he needed to go to the operating room as soon as possible," Dickhudt told KSTP.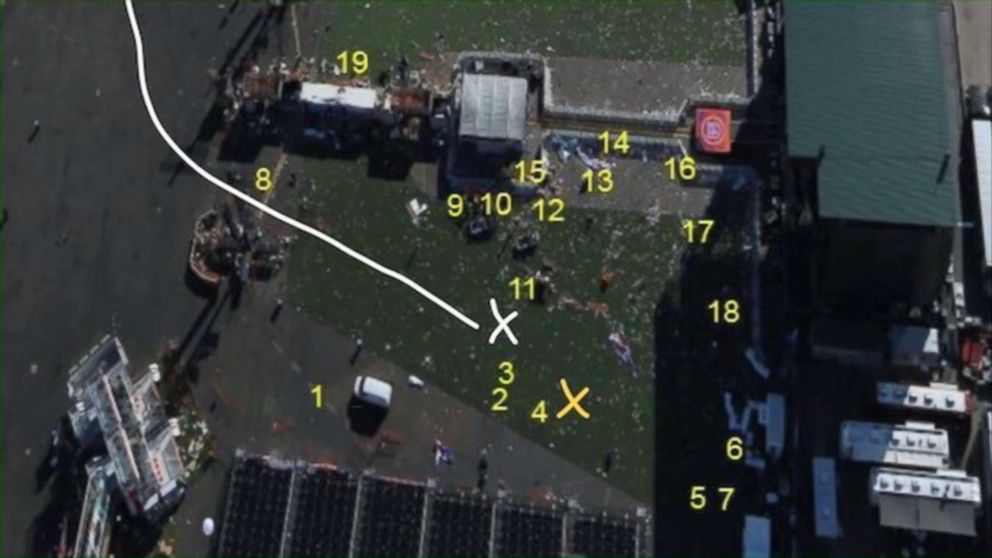 The bullet entered Aurich's left side, pierced his lung, diaphragm and colon, breaking two ribs and shattering his spleen before it ended up back in his chest, lodged a centimeter from his heart.
After the successful surgery, Aurich and Dickhudt discovered that they actually grew up just a few miles apart from each other in a Twin Cities, Minnesota, community. The coincidences continued when Aurich told KSTP that Dickhudt's dad "and my mom went to grade school together and our grandmas grew up being very, very tight-like best friends."
Aurich said he is grateful to not be remembered on the memorial fence on the Las Vegas strip, calling it divine intervention. "It's a great story, I think even he will admit, it's a unique story," Aurich said.
"Very unique, I've never had something like this before. It's special, it was something special, there was a unique bond formed there," Dickhudt said.
The two have now become much more than just patient and surgeon.